Are you preparing to retire?
Lucky are the people who have their retirement plan all secured. 
After all, 22% of retirees have less than $5,000 for their retirement, and another 15% don't have any funds for their retirement. 
Even still, retirement preparedness is not just about the financial side. There are non-financial factors that contribute to your overall retirement experience. 
Not to mention, there's an emotional rollercoaster tied to it that involves at least 5 emotional stages of retirement, which makes planning the non-financial stuff even more important.
Whether your retirement is 5 years in the past or 5 years into the future, there's always a way to optimize your retirement years. 
There's Way More to Retirement Planning Than Just Financial Planning
What is Traditional Retirement vs. Modern Retirement?
Traditional retirement focuses on the financial side of retirement.
And in case you're curious, according to an Annuity.org report, retirees can have a comfortable retirement with a whopping $1.04 million.
While it was once customary to retire at age 55, these days ideal retirement age differs for each person based on Retire statistics. Regardless of the chosen age, several factors are likely to influence the decision. Some individuals may choose to retire when they are eligible for the age pension, while others may opt to do so when they can access their Superannuation.
(By the way, in case you're curious – here's a more holistic view of the best age to retire.)
And nest egg amount aside, traditional retirement is basically financial planning and preparedness.  
It's a theme that encourages you to save up and invest, so you don't outlive your retirement years.
Which is definitely important – but what happens when you're all saved up and financially ready for retirement? Isn't there more to life than money?
For instance, personal growth is a hugely important retirement consideration. And don't forget about passion, purpose, and community involvement – which are equally significant retirement factors. 
These other non-financial categories make the modern retirement concept extra helpful. 
Modern retirement encompasses various factors that are equally relevant to a person aside from money. We like to define four other core categories (more on that in a bit, in the 5 Rings of Retirement section).
And here's Ken Dychtwald of Age Wave's view of traditional vs. modern retirement. It's about intermingling the stages of Education, Work and Family, and Leisure.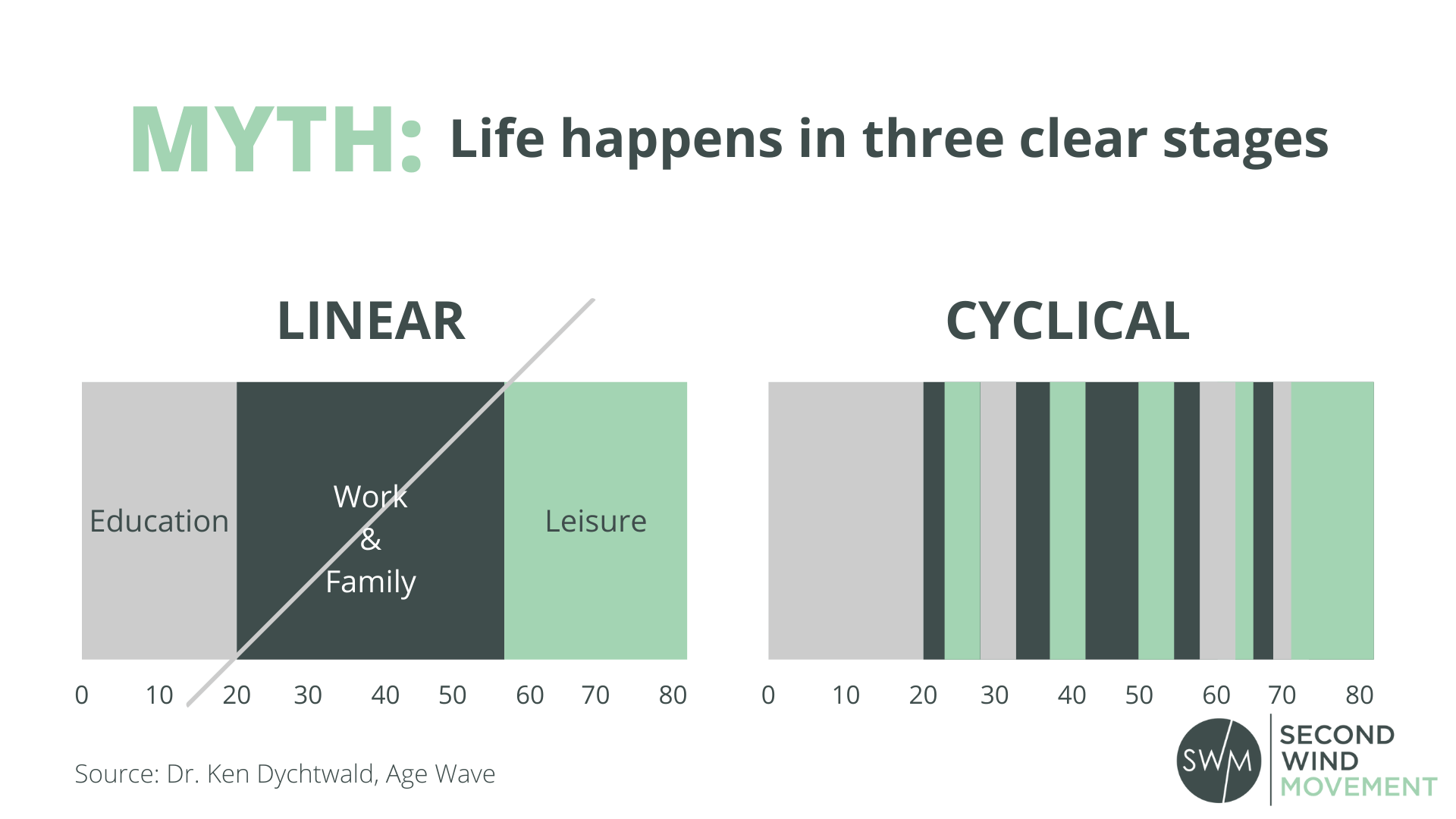 Gone are the days of living life in three big chunks. With people spending an average of one-third of their life in retirement, it's no wonder an all-leisure life ain't cuttin' it. 
This also puts a different spin on earning money. As in, when you consider non-financial factors, you can find a job in retirement and that gives more than, well, money. 
Put another way, people work during retirement despite having enough in their retirement funds.
In fact, RAND also reports that nearly half of retirees aim to continue working.  
And if you look to all the advantages of working after retirement, the stats make sense. To name a few benefits, having a retirement job can bring you:
Financial security

Improved health

Sense of purpose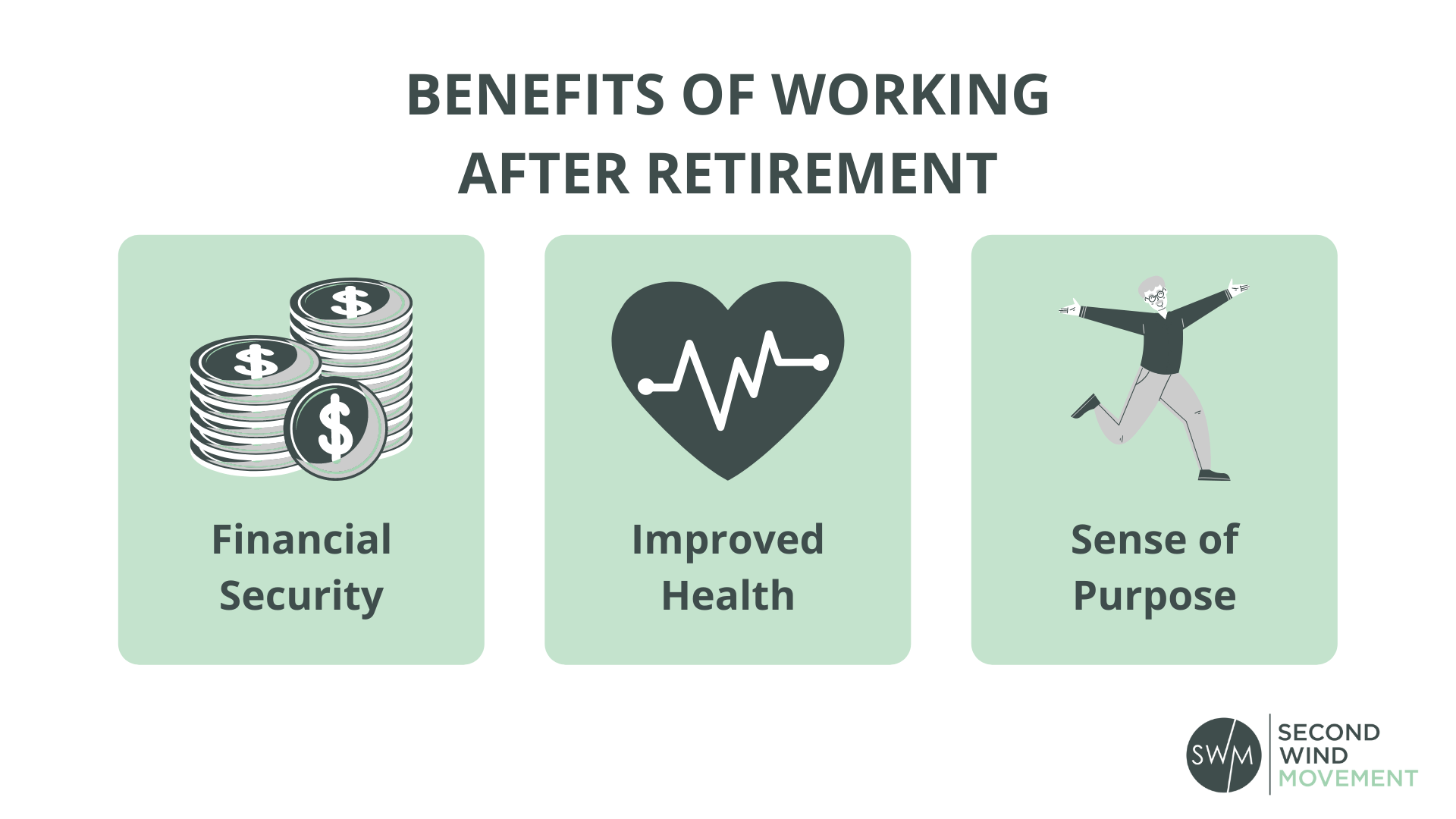 All in all, modern retirement offers a holistic view of how you spend your time and energy, which means a healthy dose of retirement planning goes well beyond financial planning.
The Positive and Negative Aspects of Retirement
Among all the uncertainties about going into retirement, one thing about retirement is for sure: retirement means change. 
These changes of course include both positive and negative impacts on retirees.
For example, Pew Research mentions the positive sides of retirement include: 
More availability and more time with loved ones

Opportunities for community involvement and travel

A change to finally do what you love

A chance to pursue a new career
Basically, it's a time to explore new interests, new passions, and a new purpose, where you can set life goals in retirement that are more meaningful.
On the flip side, some retirees might feel bored, aimless, or rudderless. Or worse, suffer from depression and anxiety — ailments that plague 11.5% to 13.5% of older adults (and that's just counting those who get treatment).
Pew Research Center mentions that some of the negative sides of retirement include:
Memory loss

Lack of sexual activity

Issues with depression and loneliness

Fearful feelings around becoming a burden to loved ones
There's a way toward the positive side, though. 
Which, in our book, includes so much more potential positives. 
Naturally, it embraces the idea of modern retirement, which includes more than the topic of financial planning – four more topics, to be exact. 
Overcome the Negative Aspects of Retirement with the 5 Rings of Retirement  
Sure financial security is a big part of retirement preparedness, but we consider it only one of the 5 Rings of Retirement. 
And we're big fans of using the ring of Finance to support the four other rings, which are where you'll find your purpose, joy, and meaning.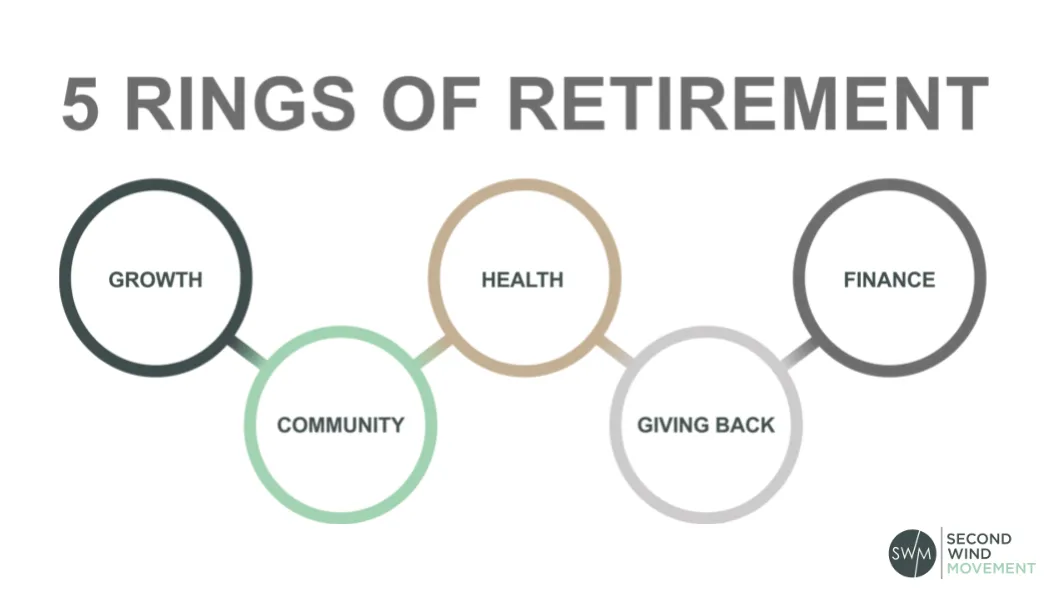 #1 Growth
This is the area of lifelong learning, new experiences, and embracing challenges and meaningful growth as a human. Not to mention this is the core category that keeps your brain healthy, too. 
When you stimulate your brain, neuroplasticity works its magic and it helps you maintain your cognitive health and take important measures to prevent Alzheimer's.
#2 Community
This includes your social network and the people you engage with – friends, family, relationships, and people in your community. 
This one's super important as social interaction is critically important as you age. Not to mention, combating loneliness is a big deal, as 52% of Americans report that they feel lonely and another 47% state their relationships with other people aren't meaningful.
#3 Health 
Beyond the obvious exercise and nutrition aspects of your health, there are so many factors that contribute to your energy level, brain health, and overall well-being. 
When it comes to being fit enough to enjoy your retirement years, you'll be better off if you holistically consider your physical and mental health.
#4 Giving Back
When you contribute your talents, skills, and knowledge and share your unique gifts with others – it doesn't matter if it's one person or millions – giving back and helping people give you a sense of purpose. 
Bonus Tip: Think beyond the traditional forms of giving back (i.e. traditional volunteer gigs and donating). You'd be surprised at how fulfilling it can be to impact someone else's life in your own unique way.  
#5 Finance
One of the most meaningful ways to look at money and wealth is as a means to support the fulfilling activities, events, and people in your life. 
May you use your financial security, budgeting, and estate planning to support your ideal purposeful life.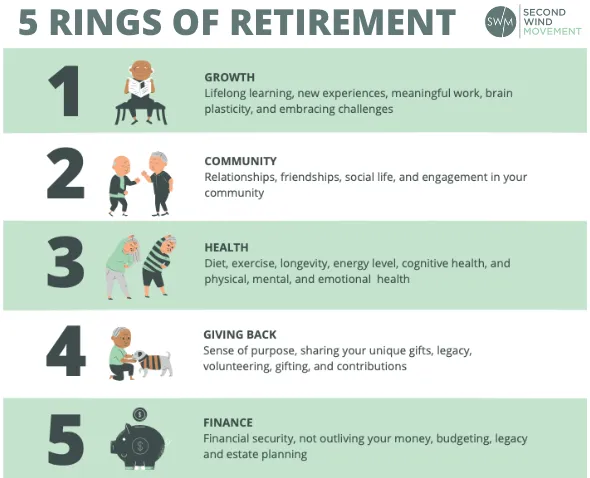 5 Best Ways to Prepare for Retirement 
#1. Create a Reliable Retirement Routine
One of the best ways to prepare for retirement is routine creation. A retirement routine helps bring you purpose because it keeps you on track with a specific purpose.
(So long as you have clarity – if you need help with that, try this Finding Clarity Workbook.) 
According to a study on habits and routine, a slow process of routine building has a ton of health benefits. 
Plus, it helps you gain self-discipline, improve sleep quality, and it also boosts your overall mental health. 
Why all the benefits? Going from a bustling career or family life structure to a totally open structure is a shock to your system. 
Which means a reliable retirement routine will help you get focused and back on track with your new retirement purpose and retirement identity.
Contrary to what you might think when you think of "routine", this doesn't mean you'll suffer from retirement boredom or that your life will lack spontaneity. 
In fact, having a retirement routine allows you to fit in spontaneous adventures. As in, yes – it helps to schedule both your "free and spontaneous" time and responsibilities and achievement time. 
And we love routines so much that we've covered:
#2. Find Clarity in Your Retirement Purpose
Among the negative sides of retirement is a loss of purpose. 
According to research, there are many benefits to living a purposeful life, including longevity and low risk for diseases. And you can absolutely extend these benefits into your retirement years.
In case you're interested in learning more about your purpose, try taking this Retirement Purpose Quiz. It'll help create a clearer picture of what you truly want in your retirement years. 
For instance, for some, their retirement purpose may look like taking care of others. In fact, according to a Transamerica Center study of 2,043 US retirees, 1 in 4 take care of their loved ones in retirement. 
And for others, their retirement purpose may look more like giving back. 
Which makes sense when you consider the fact giving back makes you feel good and actually releases dopamine to your brain. 
So much so that 77% of retiree households donate and 60% of younger adult households donate.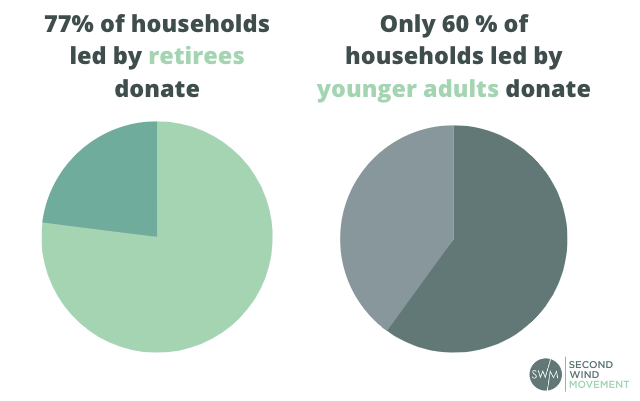 Even still, your retirement purpose is totally unique, and you will find the specifics of your own purpose by going inward (and not comparing your retirement life to others).
#3. Focus on Both Your Physical and Mental Health
It's obvious that physical health, exercise (like cardio exercises and strength building), and nutrition for older adults are foundational to aging successfully throughout your retirement. 
We're stating the obvious by saying taking preventative physical health measures is super helpful. 
And in case you're curious, according to the Centers for Disease Control and Prevention (CDC), the top causes of death among the elderly are heart disease, cancer, and COVID-19.  
But the invisible stuff counts, too. 
Equally as important (at least) is your mental, emotional, and cognitive health. 
Whether it's Tai Chi for older adults, yoga for seniors, or mindfulness – it's worth taking care of your mental health, as it has a massive impact on your overall well-being. 
#4. Understand Your (Unique) Retirement Needs
In the same way that not all careers and families are the same, not all retirees are the same. 
Everyone has different interests, gifts, passions, and purposes.
Which means everyone has different needs, too. 
Whether it's improving your finances, finding your passion, overcoming relationship rifts with disrespectful adult children, or choosing your life insurance, know that your retirement needs are unique. 
And it's worth mentioning that the negative side of retirement is the loss of purpose. 
One of the best ways to prepare for retirement is to go inward, do the inner work, and find clarity on your new retirement identity and retirement purpose. This will help fulfill your individual retirement needs.
#5. Consider a Retirement Coach
According to a survey, 98.5% of their respondents say that life coaching is worth the investment. 
The survey outcomes reveal that life coaching clients attain self-awareness and better goal-setting. 
Additionally, the participants claim that life coaching helps them have a better quality of life. 
Which brings us to the idea that getting help can short-path your way to where you truly want to be. As we like to look at it, a retirement life coach is as important to your retirement life as a sports coach is to an all-star player.
If you're feeling iffy about getting professional support and learning important tools that'll lead you to your most fulfilling retirement life, consider these inspiring client stories.
Get Holistically Prepared for Retirement 
While financial planning is a fundamental part of retirement preparedness, it's not everything. 
We consider it one-fifth of the core areas to plan and recommend using our 5 Rings of Retirement framework, which include planning your retirement around core topics:
#1 Growth

– lifelong learning, new experiences, meaningful work, neuroplasticity

#2 Community

– friends, family, relationships, connecting with people in  your community

#3 Health

– exercise, nutrition, energy level, brain health, physical and mental health

#4 Giving Back

– sense of purpose, sharing your unique gifts, legacy, contributing

#5 Finance

– financial security, budgeting, estate planning, supporting your ideal life
The five best ways to prepare for your retirement are:
#1 Create a reliable retirement routine

#2 Find clarity around your Retirement Purpose

#3 Focus on both your physical

and

mental health

#4 Understand your unique retirement needs

#5 Consider a retirement coach 
No matter how you go about it, don't go at it alone. You can plan your retirement with experts who guide people through their unique journeys. 
And, of course, we'd be remiss not to say Cyn Meyer of Second Wind Movement is a certified retirement life coach who can expand your growth opportunities beyond your expectations and help you find the best ways to prepare for retirement bliss.
(In case you want extra hands-on help, you can always reach out for a Free Breakthrough Session.) 
May you smoothly transition into the best next chapters of your life.