Few people proactively think about their life goals in retirement.
Well, beyond financial goals, anyway. 
But life goal setting is not just meant only for those growing their careers and families.
It's a life-long activity that should be revisited and readjusted at different life stages.
Why? If you're a human, you're designed to grow and develop at all life stages.
And it's even more crucial in retirement when you face significant life changes and have a more unstructured schedule.
To help you live an active, healthy, and engaged retirement lifestyle, we cover why it's essential to set goals in retirement and share our top tips on how to do it for a happier fullfilling future – that's full of purpose.
Why You Need to Set Retirement Goals
You might be wondering, why do I need to set goals in retirement? Isn't the point of retiring to relax and not have any responsibilities?
Well, yes – but mainly, no.
Formulating goals gives you something to focus on and strive for and can help to add purpose to your life. 
And setting goals can actually lead to a happier and healthier retirement.
Don't worry, you can also have the freedom to relax and be spontaneous on your own schedule and still feel accomplished. 
As in, yes – you can have it all.
Cyn helps people in their 60s and 70s and beyond every day, and she's seen firsthand how setting retirement goals gives individuals direction and clarity – all from a proactive place. 
And research also suggests that retirees should be more proactive in order to ensure a happy and fulfilling retirement. The I-Shou University in Taiwan led a study that found that the effective management of free time has a far more significant impact on a retiree's quality of life than the amount of time the person actually has available for leisure activities. 

In other words, it's not just about having more time to do what you want — it's about making sure you spend your leisure time in ways that align with your life goals.
Here are the three main reasons why you should set life goals in retirement:
#1 Gives You a Sense of Direction
Life can be pretty overwhelming sometimes, even during retirement. It seems like there's so much to do and so little time to do it all. Or nothing to do and nowhere to begin. Both can leave you feeling super stuck.
And if you don't have some sort of life goals set, it can be pretty easy to get lost in the shuffle and just go through the motions day after day. Having specific life goals gives you a sense of direction and helps you measure your progress along the way.
Retirement is no different, and in fact, this sense of direction is more critical as you age because it can really impact both your physical and mental health.
#2 Helps You See the Big Picture
When you set life goals in retirement, you force yourself to take a step back and look at the big picture. 
Which allows you the important advantage of seeing your life as a journey. You wouldn't start a cross-country road trip without first planning your route. Similarly, you don't want to try accomplishing anything significant without first setting beginning and end markers.
When you have specific goals in mind, you can map out a plan of action and take the necessary steps to achieve them.
Some people resist setting goals because they're afraid of failure. They don't want to put themselves in a position where they might not succeed. But this thinking is backwards. If you don't set goals, you're guaranteed to fail because you'll never even give yourself a chance to succeed. 
Consider developing a growth mindset: Embrace your failures and use them as motivation to keep pushing forward. After all, the challenge is where all the gold is, right? Failure is so necessary to learn from.
#3 Gives You Control of the Future
Setting goals is essential for taking control of your life and shaping your ideal future. When you set goals, you're proactively taking charge of your life, charting a course for yourself, and saying goodbye to procrastination.
Of course, life isn't always smooth sailing  (it's not supposed to be). There will be setbacks and obstacles along the way. If you have a retirement goal to strive for, it'll give you the motivation and clarity to keep going when things get tough. And eventually, you will achieve your dreams.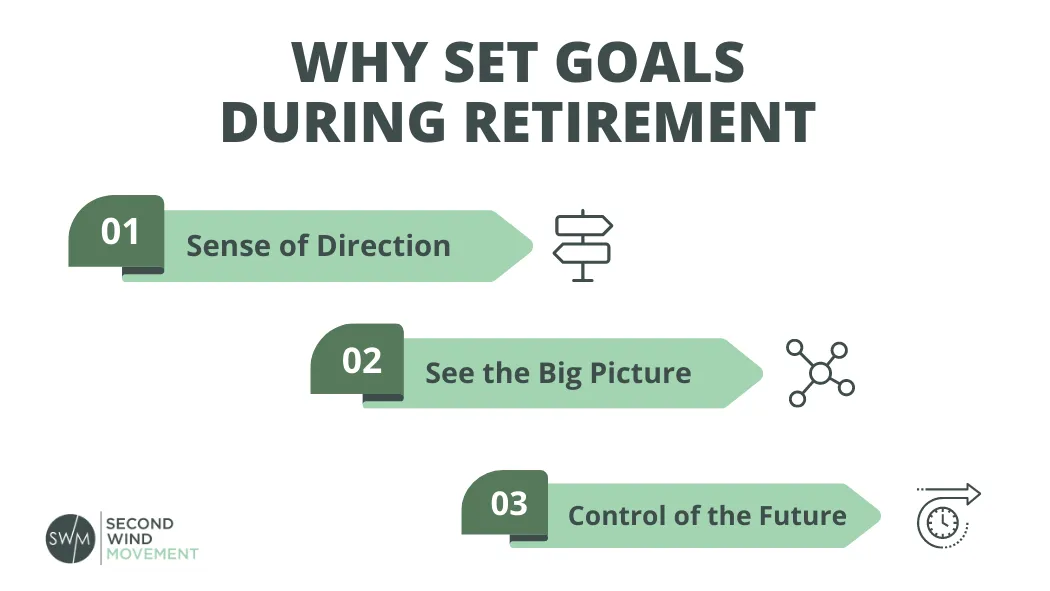 Amazing (Real-Life) List of Retirement Goals
#1 Climb Mountains
Steve Gardner is an all-star Rewire My Retirement student who not only overcame some major life hurdles (we're talking bad falls, big health setbacks, and welcoming his teenage granddaughter into his home to help with familial issues) – but he came back so strong, both mentally and physically, that he achieved the not-so-common retirement goal of climbing Mt. Lassen in June.
#2 Write Books
With the energy and spirit of someone who's forever young, Sue Camaione set out to write one book. After learning our rewiring method, though, she's on target to write three memoir books with important messages that she's gifting the world. 
#3 Sell Your House & Relocate
After spending decades caring for her quadriplegic son who sadly passed, Joyce MIller was on a quest to find her new joy – which, in terms of a common retirement goal, meant selling her home and relocating to an ideal place for her new beginning. She achieved her goal with flying colors and continues to grow, overcome challenges, and be a loving inspiring example for her daughter.
#4 Start a Passion Project
There are a ton of passion projects and certainly no single common retirement goal that fits the bill universally, but one shining retirement goal example is Doc Lawrence Nelson's – where he established a moonshot team dedicated to improving the lives of POI patients. 
#5 Launch an Online Business
Thanks to the internet, the sky's the limit here and we could publish a long list of retirement goals based on launching an online business as an older adult. For today, though, look no further than Paulett Amburn for inspiration. After starting her virtual book club during the pandemic, she set greater and greater retirement goals, one of which is her online yoga business – where she combines her passions of teaching yoga, being fit, staying social, and helping others.   
#6 Make New Friends
After losing her husband, Mary Zimmerman wanted to stave off loneliness as a widow, find her joy again, and meet new friends. By setting and achieving her retirement goals with consistent effort, Mary moved to a new neighborhood for a fresh start and now enjoys the beach, traveling, kayaking, exercising, and going to concerts in the park with new friends.
#7 Find a Creative Outlet
Creativity is at the root of everything amazing, and finding an expression and format for your creativity is a wonderful gift for both you and the world. AnnaBelle Marshall is one such creator who achieved her goal of simply illustrating daily to hone her skills, create a healthy and fullfiling retirement routine, and continue to learn and develop – even into her 90s. Talk about inspiring. 
#8 Solve Problems in the Local Community
Superbly knowledgable about sustainable and equitable food deserts in the US, Brad Auten set a retirement goal based on his passion of solving food desert issues in his local community – he launched a non-profit (dream team included) that designs and installs portable hydroponic, aeroponic, and soil systems in his local community in Arizona. 
Now that we've shared some inspiring stories and the importance of setting goals in retirement, let's give you the steps to do it, too.
How to Set Retirement Goals
No two people are alike, so it only makes sense that everyone has a different definition of success when it comes to retirement. Which makes it especially important to get clear on what success means for you.
Only then can you begin setting the right goals to help you achieve it. And it all starts with finding clarity.
If you're looking to set life goals in retirement and want some help getting started, download our free workbook. In it, you'll find space to coin your definition of success, brainstorm what life goals you want to achieve, and ultimately, live with more passion.
And remember that setting retirement goals is different from achieving them. Once you have clarity in setting your life goals, follow our seven steps to achieve them. 
7 Steps to Achieve Retirement Goals
#1 Set Goal Priorities
If you make the mistake of trying to tackle all of your goals at once, you'll likely end up feeling overwhelmed and stressed. Which is why it's so important to set priorities — so you can focus your energy on where it's needed the most.
When setting retirement goals, consider following our trusty framework — the 5 Rings of Retirement. Start by gauging your energy levels on a scale of 1-5 in each ring, 1 being depleted and 5 being totally energized.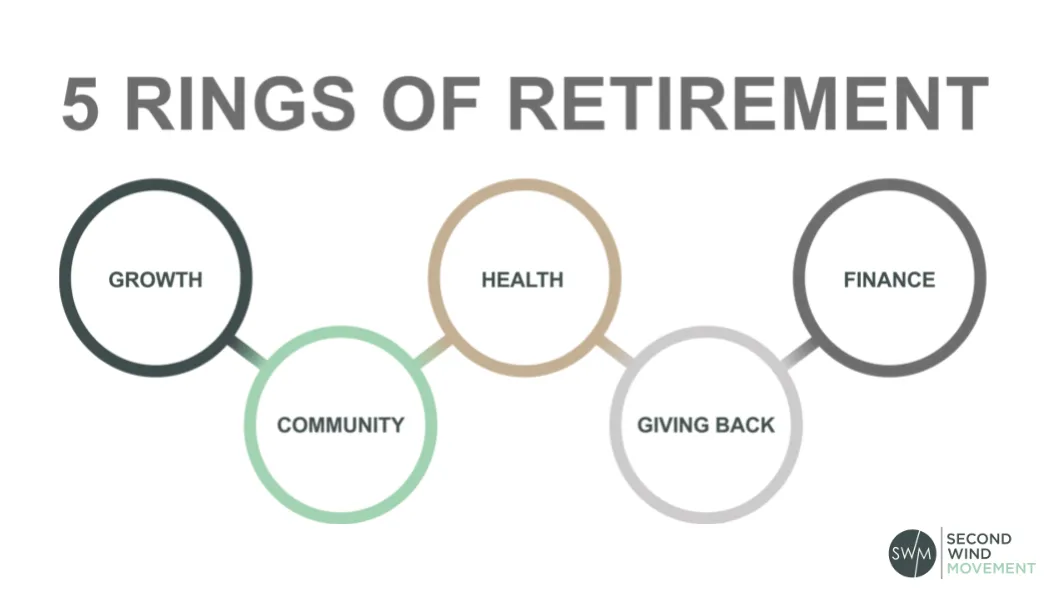 Choose only one Ring of Retirement to tackle first. We recommend going with the category that you scored the lowest in first because this is typically the culprit for dragging your overall energy level down.
It doesn't mean you forget about the rest. It simply means you're focusing on one now, and you'll get to the others later.
#2 Micro-Step Your Way to Success
One of the biggest mistakes people make is thinking they need to accomplish everything all at once. But that's just not realistic, and it sets you up for overwhelm, stuckness, and sadly, disappointment.
Instead, break your goals into small, manageable pieces that you can work on a little bit each day. We like to call these micro-steps. And with the magic formula of mini-goals and micro-steps, you can kill procrastination and get anything done.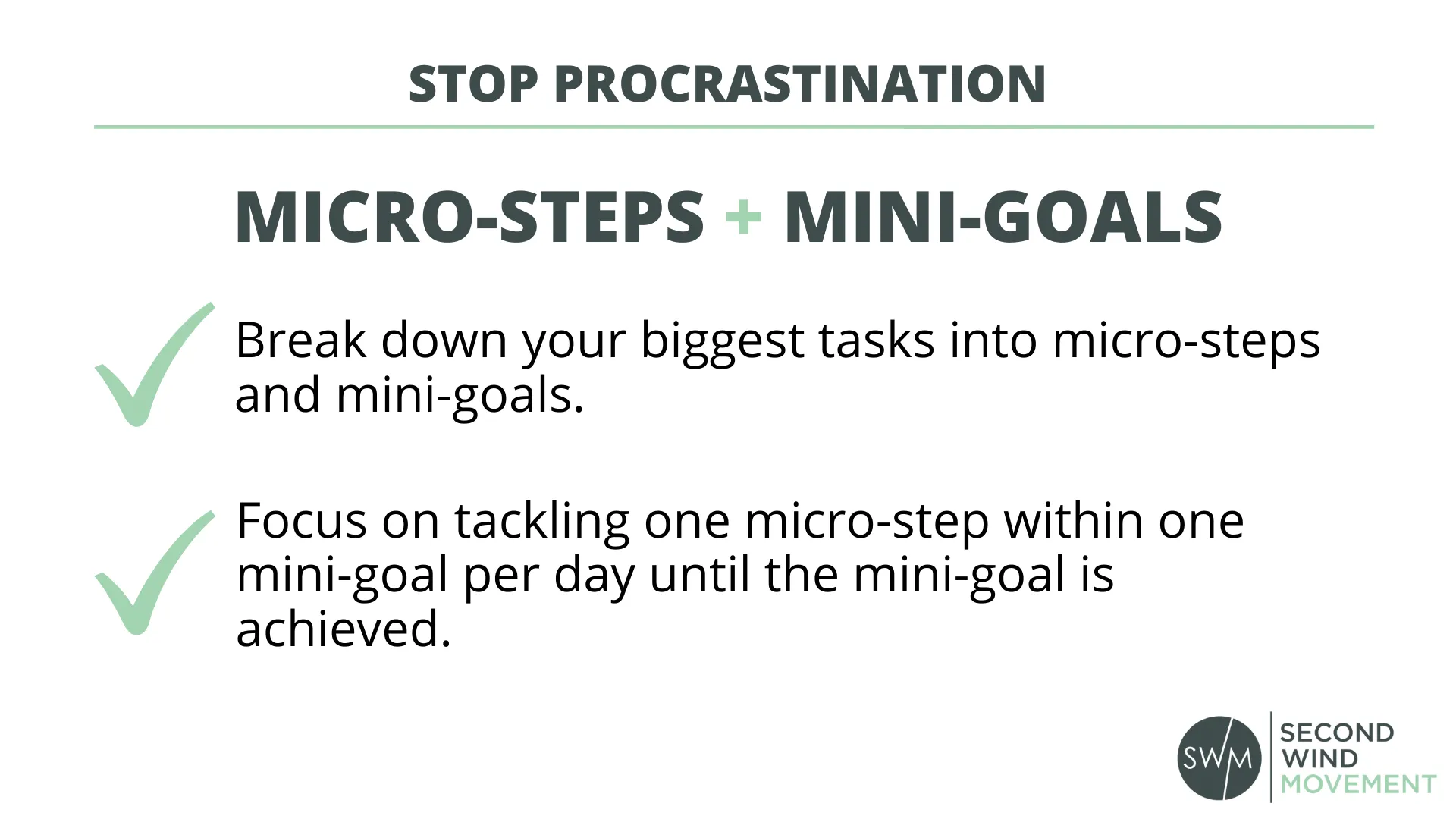 Research from the Stanford School of Business suggests that you can increase your motivation and chances of success by focusing on small "sub-goals" instead of the overall goal.
So, for instance, if one of your retirement life goals is to write a book, your micro-steps might look something like this:
research book ideas for 20 mins a day until you land an idea you love

come up with a working title and outline 20 mins daily until complete

write 500 words daily until you have X chapters

edit what you wrote for 20 mins daily until complete
You get the idea. You'll make so much more progress with daily micro-steps than if you were to take a 2-week break, for instance, and then cram in a 7-hour day. 
Consistency is THE way to get there without all the stress by taking small, consistent, daily steps towards your goal. Plus, you'll even learn to enjoy the process, which is another huge piece of adopting a growth mindset.
#3 Be SMART
It's not enough to just have goals; you need to make sure they're the right type of goals that are specifically outlined. The best way to do that is by using the SMART goal-setting method and it's popular for a reason:
Specific

: The more specific your goal, the better your plan and actionable steps towards achieving it.

Measurable

: If you can measure your progress, you'll be more likely to stay on track.

Achievable

: Make sure your goal is realistic and achievable, so you don't get discouraged along the way, or worse, set a pipedream.

Relevant

: Choose a goal that aligns with your values and what's important to you.

Time-bound

: Give yourself a deadline for accountability and so you don't get sidetracked.
As an example, let's say your goal is to "make more friends".
A SMART mini-goal would be: "I will join Meetup groups and other social activities, and attend an event or gathering every week for the next 6 months."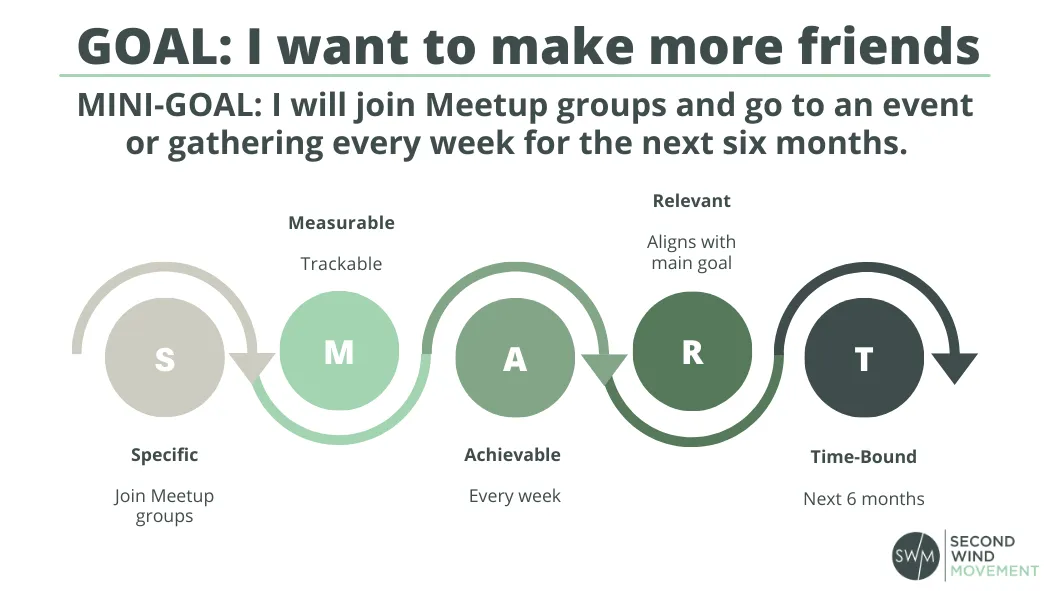 Now that's a goal you can work towards.
#4 Make Your Life Goals Tangible
The simple act of writing your goals down can do wonders for your motivation.
When you take the time to physically write out your life goals, it makes them more real and tangible. You can also refer back to them easily whenever you need a motivational boost. Plus, seeing your goals in writing helps you focus and track your progress over time – super important for making adjustments as needed.
Not to mention, an often-cited study found that writing down your goals increases your chances of completing them by 42%. So, grab a pen and paper (or open up a doc on your computer) and start jotting down your life goals for retirement.
Better yet, make your goals visible and keep them in a place where you'll see them every day. I like to put mine as my phone wallpaper, so I see them all the time. You could also put them on your fridge, in your car, or anywhere else that's convenient for you.
To sum it up: The more you actually see your goals, the more focused you'll be, and the more likely you'll be to achieve them.
#5 Identify Potential Obstacles
Anyone who's ever tried to achieve a goal knows that obstacles are inevitable. What separates successful people from those who fail is the ability to identify and overcome these obstacles. 
This is where self-awareness comes in. According to a study on the effect of self-awareness on the identification of goal-related obstacles, people who are more self-aware are better able to identify potential obstacles standing in their way.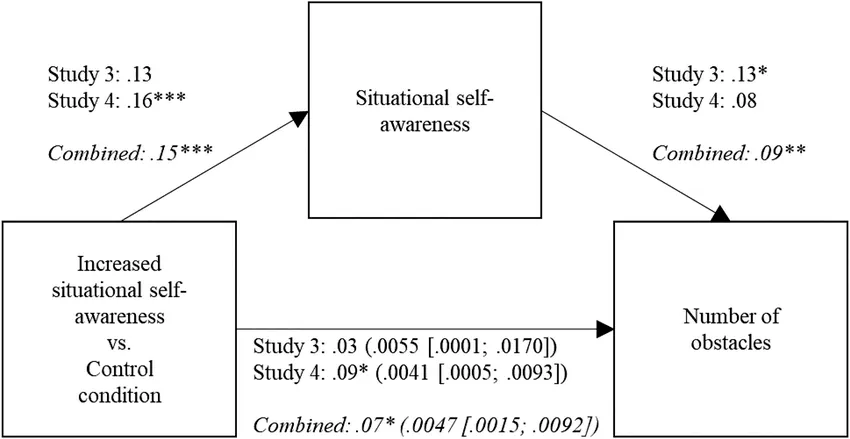 Which makes sense because, without self-awareness, you'd be like a ship at sea without a rudder, constantly blown off course by the first strong wind that comes along. With it, however, you can recognize when you're veering off track and course-correct accordingly.
And knowing is half the battle. The other half is embracing these obstacles when they come up and seeking the gifted learning lesson (every challenge offers one!).
#6 Get an Accountability Partner
It's no secret that one of the best ways to achieve your life goals is by finding someone who will hold you accountable. Having someone to answer to makes it much more likely that you'll see your objectives through to completion.
But who should you share your life goals with in order to achieve the best results?
Researchers discovered that individuals were more committed to and successful at their goals when they shared them with someone they perceived as having higher status than themselves. 
In other words, if you want to improve your odds of reaching your life goals in retirement, make sure you share your objectives with someone who's a bit further ahead than you are.
This could be a friend, family member, or even a life coach if you're willing to invest in the expert help and shortcut your way to success. The important thing is that you choose someone who will take your goals seriously and give you honest feedback along the way.
So don't hesitate to ask for help when setting life goals in retirement. It could be the difference between success and failure.
#7 Celebrate Your Successes
Last but not least, don't forget to celebrate your successes along the way.
Life goals in retirement are often about big wins, but equally as important are the little wins inside your process. Take the time to enjoy every step of the way.
No goal is too small to celebrate, and every step you take gets you closer to your ultimate goal. The small wins matter just as much — if not more.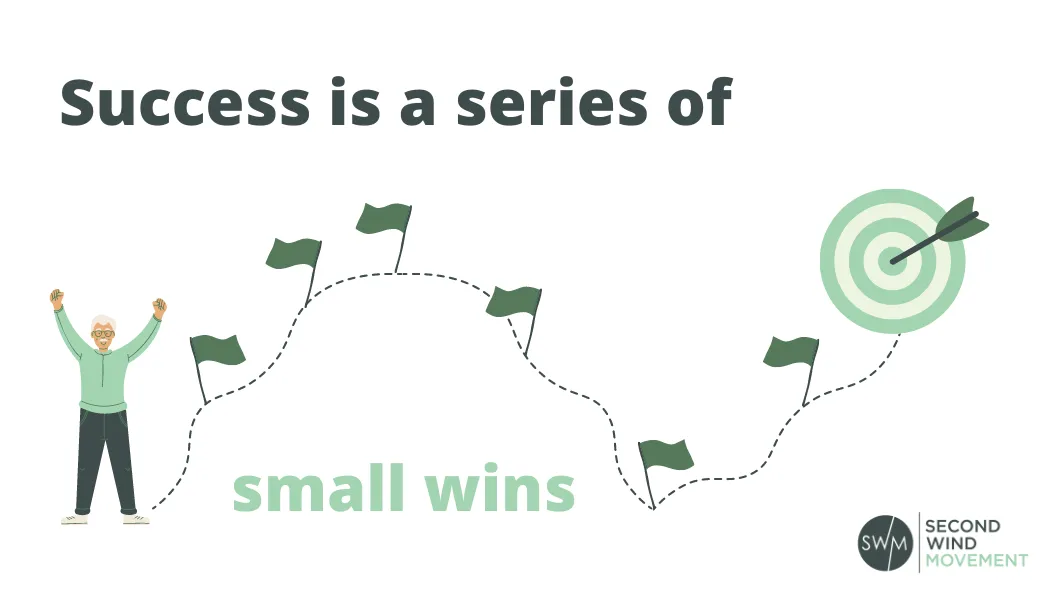 Why? As for the neuroscience, with each success your brain releases a dopamine hit, which will further motivate you to keep going and achieve the next small win. 
Basically, it's the day-to-day accomplishments that keep you moving forward and motivated to achieve your big goals. And compared to the big wins, they happen more frequently.
So pat yourself on the back often, leverage the forward momentum that small wins bring, and enjoy the journey as much as the destination. 
Retirement Planning Beyond Finances
Planning for retirement goes beyond simply saving up enough money. It's also important to consider your personal goals and objectives for life after you retire. 
Of course, finances are also a key part of preparing for retirement. But it's important to remember that money isn't everything. 
Your happiness in retirement will depend just as much (if not even more) on your personal life goals as it does on your bank balance. 
(P.S. our non-financial Retirement Checklist is a great place to start)
And by following these simple tips, you'll be well on your way to a bright and happy future:
#1 Set priorities

— start by finding clarity on what's important to you and where to put your energy first

#2 Micro-step

— break down your goals into manageable micro-steps

#3 Be SMART

— get specific, measurable, achievable, relevant and time-bound with your goals

#4 Make them tangible

— write your goals down and keep them where you can see them daily

#5 Identify potential obstacles

— by acknowledging potential roadblocks, you can develop a plan to overcome them and also learn the best lessons 

#6 Get an accountability partner

— rely on someone supportive to keep you on track

#7 Celebrate your successes

— don't forget to enjoy the process and reward yourself along the way
And if you're looking for more guidance, reach out to us for a free Breakthrough Session. In just one hour, we'll help you get clarity on what you want and how to achieve it.
Happy goal setting!