For many older adults, boredom is their worst enemy in retirement.
Sometimes retirement feels like being stuck in a limbo of procrastination with lots of free time (or lack of free time, believe it or not) but not enough motivation to actually get up and do all of those things you dreamed of.
​​And sometimes people find they don't have enough time to squeeze in the things they dreamed of doing and get caught up with distractions and responsibilities – without the right structure and plan in place. And so, even though their calendars aren't empty, they still fall victim to boredom.
If this sounds familiar, don't worry — you are definitely not alone.
Even though most people see retirement as the time of life when you get to do what you want, go where you want, and live free, sometimes, that freedom doesn't feel so "free" and can turn into boredom. 
It's hugely important to structure your day-to-day routine so it keeps you stimulated, in the right way at a deeper level. 
Today, we're here to share –  here are so many ways (and we've thought of 101) that you can overcome boredom in retirement. Here are just some of the retirement advice of successful retirees from the Second Wind Movement community. 
We hope they'll serve as an inspiration to help you overcome boredom and pursue a fulfilling and purposeful retirement.
#1 Practice Mindfulness Daily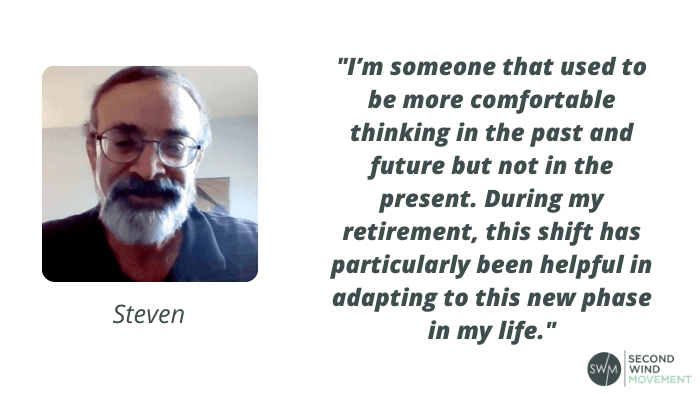 Staying in the moment can be difficult. We are constantly being pulled in all directions by our many obligations and commitments. But it's important to remember that being present is what keeps our lives rich with flavor, depth, and excitement.
The ability to be aware, mindful,  and engaged with what's going on around you can help enrich your relationships, deepen connections with others and yourself, and make every day more meaningful. And these are just some of the benefits of mindfulness.
No one said it better than Steven:
"The way I have fought boredom is by staying in the present wherever I go.  I am surprised that by doing so, I have been having pleasant and sometimes deep conversations with those I have met — such as a cashier at the grocery store or someone exercising near me at the fitness center."
It's time to stop looking back or worrying about your fears and future in retirement and simply live in the moment.
#2 Find Your Adventures 
Boredom is the pain of unused potential. 
What do you do when you're bored? You probably watch TV, check your email, scroll through Facebook or binge-watch Netflix. If any of this sounds like you, it's time to get out of your comfort zone and overcome boredom in retirement by seeking adventure and creativity.
And if anyone knows what it's like to be adventurous after retirement, it's Karen. 
In the year and a half she's been retired, she has been making up for lost time by working on projects that have long needed attention in her life.
The feeling of boredom has been a stranger to Karen and her friends and family are always wondering what she'll do next. 
While jumping out of airplanes might not be your thing, it's important that you find a way to step out of your comfort zone and step into your version of adventure during this important life phase.
#3 Engage in Your Community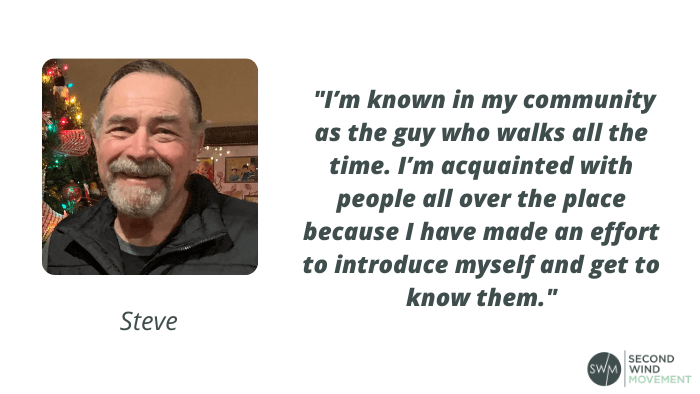 Social interaction is so vital. Not only does it help you overcome boredom in retirement, but it also bolsters your health and improves your overall well-being. Being part of a community, no matter how small, means that you always have someone to lean on and share experiences with.
No one knows this better than Steve. He joined our program just as he and his wife welcomed their 15-year-old granddaughter into their home. They provided an environment where she feels cared for, loved and safe. 
"When I started going through the Community section in Rewire My Retirement I started changing and finding where my happiness was."
Equipped with the tools from Rewire My Retirement, Steve not only became a stronger more loving patriarch to his family, but he also started making friends everywhere he went from all walks of life. 
You can often find him walking the local trails, hills, and even throughout the neighborhood often chatting, supporting, and ministering to friends through the highs and lows of life. Steve's wide range of friendships and relationships is rich and meaningful, to say the least.
And it's worth mentioning there are many benefits of simply connecting to others for light-hearted fun, too, whether it's playing board games, card games, or an easy game of Hearts online with friends.  Light or heavy, social interaction is totally worthwhile.
#4 Pursue Your Passions  
Retirement can sometimes feel like a time of loss. You lose the job and identity you've had for decades and the daily routine that once fulfilled you. 
And that feeling is magnified by the fact that most people retire relatively early on in their life span. There are many years ahead of you filled with possibilities and discovery. In fact, the number of people who live to be 100 is expected to grow to 3.7 million by 2050.
The good news is that there are ways of overcoming boredom in retirement for longer, one of which is pursuing passions from your earlier years or even finding entirely new ones.
Rembert runs a small business selling comic books, card games, and board games. His career path was impressively diversified (from radio DJ to university professor). Even in retirement, Rembert's interests go beyond just his business. 
He spends his spare time managing a blog about music from the 50s to the 80s. And he's even published several books on lost or forgotten songs.
There are many benefits and disadvantages to working after retirement. The key takeaway is that if you decide to work in any capacity, pursue your passions and lean into your purpose.
#5 Volunteer in a Meaningful Way
Have you already tried a myriad of activities to fill your free time, but were left with a feeling of void deep down?
Many retirees are wondering how to stay busy in retirement. But it's more than just keeping busy. 
It's about finding activities that give you a sense of purpose and fulfillment. And giving back plays a crucial role.
Beth is the prime example of the benefits of volunteering. And it goes beyond just overcoming boredom. 
By maintaining the nearby trails, Beth has found new friends, improved her health, and also discovered meditation goes well beyond sitting in a lotus pose.
To give you a head start while searching for the right volunteer opportunity, check out these 20 volunteer websites + our six favorite charities.
#6 Be Prepared & Plan Micro-Steps 
While you were working, you probably had your days planned to a tee. And now in retirement, the lack of structure in your day-to-day life can leave you feeling disengaged, scattered, or rudderless.
In fact, research shows that transitioning to retirement can lead to decision paralysis. In other words, you have so many things you're thinking of doing, but the days just fly by without a solid plan. 
Mary was stuck in a similar rut until she discovered Rewire My Retirement. And she:
"learned those micro steps such as doing a Google search, then listing options, deciding what to do, gathering supplies, etc. are all important."
For instance, if Mary decides to take a cooking class, she'll purchase the ingredients and lay out all of the necessary supplies. When she starts exercising, she first gathers her mat and weights in the room. 
More importantly, she proactively structures time into her schedule to make room for her passions, interests, and priorities, so nothing meaningful gets left behind. 
As the old saying goes — being prepared is half the battle. So overcome boredom in retirement and procrastination by first finding clarity, then setting everything up in advance to yourself up for success. 
#7 Stay Active & Vibrant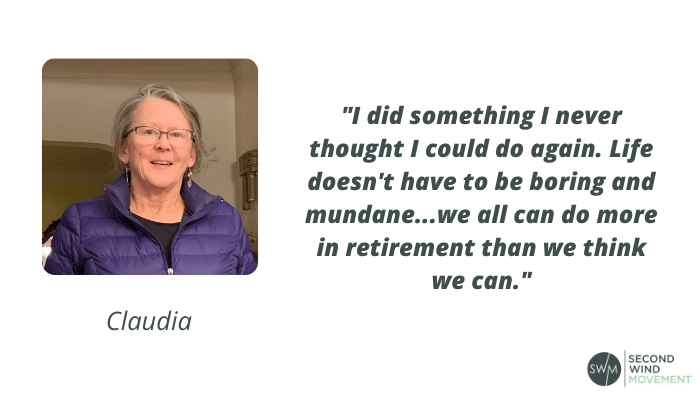 When Claudia was in her 50s, she joined a local running class and loved it. But life got in the way of sticking with it and her daily exercise regimen was at an all-time zero.
Fortunately, she was sick and tired of hearing myths about aging that told her she was too old to be active. After following Cyn's advice and Rewire My Retirement program, Claudia shares some golden advice that applies to both physical activity and retired life in general:
Start slowly and in increments (aka

micro-stepping magic

)

Continuity and habit formation matter the most

Your attitude is everything, which starts with awareness and clarity and ends with action and consistency
It's never too late to start moving. With the right attitude and a little know-how, you can successfully change your relationship with exercise, be fit after 60, and find joy in movement again — no matter how old you are.
#8 Contribute Your Unique Skills
If you have a skill that could be used for something productive, why not share it with others? Just follow the example of Susan, a devoted individual who has found numerous ways to contribute to the world. 
Her passion projects are varied and she keeps herself busy with a wide range of groups and causes, but one of her most consistent sources for happiness is through helping others who are less fortunate.
From running a local food bank and garden club to being appointed chairwoman that helps save the local school, Susan is an active member in her community and she says:
"It's great to volunteer, but I believe if it's important enough for my time, it is imperative, in my book, to bring others along so the activities continue."
Finding Happiness in Retirement
We hope these retirement tips from successful retirees have served as an inspiration. 
As you've probably concluded yourself, there is no one-size-fits-all solution to overcoming boredom and finding happiness in retirement. 
And there shouldn't be. 
It's about finding your unique interests and uncovering what brings you joy.
To dig deeper into what that could be for you, check out this Retirement Lifestyle Assessment.