First off, congratulations on researching how to find a job after retirement. If you have the privilege to do what you love, working later in life can benefit your health.
But usually, job and retirement aren't two words you'd see in the same sentence. 
However, many older adults are deciding to work past the traditional retirement age, and the rules to working after retirement have changed. 
Whether it's out of necessity or desire, many retirees are returning to the workforce. In fact, 1 in 4 retirees feel they need to start working again due to the employment interruptions during COVID-19.
If you've weighed the benefits and disadvantages and decided to continue working in your post-career phase, you might be wondering the best way to find a job after retirement. 
We're here to help.
In this article, we'll go over five important steps to finding a job in retirement and also provide some resources that will help you find a position that's just right for you.
5 Steps to Finding a Job After Retirement
#1 Decide What You Want 
Before starting your job hunt, think about your desired position. And I don't mean a surface-level desire. 
Really dig into what will boost your energy during this precious life phase of retirement. 
Instead of focusing on what or how, start with your why. You have the advantage of finding a position that's new and exciting, and different from your past career path.
Ask yourself, why are you finding a job after retirement? Finding clarity on your why will help you figure out the nitty-gritty details like, whether you want to:
Work

part-time

or full time, in-person or from home

Help a non-profit as a paid volunteer gig or an organization that you enjoy

Find a job or start your own business or passion project

Take on more responsibility or take it easy

Continue your career path or give another industry a try
The more time and thought you put into making these decisions before looking for a job, the more enjoyable your search (and the job itself) will be.
#2 List Your Skills and Qualities
Before you go looking for a new job or career, consider writing down all of the skills and qualities that you have acquired over the years. This will help guide your search for a new opportunity and set you up for success in the job market.
If your job hunt isn't driven simply by financial reasons, go further than that. Make a list of your passions, interests, and hobbies and see how they line up with possible careers. 
Another reason we suggest you start with your why is most people get stuck in the how. In other words, don't limit yourself to your past experiences or skill set. 
Remember that you're designed to grow and challenge yourself, and lifelong learning is a big part of that.
So let your purpose and passions fuel your search — they may translate well into paid positions.
#3 Network
Networking is a crucial part of any job search, but it can be challenging to know where and how to start. 
Is there anything better than a referral? As it turns out, there isn't. 
A whopping 85% of jobs are secured through networking. In other words, some jobs never even make it to the job market because many businesses prefer filling positions internally.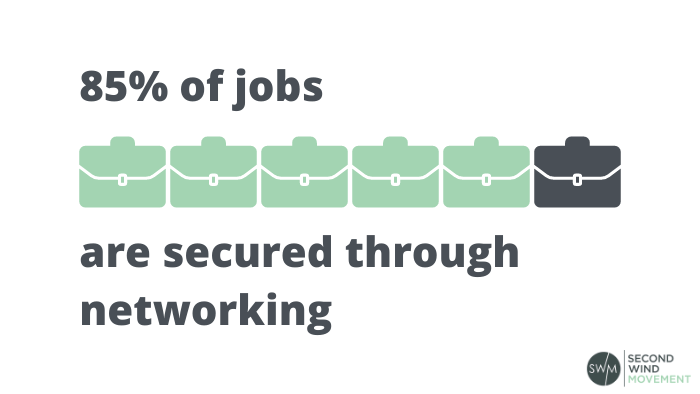 If you've decided to continue your pre-retirement career, reach out to previous employers and co-workers to let them know you're returning to the workforce.
And if you've decided to make a complete career shift (which we highly recommend especially if it's passion-related), you can still benefit from reaching out to the people in your current network. 
You never know which connections will become valuable or serendipitous, so ask around with friends, family, past coworkers, or even in your neighborhood.
These days, with a lot of networking available online, feel free to reach out to people you don't know as you brainstorm and research attractive roles. 
After all, it's time to step out of your comfort zone and explore some exciting activities, job included, now that the pressure of advancing your career is (hopefully) a thing of the past. 
#4 Tailor Your Resume
It's time to get your CV in shape. Your resume is the first impression you make on a potential employer, and recruiters take on average 6 seconds to scan a resume and decide whether you'd be a good fit.
Here are a couple of tips to get the most out of your CV:
Make sure it reflects the type of position you are looking for

Stand out with appealing design (use the templates available in free programs like

Canva

or

Venngage

)

Write a personalized cover letter that highlights why you're the perfect person for the job 
And don't be afraid to share your enthusiasm for contributing to a cause. It matters more than any technical skill set (the tech stuff can always be learned).
All in all, your resume will be the first thing potential employers see on your path toward success, so make it count.
#5 Be Patient
As always, take it one micro-step at a time and work towards your goal of finding a job incrementally and consistently. It's a tricky process that requires dedication, effort, and a little bit of luck. 
What's the best way to land that "luck"? Chip away at your goal daily (even if just a few minutes) until you find a role you're excited about. 
Not only do most people give up too easily or they don't work at it consistently, it may also seem like every employer is looking for someone younger or someone with more experience, but please don't let that discourage you. 
It can take time to find a position that's right for you. And there are plenty of companies out there willing to take on team members who have years of valuable life and work skills.
Where to Look for a Job After Retirement?
Now that we've covered the why and the what, you can start thinking about how to find a job after retirement.
Here are some resources to check out when looking for retirement jobs:
Rather than blindly scrolling through each site, remember to start perusing only after you have a clear idea of what you want. Energy and excitement above all else.
On that topic, here are 9 retirement hobbies that can make you money doing things you love.
Second Careers for Golden Years
Searching for a job may leave you feeling lost or unsure of what to do next. Especially if you're relying on financial compensation and working because you have to and not just because you want to. 
The key to finding a job after retirement is being clear and persistent. Whether you want to work in the same industry or explore something new, there are plenty of opportunities out there. 
And more importantly, remember that the best way to do just about anything is to stay active and follow your passions until something clicks. 
It's about setting clear intentions based on your why and following the clues that lead you to a role that's energizing. The last thing you want in retirement is to commit to a work environment that's draining and stressful.
We're confident that you can offer immense value to the world through not only your experience and skills, but also through your wisdom, knowledge, and desire to help others.