As we grow older, yoga becomes even more essential to our overall health and well-being.
Especially when it comes to reducing the risk of age-related disability and chronic disease. 
According to Johns Hopkins Medicine, the benefits of yoga range from improved balance, flexibility, strength, heart health and sleep to relief from back pain and arthritis symptoms, and as a stress-management activity.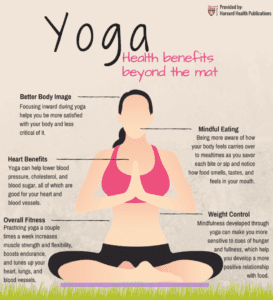 Plus, yoga, meditation and prayer can all lead to more happiness and less depression and anxiety as we grow older. 
If you're looking for some simple ways to enhance your yoga practice, for a boost in your fitness levels, health and happiness, you're in the right place. 
Even if you're just starting out, yoga for older adults is worth exploring. You'll be grateful for the benefits it provides.
Here are five tips and tools to help you take your yoga practice to the next level.
5 Ways to Boost Your Yoga Practice at Any Age
#1. Monitor Your Health and Progress with a Tracking Device
First things first. It's important to monitor your health, especially as you engage in physical activity. 
According to Edward C. Baig of AARP, fitness tracking devices and smartwatches offer a variety of health benefits, including emergency medical assistance, sleep tracking, and blood oxygen level monitoring. 
What's more, these impressive devices can track your fitness progress and monitor your health as you practice yoga, meditate, and engage in other types of physical activity. 
Basically, they help you gauge whether you're on track or not with your physical workouts and overall health.
Among the hottest fitness trackers to get your hands on today includes the Apple Watch Series 6. 
And while something as sophisticated as a smartwatch certainly isn't mandatory when practicing yoga, this type of device is equipped with helpful features – like blood oxygen sensors, heart rate monitoring, activity tracking and electrocardiogram generation. 
Interested in other tracking device options?
Other top-rated fitness tracking devices include the Fitbit Ace 2, Samsung Galaxy Fit and Garmin Vivoactive 4. 
If the tech of a fitness tracking device sounds overwhelming, not to worry. You can try downloading an app on your smartphone to monitor your health.
#2. Try a Yoga App for Your Smartphone
On top of helping you track your progress, mobile apps are great for helping you to stick to a yoga routine. 
And let's be honest – sticking to any routine that's good for you is tricky, especially at the beginning. 
To help you reach your health goals and be held accountable for a healthier lifestyle, mobile apps are effective tools.  
The Pocket Personal Trainer, for instance, lets you customize goals to meet your specific nutritional needs and fitness objectives — all while working out and practicing yoga from home. 
Plus, you'll receive yoga tips from certified coaches and other perks, like weekly meal plans and workout tutorials.
Other helpful yoga apps are:
Yoga Studio

, an app featuring more than 100 meditations and yoga classes

SilverSneakers GO

, a free yoga app designed for adults 65 and older
It's worth noting that if your current cell phone doesn't have internet access, you'll need to upgrade to a smartphone to use these mobile apps (or these 15 best retirement apps).
The Samsung Galaxy S20 FE, for instance, is a solid option for older adults, or you can upgrade to an Apple iPhone SE if you prefer iOS devices. 
Tech aside, it's also important to set weekly goals to help you stay on track.
#3. Set Weekly Goals for Your Practice
Fitness trackers and yoga apps can help to take your practice to the next level, but it's also important to have a specific yoga goal in mind each week. 
Some examples of weekly yoga goals include:
Mastering a new pose each week

Practicing yoga for at least seven minutes each day

Setting an intention

at the beginning of your practice

Attending at least one live-streamed yoga class each week (instead of a pre-recorded class)

Meditating for five minutes at the end of each class (after you've rested in

Savasana

pose)
To set and achieve these types of yoga goals each week, consider the power of micro-stepping. It's an extremely useful way to break down your goal into manageable consistent steps. 
It goes without saying that the most important factor, when it comes to achieving your goals, is making consistent progress.
Which is why weekly goals are so key. 
Alternatively, if you're thirsty for more tech options, try using a goal-setting app like Strides and Way of Life.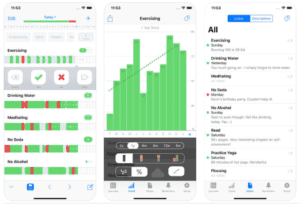 You can use these apps to achieve your weekly yoga goals, set healthier habits and schedule daily reminders so you don't fall behind. 
With a clear weekly goal in mind, it's time to immerse yourself in the right classroom environment.
#4. Find an Age-Friendly Yoga Instructor
Whether you're practicing yoga at home, in a park, or an indoor studio setting, it's important to find an instructor who's certified and experienced in teaching yoga to older adults. 
At a minimum, your yoga instructor should understand the health concerns and physical changes that come along with aging, the different modifications that can be made to challenging poses or sequences.
They should also be familiar with the many benefits of using props during practice, from blocks and straps to chairs and bolsters. Here are a couple of chair yoga exercises to help get you started.
Yoga props are super useful and help to:
Reduce the risk of injury during class

Improve balance and flexibility

Keep hands and feet planted on the mat

Support the head, neck and back

Prevent joint and muscle strain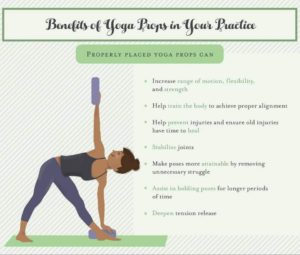 While finding the right yoga teacher for your body type, age and experience level can take some time, several great starting points include websites like:
Of course, what matters most is finding an instructor and program that works best for you. 
#5. Enlist a Yoga Buddy
Even if you're practicing yoga alone at home in your living room, having a trusted buddy to share your goals, struggles and accomplishments can make your standard yoga practice even more fun, enjoyable and successful. 
After all, research tells us that you have a 65% chance of completing a goal if you commit to someone, and you have a 95% chance if you have a specific accountability with a person you commit to. 
Pretty compelling, right?
As far as your weekly yoga goals, according to Lisa Evans of Fast Company, you'll be more likely to achieve your health and fitness goals if you have someone to hold you accountable – and your yoga goals are no exception. 
So, when you set your next yoga goal for the week, share it with a loved one and you'll likely find the motivation you need to achieve it. 
And you might even encourage your loved ones to roll out their yoga mats, too. 
Take Your Yoga Practice to the Next Level
Whether you're a beginner, intermediate or experienced yogi, these five tips and tools will boost your yoga practice. 
And it's worth taking your physical, mental and emotional health to the next level – which a consistent yoga practice will help you do. 
With fitness trackers, mobile apps, weekly goals, age-friendly instructors and a yoga buddy to hold you accountable, may you improve your balance, flexibility and cardiovascular health in your golden years. 
---
Article written by Sheila Johnson