Life after retirement doesn't always end up looking like what you imagined.
You've Been Trained to Imagine a "Leisure-Only" Life After Retirement 
There's all this hype about crossing the finish line. And then immediately settling into an epic retirement life full of zest, money, happiness, romance, and adventure.
Our society has convinced us that if we simply pack away savings into our 401Ks our entire career like responsible human beings, all of a sudden we'll experience life after retirement that looks like these top Google images results: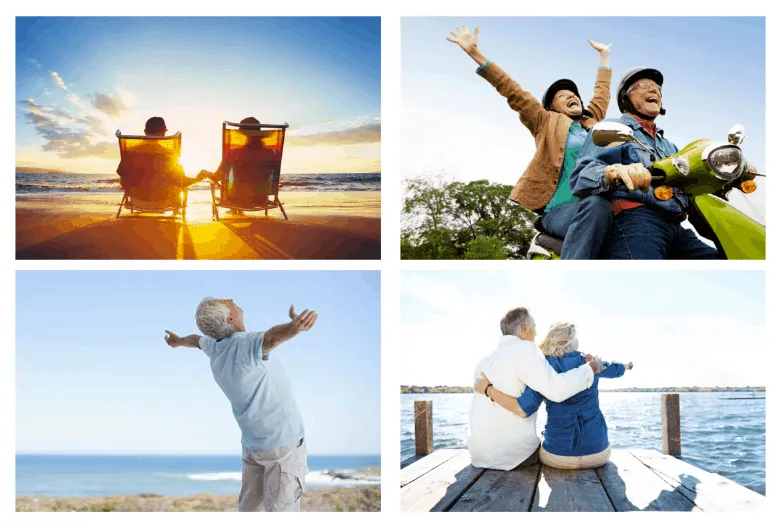 What Your Life After Retirement Really Looks Like
Not that you can't have this amazing picture-perfect retirement lifestyle… you absolutely can.

It just takes a bit of work.  As in, challenge, growth, and, of course, first finding clarity on your ideal life after retirement.

Rather than showing you inauthentic images of sad and stressed seniors, I want you to picture your own reality. Check out these stats:
Studies have shown that the two most vulnerable times in your life are the first year after birth and the first 12 months after retirement.

One in seven boomers is treated for depression, which is a higher rate among other generations of American adults (

Gallup

).

Divorce among Boomers is increasing. The number of divorces among that age demo has doubled since the 1990s (

Pew Research

).

Why is no one talking about this?

And it's time to turn these scary stats about older adults around.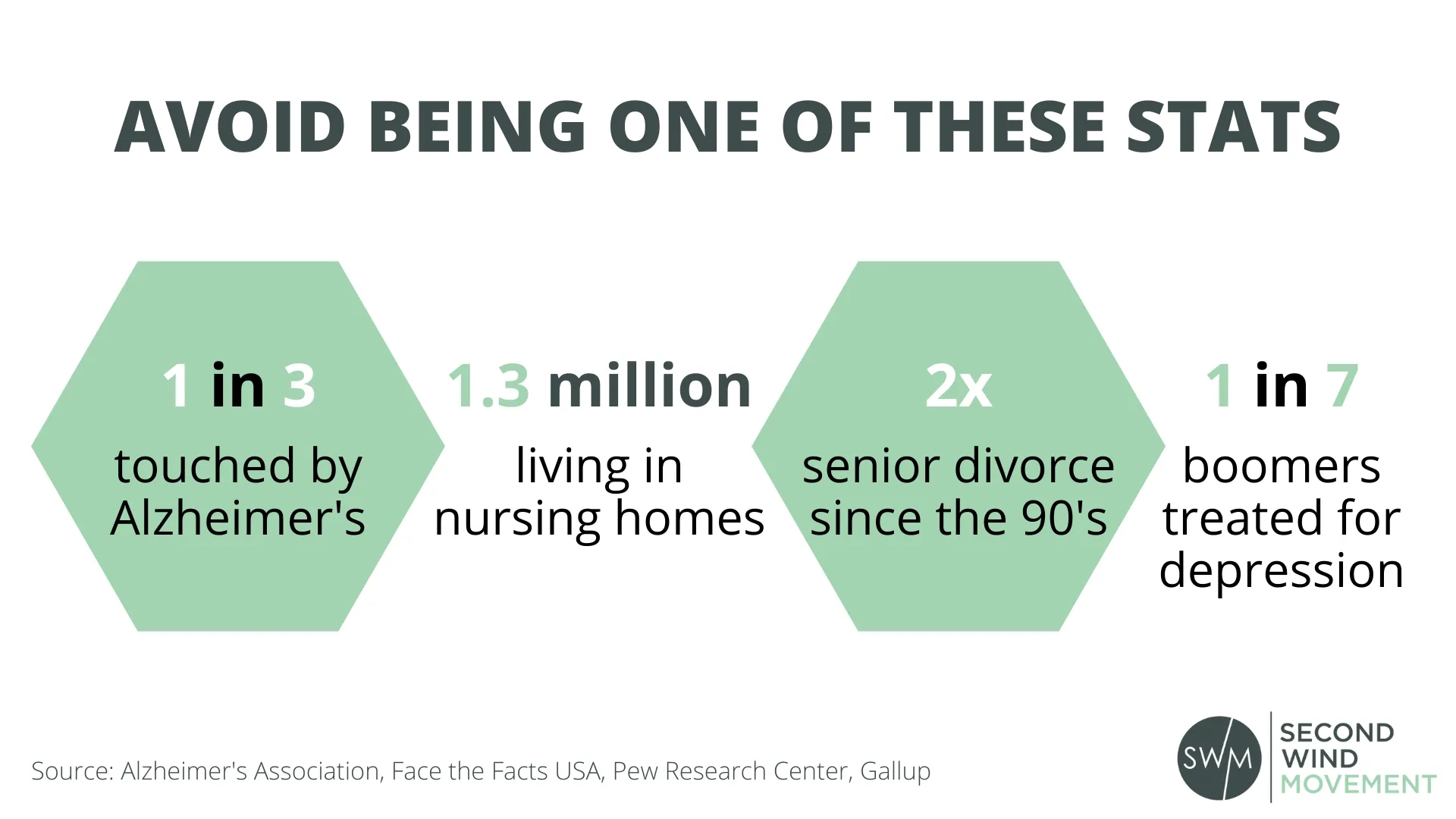 I've researched "retirement advice" pretty thoroughly and about 95% of the information currently out there has to do with financial planning advice.
Having a great life after retirement is not just about having enough money saved up.
Like most anything worthwhile in life, it takes hard work, clarity, and dedication to make your life after retirement look like what you imagined… beyond the money issue.
How to Close the Retirement Lifestyle Gap With 19 Life After Retirement Tips (Between What You Want and Your Current Retired Life)
There are critical lifestyle planning steps that you can take in order to achieve your ideal life after retirement during your next chapters.

I don't see these topics as being readily available when someone is researching "retirement advice," which is why I've gathered these 19 life after retirement tips for you to start implementing today.

Tip #1: Improve Your Daily Routine
A common habit among the most successful people is their daily routine, more specifically, their morning routine. There are killer tips from people like Mel Robbins, Tony Robbins, Tim Ferriss, and Chase Jarvis. Check these out:

The main takeaway is to clear out some time each day to allow yourself to focus on your inner self that allows you to live with intention. You need to allow your core values to come to life in your everyday reality. Instead of just dreaming about it, thinking about it and worse… procrastinating on taking action.

By having a morning routine, things that are important and meaningful to you – things that help you make progress in life – will incrementally in micro-moments each day come into fruition. The process of focusing on what matters to you will become easier each day, require less painful begrudging action energy, and over time will become automatic.

Warning: if you decide to do nothing, or if you continue to do what's easy, you run the risk of:
Being reactive and allowing your days to run you

Living a life without intention

Not being in control of your destiny and letting your goals slip by

Waking up one day and wondering what happened to the last decade


To help you avoid a sedentary retirement lifestyle, here are some morning routine ideas to consider incorporating into your daily life (+ 7 tips on how to create and stick to a daily retirement routine).

Tip #2: Keep a Gratitude Journal
I personally like to include writing in a gratitude journal as part of my morning routine. There's something remarkable that happens when we consistently and intentionally practice gratitude.

It's one of the quickest most effective ways that I've experienced in rewiring my brain to be happy and productive. Don't just take my word for it though; I've picked up the practice from other inspiring public figures who preach its results.

Here's one of my faves from Vanessa Van Edwards, lead investigator at the Science of People, a human behavior research lab and author of Captivate: The Science of Succeeding with People.

Vanessa Van Edwards' happiness hack is to replace your traffic jam or red light road rage with gratitude time. These micro-moments of being regularly thankful will become a habit and help you rewire your brain to be happier.

I recommend writing in your gratitude journal all the little and large things that you're thankful for every. single. day. If you're not seeing positive results after two weeks and even more dramatic results after that (with compounding effects over time), please share with us… your brain must be an anomaly.
Tip #3: Plan Out Your Goals
And be serious about it. There's so much that impact you can make by planning. Not only will you be more committed to carrying out your goals if you take the time to write them down in a roadmap form, but you will also experience the power of the micro-moment if you know how to do it right.
According to Peter Voogd, the most successful people spend 60-90 hours of planning per year. And these are entrepreneurs who are not yet retired, at the peak of their busy-ness levels, focusing on profit-producing activities.
Imagine if you dedicated what breaks down to be an average of 1.4 hours of weekly planning during your retirement, without a full-time gig, where you have the freedom and liberty to really take ownership of what you want to focus on.
A plan should answer at a minimum:
What's your current situation?

What's your ideal situation?

How do you get there?

The more specific your roadmap the better. If you can keep up with a weekly plan and write in specific micro-goals that align with your bigger picture progress and values, you'll likely carry out your days with intention and purpose.
Here's our complete guide to goal setting in retirement to help you on your journey.

Tip #4: Find Clarity
This process is so crucial. Most retirees won't have an immediate play-by-play action plan to carry out, and instead are more likely to experience a serious identity crisis. Typically, you'll complete your main full-time career and then experience a honeymoon period, which lasts less than about a year.
According to a Lifespan Developmental Psychology course I took on the psychological effects of retirement, you can expect these stages during retirement:
Honeymoon stage – your freedom from work and a life of duty is liberating, new and exciting.

Disenchantment stage – you feel worn out and try to fill your free time aimlessly with activities, recommendations from friends and family, but aren't really fulfilled deep down.

Reorientation stage – you drop the activities you thought you were going to like but didn't actually enjoy. You realize need to reevaluate your life and figure out what's best. This is where most people are just realizing finding clarity might be a good thing.

Stability stage – you fully accept your retirement identity and fall into a routine.

It's important that by the time you reach the stability stage, you accept an identity that truly aligns with your core values. Otherwise, you're more susceptible to depression and isolation, and likely to miss out on your real purpose, goals, and dreams in your life after retirement.

What if you were to find clarity before these typical retirement stages?

You'd likely beat out the classic retirement cycle above and avoid living out a retired life of mediocrity.

It's paramount that you spend some time self-reflecting to have a clear vision of the life you want.. This is no easy feat, much easier said than done, and will take real dedication to actively listening from within to find that clarity.

There are a number of questions to ask yourself when digging deep to find clarity. Here are some essential ones that I share with our members:

The key is to uncover things that matter to you. Then you won't waste time and energy on short-term interests. Instead you'll find true passions that will keep your attention and fulfillment for the long term.


Tip #5: Take Control by Taking Action
Sure, there are so many things out of our hands that we can't control; yet there are so many things that we actually can. Oftentimes by not acting on something, we're actually making a decision to hesitate or procrastinate, which is something completely in our control.
In life after retirement, it's common to fall into a trap of procrastination, lack of motivation, or being in your head. With all that newfound time on your hands, it's easy to think you have all the time in the world to conquer the activities and goals on your list.
Unfortunately, most of us end up failing to even try and blame many things that are actually in our control.
Here is a powerful formula that helps so many people achieve their greatest dreams and goals (myself included). I call it the magic micro-stepping formula:
Micro steps + mini-goals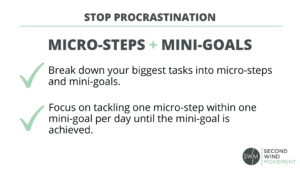 Bonus Tip: By taking action, you're increasing your confidence, which is one of the most important skills to acquire that'll help you reach your goals. Every time you take an action and experience the desired result, you boost your confidence and are more willing to try again. What a fantastic cycle.
Tip #6: Let Go of Your Grudges
We've all got baggage and emotional crap that holds us back. Once you become self-aware and learn to come to terms with your regrets, fears, anger, and toxic relationships you can move on and really focus on your clear vision.
Broken record: it's not easy, but it is simple to do.

Accept, acknowledge and allow yourself to feel the pains from your past negative situations. And then literally set a date and time to fully commit to moving past it.
When working diligently and intentionally toward your goals and dreams, it's so vital to nurture a mindset that's clear of self-doubt. Limiting beliefs prevent you from being fully present in everything that you do, so it's worth embracing the internal work.
Tip #7: Focus on growth
Without personal growth, you won't reach your fullest potential. According to World Minded:
"Personal growth is the ongoing process of understanding and developing oneself in order to achieve one's fullest potential. Personal development is a vital part of a person's growth, maturity, success, and happiness. It is the foundation of emotional, physical, intellectual, and spiritual health."
One of the most influential public figures in personal growth and author of The Code of the Extraordinary Mind, Vishen Lakhiani, founded the Mindvalley Academy, which is dedicated to the idea of transforming humankind through personal growth. He believes that the three most important factors contribute to someone's fulfillment in life:
Experiences

Growth

Contributions

The next four tips are also ways to contribute to your personal growth to lead an amazing life after retirement.
Tip #8: Add Something New to Your Life
Get out of your comfort zone and try something new. That's where all the good stuff happens.

Most of us, especially baby boomers, spend our lives dedicated to duty. We forget how to let our inner child out. So try to find people who like games and participate in light-hearted communal activities.

Don't like games? Give it a whirl to be sure.

You could just be used to the habit of neglecting your inner child. You may have spent decades training yourself to be serious and to worry. It might be worth letting that go. Allow yourself to be uncomfortable and work through the awkwardness of trying something foreign. Even if it's as silly as playing a game of golf, cards, softball, board games, or bowling.

When you focus on aligning every new activity with your list of core values, you may find some surprising outcomes.

Here's an inspiring quote from Lao Tzu to get you started on new experiences:
"When I let go of what I am, I become what I might be."
Bonus tip: If you're looking for inspiration on how to fill your life after retirement with meaningful activities, check out this list of 101 things to do when you retire.

Tip #9: Go Back to School
There are numerous educational classes, both in-person and online, that can help you expand your mind, meet new people, and help you reach your life goals. Being an eternal student can help you improve your skillset, stay relevant and contribute to your life's purpose.
Needless to say, there are so many benefits to lifelong learning, so it's definitely worth the effort.
According to The ABA Journal, five habits of the eternal student that learns a new language:
Avoiding procrastination — by learning a bit every day, the eternal student is likely to build a core habit of becoming a learn-it-all vs. a know-it-all.

Having a routine – when you build education into your daily routine learning something new becomes way less daunting and overbearing.

Staying motivated – you'll keep the momentum of action going. Your confidence will grow by getting in the habit of learning something meaningful every day.

Going all in – practice makes perfect. When you become obsessed with learning something new you're more likely to master the topic.

Being curious – by exploring the various formats that personally work best for you (i.e. visual vs. audio) you'll land on a method that keeps you learning the most.

If you want to check out some online lifelong learning opportunities, try these on for size:

Tip #10: Immerse Yourself in Culture
Immersing yourself in culture is similar to adding something new to your life after retirement. It can stimulate the core values in your life from an entirely different angle. Traveling is a popular way to do this and can open windows of experiences on how entire civilizations value life.
When you immerse yourself in culture, you not only come to educate yourself on historical aspects that will teach you new and profound things but you also gift yourself experiences that create amazing memories and relationships.

Tip #11: Spend Time on Your Hobbies and Pastimes
While this is one of the most common solutions to filling your time in after retirement, spend time on hobbies that will help you grow. Watching television and tons of movies doesn't count and, of course, can lead to a sedentary unhealthy life.
Get physical. Challenge your brain.
And unleash your creativity (here's why creativity is vital for older adults, and here's how to be more creative).
Bonus Tip: Get in touch with your musical side.
Coming from a musician who's played violin since I was 10, I fully understand that playing an instrument isn't for everyone. However, I also understand that musical memory is the last part of your brain that Alzheimer's touches. I also know that when you're playing an instrument, your brain activity behaves like a full-body brain workout with long-term positive effects.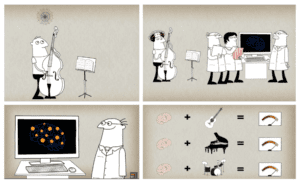 If not learning or playing a musical instrument, consider watching live music. It can be way more energizing than listening to a recording. Plus, it's a social event.
There's so much power and many additional benefits behind the universal language of music simply because of the impact on the brain. Scientists discovered that music stimulates more parts of the brain than any other human function. This means it works wonders for building your neuroplasticity.
It can also help patients with neurological deficits. For instance, if you had a stroke, music therapies can help bring your verbal functions back.
Tip #12: Focus on Your Health
It goes without saying that taking care of your health should be a priority in retirement. Yet many retirees won't take better care of themselves.
According to a 7 Misconceptions About Retired Life article, most retirees don't take care of themselves like they say they will.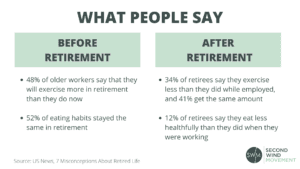 Exercise, join a gym, replace inactive time for active time, eat nutritiously and keep up with your health adherence. Be sure to include in your weekly goal planning designated health-related activities and topics.
Orly Lazarov, PhD, found from her Alzheimer's Association New Investigator Research Grant that physical and mental stimulation appear to decrease hallmark Alzheimer's pathologies and support new nerve cell growth and better cell-to-cell communication.

Physical and mental stimulation can mean many things to different people. And, of course, customization is key to making what works best for you. In retirement, you should also come to terms with your limitations. Remember to listen to your body as well as your mind and pay close attention so you don't overexert yourself.
Bonus Tip: Here's a list of 22 activities to improve your health in retirement.

Tip #13: Consider Part-Time Work
Whether your goals include kickstarting an entrepreneurial side hustle, volunteering, consulting, or teaching, part-time work can have its benefits. It can contribute to your sense of purpose and feeling needed, which is where a lot of your fulfillment will come from.
Working after retirement because you want to vs. because you have to will present a totally different experience. Plus, with all your wisdom and expertise, if you land a gig that will appreciate your background, the value you contribute can be so impactful.
Some resources to finding a part-time gig that suits you:
Encore.org

– tied to the nonprofit world, their mission is to build a movement to tap the skills and experience of retirees to improve communities and the world.

Empowered Careers

– a nine-month to one-year certification program offered by UCLA Extension that helps boomers reinvent themselves in the workforce; tuition under $6k.

SCORE – a non-profit that pairs mentors with small businesses to benefit both parties
Senior Corps: The U.S. government's main service engine for older adults includes Retired Senior Volunteer Program (RSVP), Foster Grandparents, Senior Companions and others.



Better yet, you can go directly to the source in making that job come to life.
Looking for a volunteer opportunity?
Here are seven steps to finding the right volunteer opportunity. And once you have that clarity, here's a helpful guide with 20 top volunteer websites to help you with your search.
Tip #14: Work Out Your Financial Plans
Of course, I won't go into the nitty-gritty of how to financially plan for life after retirement. Not only am I not a Certified Financial Planner, but the majority of retirement advice out there is financial advice.
However, I have advice from my experience marketing in the financial industry specifically to retirees. Make sure you won't outlive your money by working with a professional financial advisor who:
Is a fiduciary advisor

– this means working independently with your best interest in mind and not getting a kickback from the investment groups to sell you products

Looks at your financial life holistically – this means incorporating the following five elements into your financial plan: investments, insurance, tax, estate and retirement
Understands that taxes will be the biggest expense in retirement

– this means having a strategy that shows you why, where and when you should pull money to fund your retirement, as it relates to taxes

Integrates your financial life into your lifestyle and works to protect your core values
Tip #15: Be Social
There are plenty of reasons to nurture meaningful relationships and immerse yourself in your community during life after retirement. Here are a few benefits of social interaction for older adults:
It's healthy 
Many studies indicate that maintaining strong social connections and keeping mentally active lowers the risk of cognitive decline and Alzheimer's.

Few social ties mean double the risk of dying from heart disease.
You'll have a support system – Being part of a community and having people who care about you can mean a lot when it comes time to depend on others. This can be as simple as driving you to the doctor or borrowing a book. Plus, the rule of reciprocity will kick in and you'll want to give back, which we'll learn in Life After Retirement Tip #16 is healthy, too.
Relationships are now on your terms – No longer forced to be in certain business relationships, now is the time when you can keep up with old friends, find new friends among your interest groups and activities, and nurture familial ties.
The key ingredient here will be to be super choosy about who you let into your inner circle of influence. Be proactive by letting in only people who align with your core values into your circle of influence.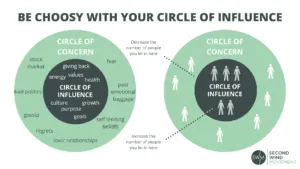 Leave more room for those that align with your circle of influence. And less room for misaligned people in your circle of concern.
Your circle of concern is where all the crap, drama, and meaningless stuff happens that keeps you away from your goals. So steer clear of socializing with people who don't align with your core values.
Life after retirement is your sacred time to live on your own terms. Associate with the people who will lift you up and energize you. The only way to do that is to hang around like-minded friends who share similar values.
Reminder: You become like the people you spend the most time with.
Tip #16: Find a Way to Give Back
There are so many studies that support the idea that giving back is good for you. Volunteering, teaching, donating and sharing your gifts all contribute to your happiness in retirement.
Here's some more evidence for you:
In 2013, a huge review of 40 studies on the effect of volunteering on general health and happiness was published in the

journal BMC Public Health

. The results? Volunteering improves well-being and life satisfaction and lowers the risk of dying early.

According to a UnitedHealth Group volunteer survey, 76% felt physically healthier, 94% said volunteering improves their mood, and 78% felt less stressed.

Author of

Why Good Things Happen to Good People

, Stephen Post, reports that giving to others has been shown to increase health benefits in people with chronic illness, including HIV, multiple sclerosis, and heart problems.

A 1999 study led by Doug Oman of the University of California, Berkeley, found that elderly people who volunteered for two or more organizations were 44% less likely to die over a five-year period than were non-volunteers, even after controlling for their age, exercise habits, general health, and negative health habits like smoking.

Another study asked participants to spend $5 on themselves or $5 on someone else. Those who spent money on other people vs themselves were measurably happier.

Those who provided practical help to friends, relatives or neighbors, or gave emotional support to their spouses, had a lower risk of dying over a 5-year period than those who didn't.

When you give to another person, oxytocin hormone is released, lowering your stress and making you feel more connected to others.

A dose of oxytocin will cause people to give more generously and to feel more empathy towards others – a side effect that can last up to two hours. This is why a single act of kindness, even if simply witnessed, can inspire more acts of generosity and paying it forward.

78% or people who volunteer feel like they had more control over their overall health.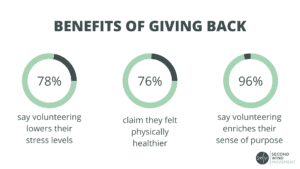 All this to say, it's worth partaking in volunteerism. Thankfully, these days, there are even ways to give back virtually.
I could go on and on citing more examples of studies. The benefits of giving back are pretty clearly backed up.  Just do it and experience the benefits yourself. You'll likely want to help others feel good and encourage them to also giving back.
Bonus Tip: Knock out two tips at once and turn your altruism into something social. By connecting with like-minded people you'll be able to nurture meaningful relationships. And  you can encourage each other to continue to contribute time and energy to positive causes. Here are 16 ways you can give back to your community.
Tip #17: Balance Your Leisure Time
There's all this serious action driving you towards your dreams and goals. So don't forget to balance out your leisure time and celebrate your small wins. When you plan out your weekly schedule, include some time to congratulate yourself on the progress that you've made.
According to a How To Celebrate Small Wins To Achieve Big Goals article:
"Our brains need reinforcement so allowing yourself to be rewarded will develop an 'addiction to progress' that will cause your brain to want to carry on to the next steps."
So get in the good habit of balancing out your leisurely time and appreciating what you've done. This goes hand in hand with Life After Retirement Tip #2: Keep a gratitude journal.
Too little or too much leisure time can rock your goal planning, of course. So be sure to check in regularly with how it all works into your overall roadmap. This brings us to our next life after retirement tip.
Tip #18: Track Your Progress
Regularly check in on your progress toward your goals. You can monitor how far you are from reaching your goals. And you can also understand what's been working and what hasn't.
Ask yourself:

What's been driving the bulk of my results?

What have I been doing to make progress?

What's been holding me back?
Double down on the efforts, skills, and activities that work for you. And lay off the stuff that's distracting you and simply adding noise.
Tracking your progress also allows you to constantly reflect on your goals and your roadmap to success. You can be nimble with your tactics as you continue to grow your confidence and develop yourself.
Bonus Tip: read your vision daily and make it a part of your morning routine. This will help you find and keep your clarity and also stay focused on reaching your ideal state in life after retirement.
Tip #19: Be Yourself
This goes for all stages of life, but especially during life after retirement. If you haven't been able to express yourself fully and haven't been 100% you throughout your whole life and career, when the heck can you be yourself?
I mean look at how unabashedly liberated you can look at 102. Just be comfortable in your own skin, flaws and all: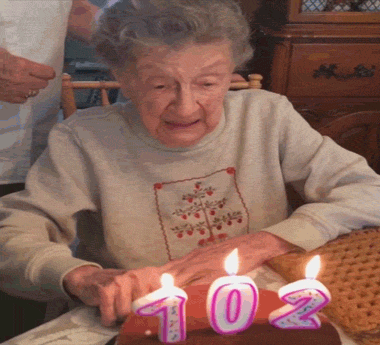 In all seriousness, though, so much of people's career and early family life is about putting others first. What's more, most people strongly tie their identity to their main career years. And this leaves them a bit lost in life after retirement.
One very key ingredient to living an active, healthy, and engaged lifestyle is to be authentic. Allow your true identity to shine through in life after retirement.
Here's to an active, engaged, healthy life after retirement
Is your life after retirement what you thought it would be?
If yes, please share your retirement lifestyle with us. Our movement builds momentum from inspiring real-life stories like yours.
If no, you're not alone. All it takes is a bit of clarity.
Start by downloading your free copy of 19 Tips for an Amazing Retirement Lifestyle, so you can brainstorm ideas.
Pay attention to what lights you up. That's a huge signal that you should explore your ideas further and will lead you to your ideal life after retirement.