There are a few myths about aging circulating out there, and here's one of them: aging makes you less adventurous and less creative.
This is so not true.
Let's quickly debunk with these impressive seniors who hit their adventurous and creative strides well past their 6th decade:
Mountain climber, leadership guru and entrepreneur,

Werner Berger

, started climbing at age 55 and completed the Seven Summits at age 77 setting a record; he has led several others (including an 85-year-old woman) to achieve their own adventures and treks around the world

Author

Laura Ingalls Wilder

started writing at 43, and at age 65 she published

Little House in the Big Woods

, a series she continued until she was age 76

Folk artist Anna Mary Robertson "

Grandma Moses

" began painting at age 78, had her first art show at age 80 in 1940, and painted until age 101
And for inspiration from someone who's not as famous – Sherrill is a 72-year-old woman who sold all her possessions and packed up her house to travel the world. What started as a camping excursion turned into 10 years of globetrotting.
Want to make your sense of adventure and creativity come alive?
To help you live up to your potential and keep that mind of yours in tip-top shape for the long haul, here's a step-by-step guide on how to embark on your adventurous and creative journey:
1. Find Clarity
Being crystal clear on what actually matters to you can help tremendously when it comes to realizing your sense of adventure and creativity. While we all have a glamorized idea of what we think we want, the reality is it takes a lot of work to simply define our truly authentic goals.
And chances are it takes even more work to achieve them. Like anything challenging and truly gratifying in life, chasing your goals and dreams takes real work and endurance.
So if your activities align with your core values (which are a focal point when finding clarity) you'll be more likely to withstand any setbacks in the long run as you work toward your goals and nurture your sense of adventure and creativity.
Self-reflection is a foundational step that most people miss when trying to really figure out what activities they want to partake in, especially for the long term. And while most people search far and wide, authentic clarity comes from within.
For baby boomers and seniors, this step is especially important because they tend to live a life of duty. And as life gets in the way, your original life goals and desires that you had when you were younger can oftentimes end up locked up in a hope chest.
So before you set off to trial a wide variety of hobbies, activities and experiences, do some deep digging to try to uncover your authentic core values and desires.
Pulled from the Retirement Life Assessment, here are some questions to help you get started in finding clarity. Challenge yourself to think differently from your typical life routine. Ask yourself and dream big:
What would you do if you had more courage, and no fear or uncertainty standing in your way?

What have you had to lock away in a hope chest because life got in the way?

What's one thing you want to experience, accomplish or do in life so that you have no regrets?

What have you always wanted to learn? What are you curious about?

What three core values do you want people to think of when they think of you?

In just three words what's your philosophy for living?
There's so much more to finding clarity; they key is to be diligent and patient with your self-reflection and brainstorming process. It's a critical and foundational step.
2. Research Your Options
Once you've done the self-reflecting and have your new sense of clarity, you're ready to see what's out there. Researching your options is so much simpler once you know exactly what you're looking for.
From your list of brainstormed ideas, you're now able to search with intent for opportunities that you can join. You can start your search online since the internet is a beast when it comes to finding resources.
And as you explore offline options, think of like-minded people who you can tap as a resource.
Now that you're committed to a crystalized idea, you can start to brainstorm with key people about where and how to engage in your new venture.
The key is in creating new experiences for yourself, which starts with engaging with new people who share your same core values and sense of adventure and creativity.
3. Adopt a Growth Mindset
Before you set off on your new venture, another important step is to develop a growth mindset. When you create any new experience for yourself, it can not only feel awkward and strange, but it can most certainly come with its set of setbacks and challenges.
You're of course not used to doing something out of your comfort zone and may have the inkling to stop or second guess yourself throughout the process.
And that's ok. Out of your comfort zone is where all the good stuff happens.
The secret to having a growth mindset is to embrace challenges. Look forward to failures, setbacks, and pain points, and learn the skill of learning.
And stop seeking approval.
Learning from others and their experiences is a huge part of growing. While it may be difficult to seek feedback instead of approval, being a learn-it-all instead of a know-it-all can make all the difference in how you limit yourself.
By understanding this is all part of the process, and by appreciating the process, you'll not only be more likely to grow as an adventurous and creative person, but you'll also create lifelong learning and new fulfilling experiences for yourself in the long term.
4. Give It a Whirl
Time to immerse yourself in your new venture with a new and different mindset. The trick is to try it out while kicking old tendencies and habits, so remember to seek challenges, enjoy the process and embrace your fears and discomfort, which come with any new and exciting experience.
Because you've narrowed down your options to only activities and ventures that actually align with your core values and authentic goals, you'll be much more efficient with your time and effort.
You'll have less of a trial-and-error period and you'll likely succeed that much more.
Clarity coupled with a growth mindset, are a killer combination when it comes to trying out new experiences so get out there and just go for it.
Give your new venture a try and start participating and practicing.
5. Find an Accountability Partner
As you leave your comfort zone you'll likely leave your standard circle of influence and encounter new like-minded friends who are also embarking on a similar journey.
This experience is invaluable and will help you create new meaningful relationships with people who can hold you accountable for your growth experience. And the importance of your social interaction is massive especially as a senior.
If you've decided to chase your new goal with a familiar friend who's already in your social circle, be open-minded about making new connections and finding an accountability partner with someone new.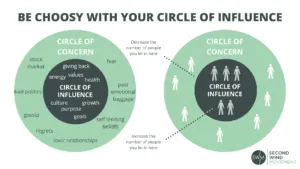 Your accountability partner can serve as someone who will encourage you to make progress as you move through your new venture. A fresh perspective from someone new can be very beneficial to nurturing your growth.
Not only will this help in pushing yourself to think in new creative ways but you'll also be more likely to behave in different ways, which is key to adopting any new adventurous or creative skill, experience or way of life.  
6. Practice Mindfulness
As I mentioned in step 1, finding clarity through self-reflection is so important and foundational to any exploration or new growth experience. Continuing to be self-aware and mindful throughout your process will have such a huge impact on your sense of adventure and creativity.
You'll be able to monitor your growth and tap into how you're processing your journey, whether it's your feelings, emotions, energy level or progress. By practicing mindfulness, you'll be able to make better choices that will help you succeed and expand on your venture.
Pay attention to whether the experience expands you or shrinks you. Does your experience give you energy or deplete you? Are you enjoying the learning process and the growth experience? Do you need to pivot your plans?
Here are some ideas on how to keep up your mindfulness and improve your health in retirement:
Keep a gratitude journal

Practice yoga or tai chi

Commit to a morning routine

Meditate and do breathing exercises

Review your vision and core values regularly

Reconnect with nature

Detox from social media, TV and digital devices

Exercise regularly
This is how you continue to monitor your growth and progress and to find out how you can fine-tune your adventurous or creative venture over time.
And celebrate your small wins as you make progress.
You of course want your chosen venture to fulfill you over the long term and the secret to keeping it up is to take micro-steps as consistently as possible.
Your Adventure Awaits
By finding your sense of adventure and creativity, you can create new growth experiences for yourself, which is key to maintaining your cognition over time.  
Your brain is designed to continue to grow — you can generate new neural pathways for the rest of your life.
Just like any other muscle in your body, you either use it or lose it.
Are you ready to embrace your challenges and adopt a growth mindset? How will you awaken your sense of adventure and creativity?