The idea of senior solo travel might seem daunting to many. 
And myths about aging further deepen the misconception that you can't travel solo as a senior. 
But this couldn't be further from the truth. 
According to the SoloTraveler World's survey, the majority of solo travelers are boomers: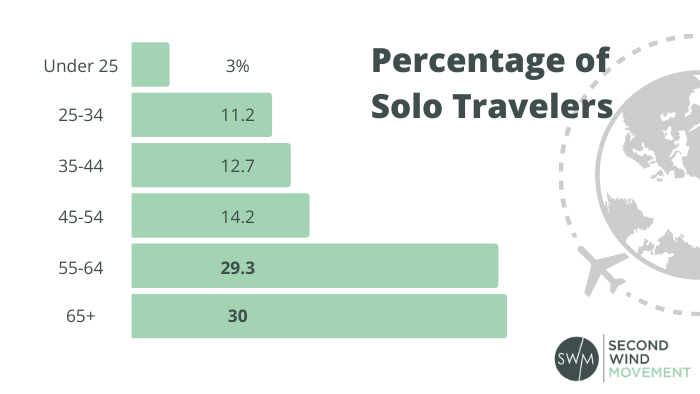 There is a continuous trend of senior solo travel, especially when you consider 40% of boomers have already taken a solo trip and 21% plan to do so. That's the story according to Booking.com's research, anyway.
If you're considering traveling on your own, keep reading for some encouragement and tips.
Why Senior Solo Travel is Amazing
Solo travel is all about making your own rules. 
When you travel alone, the freedom of doing whatever your heart desires is amazing. There's no limit to adventure and creativity — and for the most part, you can do whatever captures your interest in the moment.
If you're curious about what inspires people to travel solo, the majority of people (45%) do it for the destination and another 35% do it to treat themselves. 
Another interesting trend is men are more likely to take on solo travel as a hobby, while women are more likely to pursue it for personal reflection. 

No matter how you slice it, there's something so empowering about being able to explore without fear or regret. It boosts confidence like no other feeling could ever hope to match.
Wondering about planning a solo trip? It's equally as attractive.
Solo travelers do not express having many obstacles when planning their trip. In fact, a major 56% of them claim no hardships at all. 
Still, it's always best to be prepared, so it's worth perusing the 10 biggest challenges for senior solo travel:
The top hardship of planning a solo trip is sticking to a budget, though only 12% reported so. And an even smaller 8% of solo travelers claim that budgeting for a trip is the second top hardship. 
(P.S.Check out this article on creating the perfect retirement budget, if you experience these issues as well)
Even though many adventurous travelers have no significant travel hardships, we share four tips to help you organize a safe and enjoyable adventure.
Before you embark on your journey (of self-discovery), check out our four senior solo travel tips.
4 Planning Tips for Solo Travel Trips 
#1 Create a (Flexible) Budget
The first step to any travel planning is creating a travel budget. Sometimes it can be challenging, with endless calculations and even unpredictable results.
We suggest that you either start with where you want to go or with how much you want to spend – and then reverse engineer it from there. 
Try to include an approximation of all the biggest vacation costs:
Transportation

Accommodation

Food/alcohol

Entertainment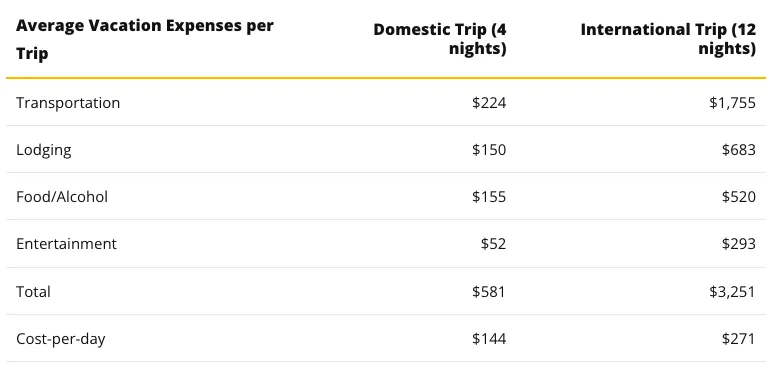 And aim for a flexible enough budget, so that if an unexpected expense pops up (like tourist taxes or emergencies), then it doesn't throw off your whole trip.
Bonus tip: If you're looking for more ideas on how to travel on a budget check out this article. 
Also, consider budgetyourtrip.com if you're looking for a great tool that estimates budgets.
If going totally alone sounds daunting to you, consider our next tip.
#2 Consider (Solo) Group Travel 
No matter if you're an experienced single traveler or you're considering senior solo travel for the first time, group tours can connect you with like-minded adventurers.
After all, staying socially connected is hugely important for older adults especially, so you may as well befriend fellow globetrotters on the road.
Apart from the social connections, you can just relax while others take care of the details and enjoy the trip stress-free.
Like Encounter Travel, an Australian tour company, says "Traveling solo, not alone."
Bonus Tip: Check out this list of some of the best senior travel groups and senior cruises.
#3 Cut Back on Solo Fees
Have you ever noticed when looking at tour prices how they say "per person based on double occupancy?" 
That likely means that as a single traveler, you can expect to pay more (sometimes as much as double – yikes).
But it doesn't necessarily mean your trip has to cost you that much more as a solo traveler. 
With a little pre-planning and research, you can save money on your solo trip. To avoid losing an arm and a leg when booking solo trips, follow this advice:
Choose solo travel tours for seniors that waive single supplements (check out a full list of

no single supplement tours

)

Consider staying in a hostel (or getting a roomie when you join a group tour)

Book private accommodation through services like

Airbnb

or

Booking.com

Travel in shoulder season
Bonus tip: Set up a Google Alert with relevant search terms (such as "no single supplement Hawaii" or "single senior traveling packages Budapest") and be notified as soon as a deal appears.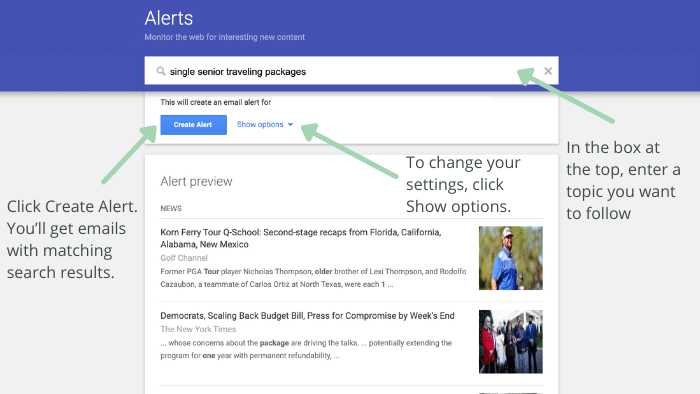 #4 Stay Safe on the Go
Traveling alone can be a wonderful experience. But, there are some safety tips to keep in mind so you stay safe during your travels.
It doesn't have to be scary (and it isn't for 88% of senior solo travelers), just:
Always let someone know where your trip is and when you'll be home 

Find out what the local emergency numbers are before you leave  

Bring extra cash since credit cards may not work abroad 

Pick one or two people who can act as emergency contacts while you are away from home 

Keep your documents, cash, and cards in separate places

And most importantly – don't leave your common sense at home
Bonus Tip: For extra safety download the Smart Traveler, an app created by the U.S. Department of State. You can  sign up through the Smart Traveler Enrollment Program (STEP) to get government information about a foreign destination. 
Ready for Your Next Adventure?
The thought of roaming an unknown place alone can be both intimidating and exciting. A little research goes a long way.
Just take it one micro-step at a time. For instance, try taking a city break, visiting a national park in your state, or a road trip nearby before venturing on a month-long trip in Asia.
Micro-stepping works wonders while you're still at home dreaming of your trip, too. 
One of the hardest parts of planning a solo trip is actually incorporating into your daily life next steps for reaching your travel goals – whether it's finding the time, money, or energy. . 
While we recommend careful planning, don't be afraid to let go and be spontaneous as well. It's a great way to tap into your intuition and freely adventure as your authentic self. 
Are you ready for your next adventure?