Striking up friendships is something everybody has probably struggled with at one time or another. 
But it can be especially tricky if you're an older adult in retirement.
When you were a kid, it was likely as easy as walking up to someone during the lunch break and offering to share your favorite snacks. 
Even as a younger adult, striking up a conversation with strangers can be effortless with the wide range of events to attend.
While making friends after 50 takes can take a bit more effort to form solid, lasting friendships, having a vibrant social life after retirement is definitely possible. 
All it takes is a break from your normal routine and the courage to exit your comfort zone.
We know how important social interaction is for seniors, so we're sharing five steps for making new friends as you age.
5 Steps to Make Friends Later in Life
#1 Deepen Your Current Connections (Old and New)
Whether it's casual connections with people you know from the local store or friendly faces in your neighborhood, make an effort to deepen those casual relationships.
The key? Pay attention to your gut. 
If something inside you sparks an interest toward someone, see it through and speak up. Simply start a conversation without overthinking or even having an agenda. 
Paying close attention to who you're naturally drawn to, and following through with that instinct, is a great way to put yourself out there in a way that builds confidence. More often than not, you'll see that initiating a conversation with someone you're naturally drawn to is totally worth it 
And go beyond the convenience of people who are already around you. It's worth taking a moment to reach out and reconnect with old friends that you fell out of touch with.
In fact, research shows there's great value in reconnecting with people — these relationships are often overlooked or underestimated.
In the study, reconnected ties with contacts beat current ones and dormant ties provide more unexpected novel insights.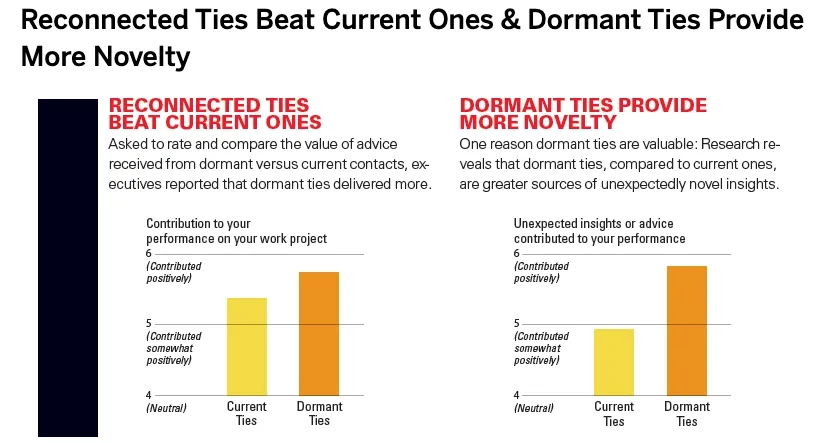 So start (re)building friendships by initiating conversations with people who naturally spark your interest and those who once did, and go from there. You never know what great value may come out of them.
#2 Be More Intentional With Your "Yes" and "No"
Have you ever seen the movie "Yes Man"? A man challenges himself to say yes to every opportunity that he's presented with. And it takes him on a series of wild events and unexpected adventures.
Now, we're not saying you should literally say yes to everything. In fact, you likely already know you shouldn't say yes to everything.
But what if, instead of turning down new social opportunities when they arise or ignoring them completely, you started to accept invitations that may be out of your comfort zone and normal routine?
And what if, instead of mingling only among your standard social circles, you started declining the events that you're perhaps outgrowing, to make room for fresh connections that are a better fit?
In other words – consider saying yes to new social events that naturally spark your interest, and no to social events that don't excite you.
This may mean re-evaluating your regular routine, which may be uncomfortable – so consider John Berardi's five stages of saying no to help guide your decisions.  
Promise yourself that next time you won't ask why — you'll ask, "why not?"
#3 Don't Be Interesting, Be Interested
Everybody likes to talk about themselves. In fact, literally, in your brain disclosing information about yourself is intrinsically rewarding.
Yet this intrinsic reward may not be the best way to make friends. 
If you want to be liked by people, stop trying to be interesting and start being interested. More blatantly, less talking and more listening.
Being a good listener is like having a passport to friendships. In fact, active listening leads to better conversations, people liking you more, and thus, better friendships. 
To listen carefully, acknowledge what the other person is saying, show that you're really engaged, and ask questions to keep the conversation – and active listening – going.
#4 Take Your Time
Friendships don't happen overnight. In fact, it happens over several nights.
Believe it or not, according to research, there's a science to how many hours it takes to make a friend. More specifically, it takes:
About 50 hours of interaction to move from acquaintance to casual friend 

About 90 hours to go from casual friend to friend

More than 200 hours to qualify as a best friend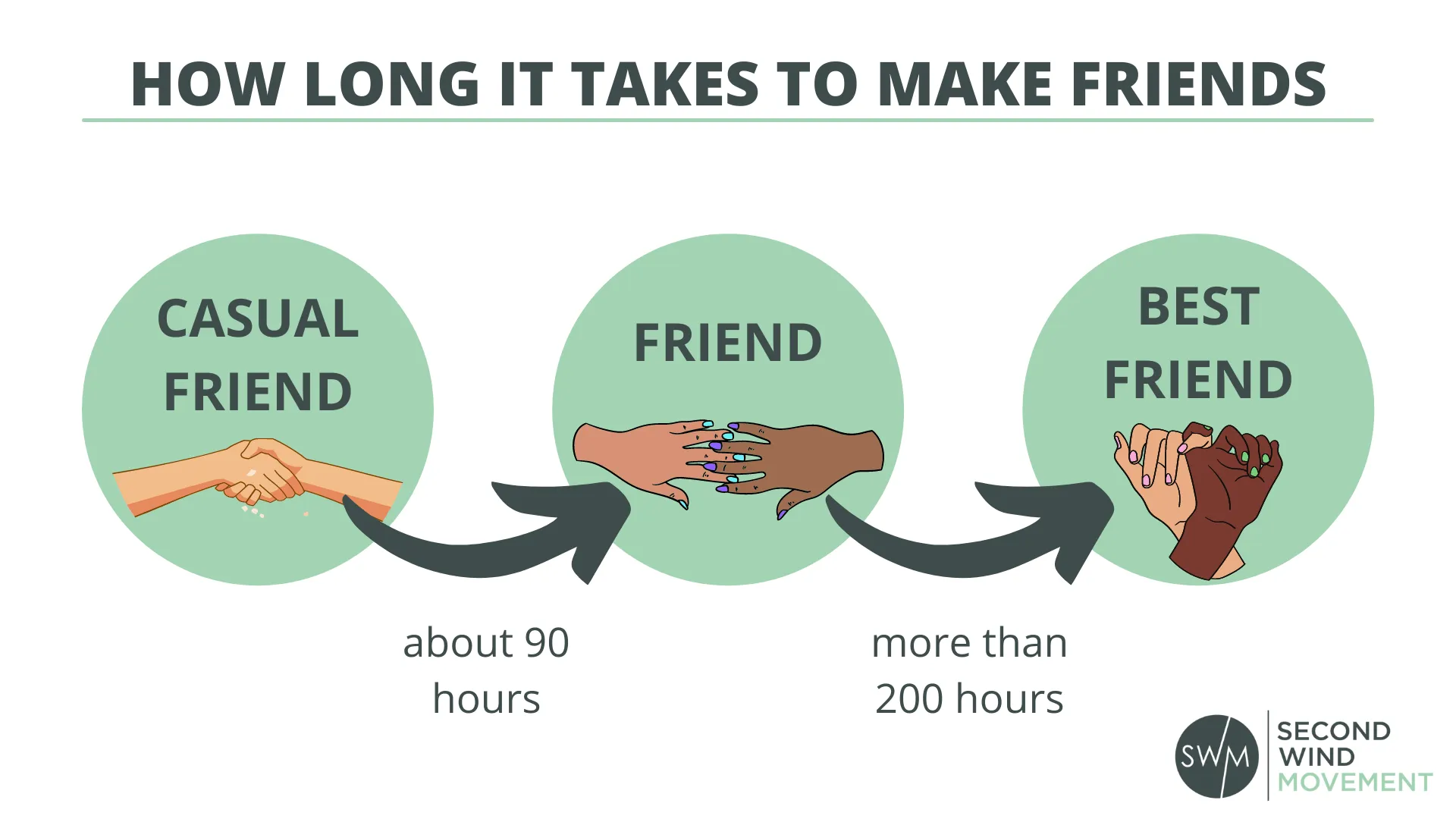 To put it in a different perspective, you would have to hang out with a potential friend for 2 hours every week for a year to qualify as best friends. 
Not that this is a qualifying metric you need to follow, it's a gentle nudge to be patient and consistent in your effort to make lasting friendships.
If it sounds like a lot of time you're not yet willing to give up, consider this:
The average American spends over 30 minutes socializing and communicating every day, which means you can make a casual friend reasonably quickly. 
It's less about how much time you invest in your friendship endeavors and more about leaning into your natural intuition to connect with people that align with who you are at the core.
To sum up, friendships are a long-term investment, and the strong connections are definitely worth it.
#5 Be Your Authentic Self
Retirement is a time to be unapologetically and authentically you. This is the surest way to be the best version of you.
And as the best version of you, it's important to engage in relationships that nurture, support, and bring out the best in you. Cheesy, I know, but hugely important. 
Our insecurities often bog us down. It's oh-so-easy to stay inside a comfort bubble because we fear rejection. But it seems that we underestimate how much people like us. 
If you come into new situations with the assumption that people will like and accept you, then making friends after 50 becomes much more manageable.
You know that feeling when you come into a new situation with an open mind and a good heart? 
People are more likely to accept your thoughts, feelings, ideas from those positive, loving intentions. So take on a confident attitude, be yourself, and get out there.
(Of course, easier said than done, so if you need help reconnecting with your authentic self first, book a complimentary 1-on-1 Breakthrough Session with Cyn. She helps people accomplish this self-trust and confidence daily.)
Friendship in Old Age
If you're sometimes fighting loneliness in retirement — you're not alone. It's very common to fall into the same routine, which puts you in front of the same social circles. 
Remember, you're designed to grow for the rest of your life. Making friends after 50 can be a big part of that necessary growth.
Follow our four steps for making friends as an older adult, and you'll be well on your way to meeting kindred spirits. 
With the right mindset, you can make new connections and form lasting relationships that allow you to live a more fulfilling life. You might be surprised by what you find when you open up your world beyond your comfort zone.
Even one good friend can enrich your life, so give it a whirl.
Happy friend-making.