Prefer to watch helpful content? Watch the video here: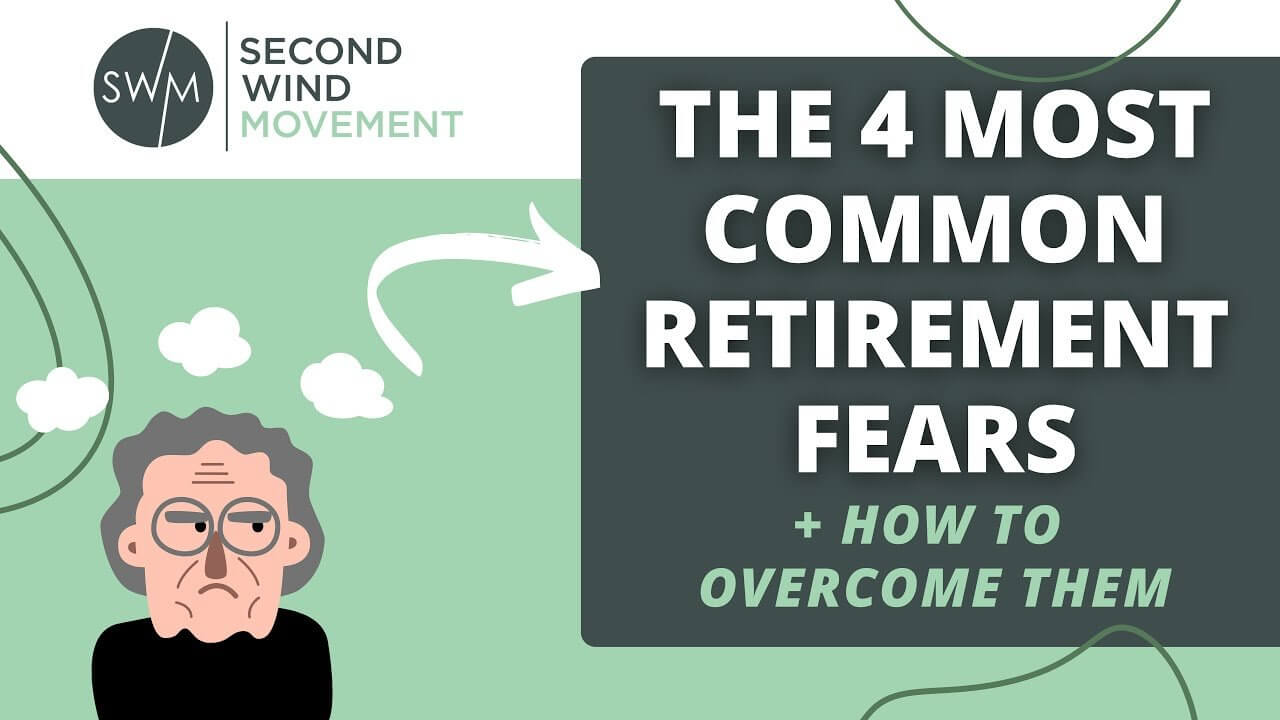 Most older adults have some fears of retirement — the worry about not having enough money, the idea of sitting around all day with nothing to do, or if your health will serve you.
In fact, for many people who do fear retirement, it's more terrifying than death.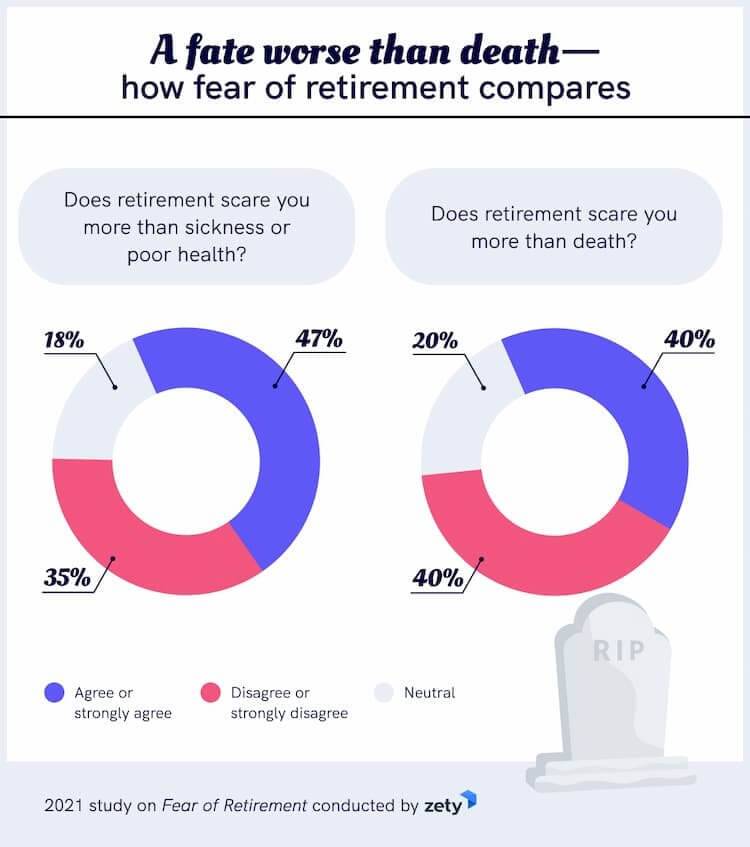 Even with all those fears, though, retired life can be one of the most fulfilling chapters (if you avoid making these mistakes).
With the right tools at your fingertips, retirement can be a time for growth, development, and focus on self-care, especially if you're looking to lead an active, healthy, and engaged lifestyle.
We'll go over the four biggest fears older adults face in retirement and how to tackle them, so you can stop worrying about retirement.
#1 Fear of Outliving Your Retirement Savings
The biggest fear that almost half of Americans are facing is that they'll run out of money. 
And it comes as no surprise since the risk is very real. People live longer and healthier lives which means they may need to stretch their nest eggs over more years. 
Our average life expectancy could increase to 115 years very soon, and outliving your money suddenly becomes a legitimate fear.
In fact, many Americans have very little (or even nothing) saved up.
How to Overcome the Fear 
Have a solid plan and detailed financial plan and retirement budget that includes:
Social security and pension projections

How your home equity impacts your finances

Budgeting that accounts for inflation

Potential healthcare estimates
When it comes down to getting control over your money, research and plan ahead so that you can make informed decisions.
And if you're looking for more tips to alleviate your fear, read about 14 ways to improve your finances in retirement and 5 tips for making your money last in retirement.
#2 Fear of Your Health Declining
The idea of entering into retirement can be daunting enough — but what if you have to cope with failing health?
We all know that the risk of health issues increases as we age. But there is one thing older adults fear more than chronic diseases — becoming a burden to their family, a concern that supersedes the fear of dying.
It's natural to think about these things and be concerned with how they will affect our retirement. But we can make choices now that can reduce those risks.
How to Overcome the Fear
While the normal aging process can have a negative impact on your physical and mental health,the good news is that there are steps you can take to reduce both your fear of future health decline and the risk itself. 
One very big step is to have a clear understanding of the things that are in your control vs. out of your control. 
From there, focus only on what you can control and put your effort there.
And our broken record mantra helps, too: commitment and consistency over everything. 
Try your best to commit to the lifestyle you truly want. Break down your goals into mini-steps and micro-steps for real results.
Otherwise, you run the risk of falling into health traps where there's a mismatch between what people say they're going to do and what they actually do in their retired life.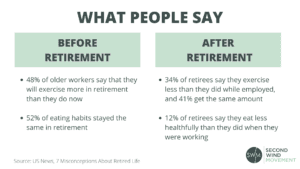 When it comes to your health in retirement, don't be "what people say." 
For more health and successful aging tips, check out our 22 activities to improve your health in retirement. 
#3 Fear of an Identity Crisis & Being Bored in Retirement
After spending decades in your role as an employee, business owner, coworker, you're suddenly stripped away of that part of your identity. Finding meaning in the retirement process is challenging for many pre-retirees and retirees. 
You can expect five stages in the retirement transition process:
Pre-retirement stage – you dream of retirement.

Honeymoon stage – your freedom from work and a life of duty is liberating, new and exciting.

Disenchantment stage – you feel worn out and try to fill your free time aimlessly with activities, recommendations from friends and family, but aren't really fulfilled deep down.

Reorientation stage – you drop the activities you thought you were going to like but didn't actually enjoy and realize you need to reevaluate your life and figure out what's best. This is where most people are just realizing finding clarity might be a good thing.

Stability stage – you fully accept your retirement identity and fall into your retirement routine.

Once you've reached the stability stage, it's important to decide on a true identity. Otherwise, you could be feeling depressed, isolated, and miss out on your real purpose.
How to Overcome the Fear
Whether you're nearing retirement or already a retiree, it's never too late to find passions, purpose, and rediscover the meaning of life. 
Retirement should be a state of mind, not a chronological milestone. According to a recent study, having a positive attitude toward retirement is a predictor of life satisfaction in the golden years.
There's nothing that fosters a positive attitude toward retirement (and also kills procrastination) better than having clarity.
Here are a few finding clarity questions to get headed in the right direction.
And if you need some inspiration, take a look at these 8 tips from successful retirees on overcoming boredom in retirement.
#4 Fear of Your Spouse's Death
Let's be real — there's no easy way to overcome the fear of death, whether it's your own or your loved ones'. 
Grieving from the unexpected death of a loved one can have major consequences, especially for people nearing or currently in retirement. 
And losing your life partner is a prevalent fear in old age — almost half of older couples experience anxiety over spousal death.
How to Overcome the Fear
Recognize that everyone has their fears, and just because you're afraid doesn't mean it will happen. Don't let this fear of retirement take over your life.
If it does come to that, and we should acknowledge that it could, let yourself go through all the emotions in the grieving process and learn how to cope with the loss of your spouse.
It's worth accepting that there's NO rhyme or reason to the chaos that is the grieving process. In fact, it can have a cumulative effect where you feel the previous losses lumped in with a more recent one. 
The same chaos applies to your anxiety and fear of death, especially someone as close to you as your spouse. 
Accept that it's chaotic and that it'll come up sporadically. If and when it does, you can focus on the things that are in your control vs. those that aren't. 
Another useful tip is to double down on your gratitude. Whether it's writing in a gratitude journal, or telling your spouse how grateful you are for them, gratitude works wonders and even reduces cortisol hormone levels by 23%.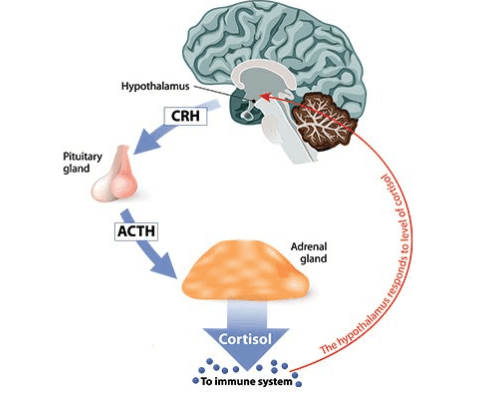 All in all, be present with your spouse and cherish and share those amazing qualities about your spouse. Here are 8 activities you can enjoy together to spend more meaningful time together.
Handle Retirement Fears Like a Champ
It's no secret that retirement can be a frightening time in one's life. There are so many uncertainties and unknowns, and it can feel overwhelming to know where to start (P.S. if you're still working, here's how to know it's time to retire or just resign).
If any of these fears sound familiar to you, don't worry, you're not alone. Many older adults struggle with retirement anxiety.
The key is to take time to prepare (beyond just finances) and take it one micro-step at a time.
If you could use some help in determining what you want and how to get there, schedule your free Breakthrough Session with Cyn Meyer directly using this link. 
Cyn helps older adults like you every day – more specifically, she's developed The Rewire Method, which helps people find meaning and purpose in retirement.
And if you prefer tackling things independently, our Retirement checklist is a good place to start.
How are you managing your transition into retirement?