Retirement is a significant milestone in life, and it's essential to be as prepared as possible when it comes.
Knowing some key retirement facts and statistics can help you make more informed decisions about this important life phase.
To help you to compare different aspects of retirement, we've divided these stats into our trusty framework, the 5 Rings of Retirement: 
Growth

— Lifelong learning, new experiences, meaningful work, brain plasticity, and embracing challenges

Community

— Relationships, friendships, social life, and engagement in your community

Health

— Diet, exercise, longevity, energy level, cognitive health, and physical, mental, and emotional health

Giving Back

— Sense of purpose, sharing your unique gifts, legacy, volunteering, gifting, and contributions

Finance

— Financial security, not outliving your money, budgeting, legacy, and estate planning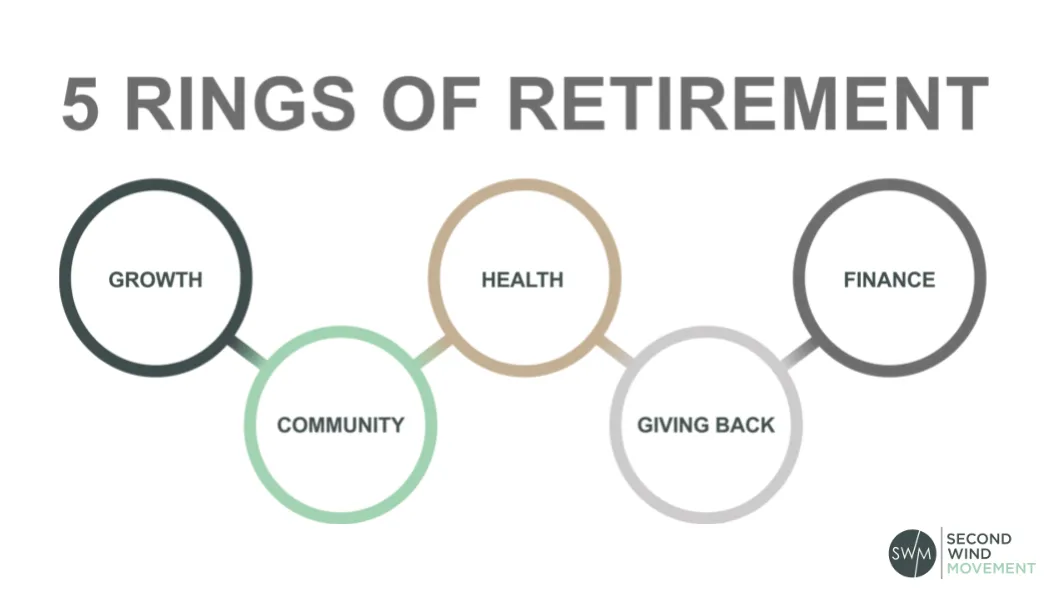 But let's start with the basics — retirement age and demographics statistics.
Retirement Age & Demographics Statistics
Now that the basics are covered, let's head into the first Ring of Retirement – Growth.
#1: Growth Retirement Statistics 
Retirement is often seen as a time to kick back, relax, and take things easy. But we say retirement is just the beginning of a large growth journey. 
You're designed to evolve, change, and develop at every life stage, and your senior years in retirement are no different. It's all about finding new ways to expand your horizons, continue learning and challenging yourself, and ultimately — living life to the fullest.
Whether it's pursuing lifelong learning, exploring a new hobby, or traveling to far-off destinations, retirement offers plenty of growth opportunities. And the statistics prove it…
Education & Learning Statistics
Hobbies & Leisure Activities Statistics
On average,

retirees spend 60% of their leisure time

on passive, 25% on active, and 15% on social activities.

The

average daily engagement

in leisure and sports activities was highest among individuals aged 75 and above in 2021, with an average of 7.7 hours spent on these activities daily.

Retirees enjoy a variety of hobbies

, including cooking, baking, reading, pet care, gardening, travel, outdoor activities, DIY projects, and arts and crafts.
Retirement Travel Statistics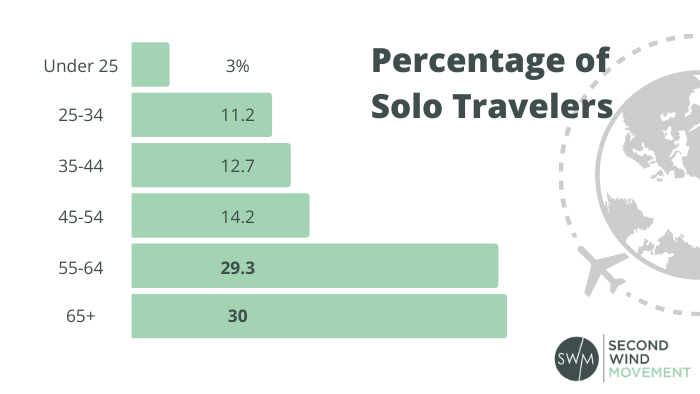 #2: Community Retirement Statistics
We all know the importance of social interaction in our lives. It's like the oxygen you breathe – you can't survive without it. And this rings especially true as you enter retirement. 
Our families, friends, partners, and even strangers can significantly influence our overall well-being and happiness. Let's take a look at some of the retirement statistics in the Retirement Ring of Community…
Family Statistics
Individuals aged 65 and above consider

having family members nearby

to be extremely important, with 44% affirming this statement. In comparison, 38% of individuals aged 50 to 64, 33% of those aged 18 to 29, and 31% of those aged 30 to 49 think the same.

Approximately 24% of Americans between the ages of 55 and 64, as well as 21% of those who are 65 or older, are currently residing with

family members from different generations

in the same house.

According to a survey, seniors aged 65 and above believe that the

greatest advantage of growing old

is the opportunity to spend more time with their families. When asked to mention the perks of aging, 28% of the respondents mentioned having more time to spend with family, while 25% mentioned the joy of spending time with their grandchildren.
Adult Children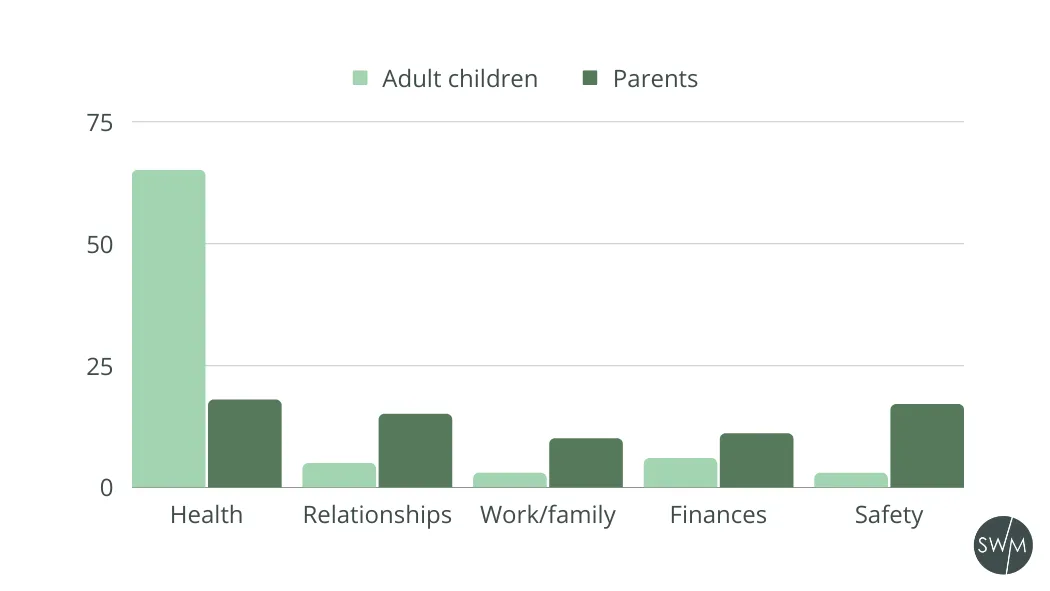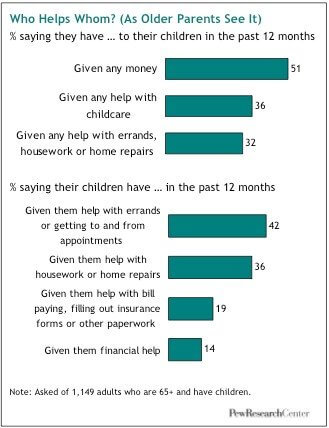 Grandchildren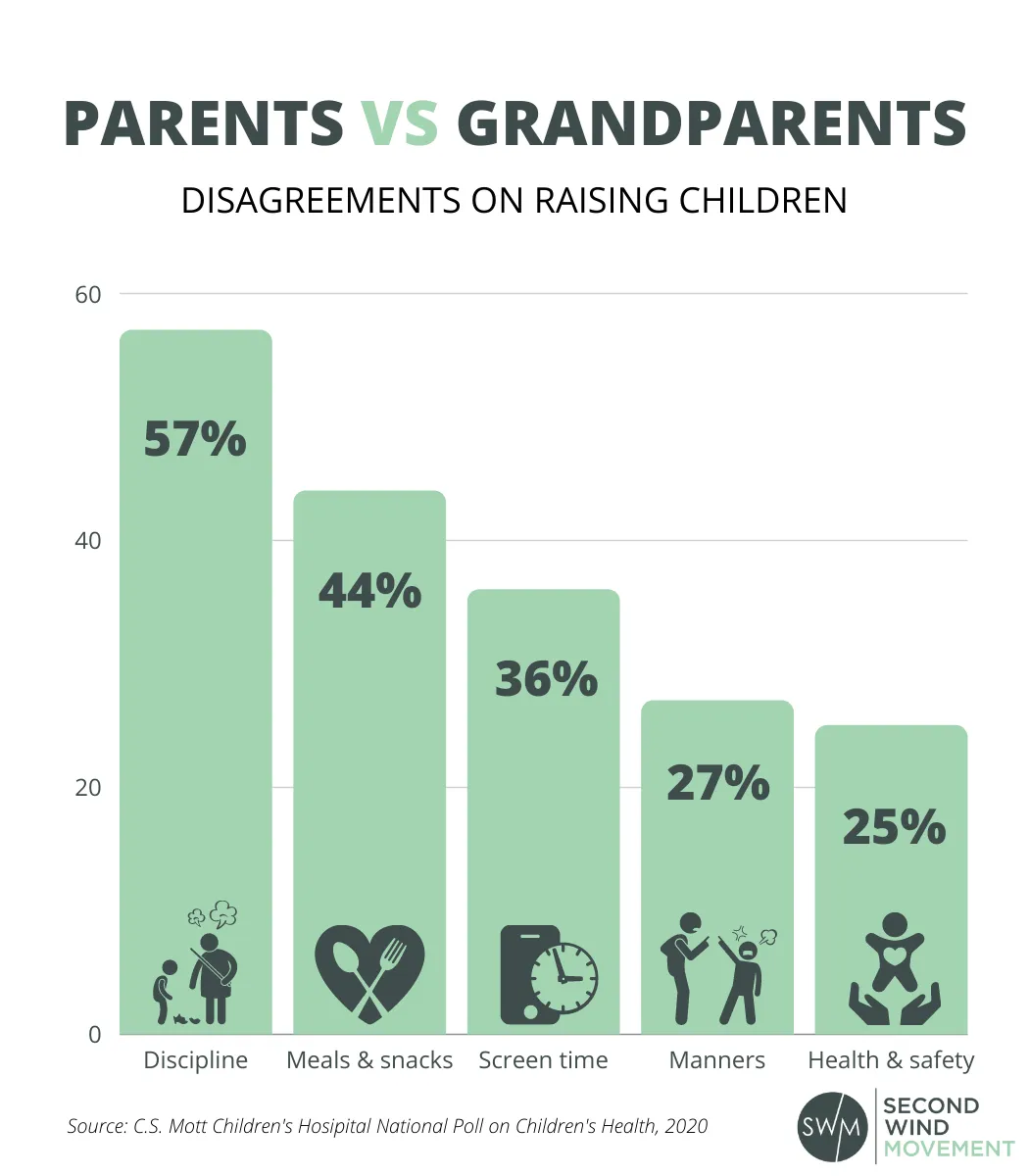 Friendship Statistics
Marriage, Dating & Intimacy Statistics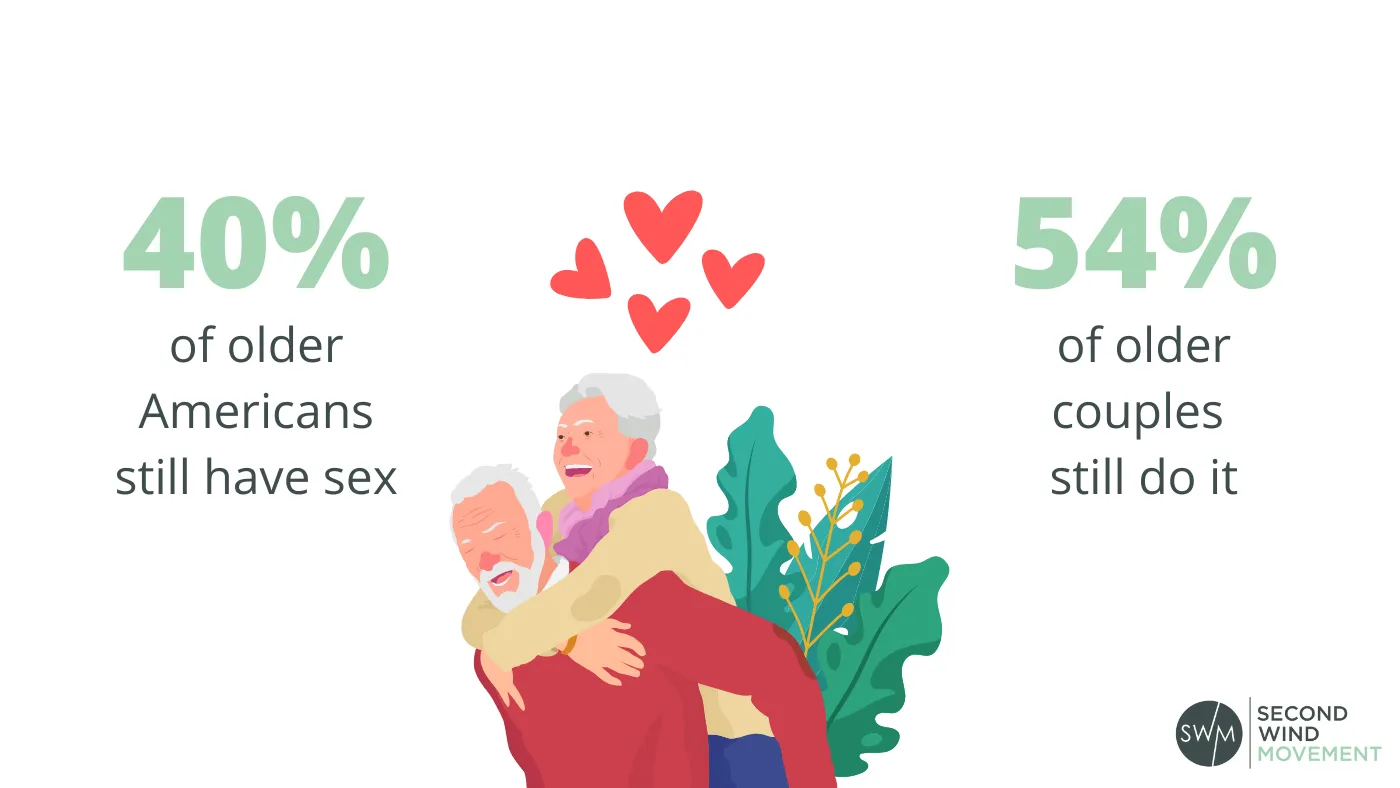 Social Isolation & Loneliness Statistics
#3: Senior Health Statistics
As you approach your golden years, it's important to keep tabs on your health. But it's not just about physical fitness – mental and emotional well-being matter, too. 
When it comes to senior health statistics, the numbers don't lie: the risk of chronic illness and disease increases with age.
But here's the good news – by taking a holistic approach to your health, you can slow down the aging process and prevent a host of health problems. Staying active, eating healthy, and nurturing your mental and emotional health improve your quality of life and live independently longer.
Mental Health Statistics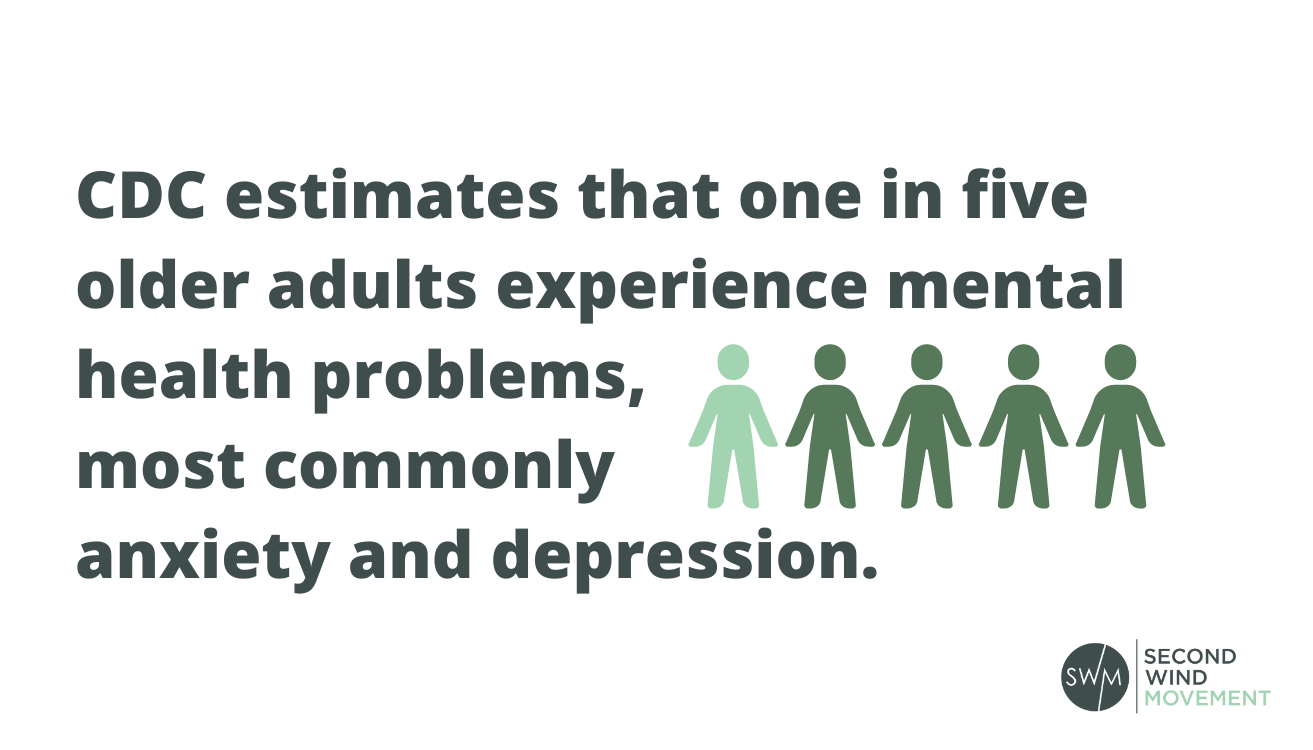 Cognitive Health Statistics
Physical Health Statistics
Physical Activity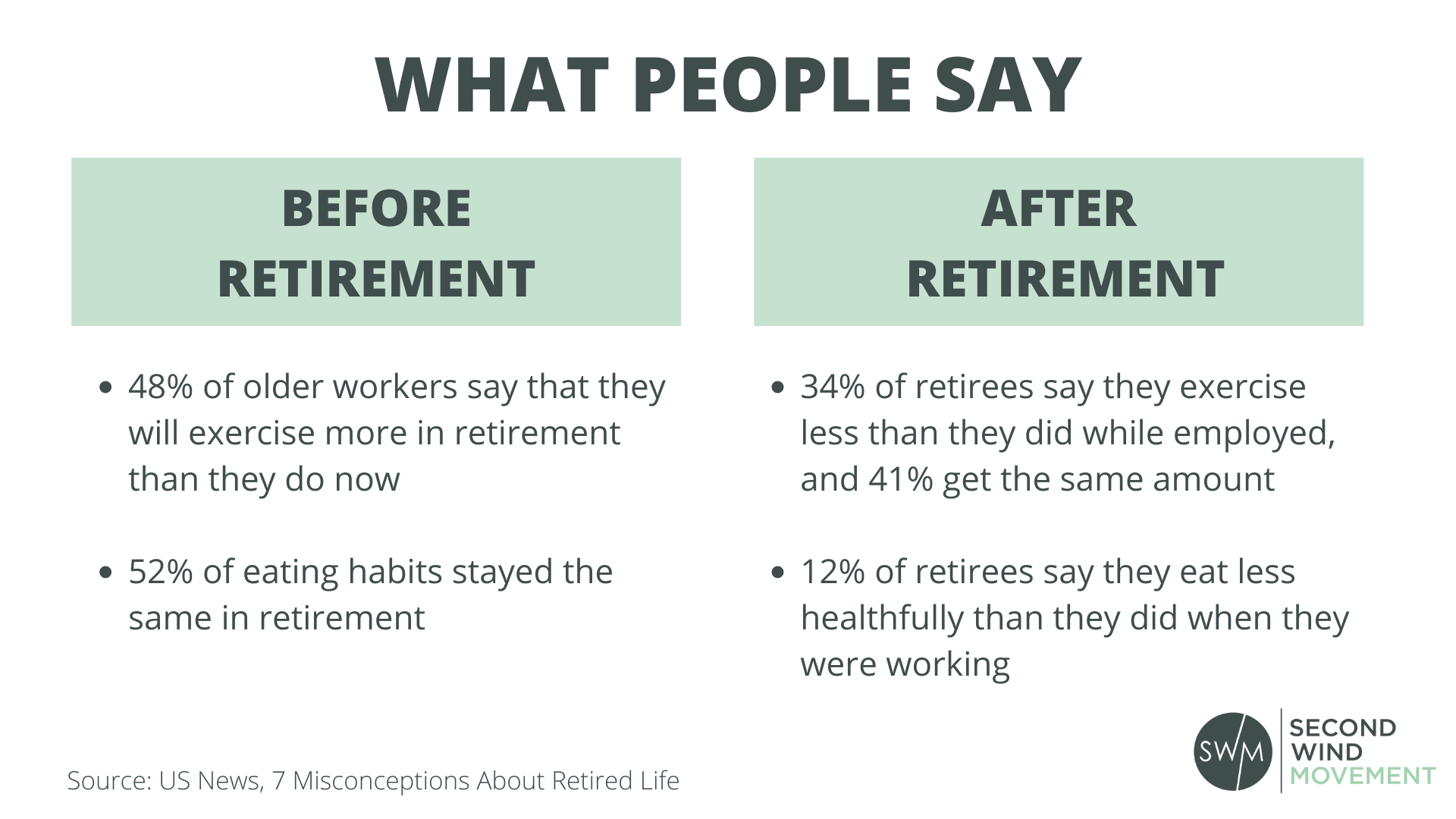 Senior Care & Assisted Living Statistics
Out of adults aged 65 and above,

7%

require assistance from others with personal care.

Approximately 70% of people who reach the age of 65 today may

need long-term care services

and assistance for the rest of their lives. Additionally, on average, women require care longer (3.7 years) than men (2.2 years).

In 2016,

long-term care services

were provided by; 28,900 assisted living and similar residential care facilities, 15,600 nursing home facilities, 12,200 home health agencies, 4,600 adult day care centers, and 4,300 hospice agencies.
#4: Giving Back Retirement Statistics 
Whether it's through volunteering at a local organization, mentoring young people, or donating to causes near and dear to your heart, giving back can be a powerful way to share your unique gifts with the world. 
It's worth mentioning a big caveat — it's important to brainstorm well beyond traditional forms of giving back. 
As in, find clarity first and contribute in a way that's truly unique to you and your unique gifts – the way you help others and who you help need to be intrinsically motivating you. 
Otherwise, we have found that it's very common for people to "try on" popular or stereotypical forms of volunteering in retirement and lose steam right away because it's not a good fit (which makes sense because everyone is different).
That being said, once you find the right volunteer opportunity, the giver often benefits more so than the receiver.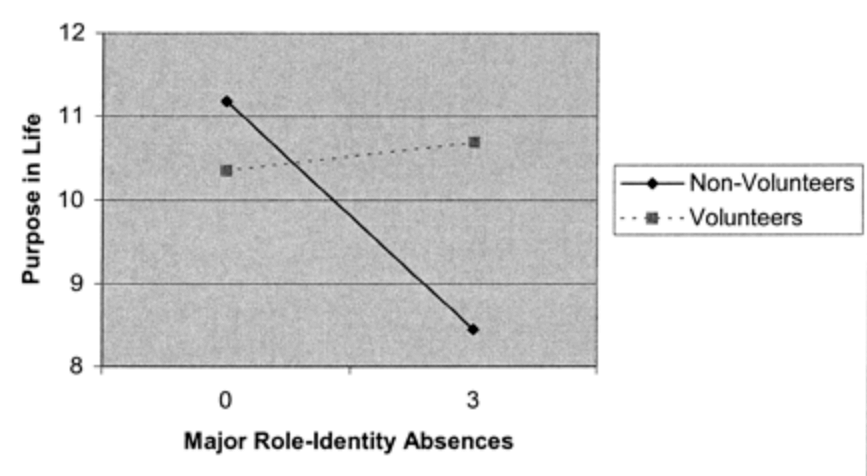 #5: Finance Retirement Statistics
While finance is an essential piece of the retirement puzzle, in our book – its purpose is to help fuel your retirement dreams, wishes, desires, and goals in the other 4 Rings of Retirement. 
And remember, it's never too late to start taking control of your financial future. So let's take a look at the numbers to help you better understand where you are – and where you want to go.
Retirement Savings & Income Statistics
Senior Spending Statistics
The

average American spends

over $65,000 per year, and that number doesn't change too drastically once you reach retirement ($49,441).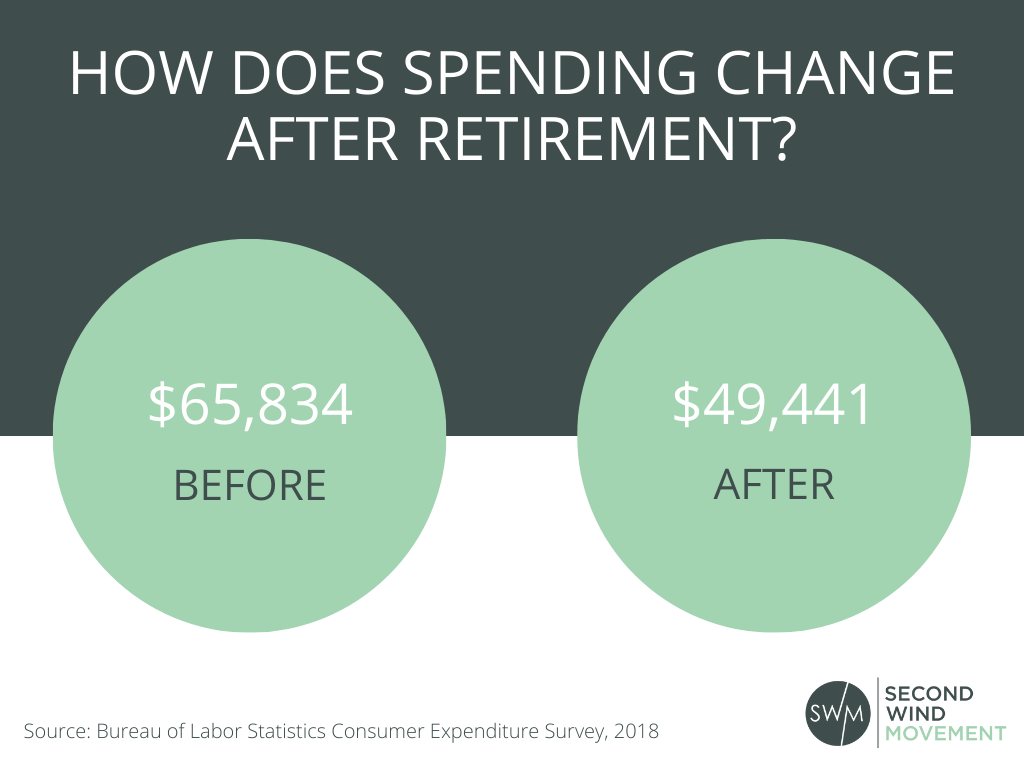 Between 31-35% of

expenditures for US adults over 65

years old goes towards housing, while 13-14% is spent on food. Apparel and entertainment make up a smaller percentage of spending, with only 3-5% of expenditures allocated towards them.

Overall, the mean yearly

senior spending is $27,902

in the US, and the median is $19,476.

The

median annual costs of healthcare

in the US for 2021 were: $108,405 for a private room in a nursing home, $54,000 for an assisted living facility, and $61,776 for a home health aide.
Phew – that's a lot of retirement statistics. May they guide you to your best retirement life.
Looking Beyond The Numbers
The retirement statistics presented in this article paint an interesting picture of the current state of the retiree demographic. 
From growth and community to health, giving back, and finances, various key data points showcase a snapshot of how retirees live today. 
While numbers can provide insight, they don't tell the full story. Each individual has their own unique retirement experience and their own unique path to their best life experience. 
It's important to think beyond the numbers and put your own priorities and circumstances into context when planning your retirement journey. 
May the less-than-ideal retirement statistics, facts, and figures motivate you to be better. And may the promising retirement statistics comfort you as a solid starting point. 
Either way, here's to always striving to be your best.
As always, we're here if you want help turning your retirement years into your best years – feel free to check out our free workshop on How to Live a Purposeful Retirement Life.