Losing a spouse has got to be one of the most difficult experiences that a person can go through.
The devastation and the feelings of loss, grief, sadness, and loneliness…
Everyone's grief experience is different, but the underlying emotion is usually the same: profound loss.
No matter how much time has passed since your loved one's death or how much you have learned to cope with it over time, losing a spouse leaves an indelible mark on your life that's never truly erased.
Even when you're able to move forward in life without them by your side, there will always be reminders of their absence throughout your daily routines.
We hope our advice for coping with the loss of a spouse will make it easier, even if just a little bit, for those going through this difficult time.
Let's first answer the question that plagues many people after the death of a spouse: How will I ever be able to cope with this loss?
Do You Ever Get Over the Death of a Spouse?
Losing a spouse can feel like being sucked into an abyss. The immense loss of your partner and the life you had built together can be overwhelming. You may find yourself struggling with all the "what-ifs" and wishing for things you could've done differently or better. 
Not to mention, the loss of the future you imagined with them. 
Of course, the truth is, you will never forget your loss. It may take time to adjust and heal, but the loss of a spouse is something you will carry forever.
A friendly reminder – there's no reason to put a time limit on your time to grieve. 
In fact, according to a recent study by Amerispeak and WebMed, while most people reported the first year was the hardest, plenty of people reported they were still intensely grieving at the three-year mark.
This makes sense, as the loss of a spouse is not something you can just "get over." It's an experience that changes you and yoru life profoundly, in ways both small and large.
With patience and support, however, it is possible to find peace in the sadness and loneliness – and learn to live a life that honors your loved one's memory as well as your own well-being.
How to Survive the Death of a Spouse
#1 Let Yourself Grieve
While it's an extremely painful process, grief is a necessary and natural process. 
To protect you from the overwhelm, it's typical to enter shock and denial at first, which is the first of the 9 stages of grief.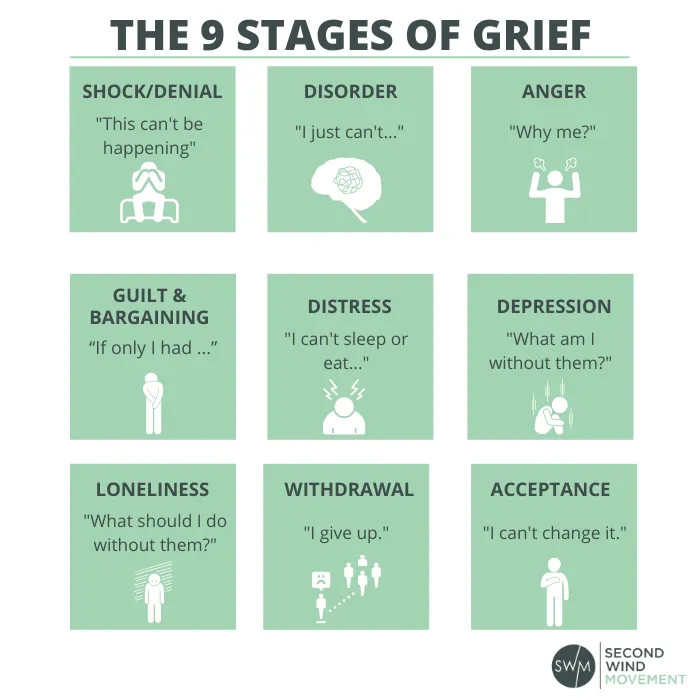 When you're (somewhat) ready to feel more of the grief impact and the feelings of loss come forth, do not repress your sadness – it is all part of the healing process.
Give yourself time to mourn and reflect. No matter how long it takes, allow yourself time to go through the grieving process.  
While psychology has outlined a sequential order of steps that happen when you grieve, this is what reality looks more like: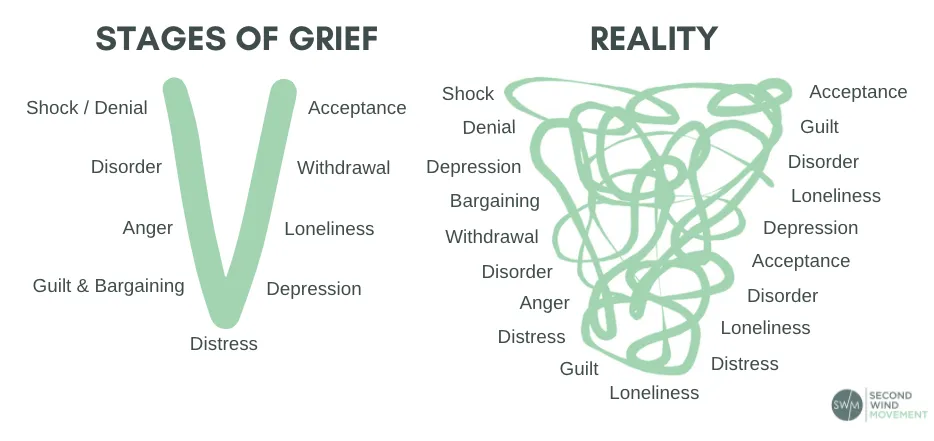 The whole grieving process and that rush and range of emotions that come with loss happen chaotically on its own schedule in its own order.  So let yourself grieve in a way that feels right for you.
#2 Prioritize Self-Care
Grieving the loss of a spouse is certainly one of life's most taxing experiences – emotionally, mentally, and physically. As difficult as it may seem, it's essential to take care of your health holistically and tend to your physical and mental needs when grieving.
Self-care can often be an afterthought in such circumstances, yet neglecting this important part of the healing journey will only impede progress and can make matters worse. 
That's not to say, solider up and move on. It's the opposite, rather – allow yourself to work through the grief and focus on self-care and self-love.
The top symptoms that arise from grief are sadness and depression. And 31% experience an inability to sleep, and 29% experience anger, so focusing on areas like these when tending to self-care can be helpful. 
And if you're up for it, allow yourself moments to move your body with healthy activities that boost your mood — even if they feel forced at first. It might just be the little bit of respite you need from all the stress that grief brings.
After all, exercise is known to increase your mental health. In a mental health study of 1.2 million, people who exercised had 43.2% fewer days of poor mental health in the past month than individuals who did not exercise.
Another part of self-care is making an extra effort to reach out, our next tip.
#3 Reach Out
It's natural to feel isolated in your grief, and it can be hard to talk about the death of a loved one, especially when the loss can make you feel like you're alone in the world – and nobody can understand the depth of your pain.
But remember that avoidance isolates and separates you from your support systems. Not only that, but it can disrupt or delay your healing process.
So when you're ready and can muster up the energy during a low, it's worth taking the enormous step of reaching out to others for help.
Connecting with family and friends can be a fantastic remedy for grief. And spending time with people who knew the person that you lost can help you cope, too. Together, you can honor your loved one's memory and celebrate them by sharing stories or simply enjoying each others' company. These small efforts truly make an immense difference.
And there are also support groups and resources that you can reach out to, both online and in-person. Here are some online resources:
However you go about it, find a safe space to share your experiences, receive support, and connect with someone else who understands what you're going through.
Don't hesitate to lean on people, to void going through this trying time alone.
And for those moments when you are alone, go inward for comfort and self-soothing. 
#4 Do the Inner Work & Reconnect with Yourself
After the initial shock has passed, it's important to focus on doing the inner work that's necessary to heal your heart and move forward in the way that you truly want.
It forces you to re-imagine your life in their absence. And a lot of the time, this means reinventing yourself.
Allow yourself time to take stock of your life without your spouse and look at it with a clear lens. It's important to recognize what's gone and what has to stay, and what has to change.
As cliché as it may sound, the best way to honor your partner, spouse, or lost loved one is by moving forward as your best self and living your best life possible.
Research shows that identity reconstruction after the loss of a spouse is essentially reconciling the past and present self. And most used the following strategies: 
staying busy 

continuing relationships 

finding benefits 

comparing experiences 

seeking similar others

buffering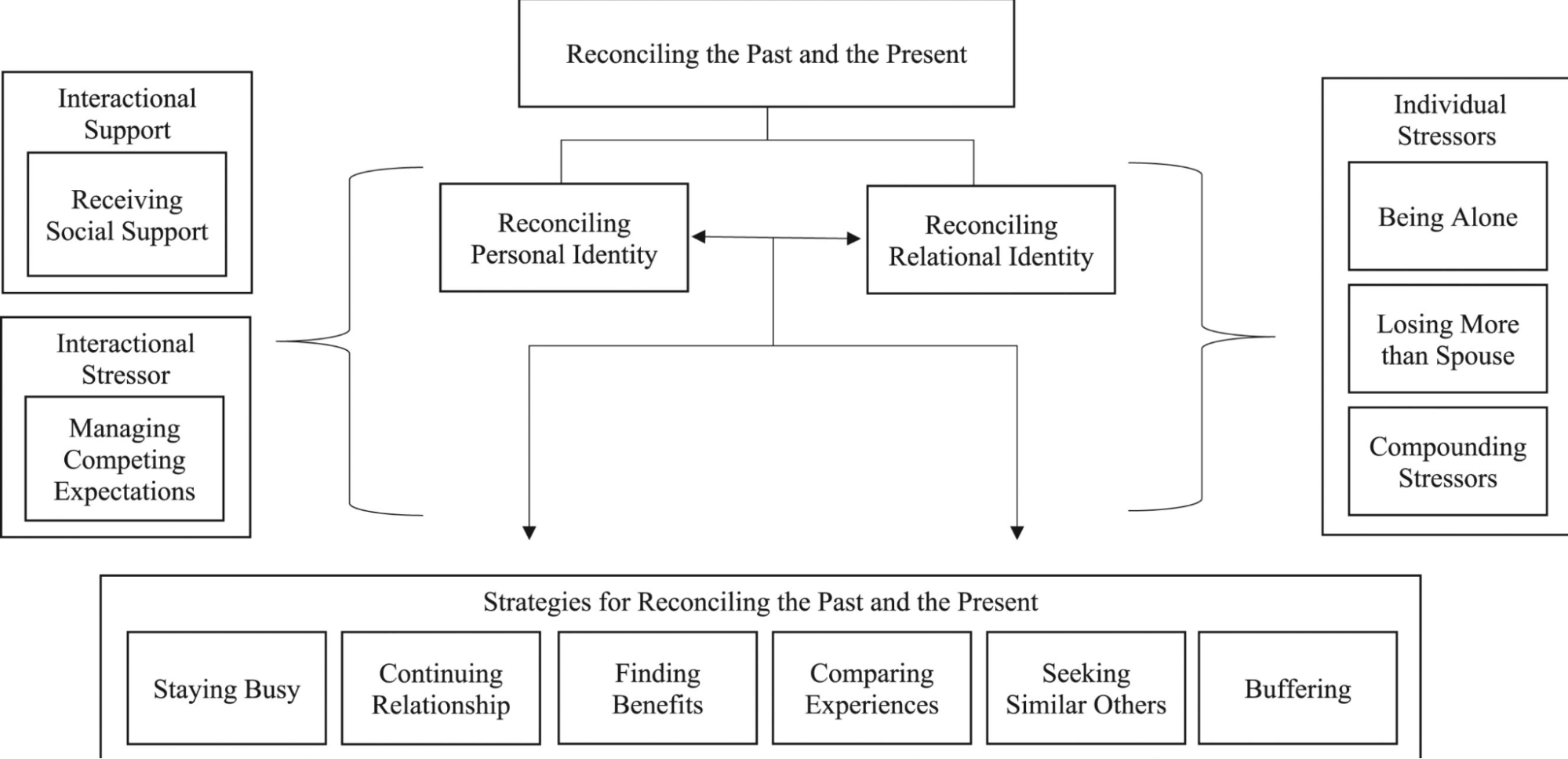 What we'd like to add is to focus on doing the inner work and actively work on becoming a better, more authentic version of yourself. That means connecting more deeply with yourself.
This doesn't mean you don't have to "let go" of your spouse or their memory. They will always remain a part of you in their memory and legacy, which can bring both comfort and pain.
Trying to go back to the way things were before the loss is not only impossible, but you'll also be constantly reminded of the disappointment and the gap between what you expected and what happened in reality.
When you're ready to exit survival mode and start thriving again, it's time to venture out on a journey to regain a sense of self after your loss. This will usually take a lot of self-care, finding clarity, mindfulness activities like journaling and meditating, and mainly exploring. 
And it can be helpful to open up new avenues of connection with yourself as well — whether that's through journaling, therapy, or simply spending more time alone doing things you love.
Like every major life phase and transition, your identity won't be the same. And different isn't necessarily a bad thing.  
It's all about finding the balance between accepting your loss (which is focusing on the present and the future) and staying connected with your spouse (which is honoring the past and remembering). 
Finding Strength Through Grief
Dealing with the loss of a spouse is undoubtedly one of the most difficult things life can throw your way.
It's more than just dealing with the loss itself; it's also the loss of that person's presence in your life, their memories, and everything they meant to you as both an individual and a couple.
The emotion that follows such a loss can be overwhelming, and it can easily consume you, leading to a sadness that just never seems to go away. Yet despite this, many find a way to slowly move on, albeit never truly "getting over" the loss.
But you can find strength and grow through your grief. Here is our advice to help you cope with the loss of a spouse:
#1 Let yourself grieve

— allow yourself the time needed to heal (and repeat – it's an ongoing process)

#2 Focus on self-care

— take it one micro-step at a time and be kind to yourself

#3 Reach out

— don't be afraid to reach out for the help and support you need

#4 Do the inner work & reconnect with yourself

— honor their memory by reinventing yourself and growing into the most authentic loving version of yourself
We hope this article has helped you, even in the smallest of ways, to cope with the hardship of losing a spouse and loss in general. 
Remember that you are not alone and that, with time and patience, you will find the strength to move forward and grow.