Deciding where to retire is definitely not an easy decision to make.
There's no right or wrong answer when it comes to choosing a retirement destination – it all depends on what's important to you. 
A study on moving in retirement found that it has been a growing trend in the last decade: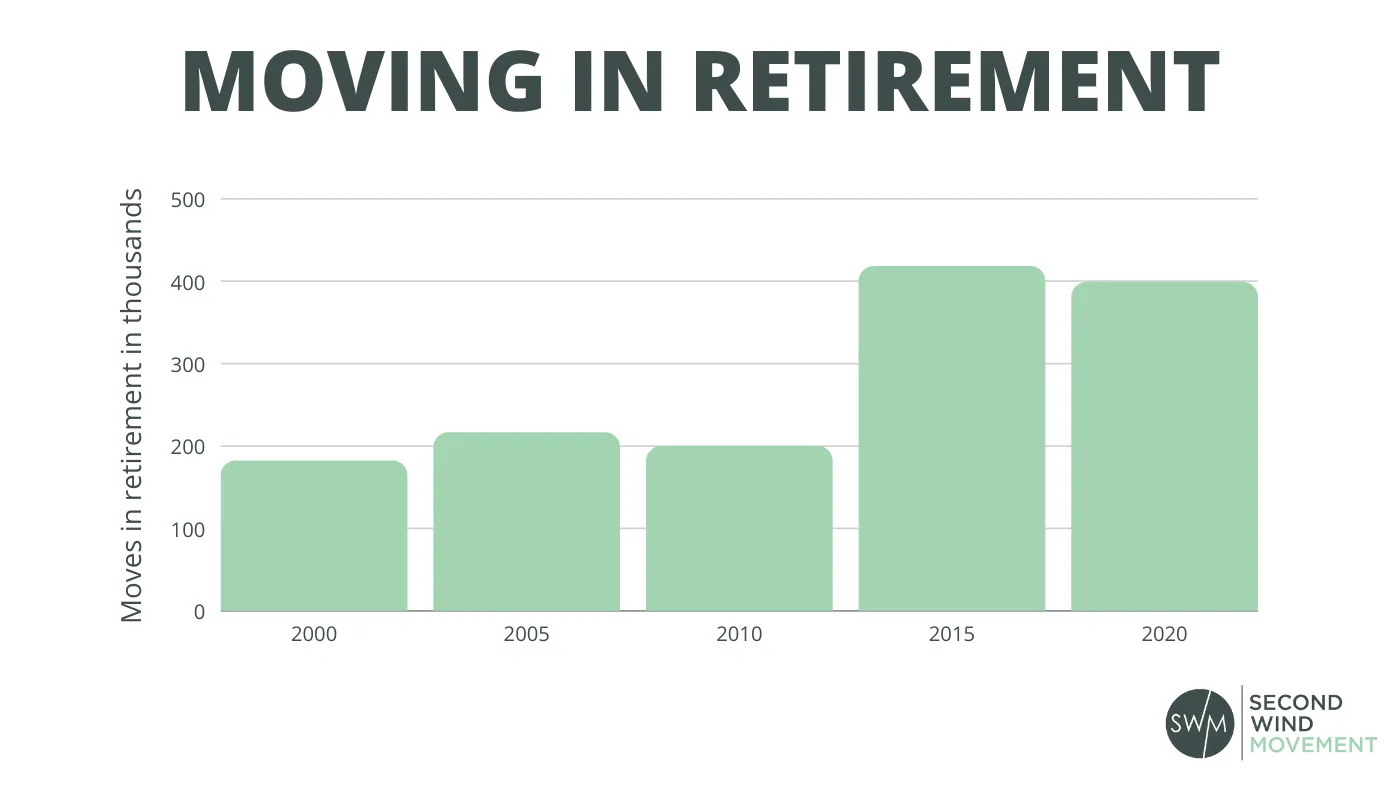 Some people move to a new city or country after retirement, but according to the US Census Survey, in 2020, only 9.3% of retirees actually took this step. 
If you're on the fence about how to even decide where to retire, here are five factors to consider before making a decision.
5 Factors to Help You Decide Where to Retire
#1 Lifestyle
First and foremost, it's important to move to a place where you can thrive in your ideal retirement lifestyle. Consider your interests and hobbies, and find a place that can accommodate them. 
For instance, if you're a foodie you'll want to make sure that there are plenty of diverse restaurants in the neighborhood. 
If you plan to visit your home state regularly, you'll want to make sure you're close to an airport. 
Or if you're used to shopping in certain stores, you might find yourself lost without them.
You get the gist. Sometimes it's the tiniest things that can make the biggest difference. Try to consider what you want to keep and what you want to change in your current lifestyle and then see if your desired location fits into your plans.
#2 Costs of Living
You can't move to a new place without establishing a clear retirement budget. And that includes comparing the cost and standard of living between your current and potential home.
Expenses, such as groceries or utilities, can vary greatly. And relocating itself can be a budget-buster even if you're moving to a cheaper place.
So be sure to check out the worldwide cost of living calculator and this US-only calculator to compare average prices in your cities and countries of choice. For instance, the cost of living is 23.8% more expensive in Antioch, CA than in Reno, NV: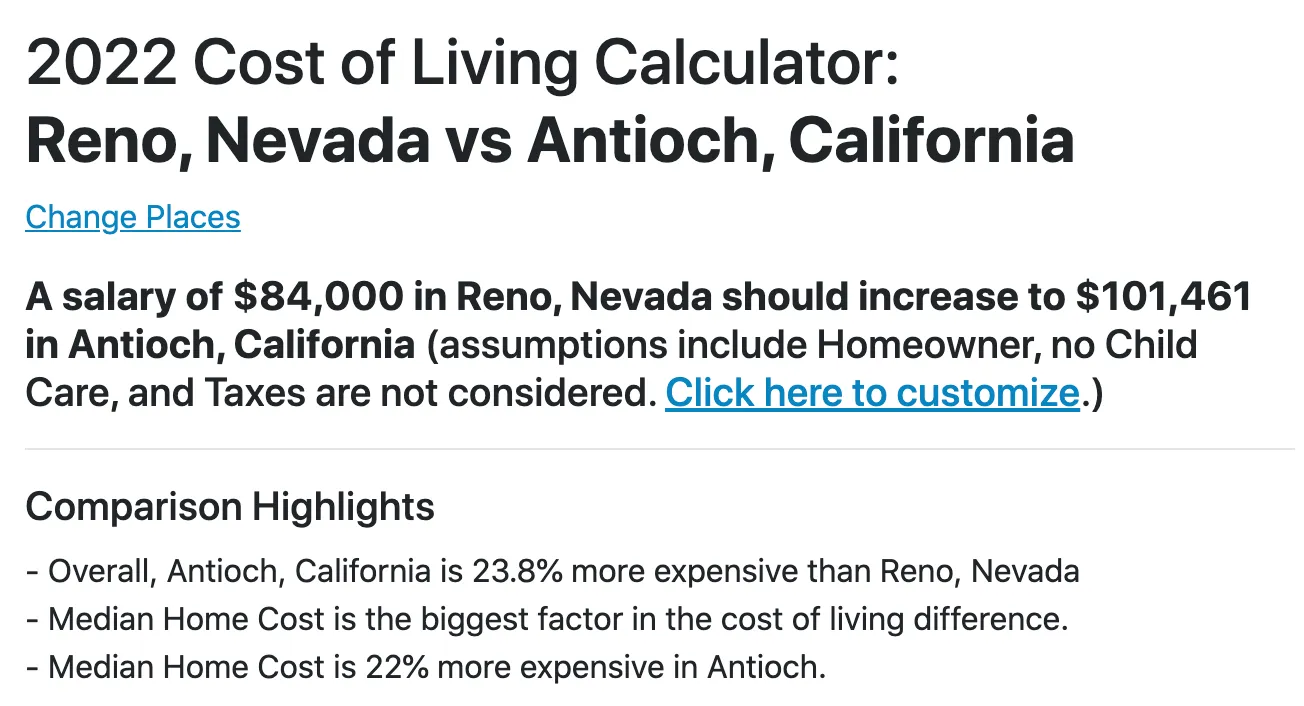 Don't forget about your travel costs, too. If moving to a new place means you now need to travel to see your family and friends, don't forget to include the number of flights or other commuting expenses in your budget calculation. 
Another important financial factor in your decision on where to retire is taxes.
#3 Taxes
There's no getting around it – taxes are a big consideration when planning where to retire. To better understand this piece of the retirement relocation puzzle, but we've got you covered.
If you're planning to move within the US, there are:
13 states that tax Social Security — Colorado, Connecticut, Kansas, Minnesota, Missouri, Montana, Nebraska, New Mexico, North Dakota, Rhode Island, Utah, Vermont, and West Virginia

8 states that don't have a state income tax — Alaska, Florida, Nevada, New Hampshire, South Dakota, Tennessee, Texas, Washington, and Wyoming
Even if you retire abroad, your taxes will follow:
Retirement distributions (except for your ROTH IRA) are included in your gross income in the US and aren't eligible for the

Foreign Earned Income Exclusion

, which is intended to prevent double taxation by excluding income taxed in another country from U.S. taxation

Most countries won't double-tax your Social Security benefits (but

check this list

to be sure)

If your income exceeds $10,000 in foreign accounts, you'll have to

fill out this form
Regardless of whether you move within our out of the country, don't take this decision lightly because there aren't any legal loopholes. Consult with an experienced tax professional that is well-versed in the taxation policies of both countries before packing your bags.
#4 Access to Care
At this point, you're probably just going to the doctor when you need a regular check-up. But the availability and proximity of quality care are crucial factors to bear in mind.
While living on a secluded beach in Mexico might sound like a dream, what would you do if you needed emergency care? 
To make sure you stay on top of your health care, refer to the Commonwealth Fund to see the healthcare ranking for each US state. 
Unfortunately, Medicare only provides coverage for medical services provided inside the US, so if you're considering moving abroad here's a list of countries with universal or low-cost healthcare.
With healthcare inflation, you can expect your medical expenses to be one of the biggest contributors to your budget: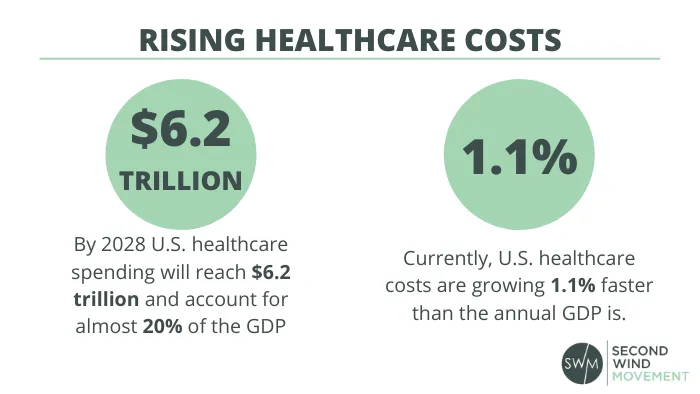 That's why you want to make sure you're retiring in a place that meets your health care needs, both now and in the future.
#5 Safety
Finally, safety should be one of your top priorities when deciding where to retire. You want to feel safe and secure in your new home, and you don't want to worry about crime rates or natural disasters. 
The good news is that there are plenty of places both in the United States and abroad that are safe and affordable for retirees. 
For instance, The Villages, a popular active retirement community-based in Florida, has a Public Safety Department that includes EMS/EMT and fire department services in its neighborhoods. 
So don't let safety concerns stop you from retiring on your own terms. 
You can also check out this global safety index to help you find the perfect place to call home.
Give It a Trial Run
It's definitely an exciting time when you're getting ready to retire and gear up for a new life chapter. 
To recap the top five factors in deciding where to retire:
#1. Lifestyle — Your new location needs to match your ideal lifestyle, passions, and

post-career purpose

#2. Costs of LIving — Crunch some numbers to make sure the move makes sense for your budget
#3. Taxes — Also do the math to figure out how your move impacts your taxes
#4. Access to Care — Be sure your new location accommodates your current and future health care
#5. Safety — Research how safe it is to live in your new neighborhood and outer community and what safety resources are available
But before you make the big move, it's worth considering doing a trial run first. As in, spend an extended stay, say 1-2 months, at your new location before committing to a full move. While you're there, try to connect with others through Meetup Groups or other ways, to immerse yourself in the community.
That way, you can get a better idea of what life will be like in your new location – and if it really is right for you. 
Ultimately, the decision of where to retire is a deeply personal one. You have to take into account your own unique needs and preferences in order to make the best choice for yourself. 
We hope that by highlighting these five important factors to consider when making this decision, we've given you a good place to start. And here are our 9 favorite countries for retirement for some inspiration.
Evaluate each option against these criteria, so you can make the best location decision for your golden years. And of course, regardless of where you choose to live in retirement, make sure to enjoy every minute.