Why is finding the right volunteer opportunity important?
Finding the right volunteer opportunity is hugely important.
The reason being, giving back is such a core part of your well-being and sense of purpose…
And oftentimes it isn't until we're faced with an open-ended transition period (or pandemic) that we're pushed to reflect on what we're actually contributing to the people and world around us.
What are you contributing to every day and how are you doing it?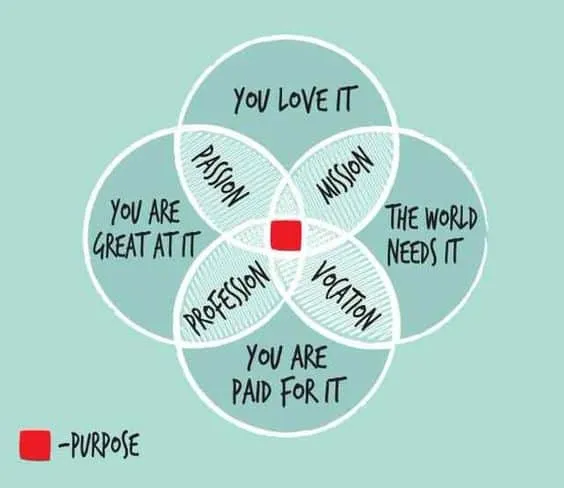 We don't have to get deep into what your life purpose is here, but I want to just stress the importance of giving back to the community and the idea of volunteerism, especially during your "retirement" period when there's an open field of options to choose from, in considering how to fill your days.
We go through most of our lives carrying out societal and cultural structures of duty.
Like education and supporting and raising our families, which gives us a sense of purpose… but then when we're faced with retired life (and have only been trained to financially prepare) we may end up feeling lost on how to spend our retirement years partaking in things that really matter to us.
While there's a distinction between passion and purpose, an intersection of both can do wonders for your retired life.
Giving Back is Also Good For Your Health
Whether it's a paid work-volunteer opportunity or pro bono donation of your time and skills, giving back has many benefits. Not only is it critical for your sense of purpose and fulfillment, but it's also good for your health. Check out these studies:
UnitedHealth Group conducted a survey and found that 76% of the people who volunteered at some point throughout the year felt physically healthier, 94% reported volunteering improves their mood, and 78% felt less stressed.
Rachel Piferi of Johns Hopkins University and Kathleen Lawler of the University of Tennessee conducted a study in 2006, and found that people who provided social support to others had lower blood pressure than people who didn't, which indicated a direct physiological benefit to people who give back.
James Fowler of the University of California, San Diego and Nicholas Christakis of Harvard, conducted a study that showed when one person behaves generously, it inspires observers to behave generously later, toward different people, which supports the idea of paying it forward.
I've put together these seven steps for you, so you can find a place to volunteer that's unique to you.
Volunteer Opportunity Step 
#1: Self reflect
Understanding your skill set, your professional and personal experience, and also your limitations are key to deciding the type of volunteer opportunity you want to get involved in. Ask yourself:
What role do you want to have in your volunteer opportunity?

What skills do you have to offer?

Which past experiences would you like to recreate?

Which activities give you energy?
It can also be helpful to think of things you want to limit.
What physical activities do you

not

want to do?

Where do you want to cap off your mental strenuousness?
Bonus Tip: Don't stop self-reflecting there. Also consider your core values. Check out our powerful Post-Career Purpose Finder workbook to zero in on your core values. It's super important to have your core values align with the type of volunteering you choose to do. If an organization's purpose and mission aren't matching your own core values, that's an easy red flag to spot. 
Volunteer Opportunity Step
 #2: Understand your commitment level
Map out your schedule and physically create an ideal weekly calendar. Be sure to include all your non-negotiables, your prior commitments, your leisure time, and your free time.
Once you have your time blocked off you should have a better understanding of how much time you have for volunteering and giving back, and also how much "free time" you want to dedicate to doing other things or simply keep open.    
You can avoid over-committing yourself to a volunteer opportunity by being super clear on how much time you want to assign to the giving back part of your life. Rather than starting off with finding a place to volunteer and catering to the commitment and needs of the volunteer opportunity, it's best to explicitly define your ideal commitment level.  
Volunteer Opportunity Step
#3: Be clear on how this impacts your goals
You can be efficient with how you spend your time and create more meaningful experiences for yourself by aligning your activities with your overall goals and dreams.
Think of the various ways that a volunteer opportunity can impact your bigger picture plan and be intentional about how you want to be involved.
How do you want volunteering to fit into your overall goals?
What would you like to learn and gain from your experience?
Some examples:
If health is a priority for you, consider volunteering at a fitness or health-related group.

If you're after a certain mission or cause, giving back to an organization that aligns with your interests can be very fulfilling.  

Interested in traveling and finding your next adventure? Consider giving back abroad.

If you love sports and dedicate some of your leisurely time to watching your favorite teams, consider contributing to their various foundation events.
Volunteer Opportunity Step
#4: Brainstorm from your learnings
Now jot down a list of all the organizations, types of places and various causes that you're interested in from your learnings in the first three steps. Simply brain-dumping after a good self-reflection session can be so illuminating.
You can put into more concrete terms the types of volunteer opportunities that sound appealing to you instead of just casting a wide net to see what sticks. This is an effective way to be more intentional about choosing how you spend your time giving back, and chances are you'll find something that will feel right and energize you for a longer period.

So let the brainstorming begin…
Some ideas to get your juices flowing for finding the right volunteer opportunity:
Family, friends

– reach out and offer practical help to relatives and friends; watch the grandkids; help with errands, projects and chores  

Educational

– read stories at local schools, monitor outdoor youth activities, chaperone field trips, help with campus cleanups, tutor students, guest lecture; look into the local colleges, daycare centers, libraries and alumni-based associations

Environmental

– help with beach cleanups; consider national parks, neighborhood parks, rec centers or organizations like Habitat for Humanity

Sports

– coach a local youth team, help out at local sports team foundation events or fundraise

Underprivileged, needy, disaster relief

– volunteer at food pantries, soup kitchens, hospitals, prisons, homeless shelters, halfway houses, drug rehab centers, shelters for battered women and children, animal rescue shelters; or contribute to organizations like American Red Cross and Meals on Wheels

Cultural

– become a docent at museums, art galleries, monuments; volunteer at music and theatre organizations like community choirs, bands, orchestras and performance groups; usher at local theaters and venues

Neighborhood

– give back at the local civic club, neighborhood watch group, serve on a community board, join a political campaign

Elderly

– help out at retirement homes, nursing homes and senior centers
Bonus Tip: Keep in mind the places and people that energize you. The activities that give you energy are likely where your passions live.
Volunteer Opportunity Step
#5: Begin your research
I intentionally put the research step late in this list sequence, because being clear on the type of volunteer opportunity you're after is so important to finding something that suits you best. If you're more intentional and specific about what you're looking for, you're more likely to be fulfilled in the long-term.
So rather than starting off by scouring the internet or researching volunteer opportunities that may sound good to you, researching with intent can be super helpful in finding you the right work. Now that you have a better idea of:
The skills you want to offer

How much time you want to commit each week

How this impacts your bigger picture goals and lifelong learning

The type of organization you want to work with
… you can do the research with all those factors in mind. The process will be much quicker and definitely more intentional.
Need ideas on where to look? I've put together a guide of 20 top volunteer websites to give you more volunteer opportunity ideas, plus summarized descriptions, to help save you time in your research effort.
Volunteer Opportunity Step
#6: Interview the organization first
Take the time to dive deep and ask questions about the ins and out of your volunteer opportunity. You can treat it like a job interview to find out if the organization will be the right fit for you.
Ask questions about what's required and expected of you. Find out more about how the organization is run and what the culture and priorities are like. Talk to various other people who are involved at the organization, whether paid team members or volunteers.
Volunteer Opportunity Step #7: Test it out
There's nothing wrong with taking baby steps and testing out your volunteer opportunity first. You can potentially set up a trial period and commit to the short term first to find out if the volunteer opportunity is really something you're into.
It's ok if it sounded better in your head than in reality. Pay attention to whether or not the experience energizes you to help you decide if you want to fully commit or not.
If you need more help with finding out what your core values are, consider answering these finding clarity questions: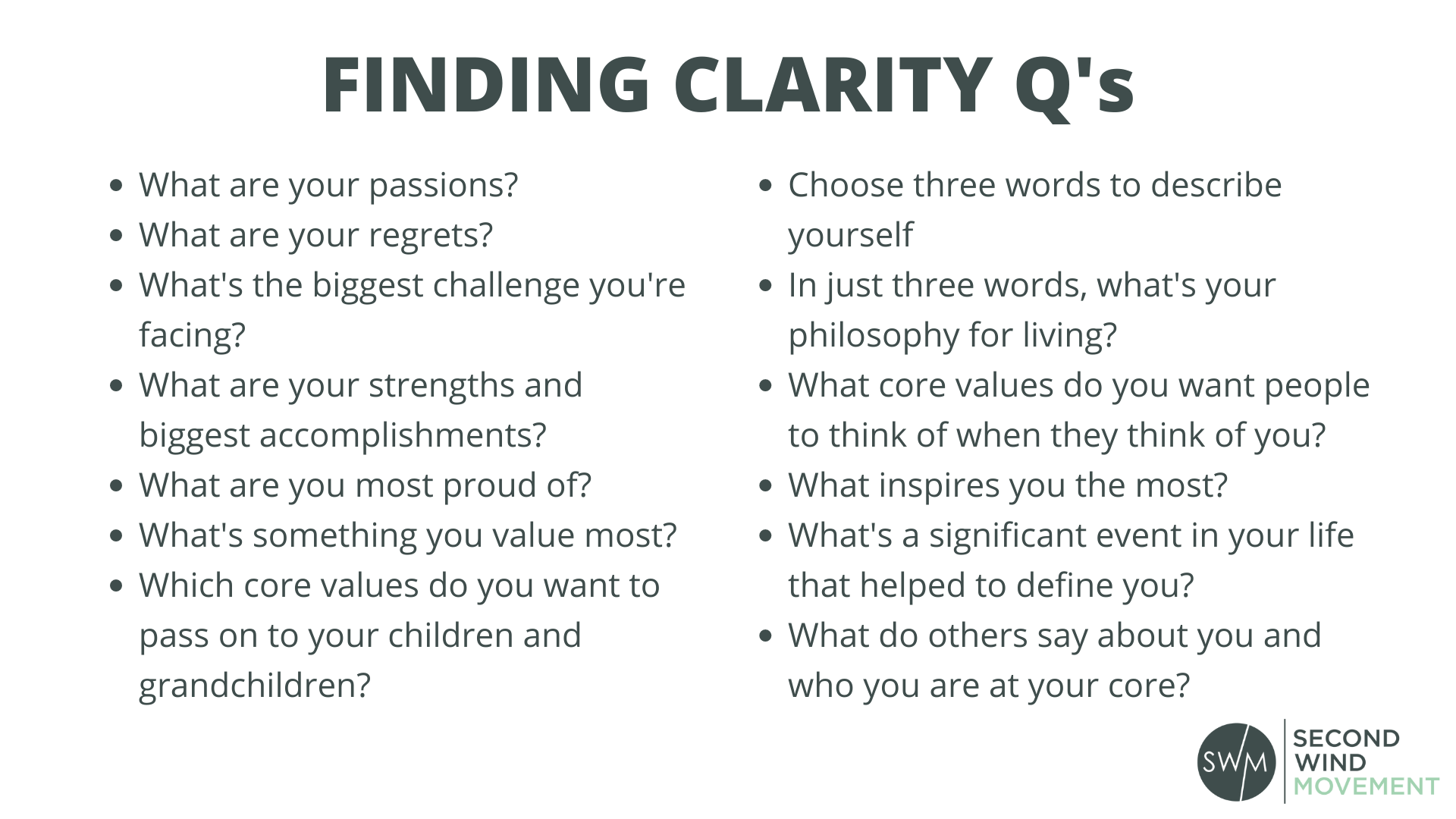 If you've made it this far – phew – you're well on your way to finding the right volunteer opportunity. It's also worth noting that most people don't complete these seven steps in one sitting. It's about taking consistent micro-steps each day. This will relieve a lot of the pressure for finding the right volunteer opportunity straight away.
After helping so many people strive for an active, healthy, engaged lifestyle, I have found that it's all about clarity first, then taking consistent next steps. AND working through the natural ups and downs of achieving your best goals – volunteering and giving back, included.
Find the right volunteer opportunity to fill your life with purpose and meaning 
With so many choices and options out there, it's important to be very intentional about your hunt for the right volunteer opportunity. The key will be to align your effort in giving back with your core values.
And find something that energizes you. That's where the magic happens. 
You can also purchase our popular Purpose Finder workbook to find more clarity on your core values and discover the exact roadmap to your ideal lifestyle.
Which of these steps are most helpful in finding your ideal volunteer opportunity?
Happy volunteering 🙂
P.S. For inspiration, check out this list of our favorite charity organizations and this article to learn more about doing charity work.