Traveling with grandchildren can be a truly wonderful experience.
It's a chance to bond with them, create lasting memories, and show them the world. 
Of course, this happens when you're prepared for the challenges that come with traveling with children.
If you're willing to put in the work, and eager to join the 40% of grandparents who travel with their grandchildren, here are eight tips to make sure the trip is an immensely rewarding experience that's also safe and enjoyable for everyone involved.
#1 Get Insurance
No matter how carefully you plan, there's always a chance something can go wrong, which is why it's important to get travel insurance before you head off on your trip.
And of course, make sure that your insurance covers your grandchildren. Some policies will only cover immediate family members, so it's worth reading the fine print before you purchase anything. 
Travel insurance can protect you from a number of different risks, including lost or stolen luggage, medical emergencies, and cancelled flights. 
When you consider the fact that the average cost of travel insurance amounts to 5-6% of your trip costs and the average cost of travel insurance is around $148, in the case any unfortunate event, it can prove to be well worth the investment.
Stats reveal that 38% of Americans use travel insurance, with seniors and family travelers being among the top users – and it's projected to grow up to a CAGR of 19.7% by 2027.
As the saying goes, it's better to be safe than sorry, so consider coverage before you hit the road with your grandkids.
#2 Choose the Right Destination
As anyone who has traveled with young children knows, the destination can make all the difference.
A place that's too crowded or chaotic can be overwhelming and overstimulating for young children, while a place that's too quiet or boring can be equally unappealing.
It goes without saying that it's wise to consider your grandchildren's ages and interests when selecting a location. 
If the grandkids are young or you just became a new grandparent (congrats!), you may want to choose a place with plenty of kid-friendly activities. If they're teenagers, you might want to opt for a more laid-back setting where they can relax and have some space in between family events and exploration times. 
Here are some of the most popular destinations and attractions other grandparents chose:
Walt Disney World theme or water parks

Universal Studios

New York City

Disneyland

Sea World

Orlando

Cape Canaveral, Kennedy Space Center, or NASA

Redwoods National Park

, and the surrounding area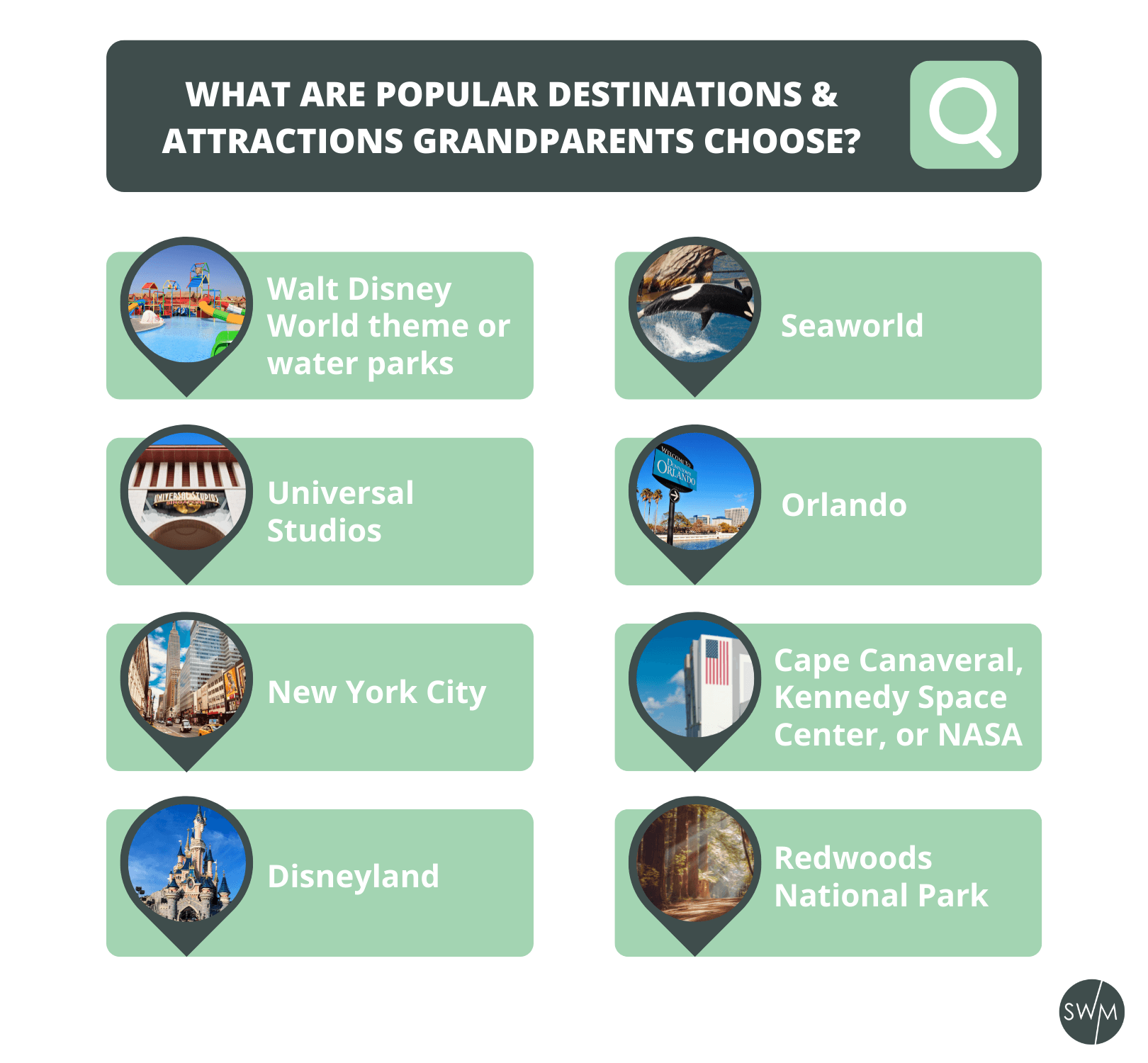 Whether you get inspired by these destinations or have something of your own in mind, the key is to choose a location that has something for everyone in your travel group. 
#3 Prepare the Necessary Travel Documents
Before you can even think about packing your bags, you need to make sure that you have all the necessary travel documents.
If you're flying overseas and their parents are not coming along, you'll need to get a notarized parental letter of consent. Also, don't forget to bring along all traveler passports and any other required documents. 
Pro Tip: Make copies of important documents like passports and your driver's license, just in case you lose them. In the unfortunate case that yours is among the 300,000 American passports lost or stolen each year, you can report your lost or stolen documents here. 
The main takeaway is to be sure to do your research and find out what documents are required for your specific destination. The last thing you want is to be stuck at the airport because you forgot an important document.
#4 Involve Your Grandkids With Planning Process
Planning a trip with your grandkids can be a lot of fun. And it's even more fun when they're involved in the planning process.
Sit down with them and show them a map of your destination. Talk about the things you'll be doing and see if they have any ideas or suggestions. In fact, more than half of parents surveyed by HomeAway say they involve their kids in the planning process to get them excited about the trip.
And involving your grandkids in the planning process can also help prevent any last-minute surprises or disappointments. 
After all, kids love and rely on their routines and schedules, which also helps with their emotional and social advancement, so it's best to support that development and growth even during vacation. 
In a nutshell, by getting them excited about the trip and involving them in the planning process, you'll make sure that everyone has a great time and does things together.
#5 Limit Screen Time
When traveling with grandchildren, it's important to limit their screen time. 
Whether you're taking a road trip or flying to your destination, there will inevitably be some downtime. And while it may be tempting to hand them a tablet or phone to keep them entertained, what they say is true that too much screen time can be detrimental to their health. 
A recent study has found that kids who spend more time in front of screens are at greater risk for developing behavior problems. The research, which was published in the journal JAMA Pediatrics, reviewed data from 87 previous studies that included nearly 160,000 children 12 or under.
It found that kids with more screen time had an 11% higher risk of more externalizing behavior problems like aggression or inattention. Meanwhile, more screen time was also associated with a 7% higher risk of internalizing problems like anxiety and depression.
So try to set some ground rules before your trip. Chat with their parents to decide how much screen time your grandchildren will be allowed each day. And make sure they know what the consequences will be if they exceed that limit. You can also make use of parental controls and other tools to limit their access to devices while you're on the road.
The most important thing is to try to find other ways to keep them entertained and engaged during your trip. Take them on walks, visit museums, play games together, or simply have conversations. 
By keeping them occupied with other activities, you can help limit their screen time, teach them how to be present, and ensure they enjoy your vacation. Speaking of having conversations, look to our next tip.
#6 Make the Time to Talk
Traveling with your grandchildren is the perfect opportunity to get to know them and tell them stories about your life. It can be hard to find time to talk when you're at home, with all of the other demands on life schedules and time. Especially if you're a long-distance grandparent.
But when you're retired and traveling with your grandchildren, you can really focus on your conversation and create some special bonding time. Make sure to ask them about their lives and interests, and share some stories from your own youth. 
Not to mention you get to teach them about new cultures and places. They may love hearing about your experiences, and you can help them understand what it's like to travel to different parts of the country or even the world.
So don't forget to make the time to talk when you're traveling with your grandchildren — it's an experience you'll treasure for years to come.
#7 Be Aware of Your Limits
It can be tempting to want to show your grandchildren the world. After all, there's no time like the present, and you want to make memories while you're still young and spry enough to keep up with them. But before you start booking tickets for a round-the-world trip, it's important to be aware of your physical, mental, and financial limits.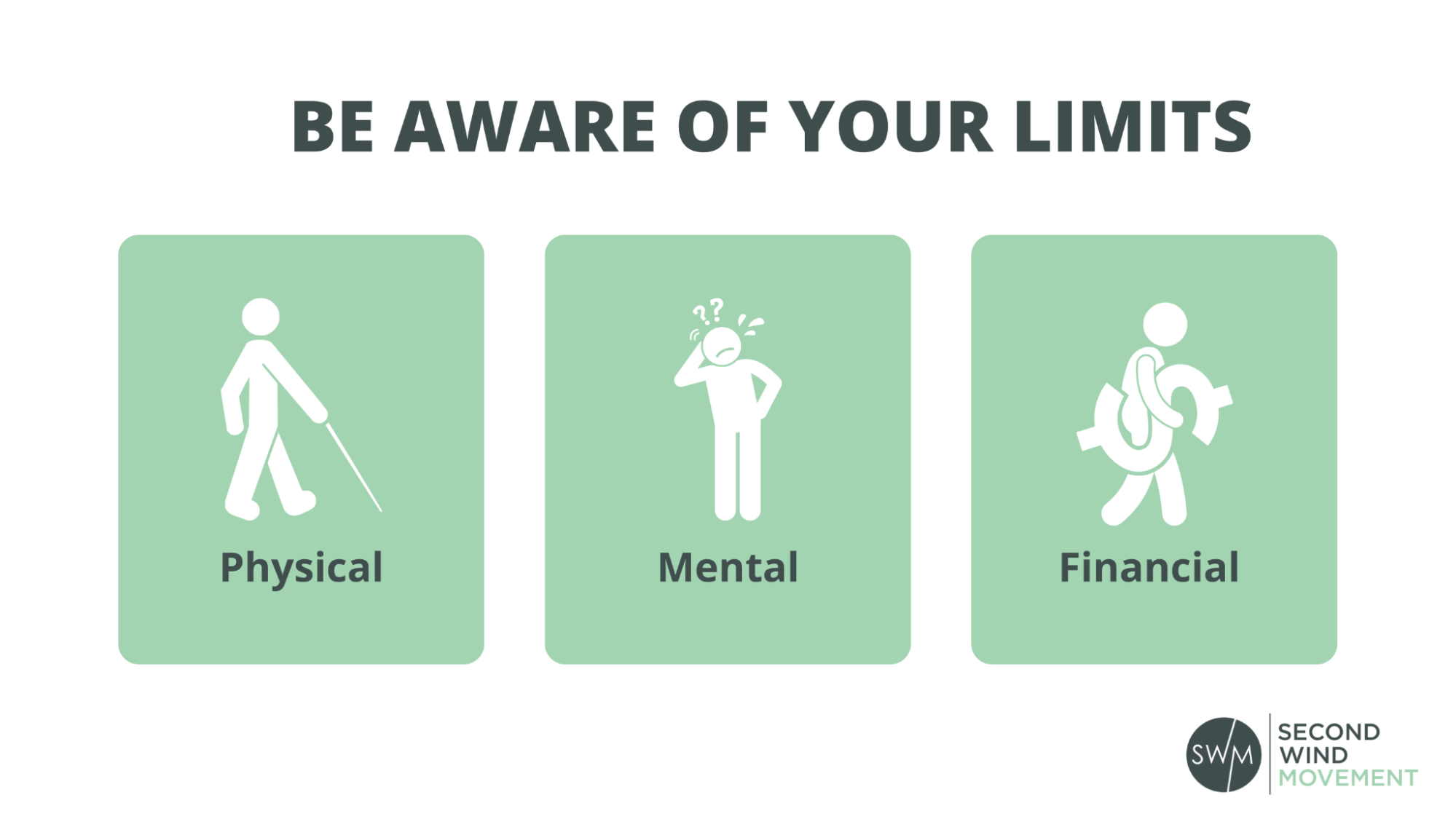 Travel can be exhausting, especially when you're trying to keep up with kids. Not to mention, they have their own stimulation and energy limits. 
Make sure you're realistic about how much all parties can handle before committing to anything. And of course, traveling can be expensive. Make sure you have a budget in mind and stick to it — there's nothing worse than blowing all your savings on a trip that wasn't well planned out.
By being mindful of your limits, you can ensure that your trip is enjoyable for both you and your grandchildren.
#8 Always Keep the Parents in the Loop
Finally, don't forget to keep the parents in the loop. They're the ones who are ultimately responsible for the well-being of their children. You may know the feeling, too, as it's completely natural to worry about your adult kids as well.
Before you leave on your trip, have a conversation with your kids about your plans. Discuss any medical conditions and daily caretaking duties to make sure everyone is on the same page in terms of expectations. 
This is especially important because parents and grandparents often have conflicts when it comes to raising children. And it mostly boils down to the following, with discipline, meals, and snacks, and screen time being at the top of the disagreement list: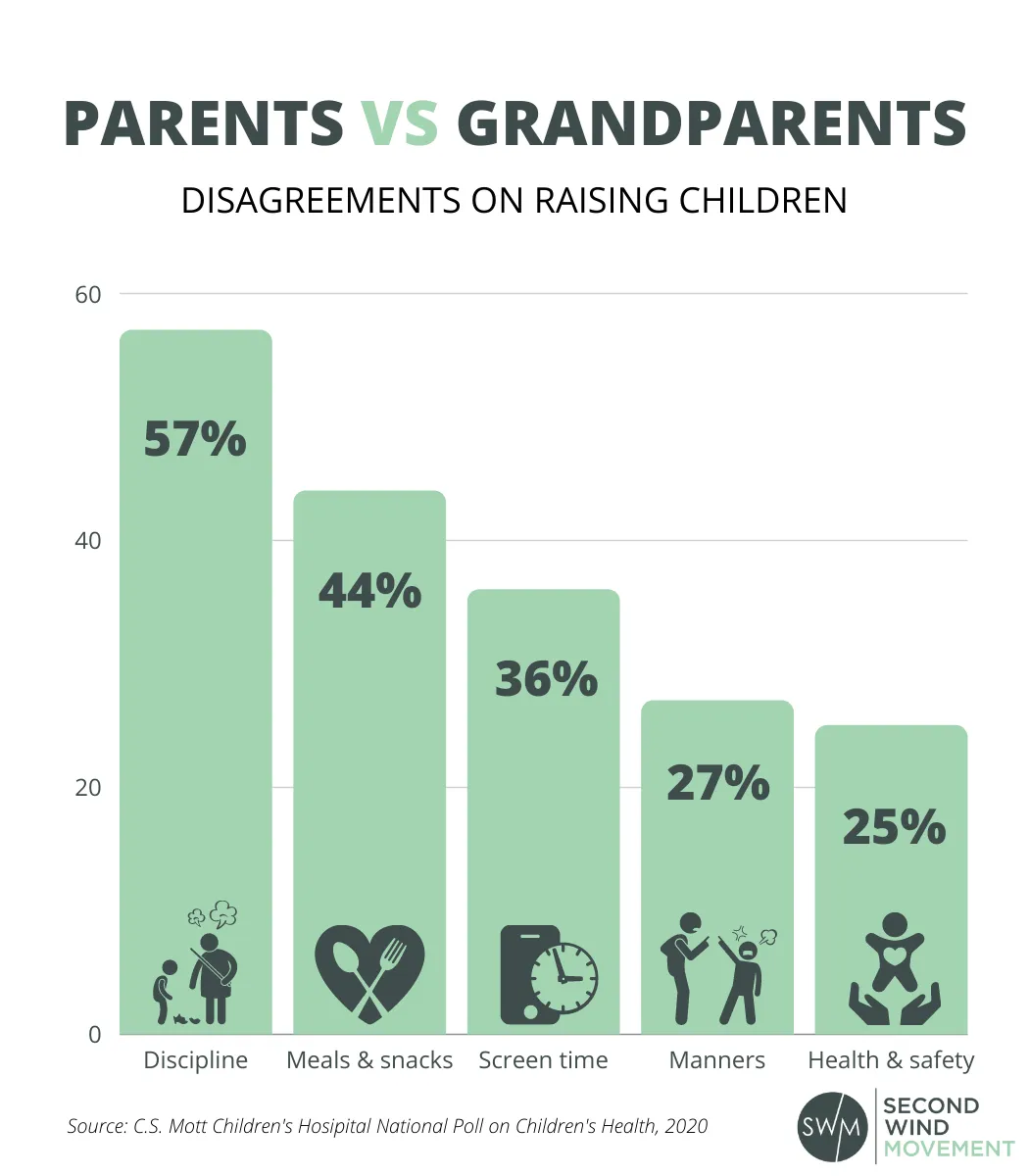 Talk to your kids and set expectations before you leave, and keep the lines of communication open while you're traveling. It's also a good idea to have a plan for handling any problems that might come up. For instance, if your grandchild gets homesick or has a meltdown, what will you do?
By being prepared and staying in touch, you'll be able to relax, safe in the knowledge that everyone is on the same page.
To New Adventures With Grandchildren
The joys of traveling with grandchildren are many, and the experience can be a bonding one for all generations involved. 
There are some things to keep in mind when traveling with your grandchildren:
#1 Get insurance

—  travel insurance that covers both medical emergencies and cancellations is a must when traveling with grandchildren
#2 Choose the right destination

— do your research to make sure the destination is age-appropriate and has activities that will keep everyone happy and engaged
#3 Prepare the necessary travel documents

— stay organized and have all the required documents for all travelers ready to go
#4 Involve your grandkids in planning

— by including your grandchildren in the planning process, they'll be more likely to have a positive attitude and be excited about the trip
#5 Limit screen time

— it can be tempting to let your grandkids use screens more on a trip to keep them occupied, but try to set some solid ground rules 
#6 Make the time to talk

— use the time spent traveling to have conversations with your grandkids
#7 Be aware of your limits

— by being mindful of your physical, mental, and financial limits, you'll more likely have a stress-free trip
#8 Keep the parents in the loop

— stay connected by sharing travel plans (and lots of photos)
With a bit of preparation, you're sure to create some unforgettable memories while enjoying new adventures with your grandchildren.
Safe travels!