Travel volunteerism opportunities are the best of both worlds — you get to experience new places and cultures while also helping out a good cause.
Whatever type of traveling volunteer opportunity you choose, first and foremost, make sure it's something that you're passionate about. 
Volunteering should be enjoyable and align with your personal interests, and not just something you're doing to check a box.
To help you choose the right one, we share our top picks for traveling volunteer opportunities that will allow you to have a meaningful experience while also seeing the world.
But first, let's define what travel volunteerism is and what kind of placements exist.
What is Travel Volunteerism?
Travel volunteerism is a type of travel that involves volunteering your time and skills to help a local community or project. 
In a way, it's like volunteering on a vacation. That is, if the cause resonates with you and your passions, of course.
This can be anything benevolent overseas – whether it's charity work, supporting children in an orphanage, helping to build houses or schools, assisting with environmental projects, or even just teaching English as a foreign language.
One of the benefits of travel volunteerism is that it allows you to really immerse yourself in another culture and expand your own personal growth. You'll have the opportunity to live and work alongside people from all walks of life and learn about their customs and way of life. 
And, of course, another benefit is adding to your sense of accomplishment and fulfillment – by volunteering your time and talents, you make a positive impact in the community where you travel and volunteer. 
Different Kinds of Traveling Volunteer Opportunities
There are many traveling volunteer placements available for people who want to help out while exploring the world.
Here are some of our favorites:
Youth work

– if you love working with children, there are plenty of youth-oriented volunteer placements available. You can help out at a local orphanage, work as a mentor or tutor, or even teach English as a foreign language.

Animal welfare

– from helping to care for animals in sanctuaries to working on research projects, there are plenty of ways to get involved.

Conservation projects

– if you're interested in environmental work, there are numerous options available, including reforestation projects, beach cleanups, or even wildlife conservation efforts.

Community development

– get involved with local community projects such as building homes, painting schools, or working in soup kitchens.

Medical volunteering

– if you have a background in the medical field, there are many ways to put your skills to good use, whether it's in a local clinic, hospital, or even helping with medical research projects.

Humanitarian work

– you can work with refugees, assist in disaster relief efforts, and help to promote human rights.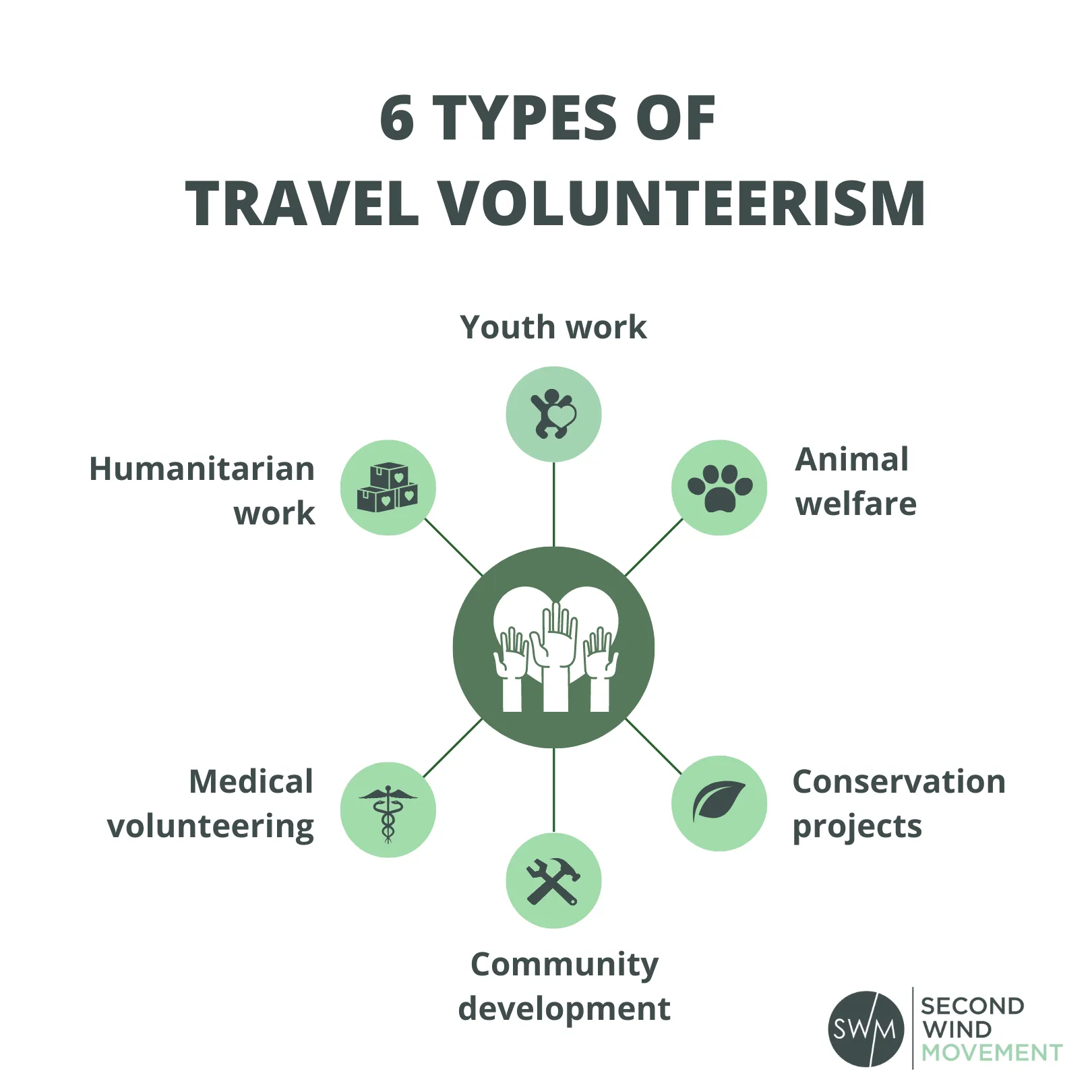 It's about finding the type of placement that's a great fit for your unique skills and interests. 
With the category in mind that resonates the most, check out our six favorite travel volunteerism opportunities for older adults to get you started.`
6 Travel Volunteerism Opportunities for Older Adults
#1 Agape Volunteers
Agape Volunteers is a unique travel volunteer organization because it offers opportunities to volunteer in some of the world's most beautiful and exotic locations. 
Traveling to Africa to volunteer is an amazing experience and one that will stay with you for the rest of your life. You'll get to see first-hand the difference that you can make, and even learn new skills that you can use when you return home. 
From teaching to medical care, Agape Volunteers has a wide range of opportunities for volunteers of all ages and backgrounds. What's more, you'll be part of a team of like-minded individuals who are all committed to making a difference. 
The cost of volunteering with Agape Volunteers varies based on the destination and length of your stay. The fees start at £675 (~$850) and you can request a detailed breakdown of what it covers.
If you're looking for an unforgettable experience in Africa, then Agape Volunteers is the perfect choice for you.
#2 American Hiking Society
If you'd love to find a travel volunteer opportunity that involves the great outdoors, then look no further than the American Hiking Society. 
While previous experience with trail maintenance and building isn't required, their projects involve 30-40 hours of physical labor during the week. 
It's a worthwhile commitment for outdoor lovers, as most of their projects take place in stunning locations across the country, and you'll definitely get to experience some incredible views. 
The American Hiking Society is one of the most affordable travel volunteerism opportunities on our list with $350 for the first trip in the calendar year (and $250 for every subsequent one). 
So if you're up for a challenge and want to give back to the beautiful trails that we all enjoy, this might be the ideal travel volunteer opportunity for you. 
#3 Fronteering
Fronteering offers amazing travel volunteer opportunities across the globe. They have a variety of different placements related to wildlife, indigenous people, environment, sustainability and local communities. 
Fronteering's volunteer abroad experiences focus on remote places — places that need your help the most. You can teach English in Madagascar, help out at an animal rescue center in Brazil, or assist with island conservation in Indonesia.
No matter what your skills or interests are, Fronteering has a placement for you.  And, best of all, regardless of which volunteer position you select, you will help a local cause and genuinely make a difference in some of the most inaccessible and untouched regions on earth.
The cost of volunteering with Fronteering can vary depending on the program you choose. But it typically falls between  $100 and $1000 USD per week. This includes food, accommodation, in-country orientation, project training, insurance, and 24/seven support.
It's truly a unique volunteer opportunity — not a lot of retirees and older adults can say they've had such a profound impact. 
#4 GoEco
GoEco is a leading ecotourism company that offers safe, high-quality volunteering opportunities in more than 150 initiatives around the world. 
Their placements range from youth work to environmental conservation. No matter which of their programs you choose, you can be sure that you'll have a life-changing experience.
​​Volunteering with GoEco is a great way to see the world while helping out with important conservation efforts. Prices for volunteer programs start at $595 for a one-week experience.
With some of their programs being specifically designed for older volunteers, GoEco is a great way to get involved in sustainable development and make a difference while traveling.
#5 Projects Abroad
Touting over 125,000 volunteers since 1992, Projects Abroad offers a variety of programs specifically designed for older volunteers, their so-called Grown-up Specials. 
These opportunities are perfect for those aged 50 and over, who want to give back while exploring new cultures. On their site, you can search for opportunities based on project or based on destination.
With programs ranging from community work in Ecuador to childcare in Ghana, we're certain you'll find your perfect fit. And with experienced staff members providing support every step of the way, volunteers can rest assured that they will have a safe and memorable experience. 
Best of all, it's affordable. Prices start at just $180 for your first week abroad — and the longer you volunteer, the cheaper it is.
#6 WWOOF
World Wide Opportunities on Organic Farms (WWOOF) is a great way to travel and learn about sustainable living.
Volunteers can stay on organic farms and help with a variety of tasks like gardening, cooking, and animal care. There are WWOOF opportunities in over 60 countries, so you're sure to find a farm that's the perfect fit located in a country on your list of places to visit.
The cost of becoming a WWOOFer is $40.00 (single) or $65.00 (joint) for one year. With the membership you get access to the online host directory, as well as online messaging and booking tools.
WWOOF is perfect for nature-lovers who want to get away from it all and experience life in a more simple way.
Your Volunteering Vacation Awaits
Traveling can be an incredibly enriching experience at any age, and especially rewarding for older adults. And even more so if you give back while trotting the globe.
If you're retired and looking for ways to give back that are both fulfilling and adventurous, travel volunteerism is an ideal solution.
Our list is just the tip of the iceberg, but it'll give you a good starting point:
#1 Agape Volunteers

— experience four different African countries and give back to local communities

#2 American Hiking Society

— protect America's wonderful trails

#3 Fronteering

— volunteer in remote places across the globe

#4 GoEco

— participate in sustainable and vetted projects around the world

#5 Projects Abroad

— connect with like-minded individuals in groups designed specifically for older adults

#6 WWOOF

— perfect for those who love the outdoors and are interested in organic farming
If you're looking for ways to get more out of your retirement travels, consider volunteering. 
P.S. Even if travel volunteerism isn't an option, you can still:
The destination where you give back doesn't matter, what matters is that you just do it — and in a way that lights you up.
Do some research and see what volunteer opportunities are available to you. You might be surprised at how many options are a good fit. And maybe traveling to volunteer is in your cards.
Whatever you decide, know that there are people and organizations out there who would love your help.