Choosing technology for seniors can sometimes feel frustrating. 
Sure, you might need devices with a bit of magnification, automatic reminders to take your medication, or tech for keeping track of things. 
But you don't want to pay a premium for a product that has a 65+ label. 
After all, senior technology can be expensive and even lack standard features. 
To help you avoid overspending or settling on inferior tech, check out these affordable types of technology designed specifically for older adults. 
You can stay connected and get things done with the right device… at the right price, too. 
What Technology Do Older Adults Need?
When you think about how you go about your day, consider how technology will fit in and improve your quality of life. 
There's no shame in choosing devices that make life easier or help you remain independent – even if you need your adult child (or grandchild) to assist with the setup. 
These are great points to think about while planning your next technology purchase.
For instance, if you could use your voice to access information, or operate your thermostat or other home technology, would that improve your quality of life?
Here are some more questions to consider when planning your next tech purchase:
Do you have many appointments, medication dosages, or other scheduled events to keep track of?

Would you like to connect more with family and friends who live far away?

Could you use some help tracking down your car keys or other items?

Does your home feel safe, or would you rest better with devices that boost security?

Is it tough to operate smart devices to make phone calls to get the information that you need?
If you answered yes to any of these questions, smart technology for seniors could make your life easier – and simply more enjoyable.
And if you're wondering if you can adopt the latest technology, the answer is yes. 
The most recent PEW Research Center study on this topic found that older adults nearly quadrupled smartphone use over the 5-year span through 2016. 
Not to mention, as of a 2019 AARP study, an impressive 83% of Americans between age 50 and 64 have smartphones, which is comparable to the population at large. If you're looking to get one or want an upgrade, check out our list of the best cellphones and plans for older adults.
So, imagine what that number is like now, especially after our pandemic-touched Zoom world.
Even still, sometimes using a smartphone isn't the easiest way to get the information you need.
Which is why we've put together this list of top technologies for older adults to explore.
4 Best Technologies for Seniors
From keeping in touch to living life on their own terms, these technologies for seniors help promote independence, safety, and more.
1. Voice Technology for Seniors
The odds of vision loss increase as you age; by age 75, 15.2% of Americans report some amount of vision loss. 
With the assistance of technology, you can get the information you need without straining your eyes or guessing at what's on the screen. 
Voice technology is one way to help you access your favorite music, weather reports, and more.
Smartphone and Computer Voice Technology
Voice assistants are a favorite senior-friendly technology on everyone's list. With a voice assistant, you can do everything from set reminders for your medication to calling friends and family, all without using your hands.
Voice assistants come built-in on many smartphones and even computers. Apple's iPhones have the voice assistant Siri, and so do newer versions of macOS (the computer platform). 
Android phones, like Samsung devices, respond to the command "OK Google" and perform a hands-free online search for you.
Standalone Voice Assistant Devices
Standalone voice assistants are another popular technology for seniors because you don't need a smartphone to use them. 
Amazon's Alexa and Google's Home are just two examples of voice assistants that come in a variety of formats.
You can buy a device that responds to your voice, but you can also choose an Alexa or Google device with a built-in screen to make video calls, watch videos and even explore new recipes. 
Many of these devices are only about $50 (though some range up to $130), making it affordable to get the features you want at a decent price.
Choosing a Voice Assistant for Seniors
So, which type of voice assistant is right for you? 
A smartphone voice assistant is an excellent idea if you already own a device that has voice assistance built-in. If you like to use the computer often, that might be the right fit for you. 
And if you prefer not to use a computer or smartphone, a device that plugs in and connects to the internet directly might be the best option.
Now that you have a better understanding of voice technology, let's check out other technology options that can connect to it. 
2. Home Security Cameras
Technology for older adults often centers on safety, which is understandable. You know that your family and loved ones worry about your health and physical wellbeing, especially if you live alone. 
This makes home security cameras a good investment for older adults, especially since cameras are available for as low as $32 each, like the Wyze Cam v3. 
Many popular home cameras feature screens so you can see who's at the door. If you have a voice assistant device with video capabilities, you may also be able to view the camera footage from there. 
That means not having to get up to answer the door or being able to see whether you recognize the visitor before opening it.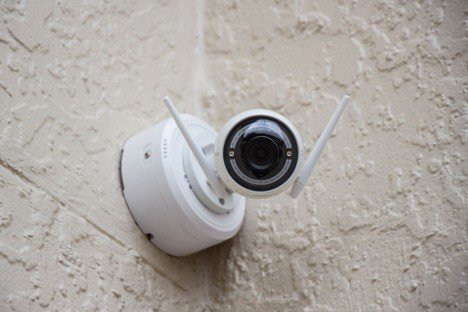 Learning to live your best retirement life is about more than staying home, anyway. 
When you're out, your cameras can offer a sense of security, and they may deter would-be criminals. If your camera connects with an app (most do), you can also see the footage from anywhere.
Pretty convenient, no?
Speaking of being on-the-go, our next tech type lets you track your physical activity.
3. Senior Activity Trackers
Living a healthier and active lifestyle during retirement is a top priority for many older adults. But to be honest, many of us struggle. 
And the statistics are clear: more than half of adults over 65 don't get the recommended amount of exercise for optimal health.
A lack of motivation is just one of many reasons why we might remain sedentary more than we should. 
But one trick to encourage yourself to get moving is to use some technology hacks that double as a psychological boost.
That sneaky hack is a simple tool – an activity tracker. 
You've probably heard of Fitbit, but there are tons of fitness devices that track your steps, check your heart rate, and more. Check out our top smartwatch picks for seniors.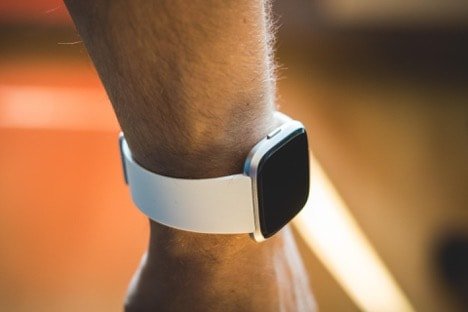 Wondering if an activity tracker will boost your health?
While such devices aren't foolproof for getting more exercise or making you healthier, research suggests that a fitness tracker does help you maintain motivation, according to Very Well Fit. 
More research is needed, though an affordable fitness tracking device or step counter can't hurt!
Smart Tags for Finding Items
Studies say that around 40% of seniors have memory troubles. 
Products like GPS tags attach to your remote, car keys, or anything else you need to keep track of. 
Tile Stickers, for example, are simple tiny stickers that attach to your belongings. 
After you stick them to your items, you just use the company's app on your smartphone to track them down. The app and its features are free, so all you need to buy is one set of tiles and that's it.
4. Accessible Screen Devices for Seniors
Technology for seniors also extends to device interfaces. You can buy a regular iPhone or Android device, whether a phone or tablet, and then apply accessibility settings, points out Popular Science. 
Such settings allow you to change things like:
Which buttons perform which actions

How big the text size is

How loud the sounds and ringtones are

What apps are available on your home screen

What voice commands correlate to each action
There are also specialized device options for older adults. 
For example, one popular technology option for older adults is the GrandPad. The GrandPad is a tablet equipped with a data package, so you don't need Wi-Fi to send messages or receive calls.
If you're new to smart devices or just want something simple, a tablet like this may be the perfect fit. 
While it does require you to pay for a monthly plan, that includes the connectivity fee, so you can save by not paying for home Wi-Fi.
But if you're in the market for a different senior-friendly device like a laptop, tablet or even webcam, other budget options are available. Check out our list of the best laptops for seniors.
Another great option is to start your shopping trip with a search for discounts and cashback offers from stores like Staples or Best Buy. 
Then you can get the tech you need at the lowest price possible.
Which technology for older adults are most drawn to? 
Many companies offer technology for older adults that's both functional and affordable. 
Whether you're hoping to get more connected or just want a simpler way to handle daily tasks, smart technology for seniors doesn't have to break your budget. 
Try one of the options here and see how much of a difference it can make in your daily life. 
And let us know which tech you find useful in your daily life. We love hearing from you.
P.S. Here are 15 of the best retirement apps you can use on these devices.
---
This article was authored by Mary Shannon. Mary created SeniorsMeet.org, along with her husband, Bob, to have a website that allows seniors to meet up and talk about topics that are relevant to their daily lives. They hope to build SeniorsMeet into a supportive community of like-minded seniors.