Contrary to what you might think, your social life finally has the opportunity to flourish after retirement.
No more work obligations, no more taking care of the kids (well, in the traditional sense, anyway), no more hectic 9-5 lifestyle.
We get it though — the sudden decrease of social contacts and increase in free time can be intimidating.
In fact, 24% of older adults over the age of 65 are socially isolated and lonely.
But the good news is that you can make new friends and stave off those feelings of loneliness that can be so damaging for your mental health.
Like all worthwhile things in life, all it takes is a bit of consistent effort.
Curious where to put your effort? 
We've got you covered with our list of 22 ways to improve your social life and cultivate meaningful relationships in retirement.
#1 Bond With Your Spouse
The best way to put a spring in your step is to spend time with someone you love. Rekindle the passion in your marriage by setting time aside for date nights.
Instead of just going through the motions, try to enjoy new retirement activities together. The power of learning new things together lies in becoming vulnerable. 
Why? Let's say that neither of you has flown a kite before — therefore, you're both not experts. Mistakes and failures (that are bound to happen since kite flying is hard) open up the opportunity to bond and show support. 
Plus, you might catch some childlike laughs along the way.
So why not try a new bonding activity with your partner and remember what brought you together in the first place? Here are 8 activities you can try together.
#2 Teach Your Grandkids How to Play an Instrument
If music has always been a big part of your life, pass your knowledge onto your grandchildren. 
If playing an instrument has never been a big part of your life, you can learn a new instrument and pass your knowledge onto your grandchildren.
Regardless of age, music affects memory and gives your brain a well-rounded exercise.
What's more, playing an instrument is an excellent way for grandparents and grandchildren to bond. Making music together can help share feelings, express thoughts, and create memories while nurturing their creativity and persistence.
What better way to connect with your grandkids than by inspiring a love for music?
#3 Find Walking Buddies
Did you know that walking for 30 minutes a day can improve your mood and even help prevent chronic diseases? Walking is also an easy form of exercise that anyone can do, no matter their physical condition.  
You could join a local Meetup group or just ask around the neighborhood or at church. 
Many churches today are placing a larger focus on fun church event ideas as a way to bring members of the congregation closer and positively impact their social lives. Beyond finding walking buddies, you can also enjoy organized activities like mission trips, outdoor picnics and parties, community outreach programs, and other fun themed events.
Regardless of the activity, it's a great opportunity to come out of your comfort zone, interact with others, build more meaningful relationships, and get some exercise – all while strengthening your spirituality.
All in all, studies show that people who walk with others not only improve their physical health but also enjoy a better social life. 
Take it up a notch and find a walking buddy who will join you in the woods or on a nature walk. Studies reveal that being in nature comes with big-time benefits, both emotional and physical.
#4 Celebrate Your Family
Do you want to create some family memories and get your kids and grandkids closer? If you miss the closeness of your family and want to reconnect with them, consider kickstarting new family traditions. 
Family traditions simply boost your happiness.
Here are a few ideas for starting or continuing traditions that can help bring everyone together:
Set an annual date for a family reunion. It could be hosted at a different house every year or even a chance to travel

Create a shared calendar on Google that includes birthdays and anniversaries, so everyone is aware when they're coming up

If you live close by, host one meal per month where the whole family gathers
It's important to find activities that the whole family will love doing, and you'll never regret making these memories.
#5 Find Romance Again
Rediscovering romance in your senior years is a great way to fight the feeling of loneliness. Aging or divorce doesn't have to be the death of romance. Everyone can use some more love in their lives. 
But it can be challenging to find that spark with someone after the age of 50 and figure out the dating rules. Start by joining groups that interest you, participating in social activities for older adults, or even volunteering. Not only will it improve your chances of meeting a potential partner, but also your social life after retirement.
If you're feeling bold enough, check out the four best senior dating sites and our tips on writing an amazing dating profile.
Plus, studies show that actively training how to be more intimate enhances more than just your relationship. It also improves physical and mental health, life satisfaction, self-esteem, and overall life quality.
Love is in the air — or at least it can be, with some commitment and effort. 
#6 Reconnect With Old Friends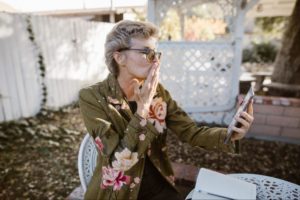 Reconnecting with old friends and acquaintances can be a great way to stay connected with your social circle. Whether it's catching up over the phone or getting together for coffee, there are plenty of ways to reconnect. 
Just set aside a dedicated time each week or month to not miss out on catching up and picking a place. It doesn't matter if it's over the phone, in person, or through Facebook chat — technology can help you stay connected.
To help you brainstorm who to connect with, consider reaching out to:
Old college buddies

Past coworkers

Parents of kids' old friends

Neighbors, friends and groups from a previous neighborhood

Childhood friends and classmates
We all have friends that we haven't seen in a while. They might live across the country, or they could be your next-door neighbor who you no longer talk to. Either way, it's important to make an effort to stay close to the people you enjoy.
#7 Bond With Every Grandchild in Your Family (Or Your Family & Friends' Grandkids)
If you're blessed with grandchildren, you're probably part of the 72% of grandparents that think being a grandparent is the single most important and satisfying thing in their life.
As a grandparent, you have it made. You get to enjoy the pleasures of grandchildren without all the responsibility. You don't have to worry about making them eat broccoli when they don't want to — you can just sit back and let them do whatever they want. 
And as a grandparent, you're pretty much obligated by society to spoil those little ones rotten with toys and treats that will make your bank account cry.
If you don't have kids or grandkids, bond with your family and friends' kids. The intergenerational connection is worth it.
To create lasting bonds with the littles, empower them by spending one-on-one time with each of them. Show them that you love and care for them as individuals. This will create that special bond that you'll both cherish forever.
#8 Deepen Your Relationship With Your Siblings
Has it been a while since you've had a meaningful conversation with your sibling? Do you want to improve your relationship but can't seem to find the time? 
While you might not spend the rest of your life  living with your sibling, you can always learn more about them and deepen your connection as an older adult. 
After all, most people with siblings spend more time with sibling that anyone else by throughout childhood, which can be 33% of their free time. That's a significant bonding time during a very impressionable and memorable time in your life that may be worth nurturing.
What's more, according to one study sibling support leads to less loneliness and depression and more self-esteem and life satisfaction.
So, whether it's a text, phone call, email or meetup,  it's about reaching out to reconnect, bond, and simply spend quality time together.
#9 Befriend a Younger Person
Older adults who mentor and befriend younger generations benefit from an increase in cognitive function and memory, improved mental and physical health, as well as larger social networks and higher self-esteem.
But these friendships are also beneficial for youngsters. 
A study researched the impact of the Big Brother/Sister program in the 1980s. There was a dramatic difference in drug use, school truancy, and violent behavior between those who participated in the program as opposed to those who did not.
Not only can you learn from each other, but you can also significantly impact each others happiness.
#10 Plan a Surprise For Someone You Love
You know the old saying, "it's better to give than receive"? Well, it is absolutely true. 
Giving gifts really makes us feel good and improves our relationships. But giving someone an experiential gift, something you can do and enjoy together, is much more meaningful.
The best part is that it doesn't have to be grand gestures or expensive stuff. Write an encouraging note on a napkin and leave it in their lunch bag, stop at the ice cream shop on your way home, or surprise them with an impromptu dinner.
The next time you want to make someone feel like they are on top of the world, plan a personal surprise for them.
#11 Be The Local "Regular"
On your quests to make friends, become a friendly regular face at different places. Go to the same store, gym, bars, and restaurants.
Introduce yourself to staff members and become the regular they all know and like. If it seems like someone is also frequenting these establishments then take this as an opportunity for interaction. 
Just seeing the same strangers, known as "familiar strangers", can help you feel more connected in your community.
Plus, you'll notice humans are creatures of habit. You'll likely see the same people at the same places at the same time, which makes befriending familiar faces even more convenient. 
#12 Remember Past Loved Ones
It's inevitable. You've lost and are going to lose people you love and it can be hard to know what to do with your feelings. 
Whether it's your parents, grandparent, child, sibling or friend — they were an important part of your life and their loss is something that will be felt for years to come. 
It may seem like the best way to grieve is by keeping busy and not dwelling on what happened. 
But it's okay to feel your emotions and there are some things that can help you through the grieving process: write a letter and tell them how much they meant and still mean to you or savor their memory by doing something they loved. 
Remember, there's simply no rhyme or reason to the chaos that is the grieving process. The best thing you can do to honor someone you lost is to remember them and cherish their spirit.
#13 Ponder Your Biggest Lesson in Life and Share It With Someone
Being able to share your most meaningful life lessons is one of the most wonderful benefits of getting older. No matter what life stage you're in, you've learned lessons that can help others in their journey. 
What did you learn from your mistakes? 

What did you do right? 

What are some things that made a big difference in your life, even though they might seem small or insignificant?
Research shows that sharing your lived experiences leads to a rejection of stereotypes, helps with overcoming pain, and transfers wisdom to younger generations.
Plus, we firmly believe that with every trial and tribulation (and moment of suffering), there's a golden lesson to be learned.
So share these lessons and help others and yourself.
#14 Explore Group Travel
If you're an older adult looking to improve your social life in retirement, explore the world on a retirement budget, or just want something fun and different to do in retirement — then group travel is for you. 
Join the growing number of seniors who are discovering that group travel is a great way to improve and maintain your social life. 
If you're wondering where to look, consider these popular travel groups for older adults.
For many, it's an easy and affordable way to make new friends, enjoy time with old ones, and explore destinations and cultures you may never have considered before. 
Don't let age hold you back from experiencing life and exploring the world.
#15 Become an Airbnb Host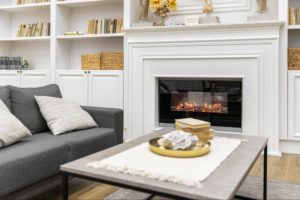 Almost a third of older adults live alone, and many have lots of free space available. P.S. Here's a whole article dedicated to living alone
If you fall into this category, you could become an Airbnb host.
As a host, you can have guests coming into your home on a regular basis. You can provide them with their own private space or a shared space in your home for a more communal experience. 
Plus, according to one article, the average Airbnb host pulls in about $924 per month.
Side income aside, this provides an opportunity to meet new people from different backgrounds and cultures while also making some extra money on the side.
You'll never know what might happen if you open up your house. Of course, be sure to follow recommended safety guidelines.
#16 Try Out Friendship Apps
Making new friends may seem to be harder and harder as we age. And older adulthood comes with its own set of challenges.
But that may be because the convenience factor of meeting people at school and work have disappeared.
Thankfully, there are so many convenient friendship apps out there, like:
The good news? Most of them are completely free.
Social interaction is so vital, especially for seniors, so if you're running out of ideas and places to meet new people, consider trying out apps that help you do just that. Read our article to find a couple of other retirement apps you could try.
#17 Partner With an Extrovert
We all have that one friend who seems to know everyone and their dog. The one friend who always has a story about what happened at the last party and knows more people than you can count on both hands.
Call them up and ask them to tag along to their social outings. Whether it's asking them out on adventures or joining their weekly poker game, they're sure to introduce you around and help get rid of any inhibitions about meeting strangers.
Extroverts develop friendships with ease and they can help you do the same — just be prepared to come out of your shell and find comfort in retreating again to that sacred "me time."
#18 Get Involved at Your Place of Worship (Or Spiritual Retreat)
If you want to make friends and get involved with a community, look to your local churches, mosques, and synagogues. Volunteering at your local place of worship leads to better physical and mental health. 
Participate in activities like Sunday school, or volunteer on committees like the finance committee or maintenance team. 
Whether you haven't been in one for years or you attend every week, seek out involvement opportunities in your faith community.
Not religious? Check out spiritual retreats, where you can relish in beautiful sceneries and enjoy activities like yoga, Tai Chi, mindfulness, and meditation.
Either way, being around other people who share your beliefs can be really fulfilling and uplifting. 
#19 Let Your Dog Give You a Helping Paw
It's no secret that pets are great companions for people of all ages. But they can also be a good way to meet new people. 
Keeping a pet gives you an opportunity to interact with other pet owners in the neighborhood. It may not seem like much at first, but it doesn't take long before you'll see your social circle grow.
But don't just take our word for it. 
A recent study examined the role dogs have in casual conversations of elderly adults. Dog owners reported taking twice as many daily walks than non-owners, and also reporting less dissatisfaction with their social, physical, emotional states.
If you're interested in improving your social life after retirement while getting some exercise and spending time with your pet, get out there and get walking. And if you're not sure if you should get a dog, read about the health benefits of owning one and discover the 12 best dogs for older adults.
#20 Pick Up a (Fun) Part-Time Job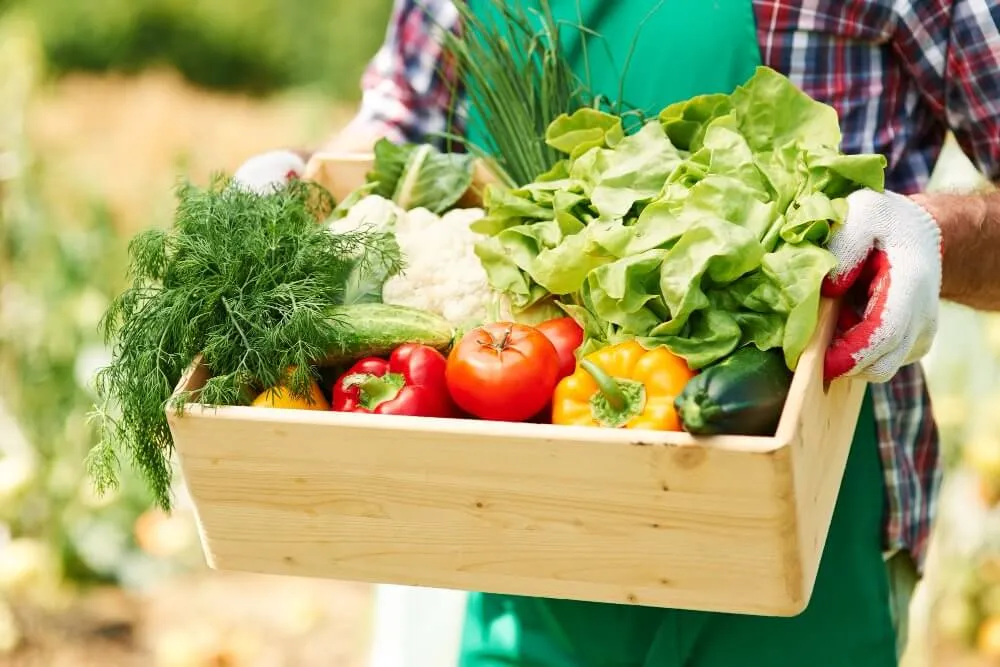 If you're looking for a way to improve your health in retirement and meet new, interesting people, check out farmer's markets. 
Many towns offer monthly markets full of fresh local produce. 
The open air can clear your head and put you in a better mood – and who knows what connections might await at such an event?
Especially if you become a regular and see repeat friendly faces.
Not only will you meet all sorts of people at these events, but you can also feel like a part of something bigger than yourself by supporting local farmers and products.
#21 Try Attending Support Groups
Sometimes retirement can be an isolating experience and finding community and social interaction can be challenging. 
Support groups offer a place for people with similar experiences to come together, share stories, laugh, and find strength in each other. These groups not only offer valuable advice but help you bond with others over shared challenges.
For instance, here are a few support groups based on common experience:
Regardless of the group topic, social support has an immense impact on physical and mental health. We all need a little help sometimes and there's no shame in asking for it. 
#22 Write To a Pen Pal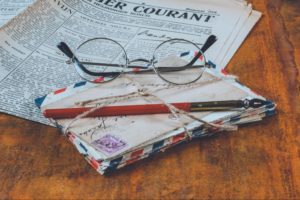 The idea of writing letters back and forth with someone you've never met before may sound strange, but it can be a great way to connect with people.  
Pen pals can provide encouragement, companionship, and empathy — whether they're down the street or across the country.
Compatipal, Conversation Exchange, and PostCrossing are a few places where you can look for your new pen friend.
According to a recent research paper, just putting pen-to-paper has many benefits. Writing benefits memory function, decreases symptoms of depression and anxiety, enhances your moods overall
So the next time you're feeling lonely, instead of reaching for your phone or opening up Facebook, try putting pen to paper. 
Aim For a Vibrant Social Life After Retirement
Repeat after me: "Retirement is not social isolation." 
Social connections are incredibly important in life after work, but they're not always easy to build. With a little planning and consistent effort though, you can make it happen.
Just be proactive and take the opportunity to enjoy post-retirement social activities that align with who you are at the core. You already have all the ideas you need to thrive in this new chapter of your life.
It's now time to use the tools we extend to you to live your best retired life.
---
If you're looking for more ideas, check out our list of 101 things to do when you retire.