Your grandkids have been telling you about the latest tech gadgets they can't live without — smartwatches.

You smile, thinking how times have changed. But what if we told you that this little piece of technology could become your new best friend?
Smartwatches today are more than just a way to keep time. They're like having a personal assistant, health monitor, and communication device all strapped to your wrist.
And the best part? They're designed to be user-friendly, even for those who didn't grow up with touchscreens.
So, let's dive into the world of smartwatches for seniors. By the end of this journey, you might be as excited as your grandkids about getting your hands on one.
Why Smartwatches are Beneficial for Seniors
Smartwatches are cutting-edge technological devices that do so much more than tell the time — they're designed to streamline your daily life. 
While they might seem to cater mainly to the younger generation, these nifty gadgets have a lot to offer seniors as well. 
An interesting 2020 study revealed that only 5% of older adults use smartwatches, which is a shame since the benefits are undeniable…
#1 Empowering Independence
You no longer need to be tethered to your phone or rely on others to stay connected. 
With a smartwatch, you have all the essentials right on your wrist — from receiving calls and messages to setting reminders for medication. 
It's like having a personal assistant who's always by your side, ensuring you're in control of your day-to-day life.
#2 Health at Your Fingertips
Today's smartwatches come packed with health monitoring features that can be invaluable. They can track vital signs such as heart rate and sleep patterns, remind you to stay active with gentle nudges, and even detect falls. 
Imagine the peace of mind knowing you have a 24/7 health monitor right on your wrist, helping you maintain an active and healthy lifestyle.
#3 Simplifying Technology
If the thought of technology sends you into a tizzy, don't worry. Smartwatches are designed to be user-friendly, with intuitive interfaces and straightforward functions. 
Plus, many models offer voice commands, making them even easier to use. So you can enjoy all the benefits of modern technology without the headaches that come with typical tech complexities and learning curves.
#4 Staying Connected, Effortlessly
Keeping in touch with loved ones is more important than ever. And smartwatches make this effortless. 
With a quick glance at your wrist, you can read messages, accept calls, and even video chat with your grandkids. It's a heartwarming and convenient way to stay close to those who matter most, no matter the distance.
Factors to Consider When Choosing a Smartwatch
#1 Finding Your Perfect Fit
Choosing the right smartwatch is like finding the perfect pair of shoes — it needs to fit you just right. The strap should be comfortable and adjustable, and the watch face should be easy for you to read. 
But it's not just about physical comfort; it's also about finding a smartwatch that fits your lifestyle, habits, and preferences. So take your time and explore different options until you find the perfect fit (but more on that later).
#2 Ease of Use
We all love a gadget that's easy to use, don't we? When choosing a smartwatch, look for one with an intuitive interface and straightforward functions. 
Voice commands can be a real game-changer, making it even easier for you to interact with your smartwatch. In the end, technology should be here to simplify your life, not complicate it.
#3 Battery Life
Imagine this: You're out on a lovely walk, enjoying your favorite tunes on your smartwatch when suddenly, it dies. 
Not fun, right? That's why battery life is so crucial. Choose a smartwatch that can keep up with you and won't leave you hanging in the middle of your adventures.
#4 Durability
A smartwatch is an investment, and you want it to last. Look for options that are robust and durable, capable of withstanding daily wear and tear. 
Some smartwatches are even water-resistant, perfect for those who enjoy a swim now and then or simply don't want to worry about getting caught in the rain.
#5 Cost
While it's true that quality often comes at a price, it doesn't mean you need to break the bank. There are many affordable smartwatches on the market that offer excellent value for money. 
Consider what features are most important to you and choose a smartwatch that offers those without unnecessary extras you won't use.
Ultimately, the best smartwatch for you is one that fits your needs and lifestyle. So don't rush the decision. Take your time, do your research, and make an informed choice. 
Here's a list of our favorite smartwatches for seniors to inspire you…
Best Smartwatches for Seniors
#1 Mobvoi TicWatch Pro 3 GPS: The Energizer Bunny of Smartwatches
Let's start with the Mobvoi TicWatch Pro 3 GPS, which has been crowned as the smartwatch with the best battery life. Now, this is a watch that won't quit on you mid-adventure. 
But it doesn't stop there. This great smartwatch for seniors also boasts a dual-layer display, GPS, heart rate tracking, stress monitoring, and an emergency feature.
#2 Google Pixel Watch: Dress to Impress
Moving on to the smartwatch that's got style — the Google Pixel Watch. This one's for all you fashion-forward folks.
With a variety of strap options and customizable watch faces, you can match your watch to your mood, outfit, or even the weather if you're so inclined. 
And it's not just a pretty face – it's packed with health and wellness features, too, like heart rate monitoring and fitness tracking, making it a great tool for seniors looking to lead an active lifestyle. 
So don't let the stylish exterior deceive you, the Google Pixel Watch is a worthy contender for smartwatches for seniors.
#3 WellBe Smartwatch: Your Health's New BFF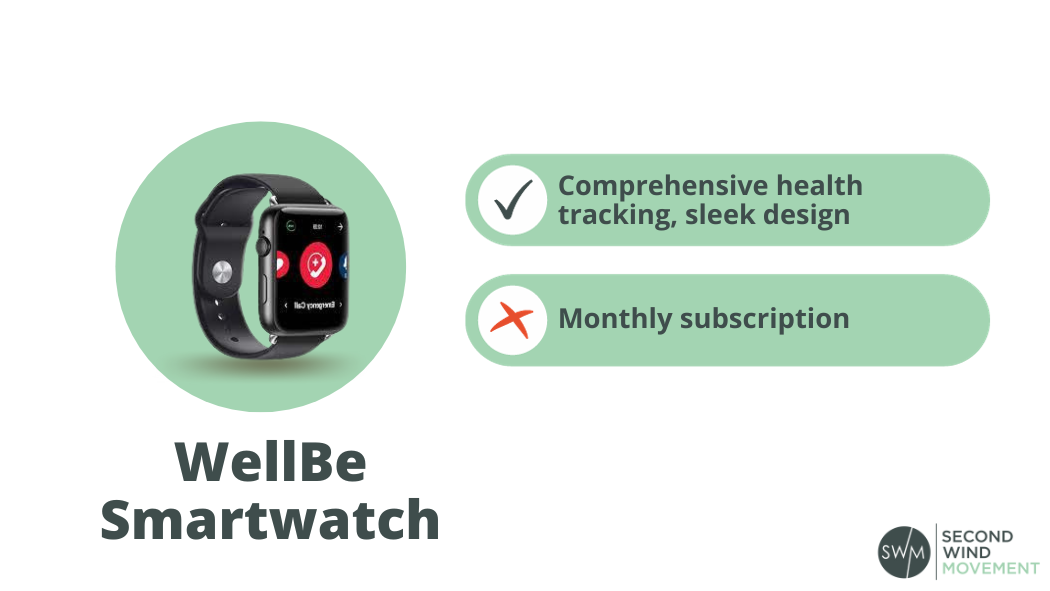 For those who want an extra layer of health security, the WellBe Smartwatch is your go-to.
It functions like a personal nurse on your wrist, providing real-time updates on your physical activity and health data. The watch's advanced features make it an essential tool that can help seniors lead a healthier, more active lifestyle. 
Moreover, the sleek design of the WellBe Smartwatch means that you don't have to compromise on style to stay safe and healthy. It's a must-have accessory for any senior looking to take control of their health.
#4 Fitbit Versa 4: The Fitness Guru
Next up, we have the Fitbit Versa 4, the fitness guru of smartwatches. 
FitBits are like personal trainers, reminding you to move, tracking your sleep, and even offering guided breathing sessions for when life gets a bit too hectic. 
Now, you can stay motivated to lead an active lifestyle while also keeping an eye on your health without any external help. If only it could do the exercise for you, right?
#5 Apple Watch Series 9: The Jack of All Trades
And finally, we have the Apple Watch Series 9, the jack of all trades. This smartwatch is packed with features from health tracking to fall detection, texting, and more. 
It's like having a Swiss Army knife on your wrist, always ready to assist. Just try not to get too carried away playing with all the features.
Clocking Out
Why not embrace the tech life and spruce up your wrist with a gadget that's as cool as you are?
Here's a quick recap of the best smartwatches for seniors:
Mobvoi TicWatch Pro 3 GPS

— this one's a reliable buddy that won't quit on you with an extremely long battery life

Google Pixel Watch

— for those who believe that style never retires, this smartwatch will be turning heads and keeping track of your health at the same time

WellBe Smartwatch

— your personal health monitor, always ready to give you a gentle nudge when needed

Fitbit Versa 4

— the best smartwatch watch that doubles down as a fitness bracelet

Apple Watch Series 9

— it's got a little bit of everything, but it comes at a hefty price
Whichever smartwatch you choose, it's not just about tracking steps or sleep. It's about embracing the future, staying connected, and being proactive about your health and overall well-being. 
So, go ahead and take that step (or a thousand steps, your new smartwatch will be counting).