Are you looking for love but don't know where to start? 
If so, an online dating site for older adults might be a great place to meet new people and potentially find the perfect match. 
It can be difficult to find someone with shared interests and goals in life. But there are many wonderful people out there who may just need some help navigating the online world of dating.
If this intrigues you, it's time to brush up on your online dating game and learn how to write an amazing dating profile as a senior single.
5 Steps to Write the Perfect Older Adult Dating Profile 
#1 Be Honest (With Yourself)
Have you ever seen an online dating profile that struck you as too good to be true? The person who wrote it might be using photos of themselves from 10 years ago, or maybe they are lying about their height, weight, or relationship status.
Many people lie on their dating profiles to get more attention from potential matches (which is a big red flag). In fact, according to an online dating report by Kapersky, a whopping 57% of online daters admitted they lie, most of whom (67%) turned out to be married men. 
If you want to find companionship, don't start with deception. Dishonesty can only lead to relationship problems, even before the relationship even begins.
But more importantly, if you're not honest about who you really are, your purpose, passions, and your story, you won't attract your true match. So stop hiding behind a mask of perfection and proudly show your true self – to both you and your potential partner.
#2 Share Your Story
An online dating profile should be more than just facts, like your name or age. 
It is the perfect opportunity for you to tell a story about yourself in an engaging way that influences potential matches. While it doesn't have to tell every detail about your personal secrets, it should at least paint an accurate picture of you. 
If you want to be sure that your dating profile is attracting the right kind of people, then it's important to write in an open and honest manner. 
So, join the 22% of online daters that ask friends for advice and craft your story in a way that highlights your best qualities. Your friends likely see your best sides and you might be surprised by the qualities they mention. 
#3 Put Your Best Face Forward
The photos you use are the first impression you make, so it's important that they're top-notch (and realistic)and show off who you really are. 
Think about how many people see your profile every day and what kind of message they get from just looking at your photo. 
After all, 55% of first impressions are based on what people see.
If you want them to know that you're friendly, approachable, and someone worth talking to, think about what kinds of pictures to use in online dating profiles? 
For choosing the best dating profile photos, here's what we recommend you: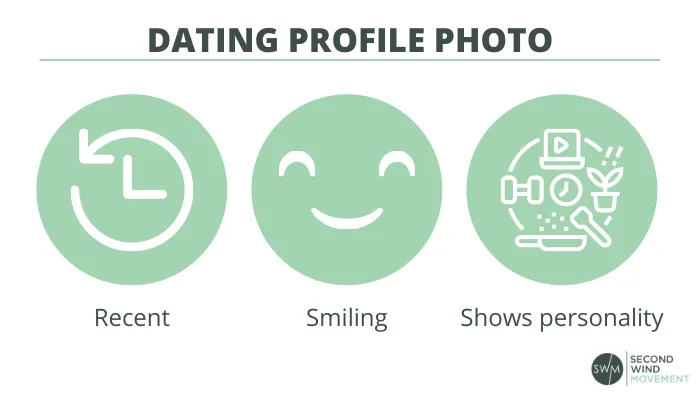 #4 Keep it Positive
Dating as a senior single, especially dating after divorce, can be tough. After a couple of failed attempts, it's easy to fall into the trap of explicitly writing about the things you dislike or don't want.
But nobody's attracted to negativity or a list of complaints. The key to finding the right partner is not to actively avoid the wrong people contacting you, but focusing on attracting those who will make you happy and highlight your authentic self.
Also, remember that your positivity can be contagious.
Plus, it's super healthy, especially when you consider studies like the one from Johns Hopkins that revealed positive people are 13% less likely than their negative counterparts to have a heart attack or other coronary event. 
In a nutshell, writing your online dating profile – with a positive spin and while you're in great spirits – can work wonders.
#5 Focus on What You Truly Want
And finally, if you're looking to meet someone through online dating, there's a good chance that you'll have to answer the question, "What do you want?" at some point.
Try to share something more specific about yourself that adds a personal touch. Instead of saying "I'm looking for someone with whom I can spend my free time", be specific and say "I'm a huge Star Wars fan" or "Looking for my new travel partner".
Think back to your core values, your vision and personal mission statement, and your ideal retirement goals. This person needs to support that version of you, so you don't end up sacrificing too much, just to avoid being lonely.
As researcher Angela Bahns from Wellesley College puts it:
"Change is difficult and unlikely. It's easier to select people who are compatible with your needs and goals from the beginning."
The most important thing is that you know what kind of person would make for the ideal partner for you. It's not just about the physical attraction or escaping loneliness; it's also the emotional connection and compatibility with your ideal retirement lifestyle.
Mature Online Dating Profile Examples
To help you understand these five steps on how to write a great dating profile as a senior single, we've written a couple of senior dating profile examples to inspire you:
Kyle, 62. 
I have traveled the world, walked on glaciers in Antarctica, and seen some of the most beautiful places on Earth. Since I retired, I split my time between hiking with my dog, playing board games with friends, and traveling. Let's just say I don't spend my time in front of the TV, so message me if you want to join me on my next adventure!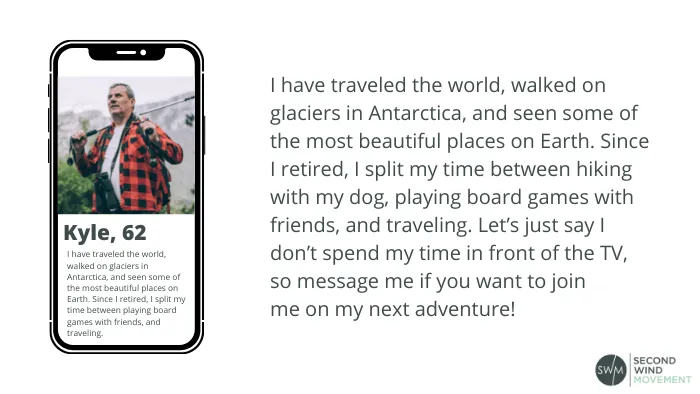 Jenna, 71. 
I retired from the Army, but now I volunteer at the local homeless shelter. It's great hearing their stories and cooking delicious meals for them. When I'm not volunteering or cooking, you can find me on my porch reading a book (or two). If you're looking for a reliable companion, come and say hi!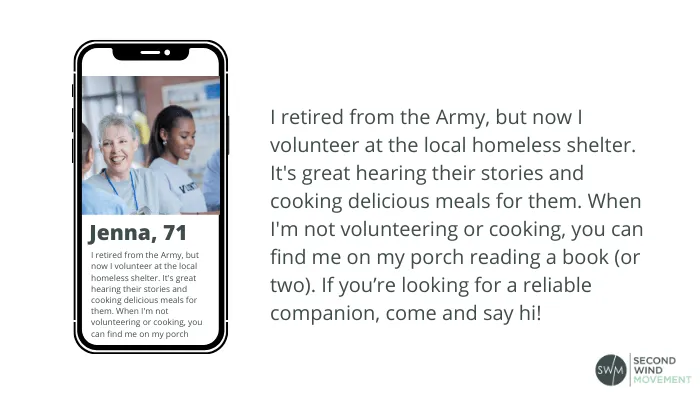 Mark, 63.
I'm a green thumb and a bit of a plant hoarder. I love going to the nursery and picking up new plants to add to my garden. I spend most of my time working around the house, but when I'm not out in the yard, I'm likely watching one of my favorite TV shows (Downton Abbey fan) or spending time with my grandkids. I'm looking for somebody who shares my interests, but can also challenge me to try new things. Are you the one?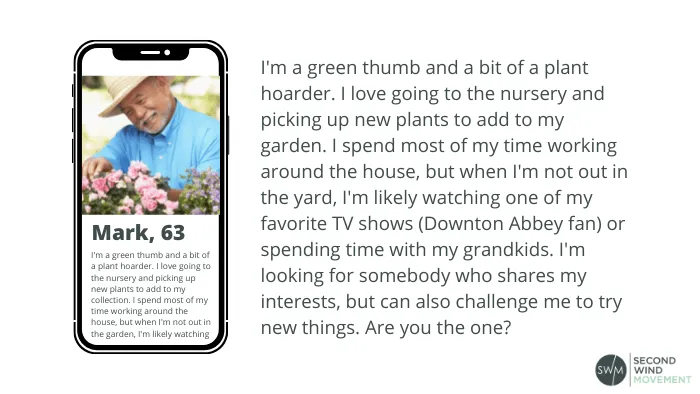 Sally, 68.
I'm a go-getter who spends retirement in new creative pursuits! I love trying new things, and I'm always up for a new challenge. I'm also a bit of a jokester – I love making people laugh. You'll never be bored with me around! I'm looking for someone who shares my love of new experiences and is up for a good time. If you can make me laugh (yet also know when to be serious) send me a message. I'm excited to hear from you!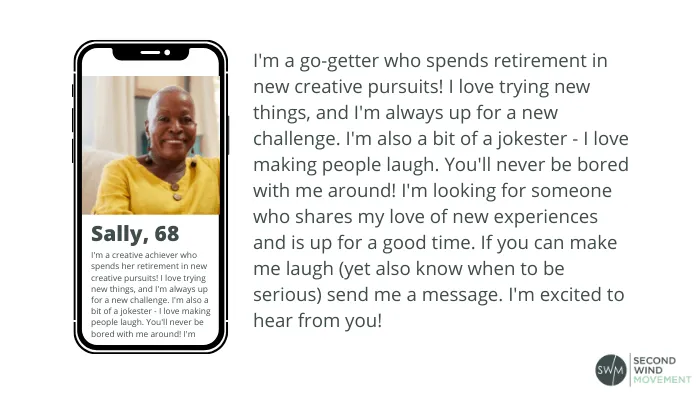 Get Ready for Online Dating
The key to meeting the right people is being your authentic self. Do not be afraid of who you are or what your core interests, passions, and values might be. 
Online dating can be a daunting process, but we hope that these tips on how to write a dating profile help. 
Remember to be realistic about expectations, don't settle, and don't give up if you don't find someone right away. Plus, here are a couple of additional dating rules to help keep you on the right track.
It is so common to feel like a crazy rollercoaster of emotions, with lots of ups and downs, while exploring different dating options and connections. 
We recommend keeping it light and breezy, having fun with it, and working on being the healthiest, best version of yourself independent of any relationship. 
It's true – when you work on yourself first and become happy and fulfilled as a single, only then do you attract the right person with ease.
We wish you success in finding your perfect match.
---
For more dating advice, check out our comprehensive Guide to Dating After 50.