You're about to retire and your employer just announced your retirement party date. 
It's official — it's time to celebrate. 
Except… you feel a pang of anxiety creep in as you realize:
You need to give a retirement speech…
Before you start to panic, we're here to help – this guide walks you through everything you need to know about giving a retirement speech that will leave your audience laughing, crying, and remembering. 
After all, a retirement speech is more than just a farewell.
It's a celebration of years of hard work, a reflection of the journey you've been through, and an exciting hello to the new adventures that await. 
Not to mention, it's also your chance to express gratitude, share memories, and maybe even inspire someone else in their career journey.
So, let's head into the first step on how to give your perfect retirement speech.
#1 Do a Creative Brainstorm Session
As cheesy as it sounds, having a solid brainstorm session before you begin writing your milestone retirement speech is worth the dedicated effort. 
Retirement is a momentous occasion that deserves a proper sendoff — and that means having a speech prepared that really captures the essence of your time with the company. But where do you even begin? 
With so many memories and experiences to draw from, it can be overwhelming to try and encapsulate it all. That's why brainstorming first is the way to go.
If you're looking for brainstorming techniques that spark creativity, try some of these ideas (popularized by organizations yet relevant and effective for any topic):
Starbursting or mind mapping

– to give your ideas some structure and central theme

The idea napkin

– to simplify a central theme and build from there

Figure storming

– to put yourself in another's shoes and ask your version of "what would Abe do?"

Rapid ideation

– to throw in a range of ideas without judgment  
Either way, consider the milestones you've achieved, the people who have supported you, and the memories that have shaped you. 
Think about the future, too — what do you hope to accomplish in your retirement? Who do you want to become? 
Take some time to think about what new adventures you want to embark on and what kind of legacy you want to leave behind. 
Once you've brainstormed all the wonderful memories you want to share in your retirement speech, the next step is to prepare an outline.
#2 Prepare an Outline
An outline is like a roadmap that helps you stay on track and organized as you share your thoughts. 
After you've poured out all of your ideas from the creative brainstorm session, use an outline to break down your thoughts into sections, making it easier to organize and deliver your message cohesively. 
Plus, when you write things down on paper, it's so much easier to sift through your ideas and memorize them later on.
You can break your retirement speech ideas into sections like:
The starting point

— this is where you share the beginning of your career journey. It's a chance to reflect on where it all began, maybe even share a funny or inspiring story about your first day or job.

The milestones

— here, you highlight the significant turning points in your career. These could be promotions, challenging projects, or even hardships that shaped your professional growth.

The relationships

— acknowledge the people who made your career meaningful. From mentors to colleagues, clients to friends, share anecdotes that showcase the bonds you've formed.

The lessons learned

— share some wisdom you've gained over the years. These could be professional lessons or personal growth insights, which could inspire others at their own career crossroads.

The farewell

— this isn't just a goodbye; it's a celebration of what's yet to come. Go over your retirement plans and your dreams for the future.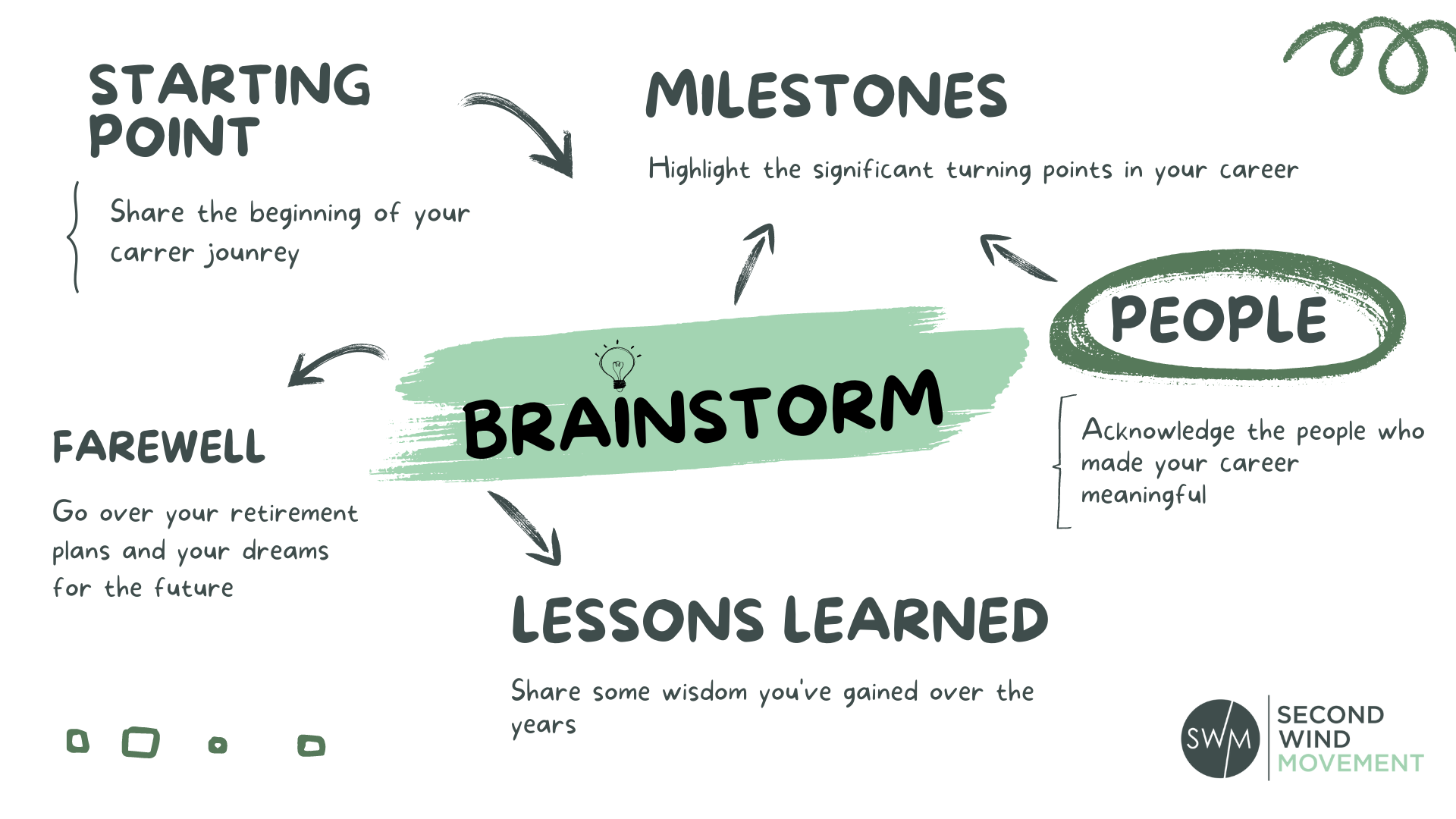 And this is just an example of an outline that's based on chronological happenings. There's no right or wrong way to do this; it's your story, told your way. Just organize it into a nice outline flow.
#3 Include Personal Anecdotes 
As you prepare to bid farewell to the workforce and embrace retirement, it's only natural to feel nostalgic and reflect on all the memorable moments you've experienced throughout your work life. 
Perhaps there was a project that presented a seemingly insurmountable challenge, but you and your team persisted and eventually conquered it. 
Or maybe there was a hilarious incident that still makes you chuckle to this day, even though it happened years ago. 
And who could forget the nervous excitement that comes with starting a new job? 
Regardless of the topic, your personal storytelling is not just a way to entertain your listeners, but it's also a way to showcase the good times, the bad times, and everything that came in between. 
Carmine Gallo researched some of the most popular TED Talks and found that personal stories accounted for 65% of their content.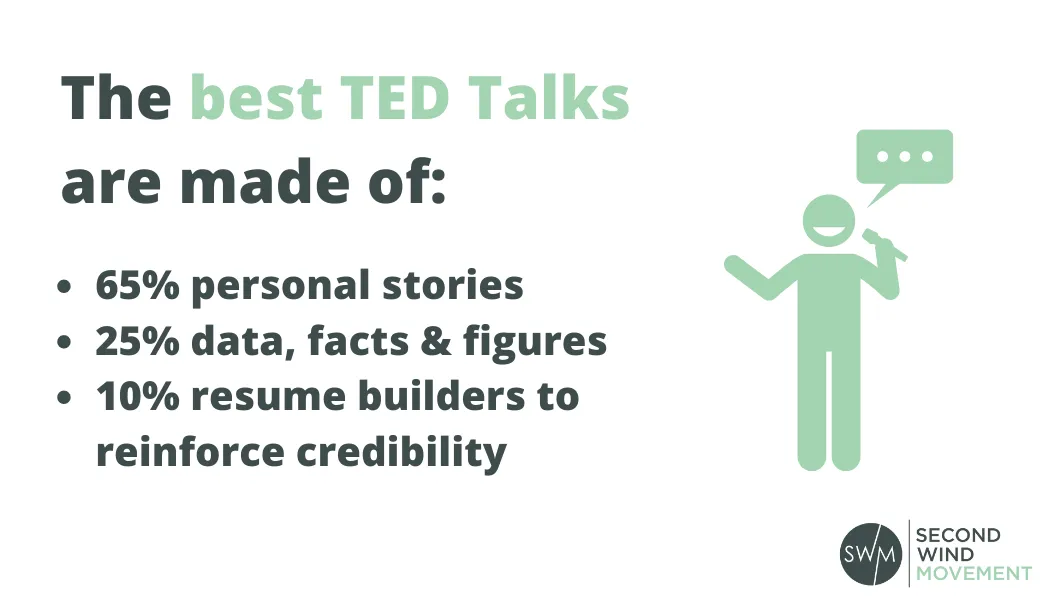 So it's worth showcasing personal storytelling in your retirement speech. Your stories can have a similar effect on your audience, reminding them of the ups and downs of being in the workforce, and how it all comes full circle in the end. 
#4 Express Gratitude
On top of your personal storytelling, writing a retirement speech is the perfect opportunity to express your gratitude and appreciation for those who have made a difference in your life. 
Whether it's your team who has stood by you through thick and thin, mentors who have offered guidance and support, family who has provided a listening ear, or even the organization itself that has given you opportunities to grow, take the time to express your heartfelt thanks. 
This is especially important if you want to maintain ties to some of your colleagues and coworkers after retiring from the workforce. In fact, one study about gratitude, reciprocity, and relationships, suggests that gratitude promotes relationship formation and maintenance.
Either way, a retirement speech without gratitude is simply incomplete. So, let your appreciation shine through. 
#5 Inject Humor 
Before you get too sentimental, remember that humor can go a long way in making your farewell speech a memorable one. 
Don't be afraid to delve into your treasure trove of funny stories or throw in some witty remarks — it's sure to have the crowd giggling and smiling in no time. 
And don't worry if you're not a stand-up comedian, the best jokes are often the simplest ones. Research has shown that people respond well to humor that's easy to follow and relatable.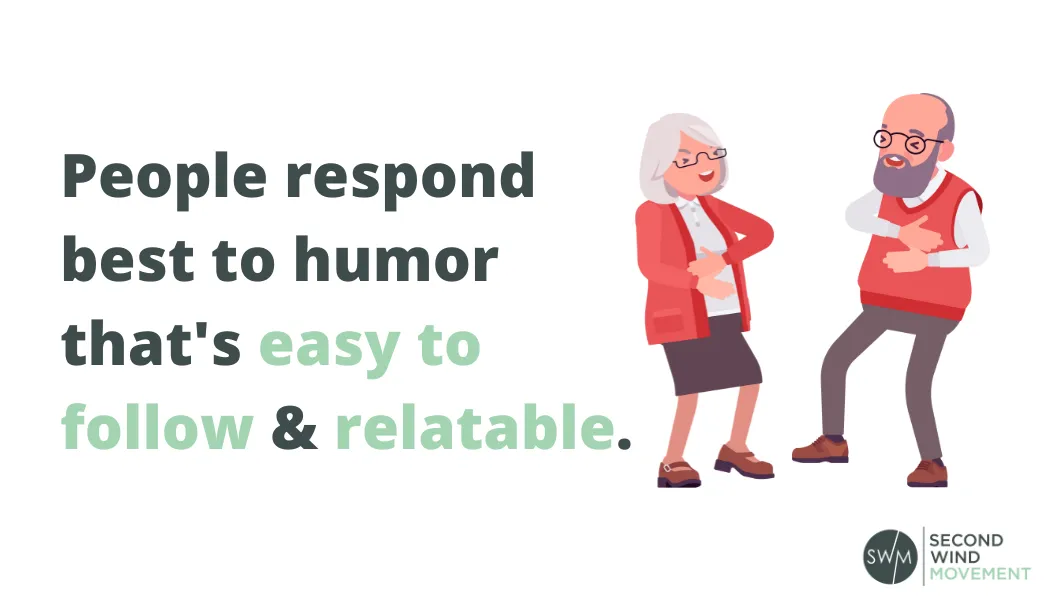 So, keep it light, keep it funny, and channel your inner comedian.
#6 Conclude with Positive Impact 
As the last words of your retirement speech echo through the room, you may find yourself feeling a swirl of emotions. It's understandable to feel bittersweet as you close a chapter in your life that has shaped much of who you are. 
But this isn't a time to give in to overwhelming sentimentality. 
Instead, take a deep breath and focus on the positive moments that have defined your career. Remember the joy and fulfillment that you experienced over the years, and let those feelings of hope and satisfaction guide your final message. 
As the University of Minnesota reminds us, a strong conclusion is essential to signal the end of the speech and help the audience remember the main ideas. So, take this chance to really explain the importance of your message and inspire those around you with a positive closing theme.
It's the perfect ending to a stellar career and the perfect start to your next adventure.
Retirement Speech Ideas & Examples
Crafting a memorable retirement speech is an art form that's unique to you. It's about striking the perfect balance between professional reflections and personal anecdotes. 
Here are some examples that can serve as inspiration for your own speech:
#1 Funny Retirement Speech
If you want to add some humor to your speech, then we've got you covered with this example:
"I stand before you today with a heart full of mixed emotions. Part of me is saying, "Finally! I can sleep in on Mondays!" while another part is wondering, "What on earth will I do with all this free time?"

You know, they say, "How lucky I am to have something that makes saying goodbye so hard." That's a quote from A. A. Milne, better known for his creation Winnie-the-Pooh. And it rings true today. Working with all of you was a real pleasure. We've had our share of ups and downs, haven't we? Like the time I accidentally sent that confidential email to the whole department instead of just my boss. Or when I spilled coffee all over the new carpet on its very first day. But hey, who's counting?

[personal storytelling]

To wrap up, I'm too happy to be profound, too relieved to bestow any life advice upon you, and too old and tired to stand here for long, making a speech. I'll think of you all every time I roll over and go back to sleep at 7:30 a.m. on a Monday. Thank you for all the memories, and remember, I've retired from work, not from life. So, don't be strangers!"
#2 Sentimental Retirement Speech
For a more heartfelt version, check out this retirement speech example:
"I've had the privilege of working alongside some of the most extraordinary people I've ever met.

Firstly, I want to express my deepest gratitude to each and every one of you. You have not only been my coworkers but also my mentors, my guides, and my pillars of support. You have been my second family, and for that, I am eternally grateful.

Whether it was late nights working on projects or celebrating our successes, each moment has left an indelible mark on me. And each one of you has enriched my life in so many ways, and I hope that in some way, I've been able to do the same for you.

[personal storytelling]

As I step into this new chapter, I carry with me the lessons I've learned here, the friendships I've made, and the memories we've created. I want to leave you with this thought: The beauty of life lies not in its length, but in the love and respect we share with those around us.

So, thank you for sharing this journey with me, for your wisdom, your guidance, and your friendship. Remember, this is not goodbye. It's just a see you later. So, until we meet again, take care of yourselves and each other."
#3 Formal Retirement Speech
And if you're looking for a more formal approach:
"Thank you for joining me today as I announce my retirement. Over the past three decades, we have achieved milestones that were once distant dreams. It has been an honor to work with such dedicated individuals.

I am filled with gratitude for the countless opportunities I have been given, the invaluable lessons I have learned, and the unforgettable memories I have created. Each one of you has contributed to my journey in your own unique way, and for that, I will always be thankful.

[personal storytelling]


I want to express my deepest appreciation to all of you. Your hard work, dedication, and commitment to excellence have not only made this organization the success that it is today, but also made my journey an incredibly rewarding one.

As I step into the future, I am excited about the opportunities that await me. However, I know that I will always carry a piece of this wonderful journey with me.

Thank you for the privilege of working with you, for the camaraderie, and for making this chapter of my life such a memorable one. I look forward to seeing all the remarkable things you will undoubtedly continue to achieve."
Leaving on a High Note
Everyone's retirement speech is going to be unique and special to them. 
But there are some common elements that you should keep in mind when preparing your own:
#1 Have a creative brainstorm session

— let those memories, thoughts, and emotions pour out onto the page – there's no right or wrong here, just your unique journey

#2 Prepare an outline

— think of it as your roadmap, guiding you from one milestone to the next

#3 Include personal anecdotes

— sprinkle in storytelling of your personal anecdotes, share those behind-the-scenes moments that brought laughter, tears, and everything in between

#4 Express gratitude

— it's your chance to acknowledge those who've walked this journey with you, to let them know how much their support has meant, and to say thank you from the bottom of your heart

#5 Inject humor

— lighten the mood, share that funny story, let your audience laugh with you 

#6 Conclude with positive impact

— leave your listeners with something positive to remember you by
Whether you choose to end your career with a funny toast, an emotional thank you, or a formal goodbye — your words can leave an indelible mark on those who are lucky enough to hear them and remember you by. 
Retirement Speech FAQ
What to say at a retirement speech for someone else?
When delivering a retirement speech for someone else, try to focus on their achievements, dedication, and contributions. Use personal anecdotes that highlight their individual character and work ethic. Keep it positive, motivational, and heartfelt. For example:
"John, your tireless dedication and exceptional leadership have been an inspiration to us all. Your journey has, not just been about milestones, but also about the lives you've touched along the way."
How long should a retirement speech be?
A retirement speech should ideally be between 5-10 minutes long. This duration allows enough time to cover all the important points without dragging on.
How to start a retirement speech?
Starting a retirement speech can be as simple as a warm greeting followed by an introduction. You might even want to begin with a light-hearted joke or an inspiring quote. Either way, make it feel authentic. For example:
"Good evening everyone, I'd like to start by saying, retirement is when you stop living at work and start working at living!"
How to end a retirement speech?
Ending a retirement speech should come with a strong positive close, and include a blend of gratitude, reflection, and anticipation for the future. Here's an example: 
"As I close this chapter and open a new one, I want to express my deep gratitude for the journey we've shared. We've laughed together, faced challenges together, and celebrated victories together. I'm proud of the work we've done and the impact we've made. Thank you for being a part of my journey. Here's to new beginnings and the exciting adventures that lie ahead!"