A recent pre-pandemic poll found that road travel is a top priority for 37% of the older adult population. 
Now that we live in a pandemic-touched world, this percentage may have gone up. Road tripping across the US isn't a bad option considering you can travel more safely while social-distancing in your own vehicle. Plus, it's more budget-friendly than other travel options.
If you're looking for the best retirement road trip ideas, you've come to the right place.
There are so many amazing things to see and do in the US, and what better way to experience them all than by hitting the open road?
We've made a list of the 50 best retirement road trips – one for each US state.
Use this table of contents of retirement road trip ideas to easily navigate the six categories in our post:
Whether you're looking for a scenic drive through national parks, a history lesson, or just some good old-fashioned adventurous fun, we've got you covered.
Seaside Retirement Road Trip Ideas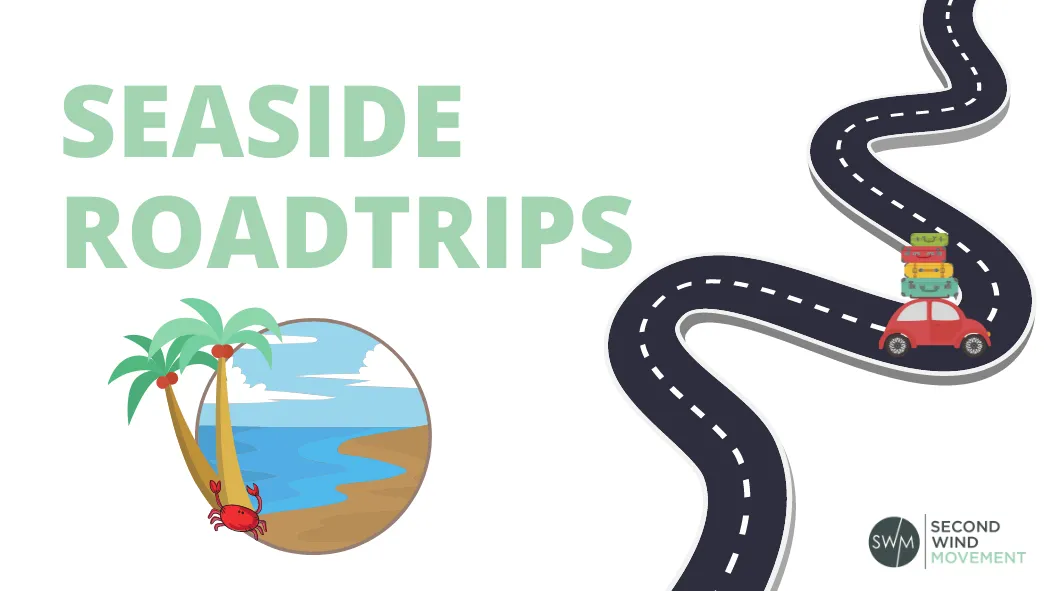 #1 Alabama — Gulf Coast Route 
The Gulf Coast route in Alabama takes you through some of the most beautiful beaches of Mobile county. You'll get to experience all that the Gulf has to offer: bright skies, sandy beaches, shopping, dining, and entertainment. This route offers the perfect combination of Southern charm and beachy vibes that caters to all tastes.
#2 Florida — Overseas Highway
The Overseas Highway connects the Florida Keys to the mainland. This 113-mile drive is filled with stunning views of the Atlantic Ocean and the Gulf of Mexico. There are plenty of activities to enjoy along the way, such as fishing, diving, and kayaking.
#3 Hawaii — Hana Highway
The Road to Hana is a 64-mile long highway on the island of Maui in Hawaii. It winds through lush rainforest, past waterfalls and black sand beaches, and along the cliff-lined coastline.
This is definitely a road trip that's best enjoyed at a leisurely pace. And since Maui is such a popular retirement destination, there's no shortage of retirement communities and amenities to make your road trip even more comfortable.
#4 Massachusetts — Route 6
Route 6 stretches along the entire length of Massachusetts's coast, from the picturesque and beautiful Provincetown to historical sites and museums. This is a must-see journey for those who enjoy the sea and everything it has to offer.
#5 New Jersey — Bayshore Heritage
This gorgeous byway hugs the Jersey Shore, with plenty of opportunities to take in the stunning views of the Atlantic Ocean. Travelers can also enjoy charming small towns, wildlife sanctuaries,  lighthouses — perfect for those who love all things seaside.
#6 Rhode Island — Ocean Drive
Rhode Island's Ocean Drive is a beautiful and historic road that hugs the state's coast. The drive offers gorgeous views of the Atlantic Ocean, as well as a number of quaint towns and villages. There are also several lighthouses located along the route, which of course make for great photo opportunities.
Outdoor Activities Retirement Road Trip Ideas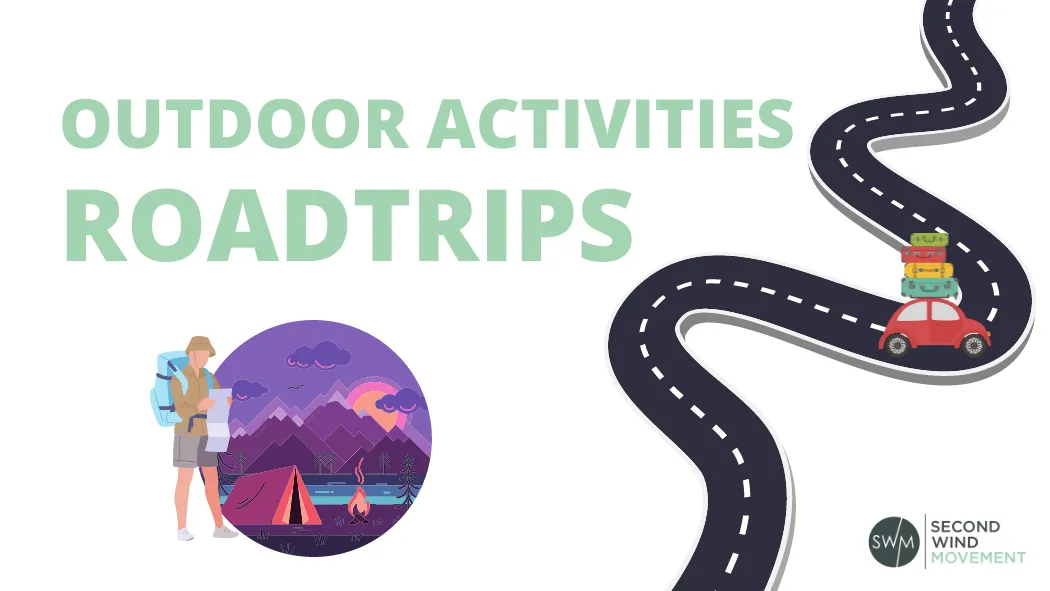 #7 Colorado — Peak to Peak Highway
If you love nature and the outdoors, then the Peak to Peak Highway in Colorado is the trip for you. This 55-mile route takes you through some of the most beautiful scenery in the state, including Rocky Mountain National Park. Along the way, you'll have plenty of opportunities to hike, bike, fish, and camp.
#8 Connecticut — People's State Forest
Although it's one of the smaller states in the US, Connecticut packs a big punch when it comes to beautiful scenery. For starters, there's People's State Forest. This massive forest covers over 3,000 acres and is perfect for retirees who love hiking, camping, fishing, and other outdoor activities.
#9 Iowa — Loess Hills Byway
The Loess Hills Byway is a 115-mile journey through the unique landscape of Iowa's Loess Hills. The hills provide visitors with sweeping views of the Missouri River Valley. Along the way, you'll pass through small towns, farmland, and forested areas. There are also plenty of opportunities for hiking, biking, and birdwatching.
#10 Kentucky — Great River Road 
The Great River Road is one of the best retirement road trip ideas for those who love nature. The route takes you along the Mississippi River and through some of the most beautiful landscapes in Kentucky. Stop at Mammoth Cave National Park, home to the world's longest known cave system. 
#11 Minnesota — Glacial Ridge Trail
The Glacial Ridge Trail is a beautiful spot for those who enjoy hiking and being in nature. It winds through lakes, woods and farmlands for 220 miles offering many opportunities for wonderful outdoor activities.
#12 Oklahoma — Quartz Mountain State Park
If you're looking to retire in or travel to Oklahoma, consider a road trip to Quartz Mountain State Park. With over 70 miles of hiking and biking trails, there's plenty to keep you busy and connected to life outdoors. Plus, the views of the Wichita Mountains are simply stunning.
#13 South Dakota — Peter Norbeck Byway
The Peter Norbeck Byway is a scenic route in South Dakota that is ideal for a retirement road trip. The byway winds its way through the Black Hills, offering stunning views of the mountains and forests. There are plenty of opportunities for hiking, camping, and fishing along the way, and visitors can also see some interesting historical sites.
#14 Utah — Route 12
Route 12 in Utah is one of the most scenic routes in the country, and it's a popular destination for retirement road trips. The route winds its way through some of the most beautiful landscapes in the state, including red rock canyons, snow-capped mountains, and lush forests. There's no shortage of things to see and do along the route, including hiking, camping, and fishing.
#15 Wisconsin — Kettle Moraine 
Kettle Moraine is a region in Wisconsin that has been shaped by glaciers. The Kettle Moraine State Forest covers more than 20,000 acres of land and the forest covers a 60-mile long scenic drive. It offers a variety of activities for retirees such as camping, fishing, swimming, hiking and picnicking. 
#16 Wyoming — Bighorn Byway
This scenic drive takes you through some of the most beautiful and remote country in the state, with a ton of opportunities to see wildlife. The byway cruises alongside the Bighorn River, past towering mountains and picturesque valleys. If you're big on hiking and fishing, this Bighorn Byway may be right up your alley.
Nature Retirement Road Trip Ideas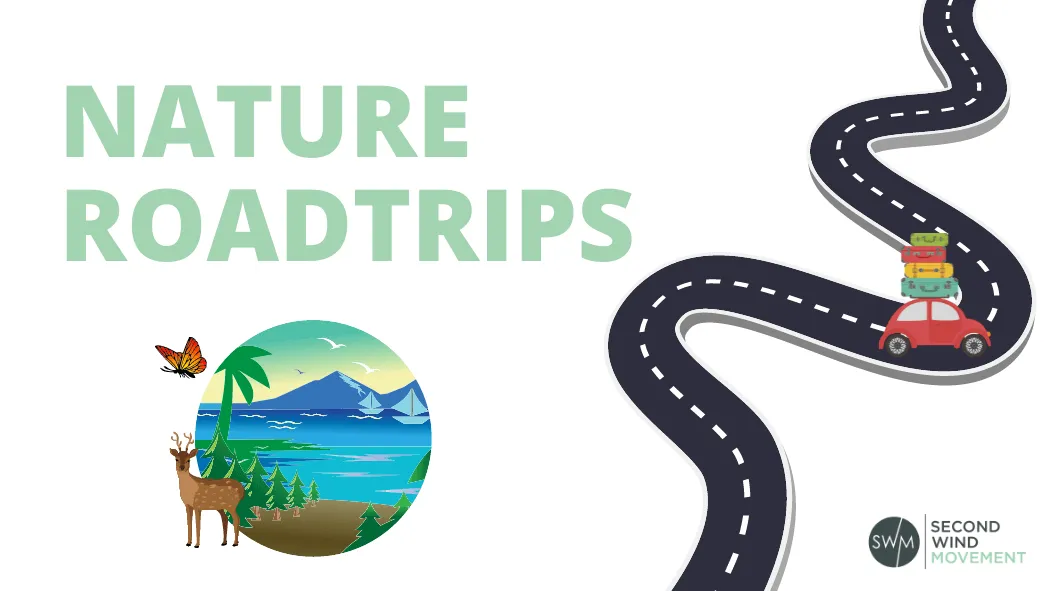 #17 Alaska — George Parks Highway
Alaska is a state full of natural beauty, from its snow-capped mountains to its pristine forests. The George Parks Highway is an ideal road trip for those who want to experience all that Alaska has to offer. The highway connects Alaska's two largest cities and runs for over 300 miles. It takes you through some of the most beautiful scenery in the state. 
#18 Delaware — Bayshore Byway
This short byway takes you along roads and views next to the Delaware River and Bay Estuary. You'll pass through quaint towns, state parks, and nature reserves. It's especially great for photographers and birders, and an excellent option for anyone simply looking for a peaceful trip.
#19 Georgia — Waterfalls Route
Love waterfalls? If so, the Waterfalls Route in Georgia is a great retirement road trip idea. The route takes you past some of the most beautiful waterfalls in the state. Highlights include Amicalola Falls, Tallulah Gorge, and Vogel State Park. This is a great option if you're looking for a scenic, outdoorsy trip that highlights cascading streams of water.
#20 Maine — Park Loop Road
This short, but lovely road takes you past some of the most stunning scenery on the east coast, including sand beaches, rocky cliffs, and evergreen forests. If you want to extend your trip, you can also hike or bike along the many trails in the park. 
#21 Maryland — Falls Road
The Falls Road Scenic Byway is one of the best ways to see Maryland's natural beauty. The Falls Road Scenic Byway is a winding road that takes you from Baltimore to farmlands. And it's a great road trip throughout the year.
#22 Michigan — Black River Byway 
The Black River Byway stretches for 14 miles along the picturesque Black River in Michigan's Upper Peninsula. The route takes you through dense forests and past rocky cliffs, offering retirement road trippers a chance to appreciate the state's natural beauty.
#23 Montana — Beartooth Highway
This 68-mile section of US Route 212 takes you through some of the most picturesque scenery in Montana. The winding road takes you to Yellowstone National Park and it's almost as alluring as the park itself.
#24 Nebraska — Highway 2
This scenic byway takes you through the heart of the state, past towering bluffs and buttes, grassy plains, and forests. Along the way, you'll see some of Nebraska's most charming scenery. As Charles Kuralt said, "Highway 2 is not just another highway that goes somewhere Highway 2 is somewhere."
#25 Nevada — The Loneliest Road
If you're looking for a road trip that will take you away from it all, consider Nevada's Loneliest Road. This stretch of highway is known for its wide-open spaces and lack of traffic, making it the perfect place to relax and escape the hustle and bustle of everyday life.
#26 New Hampshire — Kancamagus Highway
The Kancamagus Highway is a 34-mile scenic drive in the White Mountain National Forest. The highway crosses over the Swift River and passes through the towns of Conway, Bartlett, and Lincoln. Take your pick among several hiking trails and picnic areas to enjoy along the way.
#27 New Mexico — The High Road
If you're looking for a retirement road trip that takes you off the beaten path, the High Road to Taos in New Mexico is perfect. This scenic route winds its way through small villages and offers breathtaking views of the Sangre de Cristo Mountains. You'll also find plenty of opportunities to stop and enjoy the landscape.
#28 Pennsylvania — Elk Scenic Drive
Pennsylvania's Elk Scenic Drive takes visitors through the heart of Elk Country and offers some of the best wildlife viewings in the state. Unplug your devices and reconnect with nature on this road trip. The drive is a great way to spend a day or a weekend connecting with Mother Earth, and there are plenty of small towns and villages along the way where you can stop for lunch or dinner.
#29 South Carolina — Cherokee Foothills Byway
The Cherokee Foothills Scenic Byway twists through the rural countryside of upstate South Carolina, providing a gorgeous view of the rolling foothills that give the route its name. The byway is home to a number of small towns and villages, each with their own unique charm. 
#30 Oregon — Columbia River Highway
The Columbia River Highway is a scenic roadway that follows the Columbia River Gorge in Oregon. It offers some of the best views of the river and its many canyons. The highway is also home to some of Oregon's most popular tourist destinations, including Multnomah Falls, Crown Point Vista House, and Beacon Rock State Park.
Historic Retirement Road Trip Ideas
#31 Arkansas — Great River Road
The Great River Road in Arkansas gives you lots of opportunities to take in the natural beauty of the state while still teaching you a lot about history. This Arkansas road trip is a retiree-friendly holiday that envelops visitors in art, culture, history, and diverse cuisine.
#32 Illinois —  Lincoln Highway
Take a trip on the Illinois Lincoln Highway, which is a National Scenic Byway that covers 179 miles. Let the adventure guide you from the border of Indiana towards Chicago. This is a beautiful region rich in history and heritage that's combined with modern amenities.
#33 Indiana — Ohio River
Even though the Ohio River route takes you through three states and over 900 miles, 303 of those miles are in Indiana. This road trip can be peaceful and historic or adventure-packed, it's all up to you. You'll find a wide range of charming restaurants, stunning vistas, and relaxing hotels.
#34 Kansas — Western Vistas Byway
The Western Vistas Byway offers a glimpse into the cowboy culture of Kansas. The route takes you through some of the most wondrous prairies in the state. Visit the land where extinct dinosaurs and thousands of buffalo once roamed.
#35 Louisiana — Bayou Teche Byway
The Bayou Teche Byway is a National Scenic Byway located in the heart of Cajun country. Along the way, visitors can enjoy beautiful bayou side scenery, as well as unique Cajun culture and history. 
#36 Missouri — Water Mills
Watermills are just one of the many features that make Missouri so distinctive. Take this trip during the fall and enjoy some of Missouri's most incredible sights created by man. This route runs for 232 miles and is home to six watermills.
#37 North Dakota — Sakakawea Scenic Byway
The Sakakawea route travels along the Missouri River and takes in some remarkable scenery, including rolling hills, forests, and riverbanks. It's also a great way to learn more about the history of the region, as it passes through many important events in the Lewis and Clark expedition. 
#38 West Virginia — Midland Trail
The Midland Trail in West Virginia is a beautiful and historic route that follows the Appalachian Mountains. The trail offers extraordinary views of the countryside and no shortage of opportunities for outdoor recreation. There are also plenty of charming small towns along the way, making it a great destination for a history-buff retirement road trip.
Wine Retirement Road Trip Ideas
#39 California — Wine Country
A Californian road trip wouldn't be complete without a joy ride through the state's wine country. The rolling hills and vineyards of Napa and Sonoma Valleys are just begging to be explored. And with so many world-class wineries to visit, you'll never run out of things to do.
#40 Arizona — Verde Valley
If you're looking for a retirement road trip with a bit of culture and wine-tasting, consider heading to Sedona, Arizona. The small town is home to a number of vineyards, which make up the Verde Valley. Get away from the cacti and desert and enjoy a bit of culture, history, and wonderful wine.
#41 Idaho — Sunnyslope Wine Trail
If you're a wine lover, the Sunnyslope Wine Trail in Caldwell is a must-visit destination if you're passing through Idaho. With 17 wineries and vineyards, award-winning wines, and intimate tasting and dining experiences, you'll be able to sip and savor the views. 
#42 New York — Cayuga Lake Loop
Cayuga Lake is one of the Finger Lakes in New York and is a must-visit East Coast retirement road trip destination for those who love wine. The Cayuga Lake Loop is a scenic drive that takes you past many of the wineries in the area. You can also stop at some of the local farms to pick up fresh produce. 
#43 Ohio — Seneca Lake Loop
Sometimes, all you need is a short picturesque journey that allows your mind to wander. The 22-mile Seneca Lake Loop in Ohio is a beautiful drive that makes for an easy day trip. It's ideal for stopping and taking in the scenery for a bit as you visit the 27 wineries.
#44 Virginia — 211 Vino Wine Trail
Take a weekend trip to Virginia's wine country and enjoy over 20 wineries along the way. The 211 Scenic Vino Wine Trail follows Route 211 and takes you to amazing views and even better wines.
#45 Washington — Columbia Valley
For all the red wine lovers, we haven't forgotten about one of the largest wine regions in the country, Columbia Valley. It runs for over 300 miles and allows you to explore some of the best wines in Washington state. 
Adventure-Packed Retirement Road Trips
#46 North Carolina — Tail of the Dragon
Are you a motorcyclist or bike enthusiast? This one's for you. The Tail of the Dragon is an 11-mile stretch of road located in North Carolina that offers 318 curves and has been called one of the best motorcycle roads in America. This road is definitely not for the faint of heart, but it's perfect for those who love to take risks and enjoy a good adrenaline rush.
#47 Mississippi — The Blues Highway
If you're a fan of music, Mississippi is definitely a state worth exploring. The Blues Highway runs through the heart of the state, and it's home to some of the most famous blues clubs in the country. If you're up for a bit of musical adventure, drive down this iconic route.
#48 Tennessee — Cotton Junction Trail
For those looking for a beautiful, winding road to explore, the Cotton Junction Trail in Tennessee is a fantastic option. The trail takes you to the famous Cotton Fields and passes through many small towns along with other interesting landmarks. 
#49 Texas — Highway 90
Texans have a passion for the open road. And with more than 250 thousand miles of it to explore, they certainly have plenty of opportunities. Here's one idea: take Highway 90 on an east-west trip through Texas and see some of the most striking vistas in the US.  
#50 Vermont — Route 100
Route 100 is a scenic byway in Vermont that runs through the heart of the state. On this route, you'll find some of Vermont's best natural scenery and cultural destinations. The route offers you a retirement road trip opportunity with diverse attractions waiting around every bend. Route 100 also includes several small towns, so you can easily find a place to stay and enjoy the local flavor.
Best Type of Vacation for Retirees
Road tripping across the US could be the best type of vacation for retirees since it gives you the freedom to do things at your own pace.
Whether you decide to go at it alone, join a travel group, or go with friends or family, we hope these 50 retirement road trip ideas get you excited.
Ready to hit the road?
Your scenic adventure awaits.