Did you know that more than half of retirees move to a new home after they retire?
This statistic speaks to the growing trend of retirement relocation among seniors, and it's no surprise why.
With newfound freedom, many older adults are choosing to explore their options and make a big change when they have the chance. 
Retirement relocation offers opportunities for adventure, new experiences, and a fresh start in life.
But most of all — it's an ideal time to relocate to a place that's more fully aligned with your authentic self. 
After all, retirement is an amazing growth opportunity — and growing into your new retirement identity can work nicely alongside a new location.
But before making such an important decision, here are a few key factors to consider when deciding if retirement relocation is the right move for you. 
In this article, we'll give you a rundown of both financial and emotional aspects of relocating in retirement, as well as 7 steps for how to plan your actual move.
The Financial Aspects of Retirement Relocation
#1 Cost of Living
When it comes to retirement, of course, one of the biggest concerns is making sure your nest egg can last long enough. Which is why reducing your cost of living can make a massive difference. 
If this is you, what better way to do so than by packing up and moving to a more aligned, less expensive location? 
According to a recent study by Merrill Lynch, 26% of retirees who relocate do so to reduce their cost of living. And many retirees find that they can stretch their dollars further by relocating to a more affordable town or state.
Research different neighborhoods and compare the cost of housing, groceries, and transportation — all the major expenses associated with living in a new place.
The cost of living difference between two cities can be significant, so always check to make sure that you're not moving somewhere that will put a strain on your finances. Check out this worldwide Cost of Living Calculator and this US-only calculator to compare average prices. 
For instance, the cost of living is 23.8% more expensive in Antioch, CA than in Reno, NV: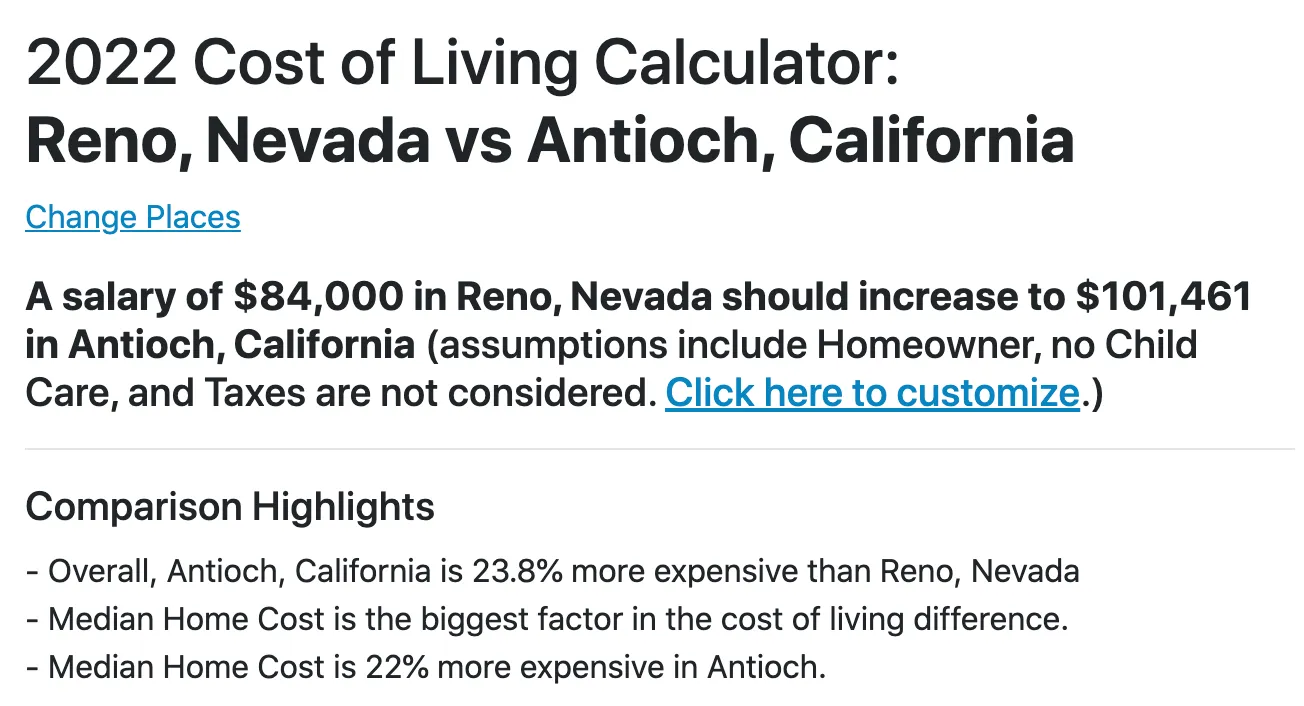 And if you're feeling adventurous and considering places abroad, here's a list of our top nine picks on where to move for those still undecided.
#2 Taxes & Benefits
If you move to a new state in retirement, familiarize yourself with the local tax laws and regulations. You may be eligible for certain benefits or discounts — so make sure that you're taking full advantage of them.
In some cases, moving may actually reduce your taxes if you switch from a high-tax state to one with lower taxes. But it's important to remember that rules and regulations vary from state to state, so always do your due diligence before deciding where to move.
For instance, if you're planning to move within the US, there are:
13 states that tax Social Security

— Colorado, Connecticut, Kansas, Minnesota, Missouri, Montana, Nebraska, New Mexico, North Dakota, Rhode Island, Utah, Vermont, and West Virginia

8 states that don't have a state income tax

— Alaska, Florida, Nevada, New Hampshire, South Dakota, Tennessee, Texas, Washington, and Wyoming
Even if you choose to retire in a different country, you will still be required to pay taxes:
While the US

Foreign Earned Income Exclusion

can help prevent double taxation, retirement distributions, except for your ROTH IRA, are included in your gross income.

The good news is that most countries typically won't double-tax your Social Security benefits, but it's always a good idea to

double-check this list

to be on the safe side.

And if you have over $10,000 in foreign accounts, you'll have to

fill out a form

, so stay on top of your paperwork.
But don't let taxes prevent you from retiring to your dream destination — just do your research to make sure you're getting the most out of your retirement tax-wise and beyond.
#3 Moving & Relocation Costs
Physically moving to a new place in retirement can be expensive. From packing materials, hiring movers, and selling your current home — the costs can add up quickly.
When shopping for movers, always get multiple quotes and read the reviews. We recommend a minimum of three estimates for a fair comparison. To begin planning your move, check out Moving.com's extensive network of professional movers who are licensed and insured. 
Also, remember to ask about extra fees — some companies charge a fee if they have to do stairs or an extra long walk from the truck to your new place.
And if you're on a tight budget, you may want to consider renting a U-Haul or asking friends and family for help. It all depends on how much stuff you have and how far the move is. Also, here's a moving calculator to help you budget your moving expenses accordingly.
#4 Long-Term Expenses
It's also important to factor in long-term expenses. Whether you're renting or buying a home, make sure that you can afford the monthly payments. Additionally, consider other recurring costs like utilities, property taxes, and insurance.
And don't forget about health care costs, too. Due to inflation, your medical expenses are likely to be a significant portion of your budget. 
A recent study from Fidelity shows that, on average, a retired couple will require $315,000 to pay for healthcare expenses during their retirement.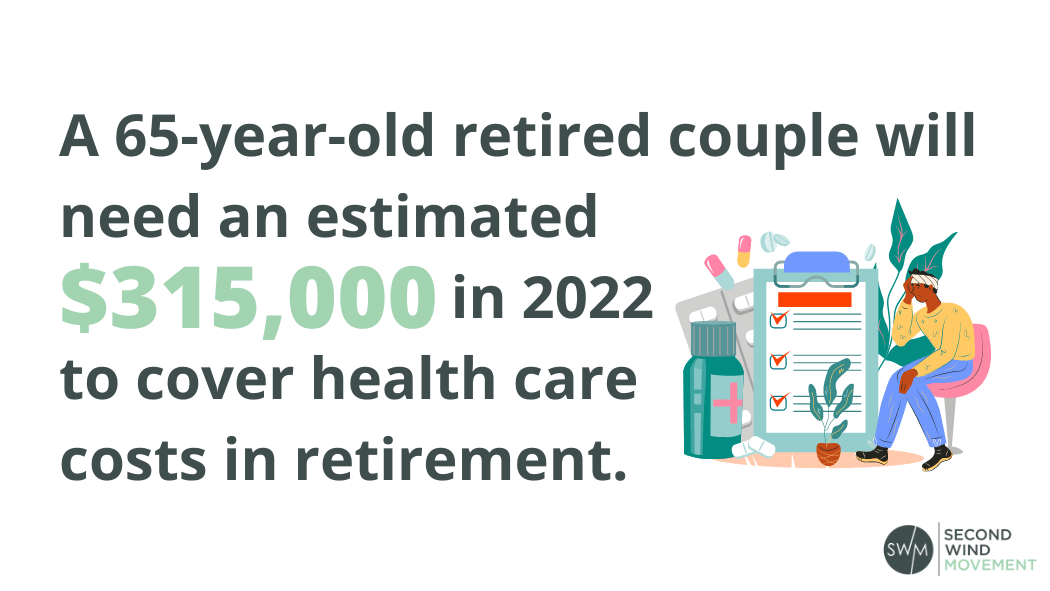 Also, be sure to understand the different types of insurance you may need in retirement. While life and health insurance are essential, you may also want to consider disability and long-term care insurance if it fits your budget and situation.
By researching these costs ahead of time, you can make a financially sound decision when it comes to relocating in retirement.
Now for the non-financial side of relocating in retirement.
The Emotional Aspects of Retirement Relocation
#1 Leaving Behind a Place Called Home
No matter how long you've been in a place, it can be difficult to leave behind memories, emotions, and the familiarity of what you call 'home.'
Therefore, if you're considering relocating in retirement, take some time to reflect on your decision. Think about why this move makes sense for you right now — financially, emotionally, mentally, and physically.
A study measured the amount of stress associated with moving. The study discovered that people who relocated experienced higher stress levels than those who stayed in their homes. And the more you move, the more stress you may experience.
The level of stress was rated at 20 on a scale of 100. To put this into perspective, the stress level associated with the death of a spouse is 100, the stress level of incurring a large mortgage is 37, and the stress level of divorce is 73.
While relocating in retirement can be a stressful decision, and one that shouldn't be taken lightly — if your new location is a match for your new identity in retirement inside and out, it can be well worth the adjustment effort. 
The bottom line — carefully consider the emotional and mental factors of moving and do your best to align your new retirement identity with your new location.  
#2 Adjusting to New Surroundings
It takes time to adjust to a new environment, and it can feel quite lonely — initially, anyway. Coming from a place where you know everyone to a new city or town may require some effort on your part to make friends and create meaningful relationships.
Moving in retirement will give you a chance to explore a new city or state and experience something totally different. After all, retirement is about growing and living life to its fullest — and what better way to do that than by discovering a new place?
And according to research, the more new experiences you have, the more your brain activity fires up and the happier you become. So if you're looking to keep your brain healthy and happy, relocating in retirement is a great option.
Remember to keep tabs on local nature spots. Whether it's the park, hiking trails, a lake, or the beach, keeping in (physical) touch with nature is integral to boosting your mental health.
All in all, give yourself enough time and patience to find your way around and settle into a new routine.
#3 Saying Goodbye to Friends & Community
Starting a new chapter in life by moving after retirement can be exciting, but leaving behind the comfort of relationships and social circles is undoubtedly daunting.
Saying goodbye to long-term friends and neighbors can bring a flood of emotions that make the process of relocating even more challenging. 
Even if you don't frequently make plans with people in your old neighborhood, letting go of the mere comfort of familiarity (even if it's not the best for you) is a big challenge.
But let's not forget, new territory is also an opportunity to meet new people and build new social circles that are (oftentimes) a better match for the authentic you in this new stage of life. 
Just try to increase the number of people in your Circle of Influence and decrease your Circle of Concern — no matter your location.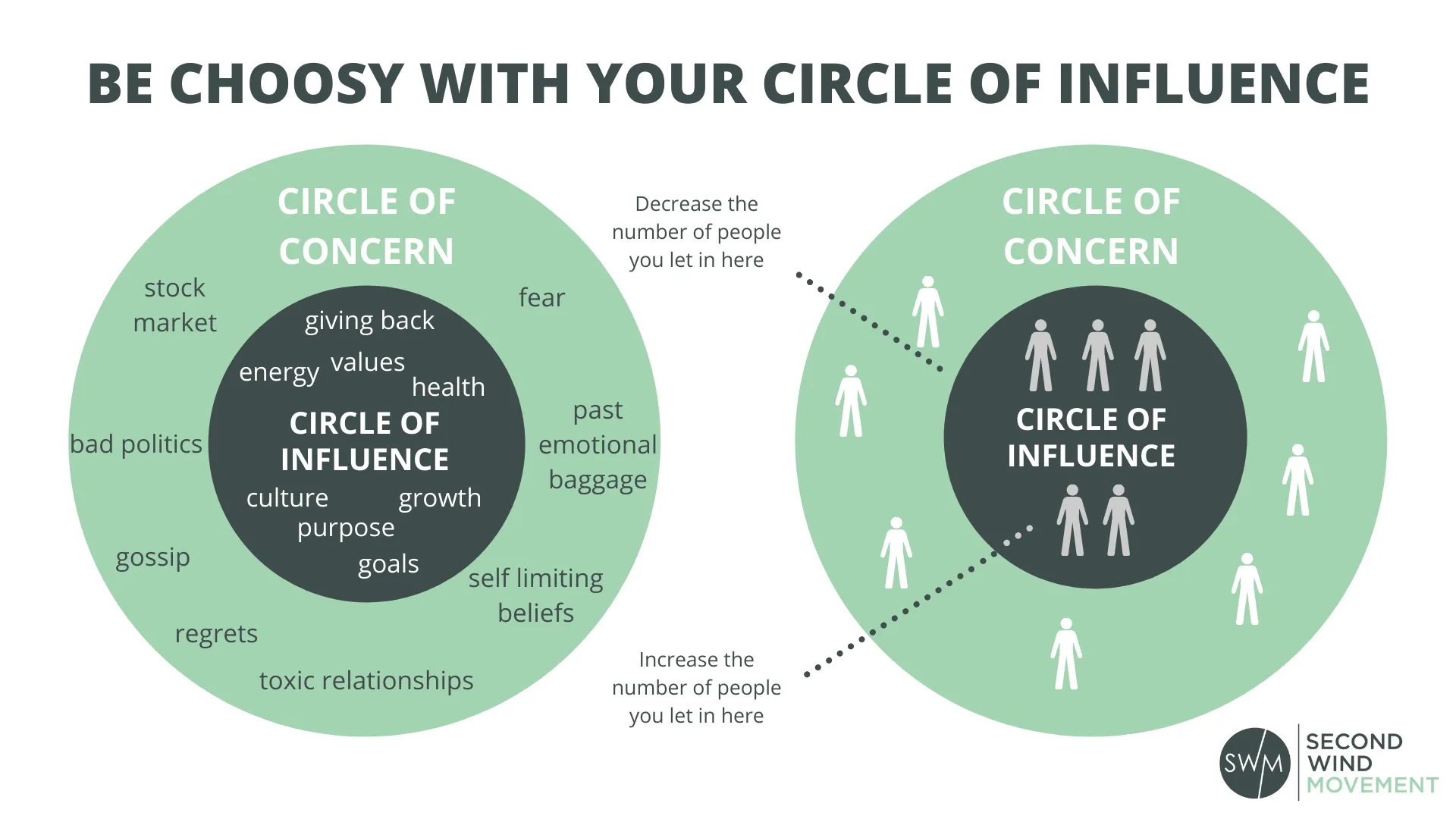 Plus, with today's technology, keeping in touch from a distance has never been easier. You can video chat with your loved ones in a matter of seconds, share updates on social media, and even plan trips to visit each other in person.
Research shows that having a strong support system increases health and happiness. 
So if you're relocating after retirement, don't be afraid to start fresh — just make sure to keep in touch with your existing friends and family members who are in your Circle of Influence, and to continue to add to this encouraging support group.
#4 Cultivating a Sense of Belonging
Moving after retirement can be a big decision, especially when it means leaving behind the familiar comforts of home. 
The challenge of creating a sense of home and belonging in a new place is very real, and it can take a lot of time and effort to establish new routines and relationships. Even the small things, like finding your favorite coffee shop or grocery store, can take time. 
But remember, even in the familiarity of your old home, it can be hard to shake the feeling of being an outsider. When we say 'cultivate a sense of belonging' — like in most of our tips — we don't just mean finding a way to contort yourself and 'fit in.' 
We mean going inward for the answers. 
As in, find clarity and deeply connect with authentic yourself to discover what truly lights you up from the inside out. Matching your external world to what you first learn about your internal world is how to truly find a sense of belonging.
Especially when you consider the fact that 67% of employees say:
A sense of belonging at work means having their perspective and contributions valued and accepted by their colleagues and superiors. 
This idea of having your authenticity accepted is when people perform their best. The same sense of belonging and performance correlation is carried into classroom environment, too. 
Basically, being clear on your authenticity, perspective, and contributions first and foremost will help guide you to the location and community that will embrace that authenticity — creating a healthy sense of belonging no matter where you go. 
If you're wondering where to start, we recommend exploring your passions and purpose, as well as unleashing your creativity. These are energy-fueling topics that can help you find your way in any circumstance.
Like any part of your growth journey, the key is to go easy on yourself, be patient with the process, and take it one micro-step at a time.
How to Plan for Moving After Retirement
We've outlined seven steps to help you plan for moving after retirement.
#1 Research Potential Destinations
Before packing up your bags and moving to your dream destination, it's important to make sure it is your dream destination — do some research on potential retirement spots that closely align with your new identity in retirement.
After all, you want to make sure that the place you choose meets all your needs, whether that's affordability, great weather, or excellent healthcare facilities.
And if you're familiar with our content — helping you find clarity on your sense of purpose and belonging, alongside your retirement passions, is our mission. If you're just starting out, here are some options to help you go inward first, before moving your home address:
So, put on your investigator hat and start your inward quest for the ideal retirement identity — and then match that to your perfect retirement destination. 
#2 Visit & Explore New Areas
Once you've narrowed down your choices, plan a visit to your top 2-3 destinations. There's no substitute for first-hand experience when it comes to deciding if a city or town is the right fit for you. 
Take a few days to explore different neighborhoods, visit local attractions, and get to know the people living there. As you engage with the community, ask about the weather changes and what it's like year-round. 
The more you can get out of 'vacation mode' and into 'living local mode' while visiting, the more you'll capture a realistic glimpse of what it's like to live there. 
#3 Make a Budget
Retirement relocation can be expensive, so it's important to plan your budget carefully. Make sure that you calculate all the costs associated with the move — including transportation, housing, and living expenses.
Of course, your budgeting shouldn't focus only on the move. Once you settle in, make sure that you have enough funds to cover all the long-term basics like healthcare, groceries, and regular bills.
In case you're curious about where movers spend their budget, here's a breakdown of the moving industry revenue:
69.6% moving costs

20.3% storage costs

7.5% packing & packaging costs

2.7% miscellaneous
Also, don't forget to factor in unexpected expenses — such as home repairs or medical emergencies. Here's a helpful retirement budgeting framework that'll keep your finances in check.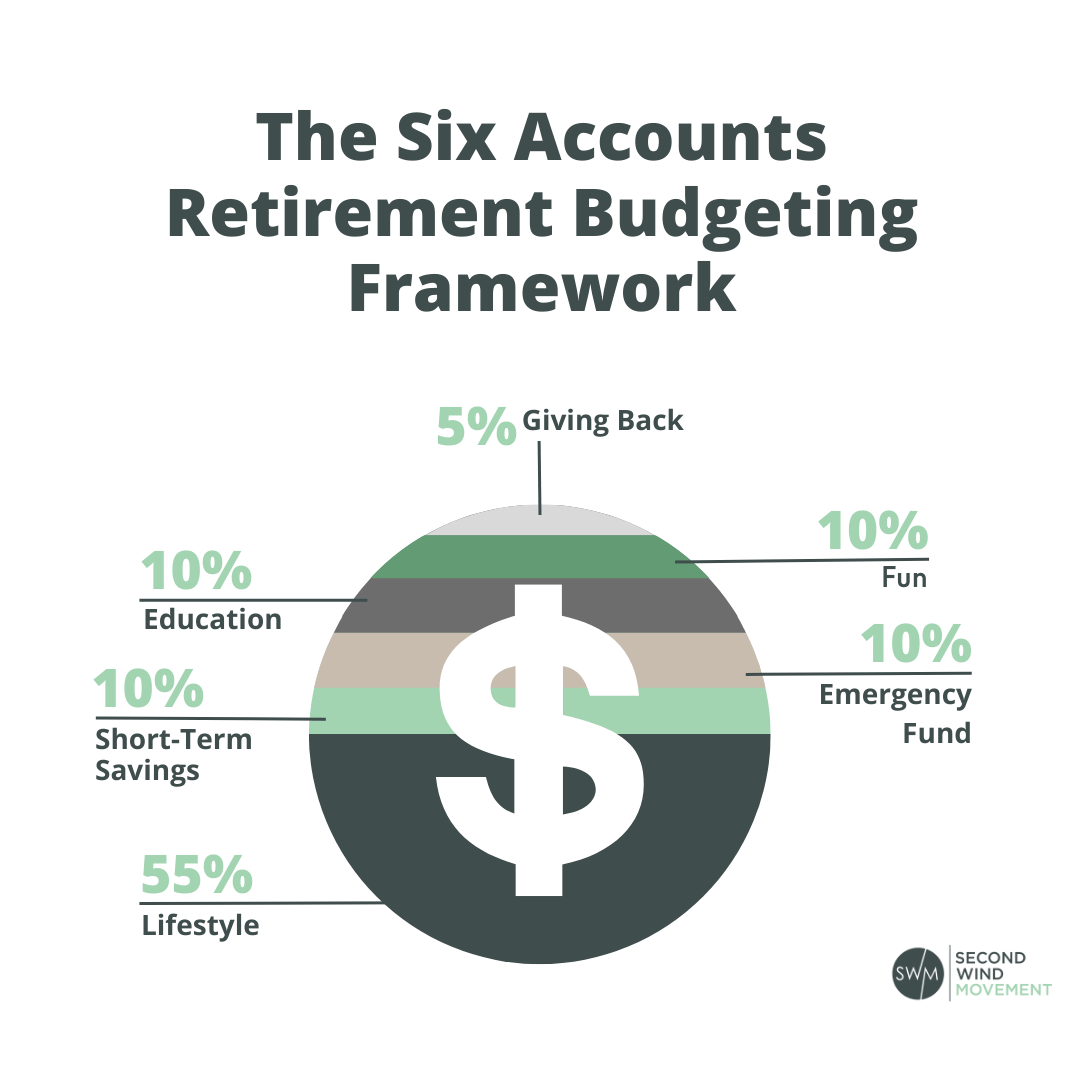 #4 Decide on Housing
Whether you choose to downsize or move to a bustling retirement community, there are endless options to consider. 
It's important to choose a home that fits your needs and lifestyle. Determine what you want from your living situation, such as access to amenities like shopping centers or public transportation.
The more research you do (both internally and externally), the more confident you'll be in finding your perfect retirement home. 
And if possible, rent before committing to a long-term lease or purchase. This will give you the opportunity to test it out and see if the area feels right for you. Then, if the location and community feel right, you can finetune the location of your physical home within the new area.
#5 Declutter
And now comes the often most dreaded part of the process: decluttering. You don't want to drag all your belongings to your new home, so take the time to go through each room and decide what to keep and what to toss.
 This will not only help you save money on moving costs but also allow you to downsize and simplify your new living space. Plus, if you're able to sell some of your items, you can even make a bit of extra cash in the process.
Beyond financial benefits, though, paring down your possessions is a golden opportunity to match your outer world with your new identity in retirement. It's a big chance to let go of the attachments and pieces of you that no longer serve you in your new life phase.   
What's more, decluttering can help increase your focus and concentration and also save you time scouring for lost items.
#6 Time to Move
Congrats, you've made it to the finish line of retirement relocation! Now that you've done all your research and planning, it's time to actually move.
You may want to take the DIY route and pack up all your belongings yourself. Or, you could enlist a professional moving company to handle it for you. 
Either way, make sure that you plan ahead and give yourself enough time to move safely and securely.
And in case you're curious about which months of the year are best for moving, 60% of people move during the summer months between May and August. 
#7 Settle into Your New Home
You made it. Now it's time to settle in and enjoy your new home and explore all your new city offers. 
Remember to take your time and allow yourself to unpack in pieces and be intentional about how you want to set up your new home. According to most psychologists, it takes around 21 days to settle into a new home. 
This goes for outside your home, too — take the time to get acquainted with local attractions, meet some of your neighbors, and of course, try out some amazing restaurants.
Like with anything, when you take your time to be totally present and enjoy the process, the more grounded you'll be. Moving in retirement is an exciting opportunity to discover new places, make lifelong memories, and start anew in a way that's totally aligned with your authenticity.
A Fresh Start
While the prospect of moving to a new location can be overwhelming, if you're ready and up for the challenge, it can be an opportunity to start a new chapter full of adventure, personal growth, and new connections.
From the financial aspects of retirement relocation:
#1 Cost of living

— compare the cost of living to ensure it makes sense financially
#2 Taxes and benefits

— your retirement relocation can impact your tax situation
#3 Relocation costs

— moving can be expensive, so do the research in advance
#4 Long-term expenses

— don't forget about the long-term expenses of your new location
To the emotional ones:
#1 Leaving behind a place called home

— moving is extremely stressful and can take a toll on your mental health
#2 Adjusting to new surroundings

— take time to adapt and create new routines
#3 Saying goodbye to friends and community

— stay in touch with loved ones and create new meaningful relationships
#4 Cultivating a sense of belonging

— go inward to connect with your authenticity, and then match your external world to that innate energy
Once you have clarity on your ideal retirement identity and lifestyle, here's a recap of seven steps for retirement relocation:
#1 Research potential destinations

— make sure they align with your authentic self

#2 Visit & explore new areas

— give your top locations a test run
#3 Make a budget

— budget for the move

and

your new cost of living
#4 Decide on housing

— find your perfect retirement home
#5 Declutter

— simplify your life by getting rid of unnecessary things
#6 Time to move

— decide when and how you'll move
#7 Settle into your new home

— take the time to adjust and settle in
We are here to offer you the guidance and inspiration you need to make this new chapter a success, starting with your inward exploration and growth. 
With our detailed retirement relocation checklist and expert tips, you can make your retirement relocation an experience to remember.
Happy moving!