Retirement marks a special milestone in life. 
And throwing an unforgettable retirement party helps bring closure to an important career. 
It also sets a celebratory tone for a big life transition.
Whether you're planning a big bash or an intimate gathering, we put together a list of creative and inspiring retirement party ideas that cater to interests and preferences across the board.
Let's dive in!
Why Have a Retirement Party?
Retirement is not the end, it's a new beginning, and you deserve to celebrate all you've achieved in your career. It's a realization of all the hard work, dedication, and perseverance that has led you to this point.
And what better way to commemorate this achievement than with a retirement party?
According to science, a retirement party is like a rite of passage, a ritual of change, and transition into a new lifestyle. The study found that it's crucial for both the retiree and their loved ones to recognize and celebrate this fantastic milestone together.
So embrace this new chapter with open arms, and let the retirement party be a reminder of all the amazing things you've achieved and an inspiration for what's yet to come.
And here are 11 fun retirement party ideas to make it just right…
11 Best Retirement Party Ideas
With the right combination of fun activities, food, and drinks, you can create a memorable event that your loved one (or yourself) will never forget.
Whether it's an outdoor gathering or an indoor bash, here are a couple of ideas to include in your retirement party:
#1 Themed Extravaganza
You only retire gracefully once, right? So to make it a celebration to remember for years to come, pick a theme.
Take some time to reflect on the retiree's favorite hobbies, dream job, or vacation spots. Do they love the beach and all things nautical? Set up a beach-themed bash complete with seashell decor and fruity umbrella drinks. Or, if they've always dreamed of being a cowboy, go western with cowboy hats and boots and chili on the menu.
Whatever the theme, make sure the venue comes to life with decorations and mood lighting to bring their dream to life. Encourage guests to dress for the occasion and turn it into a themed extravaganza they'll never forget.
#2 Walk Down Memory Lane
As the retiree embarks on a new chapter in their life, it's only fitting to celebrate the amazing career they've had so far. Creating a memory wall or slideshow is a wonderful way to showcase their career highlights, accomplishments, and cherished moments with colleagues and friends.
But let's take it a step further. Encourage everyone to contribute photos, stories, or messages to make it a truly heartfelt tribute. 
Not to mention that nostalgia reduces loneliness and improves overall well-being. So there's another reason why this retirement party idea is sure to be a hit.
All in all, allow this to be a time for reflection, gratitude, and celebration of not just the retiree's achievements but the impact they've had on the lives of those around them.
#3 Potluck Dinner
One of the best retirement party ideas to get everyone involved in the celebration is hosting a potluck dinner. Invite guests to bring dishes or drinks that remind them of their favorite memories with the retiree.
Whether it's their wife's famous lasagna recipe or an old colleague's secret margarita mix, having these comforting dishes to share and enjoy will make the retirement party even more personal and special.
And if you're in need of some recipe ideas, you can check out some top office potluck recipes for inspiration, which include dishes like:
Party appetizer meatballs

Brocoli salad supreme

Loaded backed potato dip

BBQ chicken sliders

Potluck German apple cake
Not only will this give everyone the opportunity to contribute, but it will also make for a uniquely delicious dinner they won't soon forget.
#4 Charitable Affair
There's something so fulfilling about giving back. It's a feeling that can't be matched, and it's what drives many of us to get involved in charity.
For the retiree's big day, why not find a way to give back with a charitable affair? 
Whether donating to a cause the retiree is passionate about or finding an opportunity for everyone to volunteer their time and skills, there are many ways to make this a meaningful event.
Given that over 60% of older adults volunteer in some shape or form, this retirement party idea is a great way to extend that legacy in retirement and make the retirement party even more meaningful.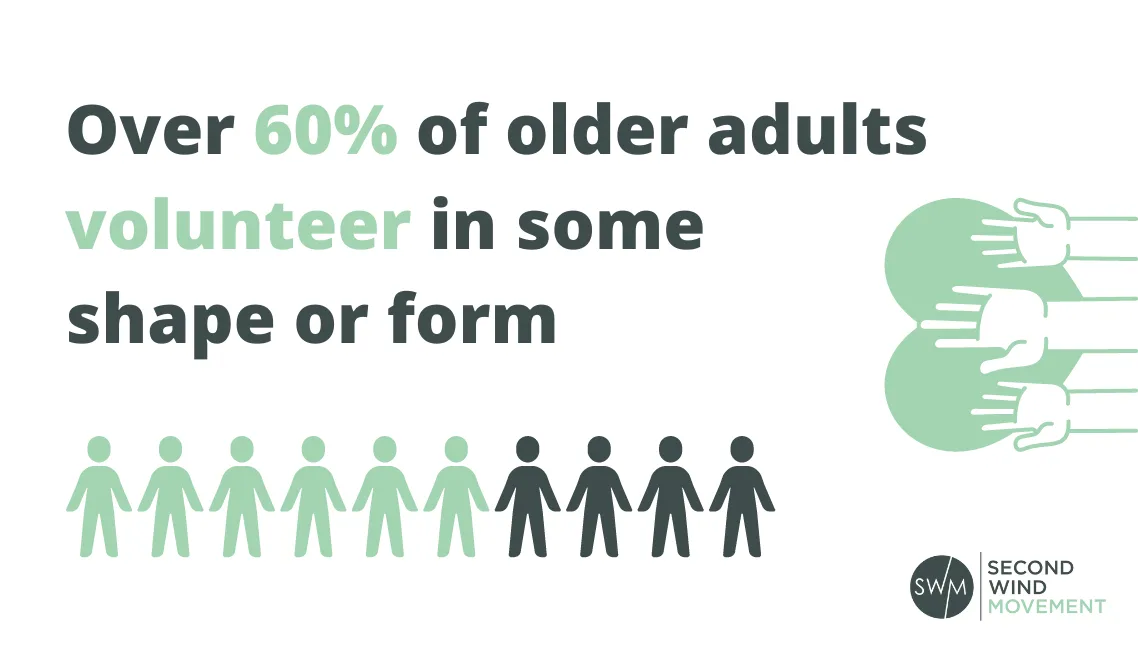 #5 Retirement Roast
What better way to send off a retired colleague or friend than with a roast? We're not suggesting a roast chicken (although that sounds tasty), but rather a good-natured event where everyone shares funny stories and lighthearted quips.
It's the perfect opportunity to reflect on all the good times and memorable moments and laugh about the bumps in the road. So, grab some microphones and have everyone take turns sharing their favorite retiree-related jokes.
Laughter can work like social glue — but, of course, only when it's lighthearted, respectful, and in good taste. So, make sure that it's all done with love (and permission).
#6 Creative Workshops
Imagine your guests bonding over a shared love of painting, cooking, or dancing. With a little planning, you can tailor the workshops to align with the retiree's interests and create an unbeatable experience where all guests experience something new together.
Plus, trying something new together will spark creativity and inspiration in all who attend. 
Not to mention, research shows creativity is amazing for your brain health and engages multiple brain networks in divergent thinking – so benefits all around.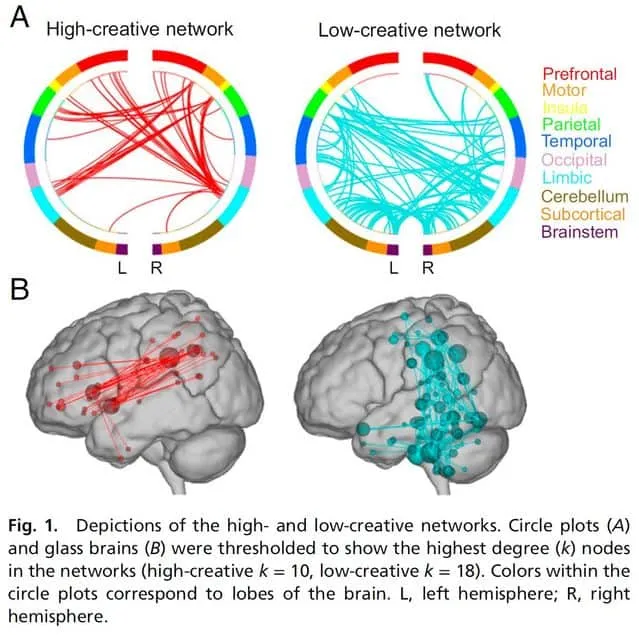 So if you don't feel like settling for a typical retirement party, try planning an interactive, hands-on celebration that will leave everyone feeling inspired.
#7 Surprise Guest Appearance
Imagine the look on the retiree's face when a surprise guest appearance is announced. It could be a long-lost friend who moved away years ago, a former colleague who they haven't seen in ages, or even a local celebrity who they admire. 
A fascinating study discovered that our brains enjoy unexpected pleasures more than anticipated ones. So bringing in a surprise guest would create a burst of happiness and create a moment they'll remember for a long time.
With this kind of treat, their retirement celebration will be one to remember.
#8 Bucket List Bash
Make their retirement party a celebration of the retiree's achievements and an opportunity to check off some items from their bucket list.
With one study showing a whopping 95% having a bucket list, this is a great chance to kickstart some action into the retiree's list. 
To get started, ask the retiree for a few things they've always wanted to do or experience. Then use that as inspiration for your event. 
Whether it's taking a hot air balloon ride, attending a master cooking class, or just enjoying a relaxing spa day, make sure the retiree is feeling uniquely pampered and appreciated.
You can even ask guests to bring relevant gifts or experiences to help kickstart the retiree's post-work adventures.
#9 Retiree Speech
As you gather to bid farewell to a beloved colleague, there is one tradition you must honor — the retirement speech.
This is the moment when the retiree takes center stage and shares their journey with the guests, reflecting on all the highs and lows they've experienced throughout their career.
It's a time for them to share their favorite memories, insider stories, and triumphs that have defined their career. But this isn't just a trip down memory lane.
It's also the perfect opportunity to inspire everyone by sharing their retirement plans and hopes for the future. So, give them the opportunity to prepare for the spotlight they deserve and share their words of wisdom. After all, they've earned it.
#10 Suprise Video Montage
The final surprise of the night could be a video montage. This is an excellent way to honor the retiree and showcase their career highlights in a personalized, sentimental way.
Before party day, invite other colleagues, family members, and friends to record messages about the guest of honor and send them your way – so you can compile them into one memorable video.
Online video editing platforms like Animoto or FlexClip make it fairly easy to piece together everyone's video contributions into a tribute video. 
And sites like Tribute allow guests to submit their video messages directly to the platform itself, which makes creating the group video even easier.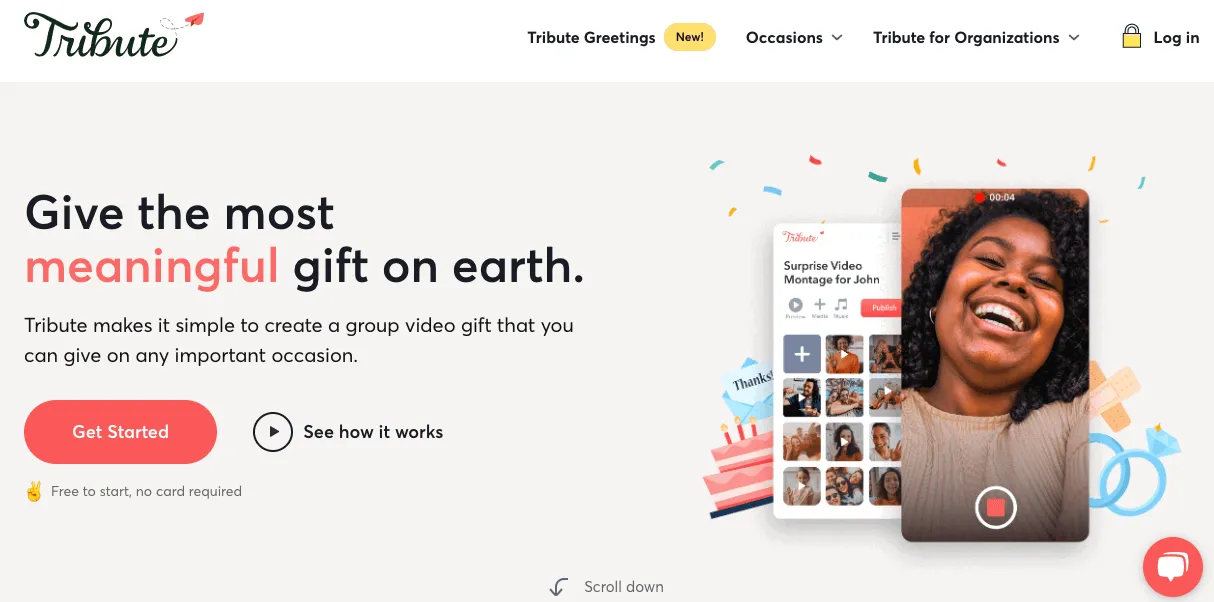 Video editing tech aside, with each shared message, the retiree will feel loved, honored, and appreciated. While it may take a bit of legwork ahead of time, it's a beautiful way to inspire some laughs, tears, and memories.
So, rally the troops, get those messages pouring, and create a heartfelt (or funny) compilation to complete the retirement party.
#11 Time Capsule
No matter how the retiree spends their newfound free time, every retirement party should end with some nostalgia.
To commemorate this special occasion, put together a time capsule that captures all the wonderful memories of the day. 
Let guests know ahead of time they can bring to the party and contribute items like photos or letters from different members of the organization for the retiree to look back on.
Once the time capsule is filled, seal it away in a safe place so they can open it up on another special occasion to reminisce about their retirement party.
Retire with a Bang
As you bid farewell to the career chapter of your life, make sure to end it on a high note with an unforgettable retirement party.
These retirement party ideas are a great start in planning a special event that your friends and family will enjoy — most importantly, one that celebrates the retiree's accomplishments over the years, marks this milestone in their life, and sets them up for success in the future.
As you plan the perfect retirement party, let these ideas inspire you:
#1 Themed extravaganza

— pick a theme that reflects the retiree's passion or hobby

#2 Walk down memory lane

— create a photo wall or slideshow showcasing their amazing career journey

#3 Potluck dinner

— share delicious homemade dishes with colleagues and loved ones

#4 Charitable affair

— make it a charitable affair for a cause close to the retiree's heart

#5 Retirement roast

— share hilarious stories and poke some light-hearted fun

#6 Creative workshops

— unleash creativity with engaging activities for all 

#7 Surprise guest appearance

— invite colleagues and friends from the past for a heartwarming reunion

#8 Bucket list bash

— turn their retirement party into a thrilling journey

#9 Retiree speech

— reflect on career milestones and share exciting retirement plans

#10 Surprise video montage

— gather heartfelt messages from colleagues, family, and friends

#11 Time capsule

— collect messages, mementos, and wishes from loved ones for the retiree to cherish
No matter which of these retirement party ideas you choose, make sure the retiree's special day is memorable.