Saying goodbye to the workforce can be bittersweet. And one question many retirees face is whether they should keep working or retire and do something else. 
On the one hand, you're finally free to do what you want; on the other, your bank account may be looking a little thin, so you find yourself wondering how to find a job in retirement. 
Don't worry, though – we've got some great retirement hobbies that can make you money. 
There are plenty of ways to bring in a bit of extra cash while doing something you're really passionate about.
If you're looking for ways to supplement your income, consider turning these nine retirement hobbies that can make you money.
#1 Writing
If you have a knack for writing and enjoy doing it as a hobby, did you know that you can actually make money from your passion? 
It may not be easy to break into the industry or become a best-selling author, but there are several ways you can monetize your writing skills. As someone who makes a living primarily from writing, I can guarantee that it's possible.
Here are just a couple of ideas:
Guest post for websites, publications, or magazines

Self-publish your work

Do freelance writing for businesses 

Ghostwrite stories

Start a blog and make money through affiliate marketing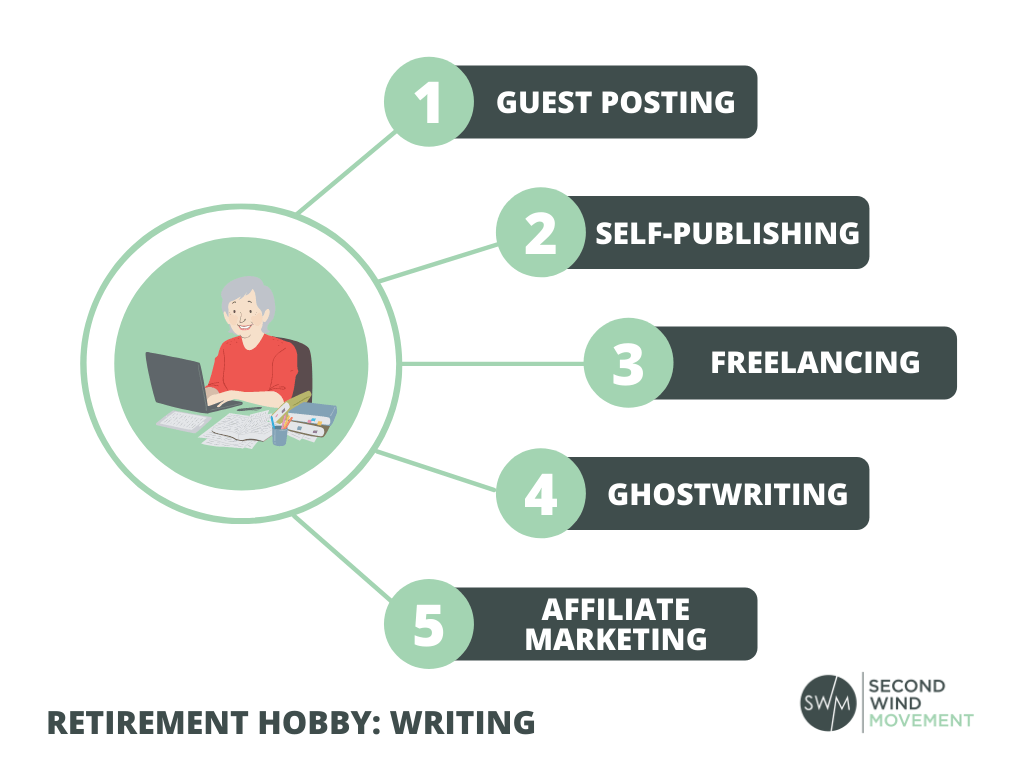 And here are a couple of job boards to help you find gigs:
Keep writing and turn your passion into an extra income.
And if you really want to publish your writing in more traditional ways, we say go for it. Using the magic of consistent micro-steps to build up your resilience and stamina, you can absolutely publish your important message with a publishing company. 
Just as successful Rewire My Retirement student Chris Palmer did, who has already published two books during his retirement.   
#2 Cooking 
Cooking can be a fun and rewarding hobby, but it's also one of the retirement hobbies that can make you money. Here are a few tips on how to cash in on your cooking skills.
Perhaps one of the best ways to make money from your cooking skills is to start a home-based catering business. This can be as simple as cooking for friends and family on special occasions or expanding into more significant events. 
You can also sell cooked food through online delivery services, local markets, or apps like BonAppetour, DishDivvy, or Homefoodi. In addition, many restaurants are always looking for talented chefs who can prepare speciality items on demand – so don't be afraid to reach out and see if they need any help.
With the rise of food delivery services and home meal kits, there are plenty of opportunities for cooks of all experience levels.
#3 Gardening
Gardening simply makes you happier, according to a Princeton study. Watching things grow and blossom under your care is a rewarding experience, and many gardeners enjoy sharing their produce with others. 
You can sell your plants or produce at farmer's markets or online, start a garden-based business, or even teach others about gardening through workshops or classes. 
An amazing platform to get started is Food4All — you can offer your products and get in touch with potential customers without the hassle of setting up your own website.
Or, if you're like Rewire My Retirement all-star, Brad Auten, you can turn your passion into a non-profit business. 
By the time Brad completed our signature 3-month program, he had put together a tight team and comprehensive business plan for designing and delivering portable hydroponic and soil systems to the food desert communities in Arizona. 
With a bit of effort and creativity, you can turn your love of plants into a revenue-earning venture.
#4 Photography
Do you love photography? Are you constantly snapping pictures of your friends and family? Or maybe you love taking scenic shots when you're on vacation. 
If photography is your hobby, there are many ways to make money from it.
Here are a few ideas:
Sell prints or photo frames on

Etsy

and

eBay

(or consider making a custom calendar)

Sell or license your work on stock photography websites like

iStock

or

ShutterStock

Join (and win) contests

Try freelance photography and slowly work your way up
If you're a shutterbug, grab your camera and get started. The world awaits your unique perspective and snapshots in time.
#5 DIY Crafts
Many people enjoy crafting as a way to relax and express themselves but don't exactly know how to make a business out of it. Crafting is another one of the top ways to earn retirement income from your hobbies — in fact, it's an industry worth $40 billion. 
If you enjoy working with your hands, there are plenty of things that can be made and sold: candles, jewelry, crocheted or knitted items, pottery, and even soap. 
And the list, of course, doesn't stop there. Just look to Adriana Wrzesniewski, who paints beautiful Ukrainian pysanka eggs and tours seasonal local art shows for extra income.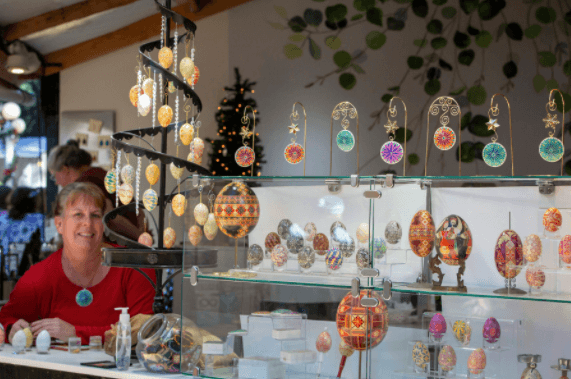 And, if you're not sure where to start, you can choose from plenty of online tutorials and classes that will walk you through the process step by step. The world is just waiting for your next idea. 
#6 Beer Brewing
You don't have to be a professional brewer to make money from your hobby of brewing beer. With the right approach, you can turn your home-brewed beer into a source of extra income.
Start by selling your excess beer to friends and family or even setting up a small business. You can also make money from brewing competitions like the National Homebrew Competition or the AIChE Brewing Competition.
But the most effective way is to sell your know-how in the form of recipes or courses since alcohol is usually heavily regulated. And we're assuming you don't want to break any laws (or rules of working after retirement).
Ultimately, the amount of extra income you make depends on the quantity of the beer you produce. While it isn't the most lucrative hobby, it's definitely creative and fun. Plus, it's typically a social activity, which will help you stay connected with others. 
#7 Flipping Furniture
Have you ever stumbled across an old piece of furniture while out and about, and thought to yourself, "I could totally refinish this and it would look amazing"? If so, then flipping furniture might be the money-making hobby for you.
While it can be a fun and profitable activity, it's not as easy as just finding a piece of furniture on the side of the road and flipping it for a quick profit. Here are a few tips to help get you started:
Find a good source of furniture. You can check garage sales, flea markets, or even local thrift stores. 

Decide what piece you want to work on. It can be something small, like a table or chair, or something larger, like a couch or dresser. 

Once you choose your project, let your creative juices flow
By following these simple steps, you can turn your furniture flipping hobby into a profitable business venture.
#8 Woodworking
Money doesn't grow on trees, but if you're a skilled woodworker, it could be growing in your workshop. Wooden furniture, art, and other items can be sold for a reasonable price if you know where to look. 
You can start by selling your creations online on marketplaces like Etsy or Facebook, at local craft fairs and art shows, or even by teaching classes on your favorite techniques. 
And you don't have to be a skilled woodworker with years of expertise to turn this hobby into a newfound passion.
Take, for instance, Merle Hardy, a retired landscaper who picked up woodturning and, after a quick journey up the learning curve, completed 2,200 pieces shortly after diving into his new prolific hobby.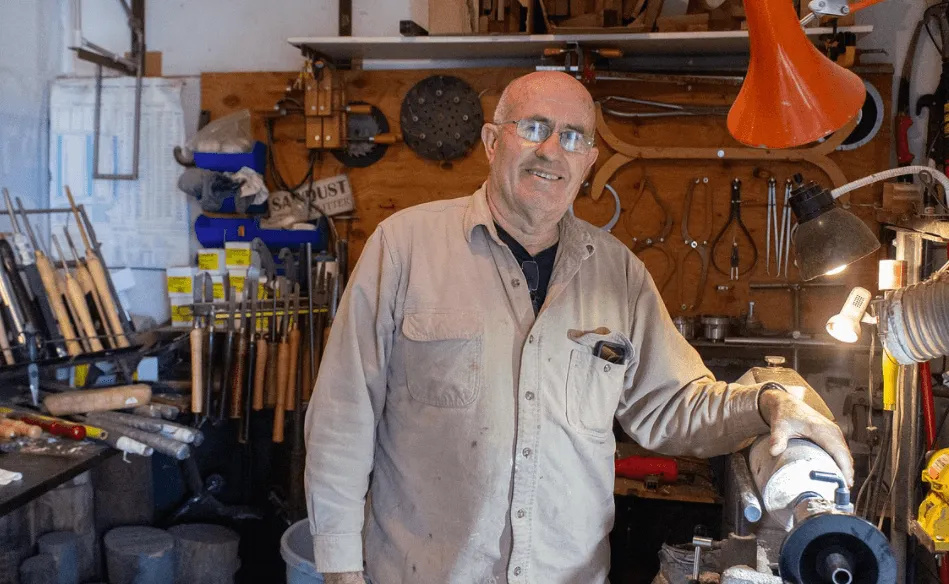 Another option is to could also look into starting your own small business, or becoming a contractor for larger firms.  
Follow the option that sparks the most joy. And of course, be sure to keep safety top of mind and always follow the proper precautions when using power tools. If you have some basic skills and tools, there are plenty of projects you can take on to bring in some additional income.
#9 Fitness
Do you love working out and staying fit? If so, did you know that you can actually make some extra money by teaching others how to do the same? 
That's right —  if fitness is your hobby, you can turn it into a part-time or even full-time job. Here are a few ideas on how to get started: 
Give private fitness classes

Start a YouTube channel with workout videos 

Be a consultant for a gym or sports store

Write an eBook about your favorite exercises or healthy recipes
And if you want some inspiration, check out Rewire My Retirement student Paulett Amburn's story. She not only has a robust list of activities that she enjoys during retirement, but she's also currently teaching her own chair yoga classes both in-person and online. 
This is a new endeavor that Paulett started after retiring from years in the school district, and she found a beautiful niche and style of yoga that helps older adults. 
Making money from your hobbies can be so enjoyable, and it's especially rewarding when your hobby is something that helps other people lead healthier lives. 
Extra Income in Retirement 
We hope you're confident that your hobby can help you make some extra income in retirement, even if it's not on our list. 
No matter what your age or interests, there is probably a way to monetize them and create some extra income during your retirement years.
To recap these are our favorite nine retirement hobbies that can make you money:
 
#1 Writing — make money by using your words and writing about the topics you love

#2 Cooking — if you have a knack for cooking, earn by sharing your recipes with others 

#3 Gardening — your produce and seeds can turn your hobby into a profitable venture

#4 Photography — capture moments and people and a few bucks while you're at it

#5 DIY crafts — craft and sell items if you love working with your hands

#6 Beer brewing — share your beers with a broader audience and reap the financial benefits

#7 Woodworking — create wonderful pieces and sell them to interested buyers

#8 Flipping furniture — one man's junk could be your treasure

#9 Fitness — help others lead healthier lives and make some money in the process
Ultimately, it's about following your passions and using them to boost your bank account.