Retirement — a word that conjures up a cocktail of emotions.
It's a time of transition, filled with both the thrill of newfound freedom and the uncertainty of stepping into uncharted territory.
And what better way to celebrate this significant milestone than with a thoughtful retirement gift?
Even though 68% of people consider gift-giving one of their love languages choosing the perfect retirement gift can be as tricky as predicting the stock market.
You want it to be meaningful, unique, and something that resonates with the retiree's interests or future plans.
And if you're searching for gifts for retirees who seem to have everything, well, the challenge just got real.
We're here to help you navigate this gift-giving conundrum. So sit back, put on your thinking cap (or party hat, if you prefer), and join us on this journey to discover the art of choosing the perfect retirement gift.
Whether you're planning on gifting it at their retirement party or in a more private setting, let's make sure retirement starts off in style.
The Art of Choosing a Retirement Gift
Choosing a retirement gift is not just about picking something off the shelf; it's an art (if you want it to be).
It's the delicate balance of understanding the retiree's personality, interests, and plans for their golden years. It's about selecting a gift that says, "I see you, I appreciate you, and I'm excited about your next chapter."
So, how do you choose that perfect retirement gift?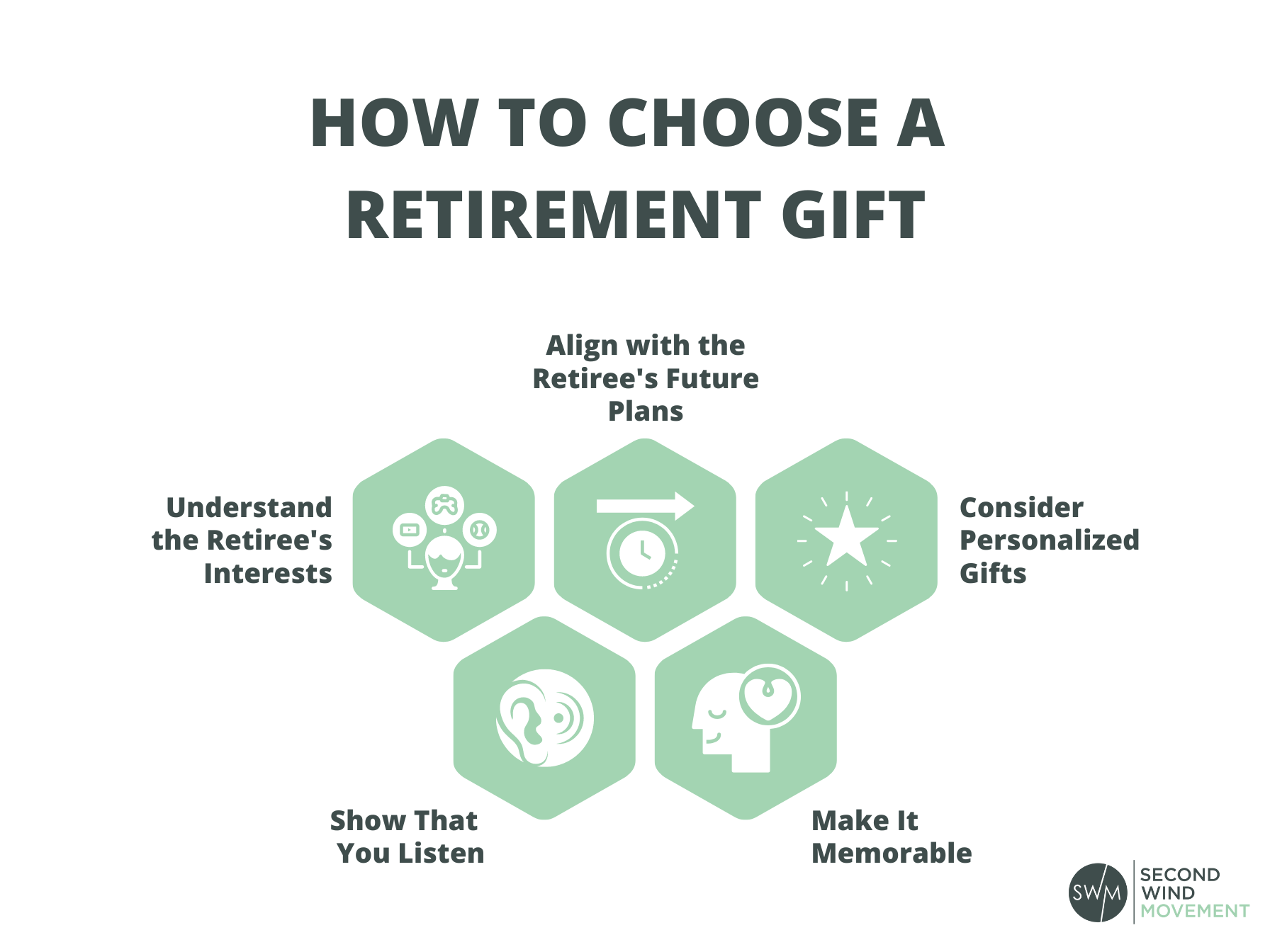 #1 Understand the Retiree's Interests
Choosing the perfect retirement gift starts with understanding the retiree. It's more than just buying a random gift; it's about finding something that aligns with their personality and interests. 
Are they an art enthusiast, an avid reader, or perhaps a wine connoisseur? A gift that reflects their hobbies not only shows your appreciation but also supports their passion.
While it's essential to tailor the gift to their personality, research reveals that we tend to focus too much on unique traits and less on their multiple wants and needs. 
So, when selecting a retirement gift, consider both the recipient's personality and their evolving needs. Which brings us to tip #2…
#2 Align with the Retiree's Future Plans
One step further in your quest for the ideal gift is to consider the retiree's future plans. 
If they're planning to travel, how about a scratch-off world map or a high-end travel guide? If they've always wanted to learn how to cook French cuisine, a cooking class or a gourmet cookbook could be a delightful surprise. You get the gist…
To help you brainstorm a bit more, here's what the top retirement dreams of retirees are:
#3 Consider Personalized Gifts
These little treasures carry a kind of sentimental value that you just can't put a price tag on.
Imagine a custom-made piece of jewelry, crafted just for them. Or a letter of congratulations on their retirement, beautifully framed and hung on the wall. Maybe a photo book filled with memories from their working years, reminding them of all the good times they shared with their colleagues. 
These gifts show that you put real thought and care into choosing something that's truly special. And they'll be cherished for years to come. So if you're struggling to find the perfect retirement gift, consider adding a personal touch.
And here's the kicker — research shows that recipients of personalized gifts are more likely to appreciate the effort that went into choosing a thoughtful present, even if it's not exactly what they wanted. It turns out, it really is the thought that counts.
#4 Show That You Listen
Reports indicate that as many as 18% of gifts are never used and 4% are immediately thrown away. To avoid that, show that you listen. Think back to conversations you've had with them and take note of the things that caught their interest.
Maybe they've mentioned a book they'd love to read, a restaurant they'd like to try, or a concert they'd love to attend. 
By showing that you've been listening to their aspirations, you'll be giving a present that truly shows how much you care.
#5 Make It Memorable
Retirement is a huge achievement, and it deserves to be celebrated with a thoughtful retirement gift that will leave a lasting impression. Sure, a material gift can be nice, but why not give something that will create unforgettable memories? 
Studies have shown that experiential gifts, like a hot air balloon ride or a wine-tasting tour, foster stronger social relationships than material gifts. Not only that, but 77% of Americans say that gifted experiences are at the top of their wishlist.
So give them the gift of unforgettable memories that they can cherish for a lifetime. 
#6 Simply Ask
Sometimes the pressure to find the "perfect" gift can be overwhelming. If all else fails, studies show it's worth just asking them what they want.
It may feel like cheating, but according to research, it's the most effective way to ensure your gift is truly appreciated. 
After all, isn't the whole point to make their retirement even more enjoyable? By giving them something they actually want, you're telling them that you care and are invested in their happiness.
Understanding What Makes a Retirement Gift Special
Retirement gifts are more than just tangible items; they're symbols of appreciation, recognition, and well-wishes for the journey ahead.
But what makes a retirement gift truly special? It's not the price tag or the brand — it's the thought, care, and personal touch that you put into it.
To illustrate this, let me share a couple of personal stories where the gifts were not necessarily extravagant, but deeply meaningful and special.
A Year of Surprises
A few years ago, a close friend moved away and I knew we weren't going to see each other for a year. So instead of a traditional gift, I decided to give them a 'gift for every month' they'd be away.
For each month, I chose a small, thoughtful gift that would resonate with the particular time of year or serve as a practical item for that season. Like a straw hat to protect her in the summer or a cozy book to keep her company in the autumn.
It wasn't about the material value of the gifts, but the connection they represented. It was a reminder that no matter how far they roamed, they had a friend waiting back home. 
The Perfect Vest for Dad
Then there was the time when my sisters and I noticed that our dad had a thing for vests. He'd wear them to work, on outings, and even at home. So, for his retirement, we decided to give him a custom-made vest.
When he unwrapped his gift, the look on his face was priceless. He loved it not just because it was a beautiful vest, but because it showed him how well we knew him and how much we cared. It was more than just a vest; it was a symbol of our love and understanding.
These stories underline the essence of what makes a retirement gift special. It's not about how much money you spend, but how much thought you put into it.
It's about understanding their interests, acknowledging their individuality, and adding a personal touch that makes them feel valued and loved. And most importantly, it's about celebrating their journey and inspiring them as they embark on a new adventure in life.
33 Best Retirement Gift Ideas
Selecting the best retirement gifts requires a delicate balance of thoughtfulness, personalization, and a dash of creativity.
But fear not, we've compiled a list of some of the most cherished retirement gifts that are sure to bring a smile to any retiree's face:
Personalized Retirement Plaque:

A plaque with a heartfelt message can be a great way to honor their years of service.

Travel Gift Cards:

If they plan to travel, gift cards for airlines, hotels, or travel booking sites will likely be appreciated

Luxury Robe:

A high-quality robe can make every day feel like a spa day.

Golf Club Membership:

If they enjoy golfing, a membership to a local golf club could be perfect.

Cooking Classes:

For those who love to cook, a cooking class in a cuisine they love could be a great gift.

Subscription to a Magazine or Newspaper:

A subscription to a publication they enjoy can keep them entertained and informed.

Kindle E-reader:

An e-reader can provide endless reading material in a compact, portable device.

Wine Subscription Box:

For wine lovers, a monthly wine subscription box can let them explore new varieties.

Gardening Tools:

If they enjoy gardening, new tools or rare seeds can make their hobby even more enjoyable.

Fitness Tracker:

To encourage health and wellness, a fitness tracker can be a thoughtful gift.

Personal Trainer Sessions:

If they're focused on staying fit, a few sessions with a personal trainer could be a great start.

Art Supplies:

For the creative retiree, quality art supplies can help them pursue their artistic passions.

Online Course Subscription:

Platforms like MasterClass offer courses taught by experts in various fields.

Audiobook Subscription:

An Audible subscription can provide entertainment for those who prefer listening to books

Ancestry DNA Kit:

If they're interested in genealogy, an Ancestry DNA kit can provide fascinating insights into their heritage.

Personalized Photo Album:

Fill it with pictures of memorable work moments or personal memories.

High-Quality Binoculars:

Ideal for retirees who love bird-watching or stargazing.

Luxury Tea or Coffee Set:

For the retiree who loves a good brew.

Yoga Class Membership:

Encourage them to stay flexible and stress-free.

Beer Brewing Kit:

For those who might enjoy a new hobby.

A High-End Grill:

Perfect for the retiree who loves to BBQ.

Puzzle Books:

Keeps the mind sharp and provides entertainment.

Portable Hammock:

Encourage relaxation anywhere they go.

Cookbook from a Favorite Chef:

For foodies who want to try new recipes.

Subscription to a Meal Delivery Service:

Convenient and allows them to try new dishes.

Museum or Gallery Membership:

A great gift for art and history enthusiasts.

Scrapbooking Supplies:

They can creatively document their retirement adventures.

High-Quality Bedding:

For ensuring restful sleep and luxurious relaxation.

Custom Engraved Jewelry

: A beautiful keepsake to mark their retirement.

Personalized Jigsaw Puzzle:

Featuring a picture of their family, pet, or a favorite vacation spot.

Donation to a Charity They Support:

A meaningful gift that supports a cause they care about.

Guided Meditation Subscription:

To help them relax and reduce stress.

Personalized Retirement Bottle Opener:

Every time the retiree pops open a beverage, they'll be reminded of this special milestone and your thoughtful gesture.
Making Retirement Gifts Count
Choosing the perfect retirement gift is about understanding the retiree's interests, aligning with their future plans, and adding a personal touch. 
It's about showing that you listen, care, and appreciate the contributions they've made over the years. But above all, it's about celebrating this exciting new chapter in their life.
Remember, the best retirement gifts are those that come from the heart. They resonate with the retiree's dreams and passions, inspire them as they embark on their new journey, and create lasting memories. 
Whether it's a personalized gift, an unforgettable experience, or a simple token of appreciation, make sure it's a gift that says, "Congratulations on your retirement, and here's to your next adventure!"
Retirement Gift FAQ
Do you bring a gift to a retirement party?
Bringing a gift to a retirement party is like bringing a bottle to a dinner party. It's a nice gesture to celebrate their hard graft over the years. While you don't have to splurge, consider at least bringing a little token of appreciation.
How much money should you give for a retirement gift?
It's not about the price tag. The best gifts are the ones that come from the heart. Whether you spend $5 or $500, it's the thought, care, and love behind the gift that really counts. So don't stress about the amount, focus on finding something that says "I appreciate you" in your own special way.