At the risk of sounding like a broken record, when you Google "retirement", over 95% of the articles are related to finances.
And when you Google "best retirement apps", the results are no different.
But your amazing retired life is so much more than just finances.
Which is why we wanted to write a list of the 15 best retirement apps beyond finances. Think of it as a list with the best apps any retiree needs. 
These days, there are a ton of great apps to help you stay organized, connected, and entertained. 
While we definitely don't advocate spending too much time on screens because they're highly addictive and detrimental to your health, we still want to help you make the most of every tool out there.
So without further ado, here are the 15 best retirement apps we think every retiree should have on their phone or tablet — categorized into our 5 Rings of Retirement framework.
Growth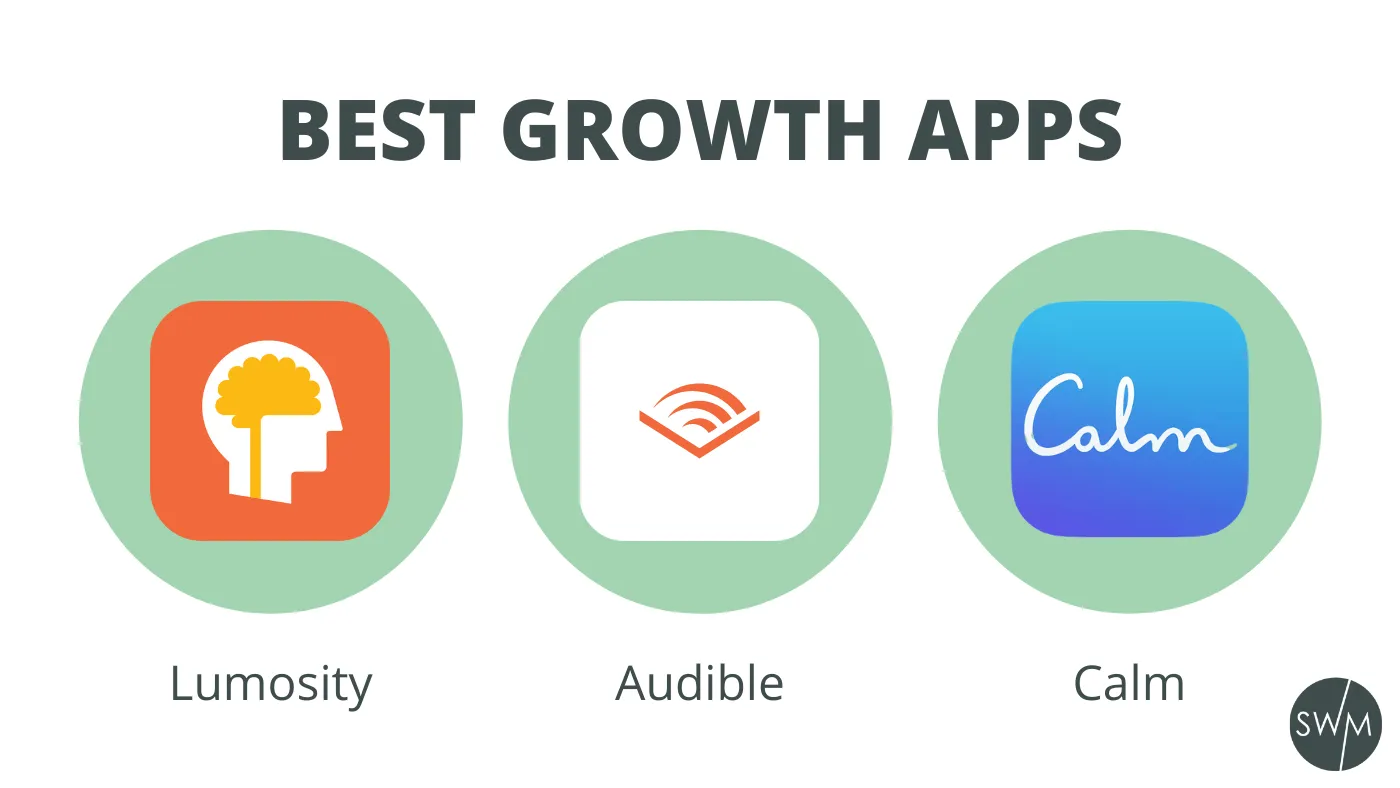 #1 Lumosity
We've already mentioned Lumosity when we talked about the best brain games for older adults, but this is truly one of the best retirement apps for brain training.
It takes the idea of personalized training to a whole new level by asking you what skills you want to improve. These personal customizations ensure that you're focusing mainly on the things you find challenging. Whether it's memory, attention span or processing speed – they've got your back. 
#2 Audible
Do you like to read? Or listen to books? We hope so because the benefits of reading are undeniable.
If so, I have the perfect thing for you – Audible. It's an app that you can download on your phone or computer, and it lets you listen to books whenever and wherever you want. It's really easy to use, and tons of great books are available. 
I love reading, but sometimes it's just inconvenient. And Audible lets me do other things, like cooking or walking the dog, while still enjoying a good read. Or listen in this case. 
#3 Calm
If you're like me, you could probably use a little more calm in your life. And I'm not just talking about when things get hectic – it's about mindfulness.
It's essential to have a sense of stillness and intention even on the days when everything is going smoothly. 
That's why we recommend downloading the Calm app. Not only will it help you relax and de-stress, but it also helps you focus and be more productive on the things that matter the most to you.
So why not download the app and start reaping the benefits of being mindful?
Community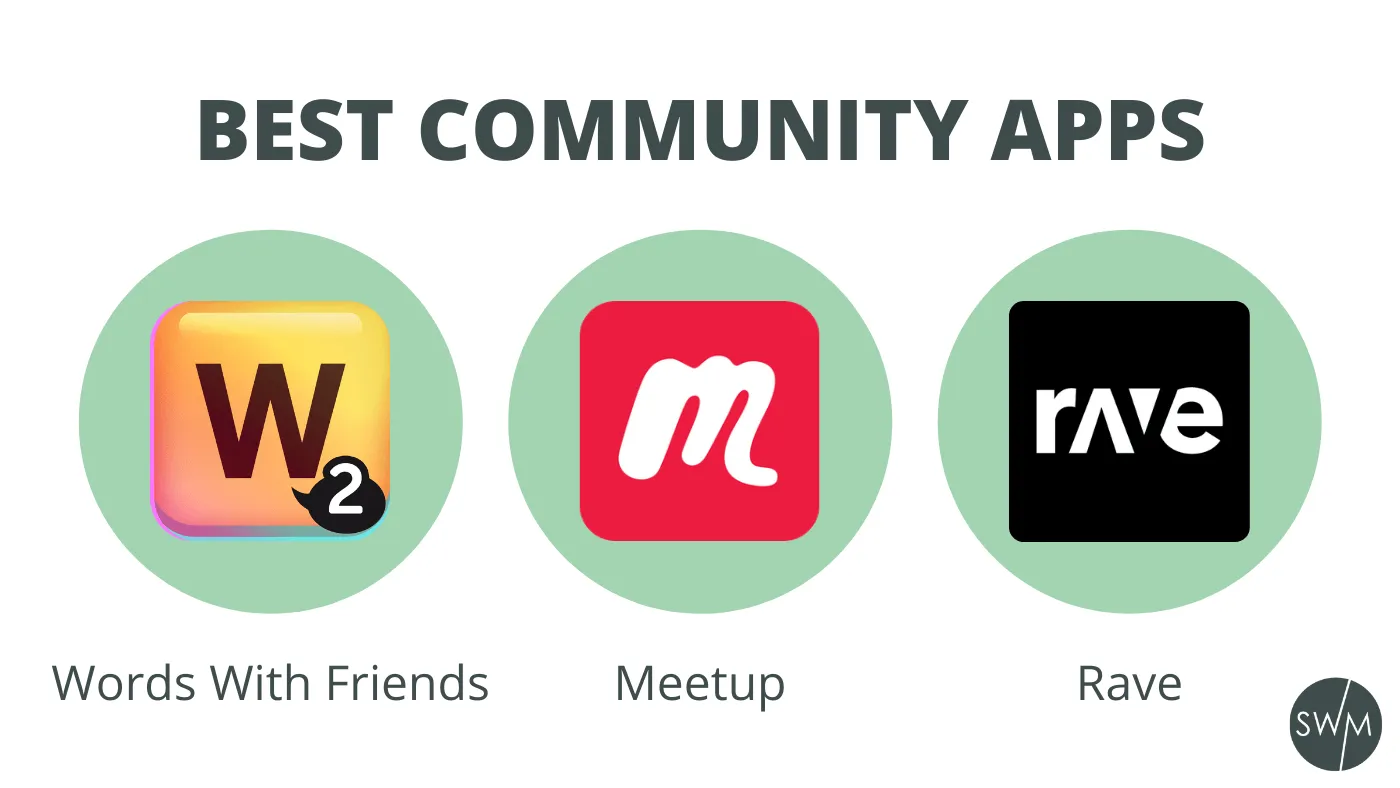 #4 Words With Friends
Words with Friends is a crossword-puzzle style game that can be played with friends or strangers online. You can even set up rounds with opponents so you can play multiple games at once. 
Whether you're waiting in line or just relaxing on the couch, Words With Friends is a great way to spend your extra time if you're one for wordsmithing and boosting your vocab.
It's also a fun way to keep your brain sharp and make new friends at the same time. Online board game nights are a creative way to stay connected during social distancing, don't you think?
#5 Meetup
Meetup is the one of the best retirement apps if you want to get out and socialize with like-minded people. With Meetup, you can find local groups of people who share your interests and meet up with them in person. 
Whether you want to explore your city, learn a new skill, fit in some exercise, or just make some new local friends, Meetup has something for everyone, and it'll definitely help you expand your social circle.
And if you don't find what you're looking for on your first outing, that's OK. It's worth trying a variety of Meetup groups and activities to see what excites you the most.
#6 Rave
If you're like me, you love spending time with friends and family. And what's better than watching a movie together? But with the COVID pandemic, that might not be convenient or even possible.
Now there's an app for that — Rave – Watch With Friends. It's the perfect app for groups of friends who want to watch movies and shows together virtually. You can see what your friends are watching, chat with them while you watch, and even control the playback.
Download the app today and start enjoying some good old-fashioned entertainment with your loved ones — even if they're miles away.
Health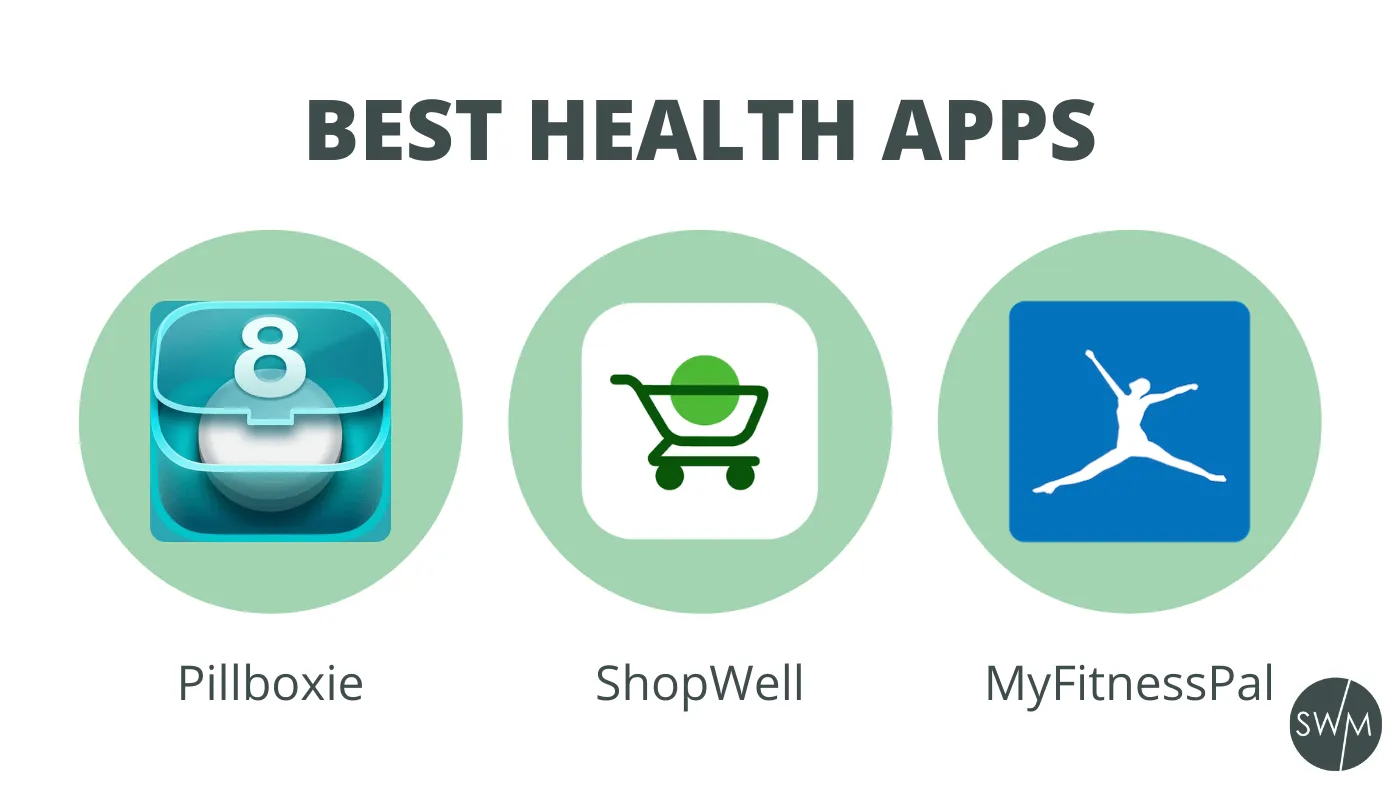 #7 Pillboxie 
If you're like most seniors, you probably take quite a few medications each day. Keeping track of when to take them and how much can be a real hassle – but with Pillboxie, it's easy. 
This app lets you keep track of your medications right on your phone, so you always know what to take and when. It's quick and easy to use, and it could really help make your healthcare adherence easier to follow. 
#8 ShopWell
Do you find it hard to keep track of what you're eating and make sure you're getting the right nutrients? Well, there's an app for that. 
ShopWell is a nutrition app that helps you keep track of your diet and gives you personalized recommendations for healthier eating. For instance, if you're a big fan of ketchup, it'll recommend a version with less salt and sugar. 
You may be surprised at how much difference a little bit of organization can make when it comes to making healthier eating choices.
#9 MyFitnessPal
For those of you looking to get fit and stay healthy in your golden years, it's worth checking out MyFitnessPal. 
Between daily responsibilities, family obligations, and social events, it can be tough to find the time to fit in a workout. And tracking your food intake and logging your workouts can be a pain. 
That's why we recommend using the app — it's super easy to use and keeps track of your activity and eating habits, so you can see where you need to make changes. 
Plus, it's a great way to connect with other members of the fitness community and get support on your journey to better health. 
Giving Back
#10 CoinUp
CoinUp is an easy way to donate your spare change to a charity you want to support.
Simply link your credit or debit card, make a purchase, and CoinUp will automatically round up the price to the nearest dollar amount and donate it to your charity. 
Not only can you set a monthly limit so you stay within your budget, but also — all of your donations are entirely tax-deductible. You can make change happen with your spare change.
#11 Walk for a Dog
For dog owners and dog lovers, the Walk for a Dog app by WoofTrax is the perfect way to get your heart rate up while doing something good. You just have to track your walk through the app every time you head out to walk your own dog.
The more you walk, the more you donate. Your donation level coincides with the amount you walk and goes to an animal shelter or organization of your choosing.
If you don't have a dog, browse through our list of the best dogs for seniors and discover the amazing benefits of owning one (apart from being able to donate your walks to other doggies).  
Get out there with your furry friend and make some magic happen.
#12 GiveGab
GiveGab is a volunteering social media network. Think LinkedIn for volunteers.
It's the perfect way to find volunteering opportunities near you. The app connects users with more than 400,000 nonprofits based on their interests and profile. And you can log your hours and connect with other good-doers. 
As always, be sure to find clarity first and make sure you have a solid vision of what type of volunteer gig you want before signing up or joining any opportunities. This way, you'll match up with the organizations and roles that excite and energize you the most.
Finance
#13 Wallet
If you're looking for ways to better manage your retirement budget, we've got the best app for you — Wallet. The simple name is a reflection of how uncomplicated and easy-to-use it is.
It ​​can help make budgeting a breeze by allowing you to track your spending and set budgets for each category. You may be surprised at how much easier budgeting can be with a bit of help from technology.
#14 Sciddy App 
The Sciddy App helps you hunt down the best senior discounts and coupons out there. And we're not talking about the deals from major brands – it helps you find discounts in your local stores.
The app offers exclusive deals on food, travel, shopping, and more. So if you're looking for a way to stretch your dollars further in retirement, download this app.
#15 AARP
As you probably know, being an AARP member comes with a myriad of benefits for older adults.
The AARP mobile app is the best way to stay up-to-date with all of your favorite news, including special offers and discounts. And the features don't stop there. You'll also be able to access daily news and check out local events geared towards older adults.
Retirement Planning Made Easy
As you can see, there is a wide variety of applications that can help make your retirement more effortless and more enjoyable. With these 15 retirement apps, planning your daily retirement routine around a fun, engaging, and healthy lifestyle is a breeze. 
Of course, this is just a small sampling – there are many other great apps out there that can help you live your best retired life. Be sure to do your research and find the ones that work best for you. 
P.S. Here is a list of the best cellphones for older adults if you're looking for a new phone to support these retirement apps.