Traveling is often considered a top retirement dream for many older adults.
With 62% of retirees worldwide wishing to explore the world beyond their hometowns, it's no surprise that travel demand among seniors continues to climb.
Whether you're a first-time traveler or an experienced jet-setter, here are seven senior travel tips to help get you started.
But before we begin discussing senior travel tips, let's quickly go over the benefits of being retired and traveling.
Benefits of Being Retired & Traveling
Retirement is a time of newfound freedom, and for many, it's the perfect opportunity to embark on exciting adventures and explore the world.
Here are some compelling benefits of being retired and traveling:
#1 Improved mental health
Retirement is a time for living life to the fullest, and what better way to do that than by traveling and improving your mental health?
Studies have shown that retirees who hit the road experience greater satisfaction in their overall mood and outlook than those who stay put. And who wouldn't be thrilled with a sense of accomplishment while exploring new places? 
It's no wonder that 82% of American retirees who travel report being satisfied with their "ability to get things done," compared to only 52% of those who do.
With every adventure, you keep your mind sharp and happy while also learning a thing or two.
#2 Enhanced physical well-being
Traveling also promotes physical activity. Well, at least for most. Unless you're planning on lounging at the beach, you'll likely be walking around to take in everything your destination has to offer.
And studies show that traveling does have a beneficial effect on physical health and wellness. But those benefits gradually wear off when you return home.
The conclusion? Travel as much as possible to keep your body and mind in peak condition.
#3 Strengthened relationships
If you're planning on traveling with family or friends, you'll be able to strengthen the ties of your relationships.
Whether it's with a spouse, children, grandchildren, or other loved ones, exploring new places and creating special memories is an amazing way to bond.
In fact, according to research, couples who travel together rate their relationship better than those who do not across all factors: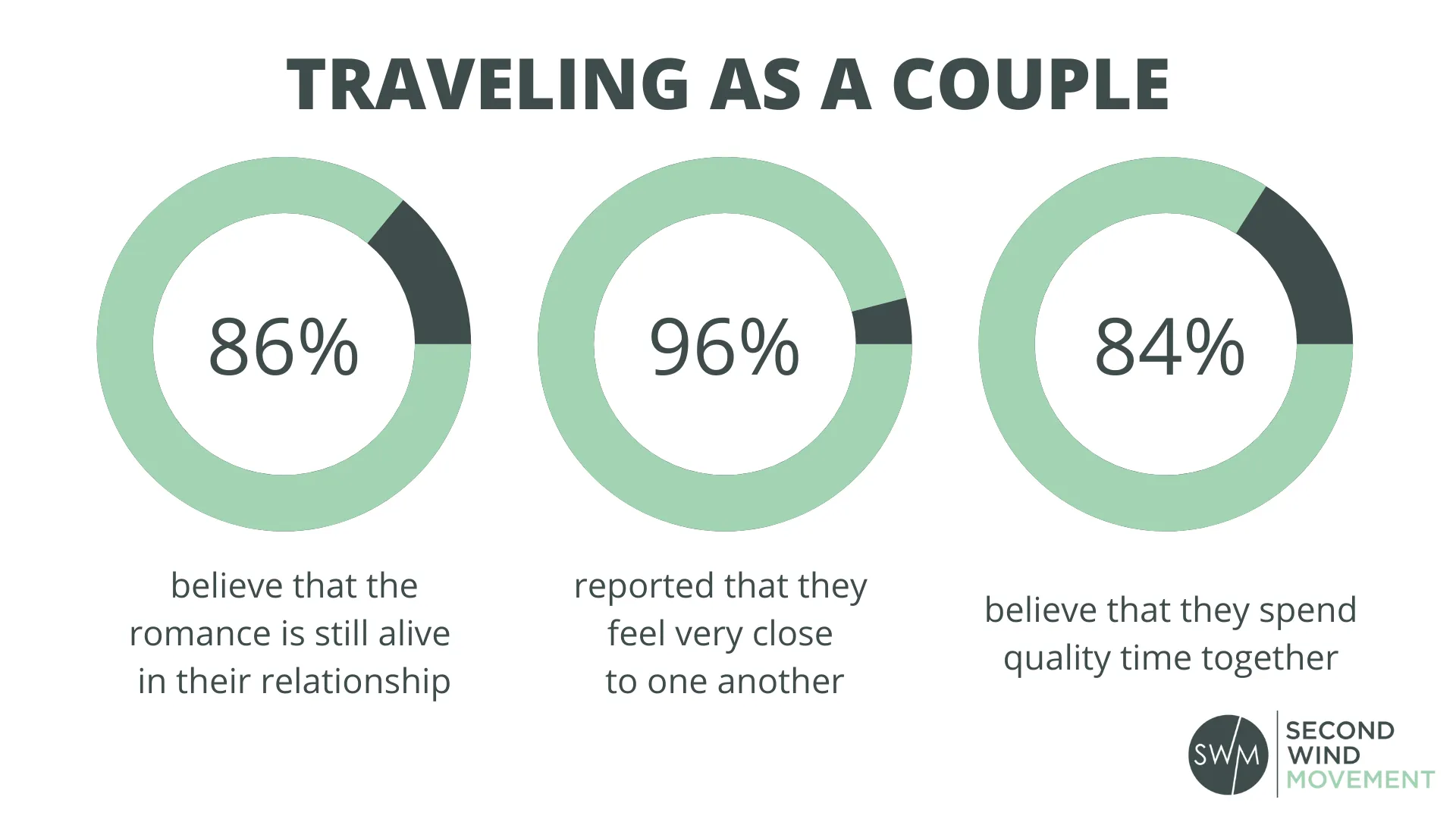 #4 Broadened Horizons 
Traveling is more than just visiting new places; it's about diving into new cultures, ideas, and experiences. Stepping outside of your comfort zone can feel scary, but the rewards of seeing the world are immeasurable.
You may surprise yourself with what you're capable of and discover new passions in the process. Traveling is its own unique form of education, giving you a greater understanding of our world, the people in it, and yourself.
Not to mention, travel also inspires self-confidence and aspirations and encourages you to open your mind and heart to new possibilities. Who knows? You might just come home with a new perspective on life and a renewed sense of self.
#5 Longer, Healthier Life
A study revealed that seniors who travel have a 36.6% decrease in mortality rates – that's a substantial difference.
So hit the road to enjoy all the wonders and intrigue the world has to offer. As it turns out, it could add years to your life.
7 Senior Travel Tips
Now that you're (hopefully) pumped up about travel and all the benefits that come with it, here are seven senior travel tips to inspire your travel planning.
#1 Research & Plan Ahead
If you're in the majority of traveling baby boomers (95%) who like to make sure you've secured the best deal, it's wise to plan ahead.
Thorough research and planning can help you save money, avoid potential pitfalls, and create an itinerary tailored to your interests and needs. 
In case you're curious, according to one article, the average lead time is 6-8 months for planning a trip.
Which should be plenty of time to consider your budget, the recommended clothing needed for the climate you'll be visiting, as well as any paperwork required.
Doing your homework before going on a trip will make it much more enjoyable.
#2 Invest in Travel Insurance
As they say, with age comes wisdom. And that's reflected in the fact that 39% of baby boomers purchase travel insurance, more than any other age group.
Given that it amounts to only 7 to 9% of your total trip cost, for most trips, it's worth having the peace of mind that you'll be covered in case the unexpected happens.
According to Forbes, Nerdwallet, and MarketWatch, among the best senior travel insurance companies are:
Regardless of the insurance brand, travel insurance can protect against trip cancellations, medical emergencies, lost luggage, and so much more. In most cases, nothing can make your trip less enjoyable than having to worry about unexpected expenses.
#3 Pack Smart
Packing and preparing for trips can be overwhelming, to say the least. So it's best to focus on the essentials.
Before you start packing, take the time to make a list of everything you need. This way, you can avoid forgetting important items that may make your trip less enjoyable.
Since 89% of adults aged 65 and over report that they are presently taking prescription medications, this should be at the top of your list.
And there's no need to take everything you own either. Try to pack light so that you're not lugging around too much weight.
To pack light for traveling, consider using the 1-2-3-4-5-6 rule, where you pack:
1 hat

3 pairs of shoes

3 bottoms

4 tops

5 pairs of socks

6 pairs of underwear
#4 Bring Healthy Snacks
If you're retired and traveling, keep in mind that food makes up 16% of your budget.
But apart from the financial aspect of it, you should also consider the health factor. Having healthy snacks on-hand will help you stay energized and focused on the trip.
After all, at least 10% of the older population falls short of the required micronutrient standard, so it's worth being extra cognizant of what goes into your body as you travel.
Bonus tip: Pack nutrient-rich snacks like nuts, whole grain crackers, dried fruits, dark chocolate, and protein bars for a quick boost of energy on the go.
#5 Contact Your Bank
Planning a trip is always exciting, but it's important not to overlook the little details that can make a big difference. Which is why notifying your bank of your travel plans is a crucial step to ensure your trip goes smoothly.
Did you know that 83% of baby boomers have credit cards? That means you're not alone in relying on plastic to fund your travels. By giving your bank a heads-up on your itinerary, you can avoid any unexpected issues with accessing funds while on the move. 
Plus, it's always reassuring to know that they're keeping an eye out for any suspicious activity.
With a staggering 65% of credit card holders being victims of fraud at some point in their life, it's worth taking the extra caution. 
#6 Check for Senior Discounts
If you're traveling on a budget, senior discounts can be a great way to save money.
The good news is that many restaurants, museums, and attractions offer reduced rates for seniors. So don't forget to ask about any special offers when planning your trip – it could help considerably cut down on expenses.
For instance, to name a few senior travel discounts for those who are retired and traveling:
Here's a full list of senior discounts to help you snag the best deals.
#7 Book Accessible Accommodation
Even though only 1% of travelers have a disability, many accommodations are now making an effort to ensure their facilities are accessible. 
And 54% of boomers think accessibility is important when choosing lodging.
When booking your accommodation, make sure to ask if the property has any special features or amenities that could help make your trip more enjoyable. This could include elevators, wheelchair ramps, or grab rails in showers and bathrooms.
A little extra research goes a long way in ensuring your trip is hassle-free and enjoyable.
Embrace the Adventure
Being retired and traveling doesn't have to be stressful. In fact, it can bring you adventures of a lifetime.
With these seven senior travel tips, you can make the most of your trip:
#1 Research & plan ahead

— Create a tailored itinerary by thoroughly researching destinations and activities.

#2 Invest in travel insurance

—

Secure peace of mind and protect yourself from unexpected expenses.

#3 Pack smart

— Prioritize essentials like medications, comfortable shoes, and appropriate clothing.

#4 Bring healthy snacks

— Maintain energy levels and prioritize your well-being with nutritious options.

#5 Contact your bank

— Prevent account issues by keeping your bank informed about your travel plans.

#6 Check for senior discounts

— Make the most of available savings by asking about senior rates.

#7 Book accessible accommodation

— Ensure a comfortable stay by choosing lodging with accessibility features.
Here's to embracing your next adventure — it's never too late for a new journey.