You've reached that much-anticipated phase of life — retirement. 
You've hung up your work hat, ready to dive into days filled with relaxation, pursuing your passions, and rediscovering your purpose.
But instead of feeling energized for this new chapter…
You're feeling more tired than ever. 
If this rings a bell, ​​it's a phenomenon called post-retirement fatigue.
It's surprisingly common and it hits many retirees just when you're ready to embrace your well-earned freedom. 
But don't worry, you're not alone in this, and better yet, there are plenty of ways to get your energy back.
In this guide, we dive deep into this unexpected (and unwanted) side effect of retirement. We'll explore what post-retirement fatigue really is, why it happens, and most importantly, how you can reclaim your gusto for life.
What is Post-Retirement Fatigue?
Post-retirement fatigue is a sense of weariness, a lack of energy that can seem out of place when you've left the 9-5 grind behind. 
This fatigue can be a response to the significant life changes that come with retirement, including shifts in your daily routine, social interactions, and even your sense of purpose.
The symptoms of post-retirement fatigue can vary, but they often include feeling tired (despite getting plenty of sleep), a lack of motivation, feeling irritable, difficulty focusing, and a sense of being overwhelmed by even small tasks.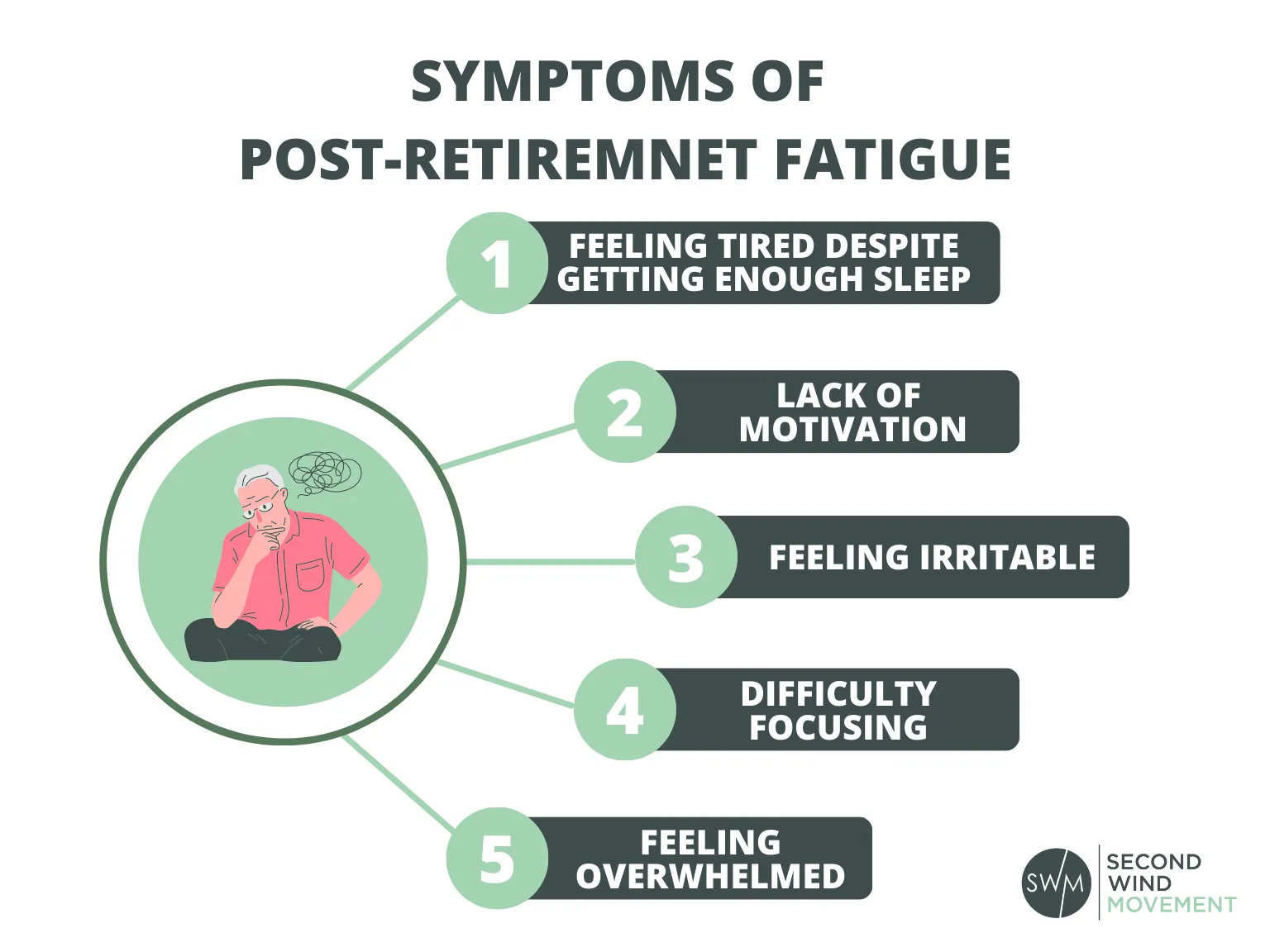 If you're nodding along as you read this, you're not alone and please don't fret. This isn't an inevitable part of retirement, nor is it a part of the normal aging process or something you just have to put up with. 
To help you fight back against post-retirement fatigue, here are seven strategies you can use …
7 Ways to Overcome Post-Retirement Fatigue
#1 Rule Out Health Concerns
Before we dive into how to fix that post-retirement fatigue, let's start with the elephant in the room — your health. If you've been feeling more tired than usual, it might not just be from all those grandkid-chasing sessions or intensive house projects or booked social calendar. 
It could be something more directly related to your physical health, something that needs a professional's eye.
We know, talking about medical visits isn't the most thrilling topic. But your doctor can help rule out any obvious health issues that might be playing hide-and-seek with your energy levels. 
As a baseline minimum, head to your doctor's office for your annual lab work. Dr. Takahashi from the Mayo Clinic suggests having at least one medical check-up per year even if you're a healthy older adult.
And this isn't to trigger a doom-and-gloom scenario. It's just a simple check-up, a way to ensure you're not missing anything obvious that may be blocking you from enjoying your golden years to the fullest.
#2 Maintain a Regular Sleep Schedule
You might be retired, but that doesn't mean giving up on a regular sleep schedule is the right path. In fact, having a consistent sleep schedule can make a huge difference in how you feel during the day. 
Plus, it greatly impacts your daily rhythm. 
A little bit of routine can go a long way, and studies show that a consistent daily routine reduces the prevalence of insomnia in older adults.
Which is why we recommend having both an evening and a morning routine to ensure you're optimizing both your sleep and intentions for the day.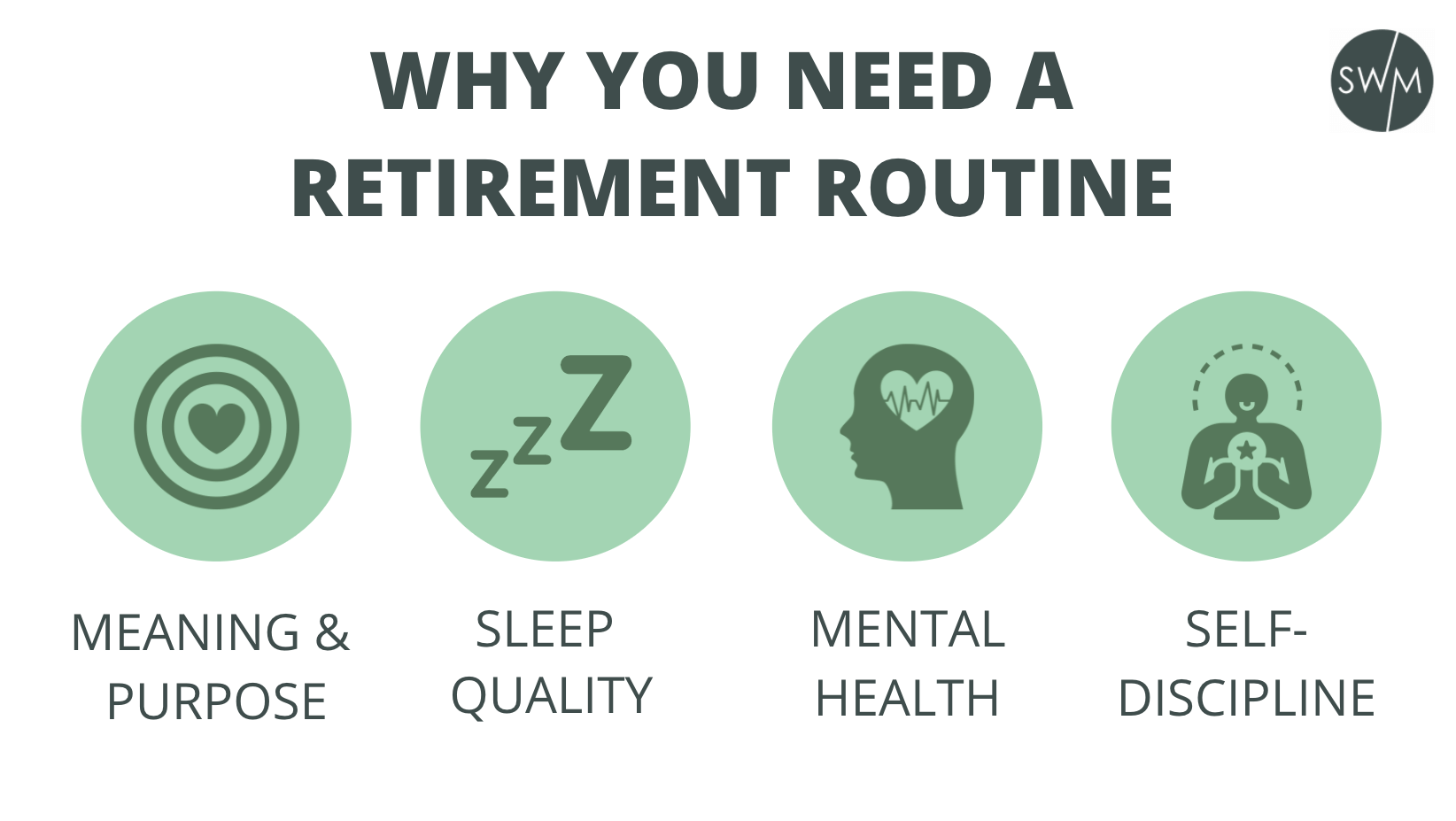 So if the thought, "Finally, I can throw my alarm clock out the window!" crosses your mind,  before you do — try going to bed and waking up at the same time every day. You'll feel more energetic and ready to tackle whatever the day may bring. 
#3 Get Moving
In the same vein, a little bit of physical activity every day can also greatly boost your energy levels — especially if you do it consistently for the cumulative effects, like increasing your endurance and stamina.
It's worth noting that it doesn't have to be anything crazy like running a marathon or climbing Mount Everest (unless you want to, of course). Research shows that even moderate-intensity exercise can result in improvements in feelings of fatigue, energy, and vitality.
Whether it's a morning walk, a bit of cardio, dancing, or a yoga class, find something that gets you moving and stick to it. Remember, it's not about breaking records — it's about staying active and fit and keeping those energy levels up over time.
#4 Focus on Your Nutrition
We've all heard the saying, "You are what you eat." And for a good reason — as cliché as it sounds, maintaining a balanced diet can help fight off feelings of tiredness. 
A recent study found that inadequate nutrition can contribute to feelings of fatigue, particularly in older adults. But don't worry, there are small changes you can make to combat this.
For instance, try to fill your plate with vibrant fruits and veggies, lean proteins, and whole grains. And it's okay to treat yourself every now and then (just try to avoid these 7 foods). 
#5 Step Out of Your Comfort Zone
It's easy to just settle into your comfort zone and do the same things day after day. But stepping out of that zone will give you a new lease on life.
Trying new things, meeting new people, and exploring different places can ignite a spark that'll stave away the feeling of post-retirement fatigue. And if it drains you instead, you're at least learning about yourself — take note of what energizes vs. drains you. No clarity will ever go lost.
(By the way, we highly recommend finding clarity first before venturing off into unknown territory; it'll save you time and energy. In case you want help with that, feel free to use our Finding Clarity Workbook to kickstart the process.)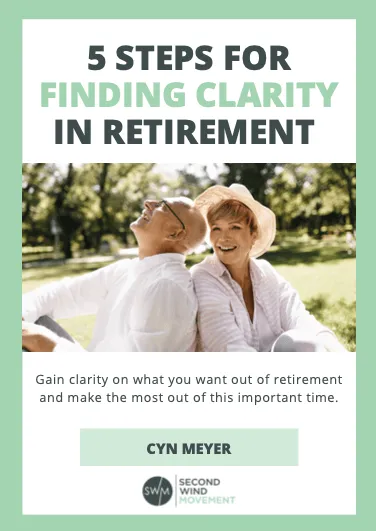 According to psychological scientist Denise Park, it's important to push yourself mentally and socially with activities that are unfamiliar and mentally challenging. 
By stepping outside of your comfort zone, you can tap into the enhancement zone for both your cognitive health and personal growth.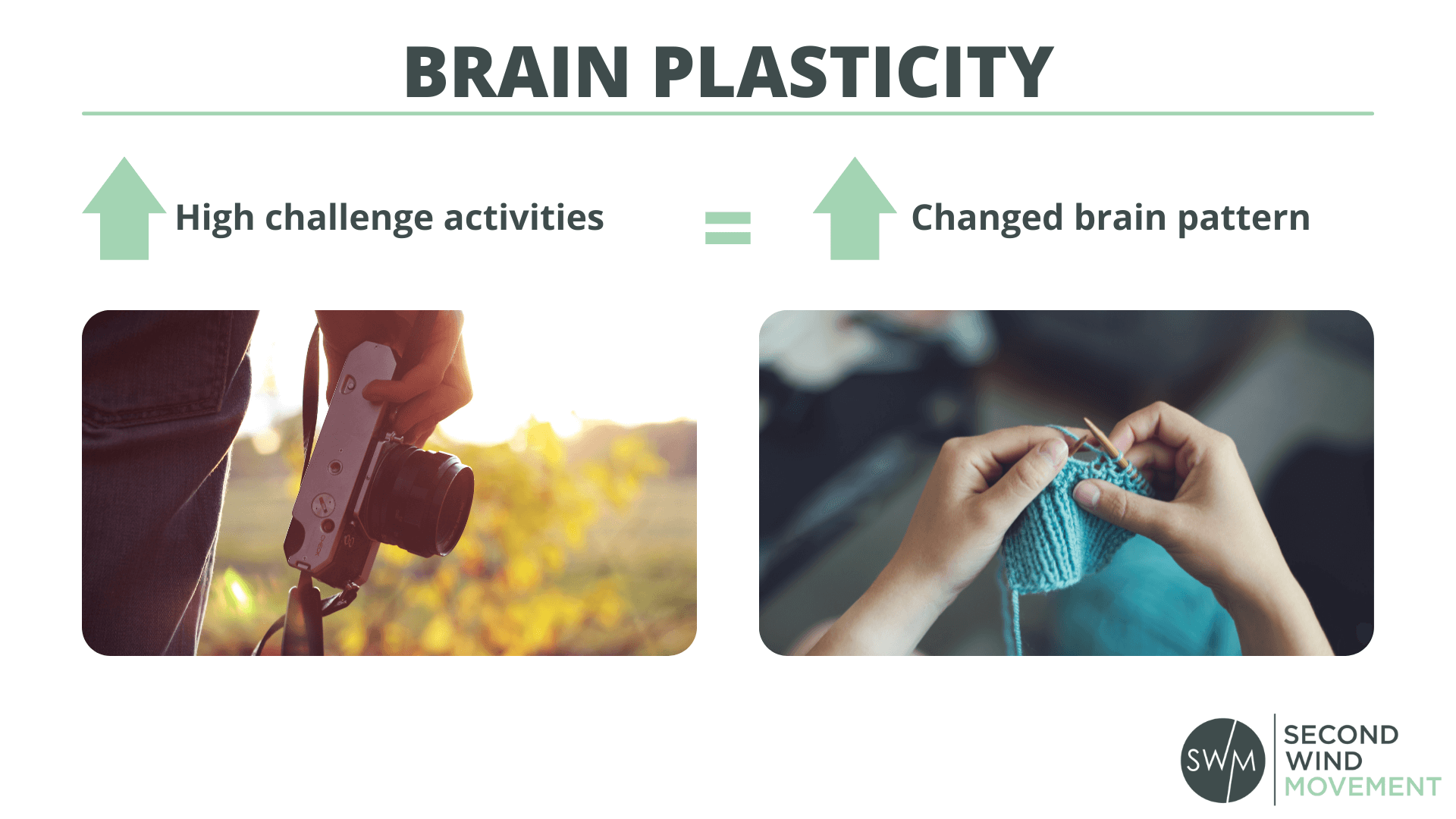 It could be something as simple as signing up for a new class or trying a new restaurant, or it could be something bigger like taking a solo trip somewhere you've always wanted to explore. 
Whatever it may be, don't let fear hold you back. Take that first micro-step and see where it leads you. It could be the start of a whole new adventure that fills you up with excitement and zest. 
#6 Find Your Zen
Embracing the calm and tranquility of the present moment might just be the secret ingredient you need to combat post-retirement fatigue. This can be achieved through prayer, meditation, or any other form of self-care that speaks to you.
You might be amazed at how one simple practice can rejuvenate your spirit, bring peace and clarity to your thoughts, and infuse your day with a fresh burst of energy. 
Plus, it's a wonderful way to cultivate mindfulness and appreciate the (underrated) importance of the present moment. Not to mention the numerous benefits of mindfulness, like:
Boosting your mood

Improving sleep

Helping with pain management
Mindfulness benefits aside, by taking the time to connect with your inner self and by practicing self-care regularly, you can find a sense of peace and balance that can help energize and recharge you.
#7 Set Goals & Make a Plan
Retirement doesn't mean you stop setting goals and making plans. In fact, it's the perfect time to create a bucket list of dreams you want to fulfill. 
But having a goal is just the first step. It's equally important to make a plan on how to reach it. 
If you're familiar with our content, you know our enthusiasm for breaking it down into smaller, manageable micro-steps and tracking your progress. 
This not only makes the goal seem less daunting but it also gives you a sense of accomplishment and appreciation during your journey, as you tick off each milestone.
And if goal setting, planning, and achieving still sounds overwhelming, don't worry. Retirement life coaches like Cyn can make this process easier. 
Cyn specializes in helping retirees find clarity on their passions and purpose, and achieve their dream retirement life. With her guidance, you can navigate retirement challenges quickly, with confidence and excitement, knowing that you're on the right (most authentic) path.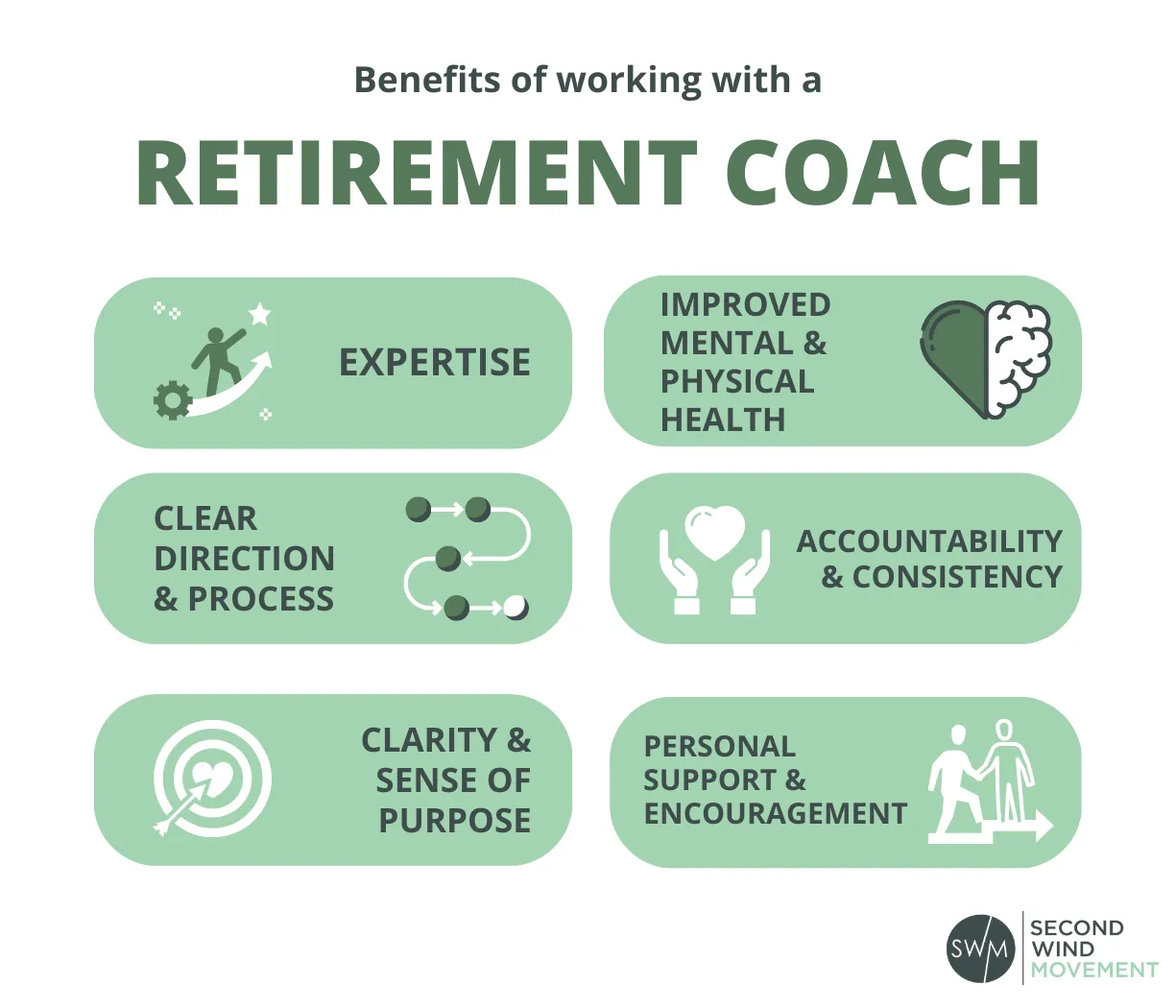 If you feel stuck or unsure about what you want to do in retirement, start by watching our masterclass How to turn your successful career into a successful retirement. 
From Stress to Zest
Retirement is a new chapter full of potential and unexplored adventures. 
Yes, post-retirement fatigue can be a bump in the road, but with the right strategies, it's a bump you can navigate successfully.
Here's a recap of the strategies we've discussed to help you steer clear of that fatigue and keep your retirement years vibrant and fulfilling:
#1 Rule out health concerns

— be proactive about your health if you're feeling unusually fatigued and seek professional input

#2 Maintain a regular sleep schedule

— embrace the power of a good night's sleep with a regular sleep schedule 

#3 Get moving

— physical activity can be your secret weapon against fatigue

#4 Focus on your nutrition

— a balanced diet can fuel your body and mind, helping you to feel energized and ready to take on each day

#5 Step out of your comfort zone

— dare to try something new to reignite your zest for life and keep fatigue at bay

#6 Find your zen

— mindfulness, meditation, prayer, or simply taking a moment to appreciate the beauty around you can help you find inner calm and combat fatigue

#7 Set goals & make a plan

— having a meaningful goal and a plan to achieve it gives you a strong sense of purpose and direction
Here's to bouncing back from post-retirement fatigue and embracing your golden years with gusto. 
(P.S. If you found this helpful, check out our article on the 'retirement syndrome', a phenomenon that goes hand-in-hand with post-retirement fatigue)