Did you know that your nutrition significantly impacts your brain health and function? 
As you age, it's more important than ever to make sure your diet is filled with foods that keep your brain healthy. Unfortunately, many older adults struggle to get the nutrition they need. 
We will explore the relationship between nutrition and brain health and discuss the most important nutrients for optimal brain function. We will also provide tips to ensure you're getting the proper nutrients for healthy brain aging.
Let's first dive into how nutrition affects your brain.
How Nutrition Affects the Brain
Nutrition is one of the most important factors when it comes to preserving cognitive health as we age.
Why? 
Think of your brain like a car and the food is like gas. The brain needs certain nutrients to function properly and communicate with the rest of your body, and if you aren't getting enough or getting the right balance of nutrients, these functions can become impaired over time. 
Research into dietary effects on cognition is in its nascent stages. But emerging studies prove that inadequate nutrition is a contributing factor to the development of depression, anxiety, cognitive decline, and brain inflammation.
Simply put, your gut and your brain are constantly communicating and it impacts your mental health. Which means nutrition affects both your emotional and cognitive states:
Now that you're (hopefully) convinced the connection is real, here are the nutrients to focus on.
5 Most Important Nutrients for Brain Function
Many different nutrients are important for brain health. Some of the most important include omega-3 fatty acids, vitamins B and E, choline, and flavonoids. These five nutrients play essential roles in maintaining cognitive function and preventing age-related cognitive decline.
#1 B Vitamins
Recent studies have shown that there is a strong correlation between brain health and B vitamins intake. 
In particular, vitamins B:
6

— preserves cognitive function and aids with the development of neurotransmitters

9 or folate

— impacts mood and cognitive function

12

— is essential for maintaining nerve health, preventing damage to the brain, and regulating sugar levels in your brain
Specifically for older adults, optimal levels of B vitamins have positive effects on cognitive performance. And even though most people don't have a deficiency of B vitamins, studies have shown that folic acid supplements can help minimize age-related cognitive decline.
Foods that contain B vitamins:
Milk and dairy products

Eggs

Meat

Fish and shellfish

Dark green vegetables, such as kale and spinach

Whole grains and cereals

Beans and legumes

Nuts and seeds

Fruits, such as bananas, citrus and watermelon
#2 Omega-3 Fatty Acids
Given that 60% of your brain is made up of fat, omega-3 fatty acids are essential for healthy brain function. They help protect the brain from damage and help improve communication between brain cells. 
Not only do these fatty acids play a key role in preventing Alzheimer's and other types of dementia, but they also improve cognitive abilities. 
And according to some studies, individuals who eat fish on a regular basis tend to have more gray matter in their brains. The majority of the nerve cells that control decision making, memory, emotion, and learning capabilities are found in gray matter.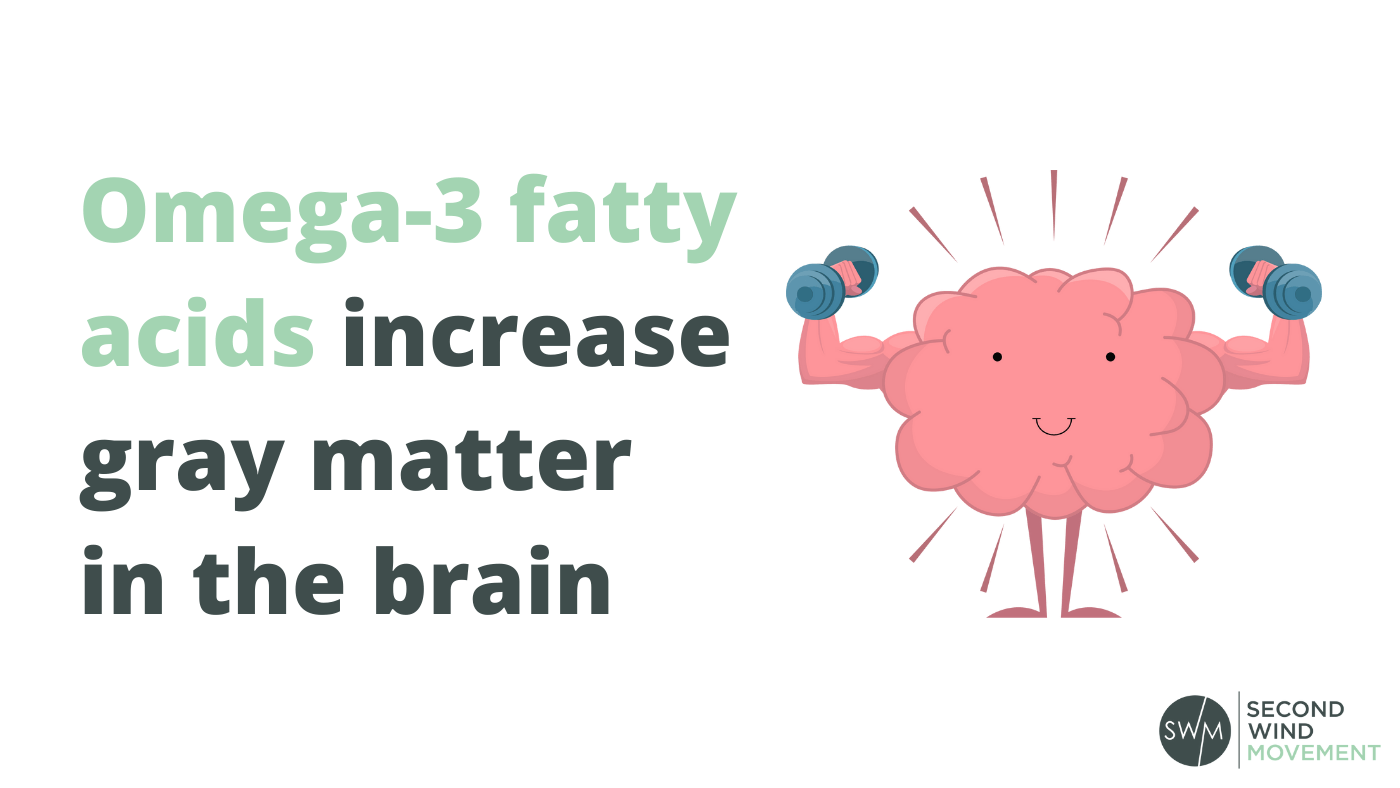 Foods that contain omega-3 fatty acids:
Fish and seafood

Nuts

Seeds

Plant oils
#3 Vitamin E
Vitamin E is an essential antioxidant that helps cells resist the effects of oxidative stress, which is caused by free radicals. 
In plain English, the body is constantly under attack from oxidative stress. 
In not so plain English, this occurs when oxygen in the body splits into single atoms with unpaired electrons. These atoms, called free radicals, scavenge the body to seek out other electrons so they can become a pair that causes damage to cells, proteins and DNA. 
Basically, you need Vitamin E to develop and maintain your cognitive functions, including learning and memory. And it helps protect the brain from age-related damage and reduces the risk of neurodegenerative diseases such as Alzheimer's disease. 
Even though vitamin E deficiency is extremely rare, it is one nutrient that is still be beneficial as a supplement. 
Foods that contain vitamin E:
Nuts and seeds

Green leafy vegetables

Fortified cereals

Fruits, like mango, avocado, and pumpkins
#4 Choline
Choline is a nutrient that is essential for brain function and health. Choline helps to form the structure of the brain and its connections — which happens until the day you die according to neuroplasticity research. 
In fact, recent research shows that choline in an essential nutrient that may help fight Alzheimer's across generations. The study found that the beneficial effects of choline supplementation are transgenerational — not only does it protect your cognitive health, but also that of your children. 
Foods that contain choline:
Meat

Fish

Poultry

Dairy

Eggs
#5 Flavonoids
Flavonoids are a type of nutrient found in all types of plants. These nutrients play an important role in brain function. 
In a comprehensive study on flavonoids and brain health, researches found that they mainly act as a shield against toxins. Owing to their neuroprotective effects, they have the potential to protect neurons from toxicity-induced damage, an ability to reduce brain inflammation, and the capacity to enhance memory, learning, and cognitive performance.
Seems like a lot of beneficial brain protection, right?
Foods that contain flavonoids:
Onions

Grapes and red wine

Kale

Lettuce

Broccoli

Tea

Berries

Tomatoes
The Neuroscience Diet
Research on nutrition and brain health recommends these two diets:
Insert image of the two diets
But more recent studies have combined the two into the so-called MIND diet. It's a simplified combination of the two that is backed by the latest studies on nutrition and brain health. 
More specifically, the MIND diet outlines ten food categories that you should increase and five that you should avoid.
What you should eat:
Green leafy vegetables (at least one serving daily)

All other vegetables (2 or more servings per day)

Berries (2 or more servings per week)

Nuts (5 or more servings per week)

Olive oil (daily)

Whole grains (3 or more servings per day)

Fatty fish or seafood (1 or more servings per week)

Beans (4 or more servings per week)

Poultry (2 or more servings per week)

Red wine (one glass per day, but you can skip it)
What you should limit:
Butter and margarine

Cheese

Red meat

Fried foods

Refined sugar
Food for Thought
Eating for your brain health doesn't have to be difficult – in fact, following some simple guidelines can help keep your mind sharp well into old age. 
Start with small changes, like adding more fruits and vegetables to your meals or swapping out unhealthy snacks for healthier options. And sometimes, a mood and cognitive function supplement can be a helpful addition to your daily routine, supporting cognitive function and emotional well-being. While it's vital to obtain essential vitamins and minerals from food, if your diet falls short, these supplements can provide an extra boost for optimal brain health and a positive mindset.
No matter how you slice it, your nutritional needs change with age, which means you should adjust your habits accordingly.
We hope we've given you some practical tips and some food for thought (pun intended).
---
For more insights on nutrition for older adults, check out our comprehensive guide.
And to learn more about the aging brain, check out our comprehensive guide. Inside, you'll find information on how to protect your brain health, exercises to keep your mind sharp, and tips for staying mentally active as you age.