Long-distance grandparenting can be challenging (especially if you're a first-time grandparent).
You want to connect with your grandkids, give them unconditional love, and tell them how much you love them.
But you can't just pop over for a visit or take them out for an ice cream cone.
You may even feel like you're missing out on milestones and special moments.
And that stinks. 
If you're one of the 52% of grandparents who lives more than 200 miles away from your grandchild(ren), we're here to help.
Here are 10 tips for long-distance grandparenting that can help you connect with your grandchildren, even from afar.
#1 Get Creative With Technology
Long-distance grandparenting has never been easier, thanks to technology.
You can stay in touch with your grandkids no matter where they live. And with a little creativity, you can make long-distance grandparenting even more fun.
According to the AARP, here's how other grandparents are utilising technology to stay connected:
Try to schedule a regular time to chat with your grandkids so you never miss a beat. 
With a little imagination, there's no limit to the ways you can foster your relationship with your grandchildren — no matter how far apart you may be.
(P.S. if you're not tech-savvy, check out this article to learn about the different ways you can stay connected through technology.)
#2 Create a Bucket List
To make the most of your time together, you can create a bucket list of all the things you'll do when you finally do see each other.
This will give you something to look forward to and ensure that your time together is always well-spent. It can be anything from simple things like visiting the zoo or going for ice cream, to bigger adventures like taking a trip to an exotic location.
As for the simple joys, some of our favorite outdoor activities for grandparents that you can easily do include:
Taking a bike ride

Planting flowers

Playing hide-and-seek

Going on a picnic

Painting rocks

Heading to the park

Building sandcastles
The important thing is that it's something that you can look forward to doing together. So start brainstorming together — your bucket list awaits.
#2 Send Care Packages
Being a grandparent is all about spoiling your grandkids, right? Well, not so fast. 
While it's nice to send them a care package full of their favorite things consult your child on what their little one would like (and if they approve) before you ship it off.
It's a common experience for your kids to want grandparents to avoid spoiling their children.
But once, you're cleared, put your long-distance grandparenting skills to the test and include things that will make your grandchild feel heard and loved.
For instance, if they mentioned they've been having a hard time in school, include an encouraging note. Or if they've raved about the new Spiderman movie, include a fun coloring project.
A few suggestions? Consider adding in:
A handwritten letter that talks about how much you love and miss them

Items that will stimulate their imagination, like puzzles, books, or building blocks

Healthy homemade snacks (be sure to include enough for sharing)

Tickets to events or even to visit you if possible (P.S. here are some tips for traveling with grandchildren to keep in mind)
Whatever you include, just make sure it comes from the heart and go beyond materialistic toys. Your grandchild will be so excited to receive a package from you, and they'll love that you took the time to listen to what they said and put together something special just for them.
#4 Take an Online Class Together
One of the best things about being a grandparent is that you get to share your wisdom with your grandchildren. And it may be even better if you can learn something new together.
After all, according to one study, cooperative learning in groups significantly impacts a student's achievement level.
And these days, you're not bound to in-person learning, either. There are now countless online courses available that cater to all sorts of interests. For instance, Outschool or the Khan Academy are course directories that offer hours of entertaining and educational content.
And if you're worried about the exposure to screen time, not to worry – digital learning can be interactive and engaging. In fact, one study involving an interactive AR alphabet book revealed that even preschoolers enjoyed the online learning tool.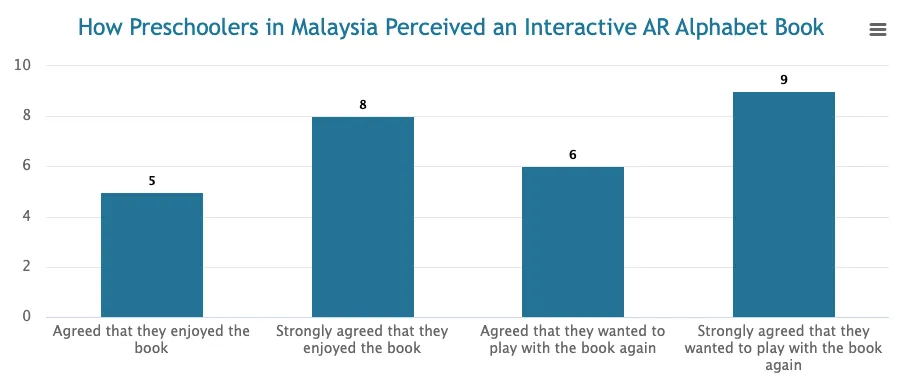 You can choose a class that interests both of you, and then you can have regularly scheduled time to interact and learn together.
This is also a great way to bond over a shared experience, and it can be a lot of fun. Plus, it's a great way to show your grandchild by example that lifelong learning is important, no matter your age.
#5 Become Pen Pals
Technology has come a long way in recent years, and there are now so many ways to stay connected with loved ones who live far away — but why not go old-school and become pen pals?
You can write letters to each other about anything and everything. Plus, it's exciting receiving a fun letter in the mail. Not to mention that the process of writing and receiving letters can be a great way to improve literacy in young children. 
By exchanging letters on a regular basis, grandparents and grandkids can stay up to date on each other's lives, share stories and photos, and even exchange small gifts. It's also important to set some ground rules, like how often you'll write to each other and what types of things you'll share.
For grandparents who are not able to see their grandkids as often as they would like, becoming pen pals is a great way to stay connected.
#6 Plan a (Virtual) Scavenger Hunt
Scavenger hunts are a great way to get kids (and adults) up and moving, and they can be done both inside and outside. For long-distance grandparenting, a virtual scavenger hunt is a perfect way to stay connected and have some fun.
It's an educational opportunity, too, if you get creative with it. Studies show that interactive learning is quite powerful and is used all over the world. In fact, 74% of teachers use digital game-based learning to enhance their lessons. 
To create your virtual scavenger hunts, all you need is a list of items that can be found around the house or yard, and a video chat program like Skype or FaceTime. 
And you can make it more challenging by setting a time limit or putting a limit on the number of items that you hunt for. The person who finds the most items wins.
All in all, scavenger hunts are a great way to encourage kids to be creative and to get them thinking outside the box. Plus, they're just plain fun.
#7 Start a Book Club
A book club is a fantastic way to explore vivid stories while staying connected with your grandchildren who live far away. It also helps them achieve a greater education. 
In fact, all it takes is 6 minutes of ready per day to improve a child's reading performance, and children who read are nearly 3x more likely to enroll in college, so it's worth the effort and encouragement.
Reading is also a great way to bond and learn about each other's interests and beliefs. By discussing the books you're reading, you'll be able to share your thoughts and feelings on a variety of topics.
To start a book club, just list out some interesting books and a video chat program. You can choose to read the same book at the same time, or you can take turns choosing books for each other. 
You can also set a schedule for when you'll meet to discuss the book, or you can just chat about it whenever you have a chance.
If your grandkids are still too young to read by themselves, try reading a story to them on the phone or in a video chat. 
For instance, you can use Family Story Play — a system that supports grandparents reading books together with their grandchildren online. A study found that it increases the quality of your interactions, as well as your grandchildren's literacy. 
No matter how you do it, starting a book club is a great way to stay connected with your grandkids, foster a love of reading, and enjoy all of the benefits it has to offer.
#8 Exchange Photos & Videos
Photos and videos are a great way to stay connected with your grandkids, and there are now so many ways to share them online. Beyond texting,  you can use platforms like Marco Polo or WhatsApp to send short video messages back and forth throughout the day.
If you see a beautiful sunset, take a photo and send it to them. If you make a special dish, take a video and send it to them. You can also share photos and videos of your everyday life, whether it's of your growing garden or pet in action.
And in turn, they can send you pictures of themselves doing things that they enjoy. This is a great way to stay involved in their lives and to feel like you're still part of their everyday experiences, even though you're not able to be there in person.
When you meet, you can even create a shared album of memories that you can both look back on and enjoy for years to come. 
#9 Play Games Together
What's more fun than spending time with your grandkids? Playing games together, of course.
There are now many ways to play games together online, whether you're playing a board game, cards, or video games. It's not only a great way to stay sharp and keep your mind active, but it can also increase closeness and improve your communication and relationship satisfaction. 

So next time you're feeling far away from your grandkids, don't hesitate to challenge them to a game of chess or Candy Crush. You'll both be glad you did.
#10 Host Virtual Dinner Parties
Start by sharing your favorite recipes with them and then cooking them together over video chat. Hosting virtual dinner parties is also a great opportunity to teach them your culinary skills and pass down family recipes.
If you're not much of a cook, you can still host virtual dinner parties for your grandchildren. Just have everyone make their own meal and then eat it together over video chat. 
There's no need to let distance spoil the tradition of a family meal. With a little planning, you can enjoy a shared meal with your long-distance grandchildren, even if you're hundreds or even thousands of miles apart.
Connecting From Afar
No matter how often you get to see your grandchildren, you may feel like it's never enough. But with a little effort and creativity, you can stay connected with them even when the miles separate you.
We hope these 10 tips for long-distance grandparenting help make your time apart as special as possible:
#1 Get creative with technology

— discover new ways to use technology to stay connected
#2 Send care packages

— let your grandkids know you're thinking of them with a package full of their favorite things
#3 Create a bucket list

— make a list of things you want to do together and start crossing them off the next time you see each other
#4 Take an online class together

— sign up for an online class and enjoy learning something new together
#5 Become pen pals

— exchange letters, pictures, and mementos to stay in touch through snail mail
#6 Plan a (virtual) scavenger hunt

— send your grandkids (and yourself) on a hunt for items around the house or in the backyard
#7 Start a book club

— read the same book (or take turns choosing books for each other), contribute to their learning, and discuss it over video chat
#8 Exchange photos & videos

— share pictures and videos of your everyday life to stay involved in each other's day-to-day

#9 Play games together

— play board games, cards, or video games together online

#10 Host virtual dinner parties

— make your favorite recipes and eat them together over video chat
In today's technological age, there's no excuse for not staying in touch with your grandchildren, no matter how far away they live. 
With a little effort, you can make long-distance grandparenting work for you and your family.