You deserve a good retirement life. 
After all, you've worked hard, and nothing should stop you from living the life of your dreams. 
To help you do that, a trend that's becoming popular for retirees and pre-retirees is to purchase a second home and even become a landlord in retirement. 
We'll take you through some of the ins and outs of the type of second home to purchase, if taking on a second mortgage makes sense for you, and how to be a successful landlord.
But first, let's start with why you'd buy a second home.
Why Should You Consider Buying a Second Home? 
Whether or not you choose to buy a second home depends a lot on what your lifestyle goals are for your retired life, and, of course, your financial situation. 
There are two main types of second homes that older adults are purchasing these days:
A second home as a vacation home

A second home as a rental property
If you're someone with more disposable income who wants to travel and change your scenery frequently, a vacation home may be up your alley.
If you're someone who wants to earn more money in retirement and don't mind a bit of extra work, you may want to consider the rental property route.
Either way, when buying a second home, make sure you're comfortable with both the commitment of a new mortgage and maintaining the property. 
To help you make that decision, let's first answer the big question about buying a second home in retirement as a rental property. 
Does a Second Home Make Sense for You in Retirement? 
The first thing to think about is whether or not a mortgage on a second home is financially right for you.
Whether or not you can retire on rental income, of course, depends on your individual situation – like how much your new mortgage impacts your monthly budget, and if it aligns with your retirement goals. 
The good news: financially, it is entirely possible to have a comfortable retirement lifestyle off of rental income. 
Wondering how much you can make?
According to TurnKey Vacation Rentals, for every $100,000 you invest to purchase a vacation home, you can expect to target $10,000 to $12,000 in annual rental income.
So, let's say you purchase a home for $500,000. That would mean, from that rental, you can target $50,000 to $60,000 in annual rental income.
Of course, there are a lot of factors that will determine how much you can charge in rental fees, like location, how long you rent for and the average rent price in the neighborhood for similar properties. 
For instance, US cities with the highest and lowest rents range from to $583 per month in Toledo, OH to $3,452 per month in San Francisco, CA. 
A major gap, right?
Rent rates aside, though, if you properly manage your rental property, you can often make an income that is well above your expenses as a landlord in retirement. 
Here's the breakdown of property expenses to figure out if your rental income more than covers your costs:
Purchase price and mortgage payment

Property taxes

Property insurance

Maintenance costs 

HOA fees (if applicable)

Property management (unless you want to manage it yourself DIY)
The big question is: how much will you have in profit after taking out these expenses from your rental income?
As long as you're profiting, being a landlord in retirement may be worthwhile. 
Some claim that just $100 per month in rental profit is worth it, for instance. But of course, that's up to you and your specific goals.
As a landlord in retirement, annual rental property is not your only option, though. You can also rent it out part-time.
If you're thinking about doubling your rental property as a vacation home, these days, shorter vacation rentals are becoming increasingly popular.
In fact, the vacation rental industry has steadily grown over the last decade, and is expected to reach $38.4 billion in vacation rental revenue by 2023.
Which means you can have a second home that doubles as both a rental property and a place to get away and enjoy yourself on vacation. 
Put another way, you can be a part-time landlord in retirement.
It's worth noting that for vacation homes, finding clarity first on the type of retired life you want to lead makes a massive difference in your happiness level during your senior years.  
It's also important to consider your passions and purpose and to make sure your second home accommodates them. 
For example, if you're an outdoorsy active person, you may want to buy a vacation home near the water, or in the mountains, or close to fishing spots. 
For city lovers, you may want to be a part-time landlord for a home that's close to theatres, or music venues, or bustling restaurant life. 
You get the gist.
And in case you're curious, here's where several seniors are landing in the US. 
Cities like Denver, Carlsbad, and Cape Coral or known for easy access to healthcare services and bustling senior communities. 
All in all, no matter where you spend your retired life, make sure your second home is a place that supports your vision of your ideal retired life. 
Questions to Ask When Buying A Second Home
It's important to ask all the right questions before signing papers and buying a second home.
Below, we break down key questions to ponder during the process.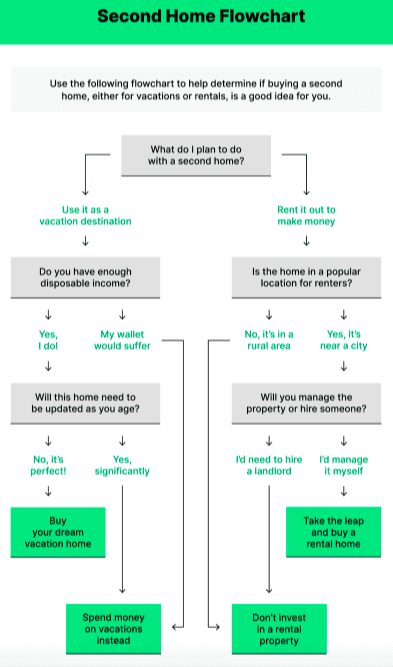 Initial Questions to Ask Before Buying a Second Home  
What is the main reason I'm buying this home? 

Can I afford to buy this home as-is? 

Can I afford to upgrade this home if needed?

What am I looking for in a second home? 
In case you're curious, as for home purchasing trends, most older adults are purchasing detached single-family homes in suburbs. 
Questions For a Vacation Home
If being a part-time landlord in retirement sounds appealing to you, think about what you want in a vacation home, by asking yourself:
Will my vacation home need a lot of updates or renovations? 

How much time will you spend in your vacation home? 

Are there any special rules for owning your home, like land covenants or HOA rules? 

Will you be comfortable living there for extended periods?

Will it accommodate your social life?
Questions For a Rental Property 
A full-time rental home will be somewhat different than a vacation home. Consider these questions for a rental property: 
Who is going to manage the property – you or a paid property manager? 

Will you need additional insurance? 

How easy will it be to attract renters? 

What are the average rent prices and will that provide enough profit? 
With rentals, it's also important to make sure you can afford the mortgage payments without renting it out right away. 
While you can comfortably retire on rental income, you don't want to take on an undue financial burden, so give yourself a buffer. 
More than likely, there will be months when your property is vacant and not pulling in rental income – whether it's to work on house projects or swap out tenants in between lease agreements. 
On average, it can take up to 30 days to find a tenant if you're using a professional property manager or even months if you're finding renters on your own. 
73% of landlords use an online resource for marketing their rental property, which seems to be the quickest way to find tenants. 
Once you figure out the answers to these questions, you're ready to decide whether buying a second home is right for you and your ideal retirement lifestyle. 
Is Being a Landlord in Retirement Right for You?
Owning a second home and being a landlord in retirement is a great way to boost your retirement income.
Another option is to rent your home part-time and use it for vacation part-time.
Above all, if you do decide to buy a second home in your retirement, look for a property that fits your needs across the board. 
This goes well beyond just the financial aspect (after all, finance is just one of the 5 Rings of Retirement). 
If you're buying a vacation home to spend time in during retired life, look for things that make your home easy to live in and easy to maintain – like a small yard, easy to reach appliances, and safety features that let you age in place as long as possible. 
If you're the type who wants to find out just how adventurous you can be as an older adult, make sure your property allows you to do that.  
Here's to being a successful landlord in retirement and living your best retired life on your terms…