When it comes to fitness, everyone is different. Age, health conditions, lifestyle, and other factors all play a role in how fit you should be at 60 or any given age. 
But that doesn't mean you can't strive to be as fit as possible. In fact, staying active and healthy is more important than ever as you get older. 
Some older adults struggle walking up the stairs, while others are running marathons. 
So how fit should you actually be at 60?
Here's a look at some guidelines and fitness tests to help you determine whether you're on track. The results should serve as a baseline to determine how fit you should be at 60, but of course, we advise you to go deeper and consult with your physician.
Endurance
Fitness Test #1: 6-minute Walk Test

The 6-minute Walk Test is an easy and quick exercise test to assess your aerobic capacity. 
The goal is to walk as far as possible on a flat, hard surface in six minutes. The only thing you'll need is a stopwatch.
Here's what is considered the average level of fitness, categorized by age group and gender: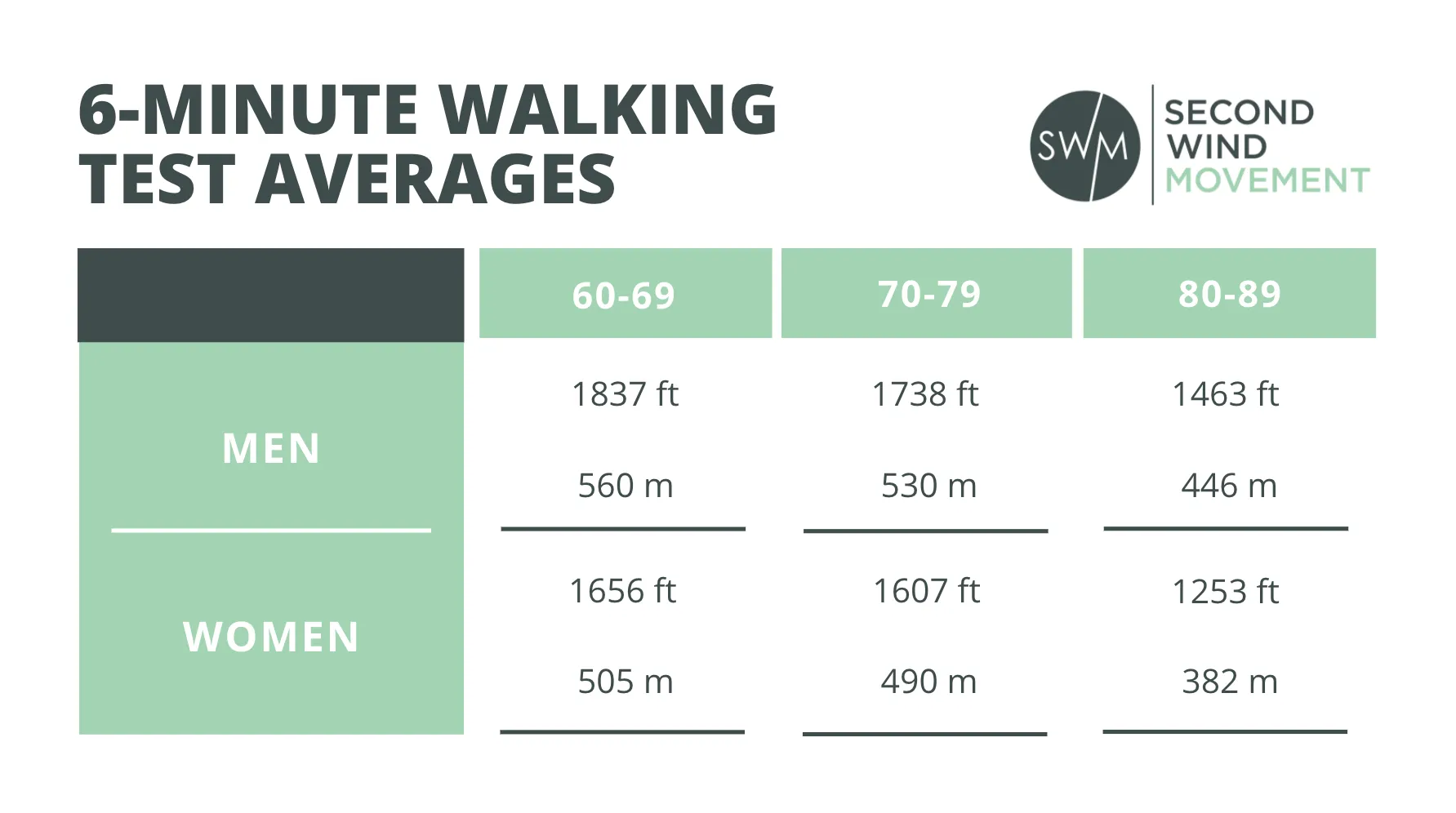 Or calculate the normal distance (in meters), for your gender, age, height and weight using these equations:
MEN: distance = (7.57 × height cm) – (5.02 × age) – (1.76 × weight kg) – 309 
WOMEN: distance = (2.11 × height cm) – (2.29 × weight kg) – (5.78 × age) + 667
If you're wondering how to do that, consider using a step counter (like a Fitbit or this less expensive 3D pedometer) and setting a timer for 6 minutes. You can use it as a stopwatch and as a way to measure the distance you've walked.
Another helpful tip is 12 steps is generally about 32 ft (or 10 meters). Which means, alternatively, you can mark a beginning and end (with chalk or something that serves as cones), set a timer for 6 minutes, and count the number of back/forths you go between your floor markings.
How to Improve Your Endurance 
The easiest – and for many most, enjoyable – way to improve endurance is by walking. Make it your mission to take a walk every single day until it becomes a part of your daily retirement routine. 
If you're ready to take it a notch further, try jogging, running, swimming, or any other form of aerobic exercise.
All in all, just get moving and try your best to be consistent with it, even if that means cutting your cardio session time down so you can more easily squeeze it in daily.
Strength
Fitness Test #2: Chair Stand (Lower Body)

The Chair Stand is a fitness test used to measure lower body strength. The only equipment you need to have are a stopwatch and a chair. 
Before starting the fitness test, make sure your chair is stable and place it against a wall. 
Then, sit in the middle with your feet shoulder-width apart. Cross your arms at the wrists and hold them to your chest.  From the sitting position, stand completely up and then back down again. Repeat this as many times as possible in 30 seconds.
How'd you do?
Here are the average fitness levels of 60, 70, and 80 year-olds: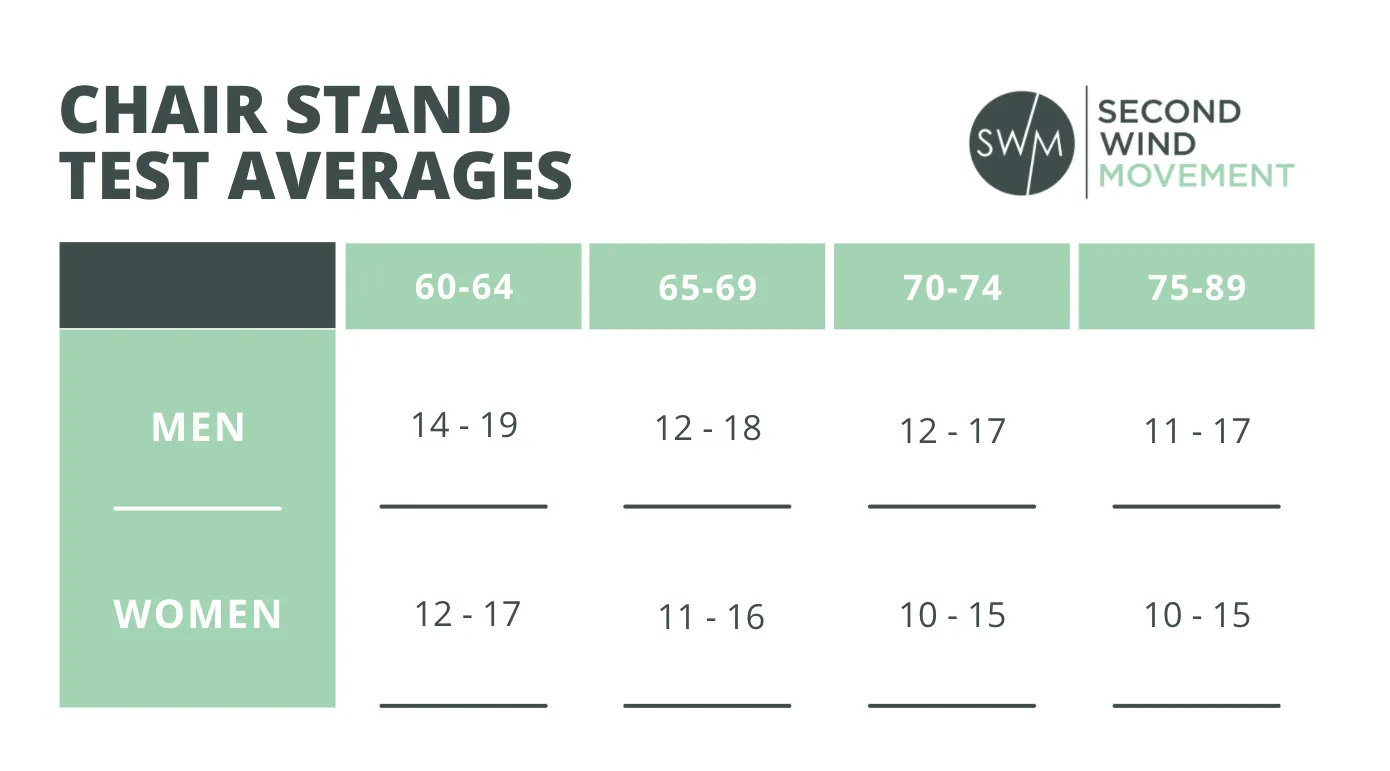 Fitness Test #3: Biceps Curl (Upper Body)

The Biceps Curl is a fitness test that reflects upper body strength and endurance. To test yourself, you need a stopwatch and a dumbbell (5 lb or 2.27kg for women and 8 lb or 3.63 kg for men).
Start by sitting on a chair and hold the weight in your hand with the palm facing towards you. Hold your arm against the body so only the lower part of your arm is moving. 
Then, fully bend your arm and fully straighten out your elbow. As with the previous tests, the goal is to do as many bicep curls as possible in 30 seconds.
Log your results and see where you land in these basic guidelines for fitness levels for 60, 70, and 80 year-olds: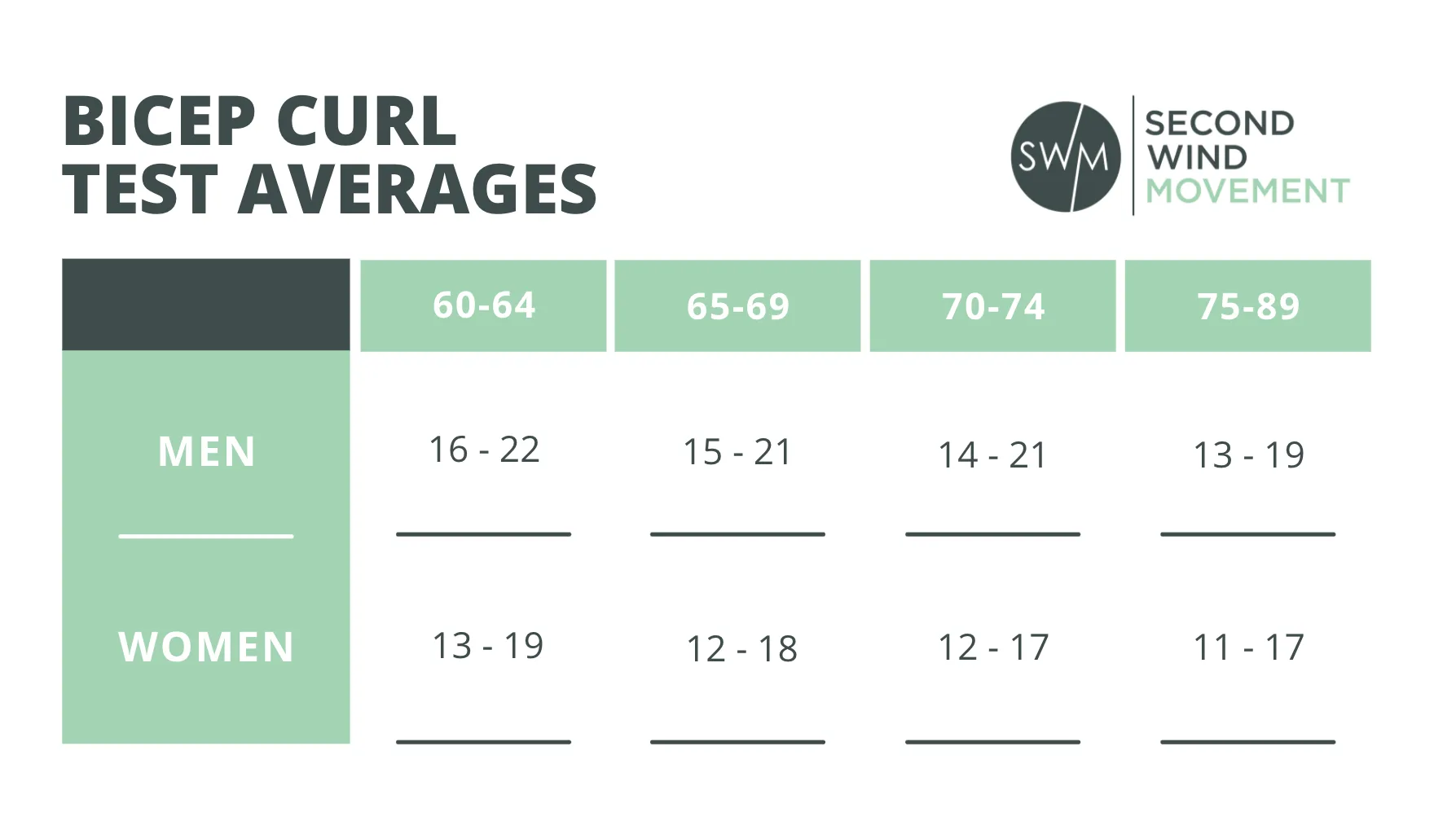 How to Improve Your Strength 
Any kind of weight training will do. Whether you join the local gym or exercise at home, don't forget to adhere to these nutrition guidelines. 
Research suggests nutrition is a vital factor in muscle building and weight loss. So be sure to check out our guide for more insights on nutrition for older adults.
With the right pairing of weight training and nutritional intake, you're sure to firm your muscles over time.
Balance
Fitness Test #4: Single Stance Test

The Single Stance Test is a simple, yet effective test used to measure your static and dynamic balance. Again, you only need a stopwatch to perform it.
Stand on one leg with your hands on your hips. Start the timer from the moment your foot is bent at the knee until the time your foot touches the ground again or until you move your hands from your hips.
Comparing your results for this one is simple:
If you're over 60 and can stand for more than five seconds, you should be satisfied with your balance.
How to Improve Your Balance 
Whether you're out walking the dog or just getting up from a seated position, keeping your balance steady is key to staying healthy and independent. 
To actively work on your balance, try incorporating into your weekly exercise regimen yoga, tai-chi, or even dance lessons to reduce your risk of falling and set yourself up for successful aging.
Flexibility
Fitness Test #5: Chair Sit & Reach Test
The Chair Sit and Reach Test will help you determine your flexibility. For this fitness test, you need a ruler, a chair, and someone to help you measure.
First, sit on the edge of a chair with one foot steadily on the floor. Extend your other leg forward with your heel on the ground and keep the knee straight. 
Then, place your hands on top of each other and inhale. As you exhale, reach to the tips of your toes by bending at the hip. Don't make any sudden movements, bouncing, or stretching to the point of pain. 
Your partner then measures the distance between the tips of your fingertips and toes. If they touch, your score is zero. If you can't reach them (a negative score) or they overlap (a positive score) measure the difference. 
For a visual walkthrough, check out this video demonstration.
Once you have your results, check out the basic guidelines for fitness levels for 60, 70, and 80 year-olds: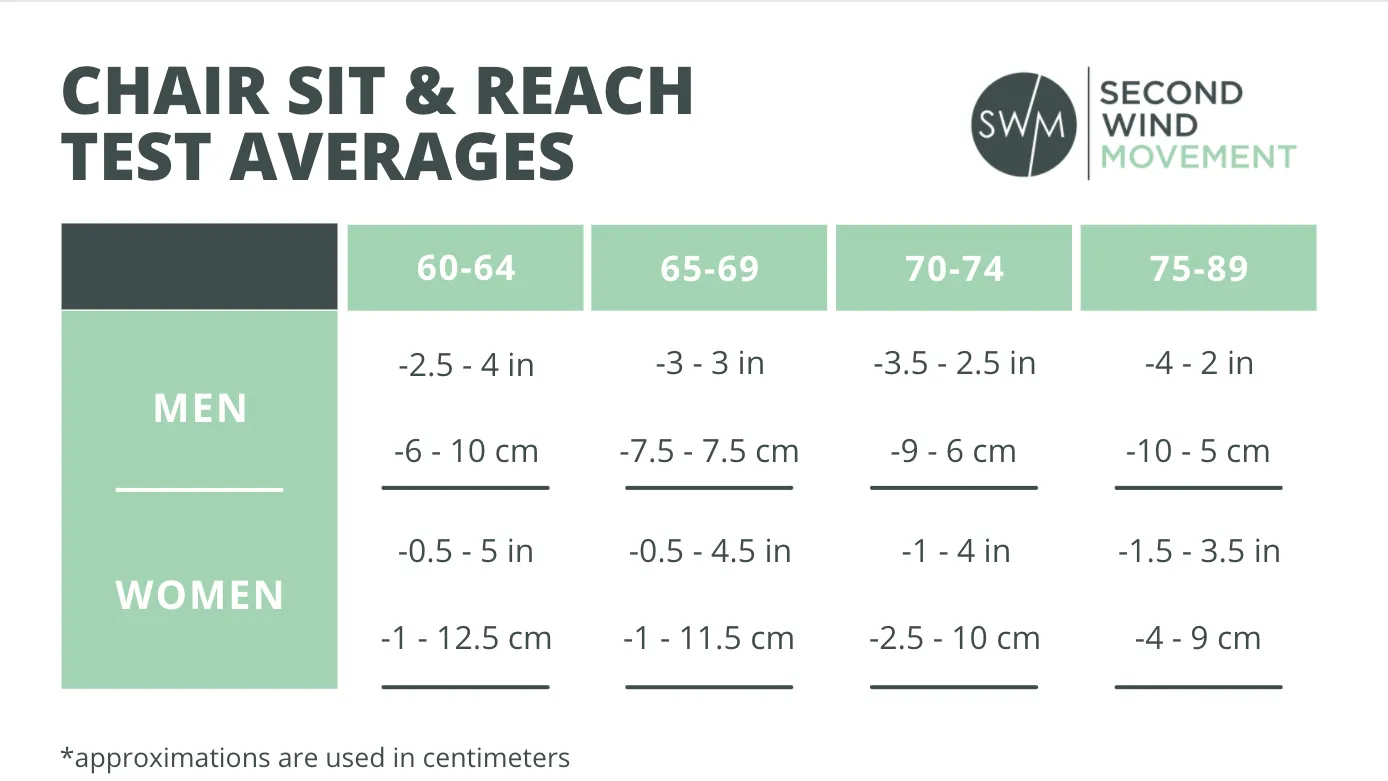 How to Improve Your Flexibility 
To become more flexible, include light stretches or yoga in your morning or nighttime routine. And they're great forms of physical activity for active rest days.
With just a couple of minutes every day, you'll start seeing noticeable changes in more than just your flexibility. The key here again is repetition and consistency, so try your best to turn this into a daily habit. 
Fit for Life
As you age, it's more important than ever to stay fit and healthy. 
It's not just about looking good or maintaining your figure — fitness is essential for your health and quality of life as well. 
Being active can help prevent conditions like obesity, hormonal imbalances, heart disease, and dementia, and it keeps you strong, mobile, and independent as you get older. 
Even though older adults face specific challenges that prevent them from exercising, there are so many ways to stay fit, no matter what your age or ability.  To get you started in the right direction, here are 6 ways to be fit over 60 and 10 best home workouts for older adults now that you know how fit you should be at 60.