If you're looking for ways to give back to the community, you're in the right place.
As the saying goes, "No man is an island." We live in a world where we are all interconnected. 
And giving back to the community is important because it not only helps others, but it gives you a sense of pride and fulfillment — and perhaps most importantly, purpose.
We all have an innate desire to give back and contribute to the community in some way. Whether it's helping one neighbor down the street or spearheading a large local non-profit, you can start by making one small change today.
And it doesn't matter if it's a traditional volunteering opportunity or even just making an effort to live more compassionately. 
Whatever it is, get involved in a way that suits your authentic gifts. 
To find a way to give back (and one that feels good to you), just take a look at our list of 14 ideas and see if any strike home.
#1 Start a Coaching Gig
It's undeniable that the experienced generation has a type of wisdom that is unattainable to youth. There is so much wisdom and knowledge that you can pass on to younger generations.
So if you're looking for a way to give back to the community after retirement, try spearheading a coaching chapter at your college to start passing on some of that knowledge.
If starting a coaching chapter doesn't strike a chord, teaching courses at a local community college or rec center might be just what the doctor ordered. 
As an older adult, you have the experience that many younger professionals don't have — which means that you can bring something unique to the classroom and community.
#2 Teach Illiterate Children How to Read
Did you know that 25 million children in the U.S. cannot read proficiently? It not only negatively affects their lives, but low literacy is also hurting the economy. 
If you are interested in helping kids learn to love reading, but don't know where to start, here are some options to get you started:
You have the power to change the course of a child's life. Forge a new future for one of America's most precious resources — its children.
#3 Find a Way to Tell Your Story 
We're all here for a reason. And we all have a story that's worth telling.  We may not be able to change the whole world in one fell swoop, but we can certainly make it better by sharing our stories.
Do you have a story that needs to be told? There are so many people out there who know how it feels, but they don't know that others went through the same thing. 
Take, for instance, ReachOut, a website built for people to share their stories and empower others going through similar hardships.
Sharing your personal story with others can be healing and liberating for both parties involved. Do it because you are important, your voice matters, and it's worth helping others.
#4 Lend a Hand in Your Neighborhood
A community is made out of small things:
It's having someone water your plants when you're away. 

It's watching someone's kid if needed. 

It's knowing that you can borrow some salt when you run out. It's helping out with the groceries.
And you can play your part by befriending your neighbors. Maybe try inviting your neighbors over for dinner or organizing a neighborhood charity event.
Plus, it does wonders for your own mental health. According to a recent BYU study, knowing at least six neighbors reduces loneliness and depression. 
Whatever the small (yet mighty) idea may be, if you come from an authentic place of genuinely wanting to help, you may be amazed at the gratitude that comes from just putting yourself out there and make an earnest effort. 
#5 Support a Loved One Struggling with Health 
It's not always easy to know how to support a friend, neighbor, or family member who is struggling with their health, but it's important that they know you're there for them and want to make things better.
The first thing is to understand what they're going through — you can't help someone if you don't understand what they're dealing with. 
Above all else, empathy is one of the most supportive gifts you can offer someone in need of emotional support, While it's a non-tangible gift, there are three types of empathy you can offer:
Cognitive empathy – understanding another's perspective

Emotional empathy – feeling another's feelings

Empathic concern – sense what others need from you
You may even consider offering practical assistance, like doing their dishes or picking up groceries.
But most importantly, just spending quality time with your loved ones by incorporating some simple activities into your day – like talking on the phone, sending letters, cooking meals together, or even just watching movies together – can go a long way.
#6 Donate to a Local Charity
A community is only as strong as its members.  And there is no better feeling than knowing that your charitable donations (or charity work) are going to make an enormous difference in someone's life.
As a retiree, you may be living on a fixed income. But there's so much more you can donate than just money — clothes, food, time, or even skills. 
There's no shortage of organizations that could use the help, from animal shelters to food pantries. In the US alone, there are more than 1.5 million registered non-profit organizations.
This means you can really take the time to make sure the charities align with your true interests. 
Here are three questions you can ask yourself when deciding which local charity you want to help: 
Does the charity align with my personal values or passions in life?

Do they have clear goals?

Can I trust them to meet these goals?
Once you have clarity on the type of organization you want to contribute to, head over to this list of our six favorite charity organizations for inspiration.
#7  Start a Community Garden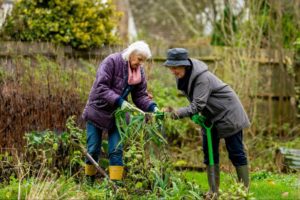 Many of us have a green thumb and enjoy tending to plants. (And if you don't have a green thumb, it's certainly not too late to learn.)
But what if you don't have the space for your own garden? That's where community gardens come in handy.
Community gardens benefit overall well-being since you can get some fresh air and exercise while giving back to your neighborhood. They're an awesome way for people who live close together to come together and work on something bigger than themselves. 
With the help of friends and neighbors, it's possible to make your own little corner of paradise in just a few hours. It will be an incredible feeling when all of those plants are blooming and you literally get to reap what you've sown. 
So what are you waiting for? Let's get planting!
#8 Organize a Beach or Park Clean-Up
Gather your friends, family, or even neighbors to organize a beach or park clean-up. It's an easy way to give back to the environment while spending time with loved ones and members of your local community.  
Plus, you'll feel better knowing that you're making a difference. 
Beautifying your local natural landscapes and seascapes is a great way to stay active and engaged, give back to your community, and it's also an opportunity to share with your family the importance of keeping our world clean.
To give an idea of the massive scope of waste we're contributing globally, it's worth mentioning that a staggering 79% of plastics are in landfills and 2 billion people on this earth live without any waste collection services. 
Makes you want to help pick up, doesn't it?  
Take it a step further — you can even create an event page on Facebook, like 30-minute Beach Cleanup that is a recurring, monthly event in Long Beach, and share it with everyone you know who might be interested in joining. 
Go out there and make the world a cleaner place, one piece of litter at a time.
#9 Start a Podcast and Share Your Knowledge and Expertise With a Niche Audience
Do you have a wealth of knowledge and expertise that is just sitting there, waiting to be shared? Podcasting can help you share your thoughts with the world. 
It's easy to start your own podcast for free and it can be a fun hobby that gives back in ways you might not have considered before. 
This is the essential equipment you'll need to start your own podcast:
Decent microphone

Laptop or computer

Recording software

Reliable headphones
The best part about starting a podcast in retirement is that there really aren't any rules. You can talk about any activities that bring you happiness — from gardening to finance. Use your knowledge and expertise to create audible content that will help others.
#10 Create and Send Cards to a Local Hospice Center
Homemade cards can brighten a patient's day — and they are easy to make. Let your creativity shine as you share some of the most uplifting words with hospice patients.
Make it your goal to help patients and their families focus on something other than the pains of their current situation. More specifically, try to avoid any cards that say "Get Well Soon," "Feel Better," or anything else referring to the patient's condition, as this is not what they are looking for in a card. 
Instead, make sure the card you give them is encouraging and uplifting. Look at this list of possible recipients at Doing Good Together and if you don't feel like creating your own check out the Making a Difference Cards.
Hospice patients are often in need of encouragement, so pick up your supplies and share some joy.
#11 Teach Your Grandkids a New Skill
Do you want to make sure your grandkids have the skills they need for a successful future? Of course, and we all know the truth about many of those skills not being taught in a traditional classroom setting. 
Teaching your grandkids a new skill will not only help them in the long run, but it'll also give you an opportunity to spend quality time with them. 
Your role as a grandparent is so significant for their development. So whether it's learning how to prepare meals for the family, how to play chess, or even the basics, like how to tell the time — every little bit helps.
Rewire My Retirement student and author of Finding Meaning & Success, Chris Palmer, for instance, is learning how to play the piano while teaching his grandchildren how to play in the process.
Imagine the joy of watching your grandchildren grow in confidence as they learn something new and useful. Plus, you get to create lasting memories along the way.
#12 Plan Out the Legacy You Want to Leave (Beyond Money) 
We all know that living an active, healthy, and engaged lifestyle is vital to spend as much time as possible with your loved ones. But at the same time, we know that we won't be around forever (not in human form, anyway).
Your legacy is so much more than just material things. We are not the sum of our possessions, but rather we live on in memories, stories, and shared experiences. 
Try asking yourself how you want to be remembered to find tremendous clarity and align with your purpose and core values.
Pass on your experience to future generations by writing a legacy letter that captures your life lessons — all of your hopes, dreams, successes, and failures. 
You can look to some inspiring life legacy letters from Barack Obama and the like for direction on how to format your letters. 
Another option is to write and publish memoirs or a book about noteworthy learnings from your life experience. 
And if you're not looking to formally publish your work, consider filling in a more personal book based on prompts, like in nicely bound journals like Grandfather, I Want to Hear Your Story and Grandmother, I Want to Hear Your Story. 
These are all great ways to leave your loved ones a gift 
Regardless of the format you take on, what do you want to convey to the world?
#13 Adopt a Furry Friend
If you find yourself fighting loneliness, consider adopting a pet. Your new companion can be a source of comfort and unconditional love. And, believe it or not, pet ownership improves both mental and physical health by lowering anxiety levels and blood pressure.  
Of course, pets wouldn't make our themed list unless you were to adopt an animal in need — which, there are plenty of.
Sadly, every year about 1.5 million shelter dogs and cats are euthanized. When you adopt, not only do you save your pet, but also open up space for another deserving pet to be saved.
If you have the opportunity, adopt your new furry best friend. And if you're not sure if you should get a dog, read about the health benefits of owning one and discover the 12 best dogs for older adults.
#14 Donate Blood
Donating blood is an easy and painless way to give back to the community. Unfortunately, only about 3% of eligible adults in the US donate blood yearly. 
This simple gesture can make all the difference between life and death for someone who needs a transfusion. A mere 30 minutes of your time can save up to three lives.
Will you join the ranks of blood donors who save 4.5 million American lives each year by blood transfusions?
#15 Live Sustainably
Taking mindful climate action improves health and well-being, while you're caring for the environment at the same time.
It's easy to get overwhelmed with the idea of reducing your environmental footprint. In a world where others around you are not doing their part, it can feel like an impossible task.
But, when you break it down into small micro-steps that seem more manageable and achievable, it's actually simple to adapt into your everyday life. If you're looking for ideas, try some of these simple tips for living a more sustainable lifestyle:
Use LED lighting

Walk when possible

Recycle

Buy second-hand clothes
#16 Support Local Businesses
We live in a time when we can shop online from around the world. But there's something important to consider before you buy a new shirt or even order your groceries — are you supporting local businesses?
Buying locally is not just a trend. It's an investment in your community and a simple way to give back. 
Buying from local retailers helps create jobs for other people in your community, strengthens your local economy, and overall keeps more money flowing through the area. 
In fact, for every $100 spent at a small business, $48 is put back into the local economy.
The next time you're shopping, check if you can buy the same service or product in your local area.
Give Back to Your Loved Ones and Community (Society Needs It)
The world is becoming a busy, fast-paced place where it's easy to forget about the people around us.
But you can make a difference. 
The idea of helping others and finding ways to give back to the community doesn't have to be an exceptional or heroic endeavor — it can be something really simple. 
And it's your duty as someone who has the privilege to do so.
There are plenty of easy ways to give back to the community without taking too much time away from your day-to-day life
Even if you affect one person's life, it's worth it.
---
If you're looking for more ideas, check out our list of 101 things to do when you retire.