The value of friends when you're in your 60s and beyond cannot be overstated. 

In later life stages, when your friendships change, and you find yourself losing friends and struggling with loneliness, it can be a tough pill to swallow.
As life happens, loss occurs, circles shrink, and people focus on their little worlds.
And then, of course, time has an uncanny knack for sneaking up on you. 
Before you know it, your hair is gray and late adulthood has arrived. 
To help you capture the most from your social circles and deepend your meaningful relationships during retirement, in this article, we'll discuss how friendships change in adulthood.
How Friendships Change in Late Adulthood
#1 It's Harder to Make Friends…
Making new friends when you're in your 50s (and beyond) is no easy feat. 
As you get older, your focus tends to shift from building a large network of friends and acquaintances to maintaining the friendships you already have.
And making new friends takes time. To be exact, it takes about:
50 hours of quality interactions to take acquaintances to the level of casual friends

90 hours to go from casual friend to friend

200 hours to make a best friend-type connection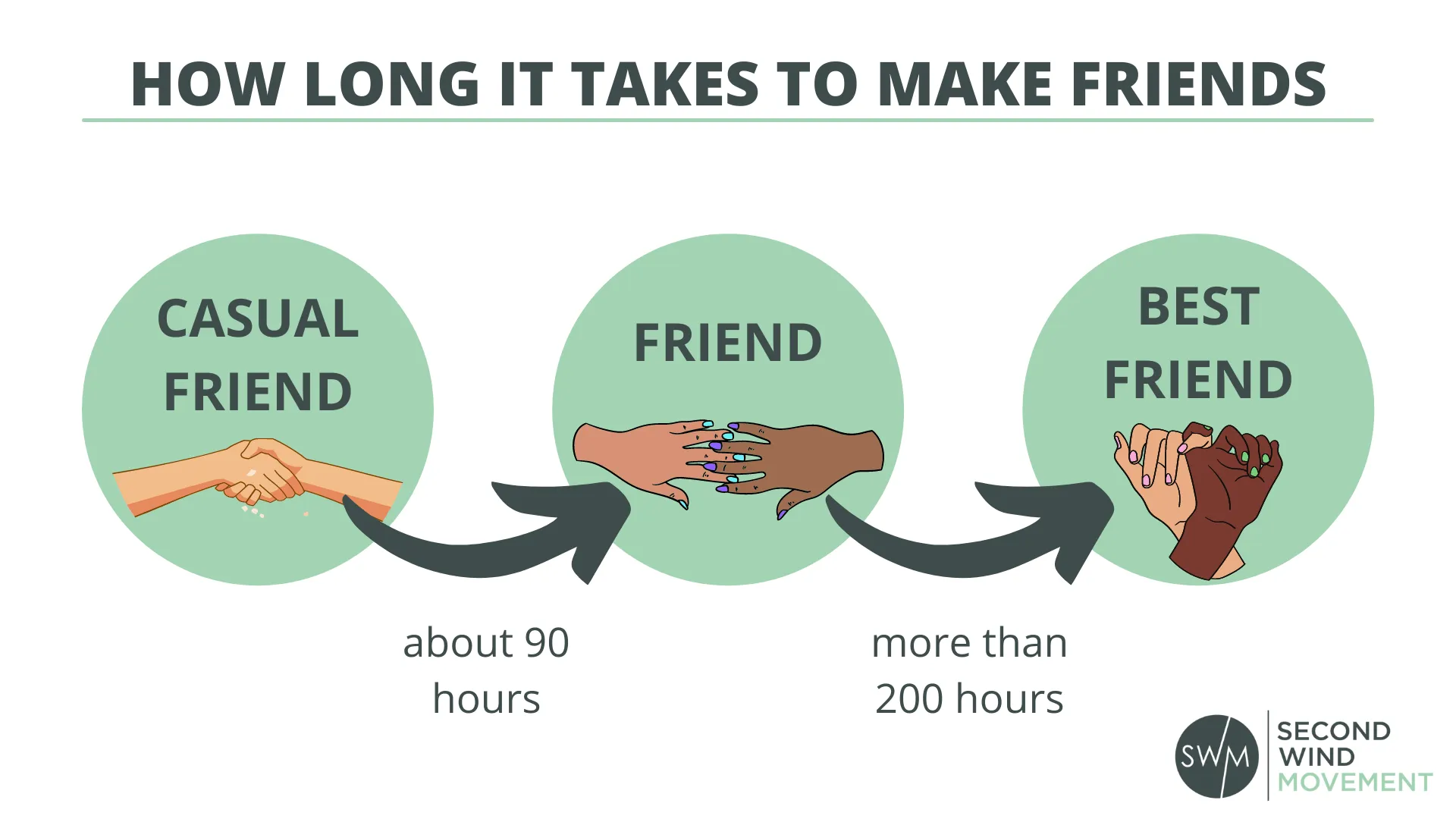 In other words, friendships are an investment of your time and energy. And as life's obligations get in the way, time can become a precious commodity that's hard to come by.
Apart from lack of time, a recent study uncovered five other compelling reasons contributing to the challenge of making friends in adulthood, including low trust and introversion.  
Perhaps the most striking of these factors is the diminished sense of trust you experience as you age. Life's disappointments and betrayals gradually erode your willingness to open up and fully connect with others. 
But here's the good news: it's easier to maintain friendships.
#2 … But Easier to Maintain Them
On the flip side, in late adulthood, it's easier to maintain friendships than when you were younger.
Why? 
Because as you get older, you tend to become more comfortable with your identity and how you relate to others. As a result, when relationships weather the storm of time, they often become stronger and deeper.
A recent Gallup poll revealed that individuals aged 65 and above seem to have more close friends, with an average of 13, compared to their younger cohorts.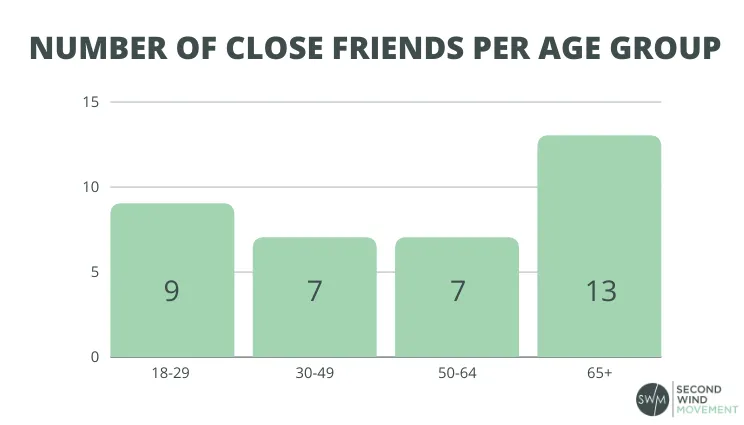 And even retirement doesn't decrease your friend count — no need for those social connections to clock out along with your work life. 
The secret sauce for nurturing friendships (or rekindling old ones) in late adulthood simply comes down to one key ingredient: being more intentional in your efforts. 
If you're familiar with our content, you know the power of our favorite tip in the area of Community:
Spend more time and energy with people in your Circle of Influence

Spend less time and energy on people in your Circle of Concern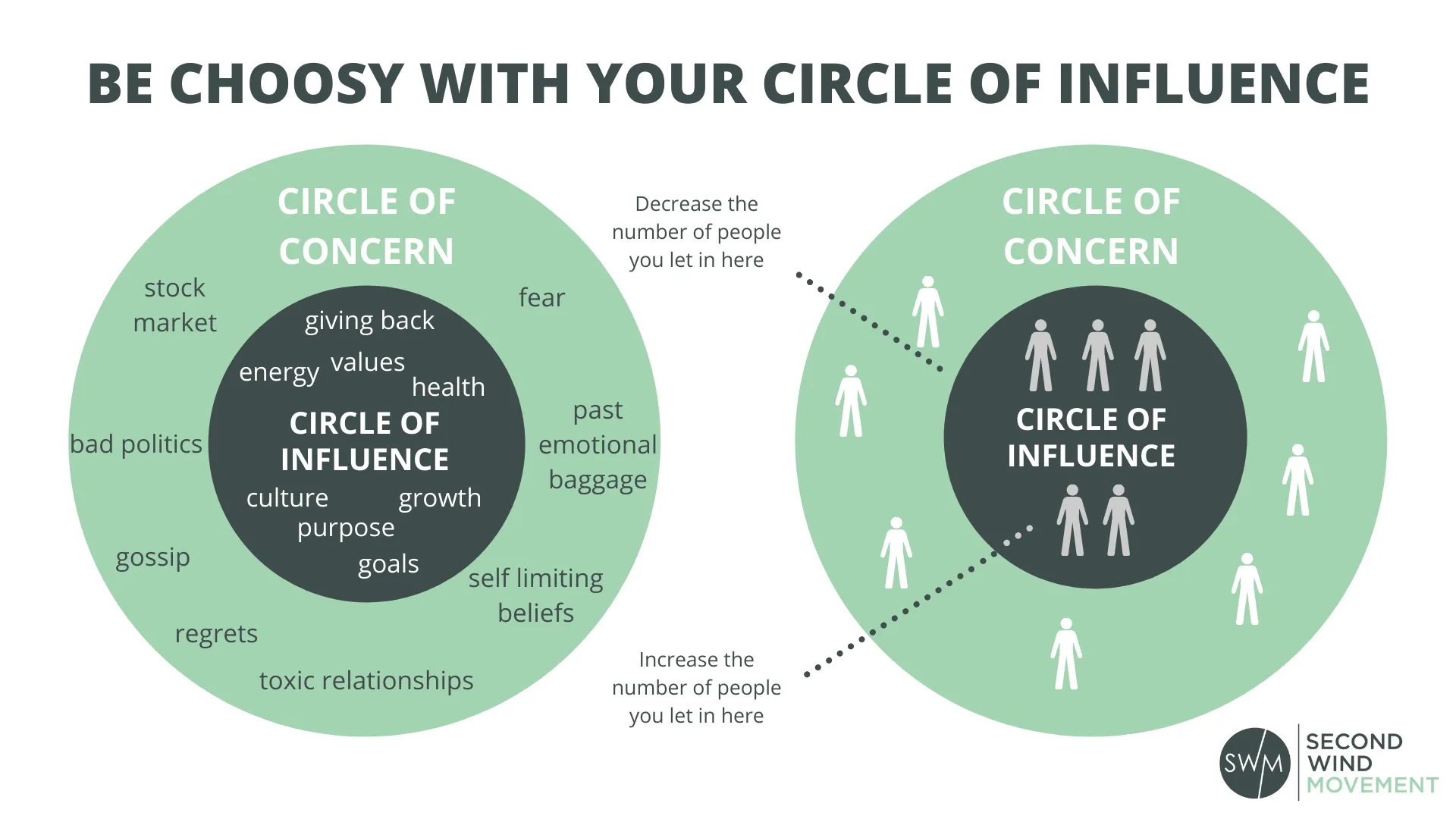 This triaging of where to put your social effort can make all the difference in nurturing quality, meaningful relationships.
#3 You Start Looking for Different Qualities
A recent study exploring the changing nature of friendships across the lifespan unveiled some intriguing findings, including the changing qualities you prioritize in friendships.
It turns out that when you're young, you tend to stick with your age group, like toast to butter. But with age, you begin to let go of age-based boundaries and embrace intergenerational friendships.
The study also revealed that older adults place significant importance on sensitivity within their friendships. 
Which makes sense because, with life experience, you begin to understand the intricacies of emotions and how crucial it is for your friends to be supportive and empathetic (and vice versa).
Ultimately, prioritizing emotional connections can be nurturing to your well-being and provide a sense of comfort and stability that's especially important as you age. 
So, while the days of reveling in wild parties might be behind you (along with what your teenage self may deem "cool"), your friendships take on a deeper and more meaningful timbre the older you get. 
#4 They Matter More…
With age also comes wisdom. And when friendships change in late adulthood, the connection you build with certain individuals can become more meaningful.
A study published in the Journal of Personal Relationships revealed that older adults are especially likely to rely on close relationships. It highlights the significance of these connections — they even surpass the impact of strong family ties in certain aspects of your well-being.
The friendships you maintain when you're in your 60s, 70s, and beyond have the power to enrich your life in ways you never expected. They can help provide much-needed support when faced with difficult times and offer insight when making important decisions.
Just look to lifelong friends Patricia, Tracy, and Zerlina, who have stayed very close over the years (Patricia and Tracy since the 80s). 
As Patrica put it:
"We have been through births, deaths, marriages, relationship problems, fertility issues, sickness, and they've always been there,"
And Zerlina said:
"The strength of their bond means it weathered waves of greater and lesser intensity of contact and feels unconditional, allowing for space."
#5 … Because They Tend to Be Better
It turns out friendships are like wine — better with age.
A recent study confirmed what many of us suspected: friendships become more meaningful and fulfilling as they evolve. 
The study found that older adults experience more positive and satisfying social relationships, feel more supported by their closest friends and family, and have less stressful friendships overall. 
So when it comes to friendships in late adulthood, the silver lining is clear. Despite losing some friends along the way, it's much easier to maintain the ones that last, and they tend to be even better than before.
Prioritize & Appreciate Meaningful Connections
When friendships change in late adulthood, there can be some tough times — but when you look at the bigger picture, there's plenty to appreciate.
In the end, having a few close friends who understand and support you is worth the effort it takes to keep those relationships strong.
Here's how relationships change in late adulthood:
#1

It's

harder to make friends

when you're older but

easier to maintain them
#2

Because when friendships do form, they tend to be

more meaningful and satisfying
#3

Older adults place

more importance on the emotional connection

when it comes to their friendships

#4

And therefore, they

rely heavily on the support

of the friends closest to them
All this to say, when it comes to friendships in late adulthood, cherish the ones that last and revel in the meaningfulness of these connections.
A little (intentional) effort can go a long way when it comes to nurturing your deepest relationships. 
So when times get tough, remember: when friendships change in late adulthood, they tend to be better than before.