Dating is tricky at any age. And contemplating the dating rules when you're over 50 is even trickier.
If you're divorced, widowed, or just haven't found the right person yet, it can feel like you're the only single person in your age group. 
But it turns out about 15 million older adults were single in 2020.
These days, there are all sorts of different ways to meet people — from online dating sites to Meetup groups. Before you dive in, though, it's important to remember some basic rules for dating over 50. 
For instance, according to OurTime's survey, 53% of singles over 50 feel it's appropriate to kiss someone after one date.
Here are do's and don'ts to help you make sense of the rules for dating over 50 a little bit easier and a lot more fun — starting with the do's.
The Do's of Dating Over 50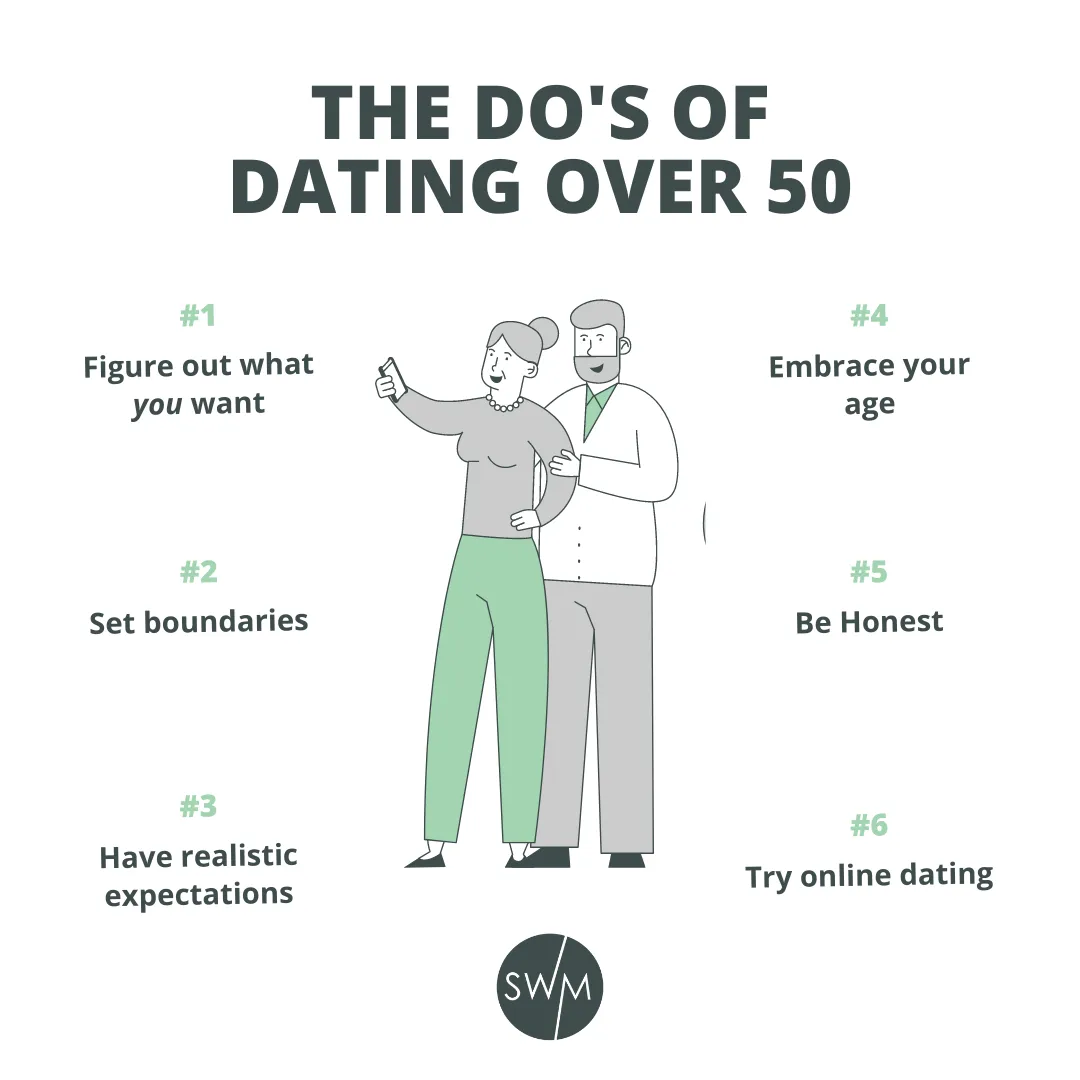 #1 Do Figure Out What
You
Want
Dating rules over 50 usually dictate that you need figure out what you want in a partner. 
But what about figuring out what you want first? What if you took the time to really focus on yourself and figure out your wants and needs – what kind of partner would you be looking for then? 
This is a game-changer.
It's definitely something worth thinking about, especially if you're at a point in your life where you're ready to start dating again. When you take some time to reflect on what's important to you and find clarity, you're setting yourself up for a healthier relationship.
After all, it's about nurturing your authentic self. Connect with yourself first to attract the right companion who aligns with the real you. 
#2 Do Set Boundaries
It's important to be upfront about things like your expectations for the relationship. Having boundaries will help you avoid getting hurt and will help keep the dating process fun and exciting. 
And do this proactively, before getting involved with anyone.
Decide ahead of time how much time you want to spend on dates, establish rules about communicating with your new partner, and make sure that you're still living your own life. And don't be afraid to say no. 
This goes for the physical and intimate topics, too. When it comes sex and intimacy, decide beforehand what you want and the pace you want to take. Which can help prevent any lust clouding your boundaries.
Dating should be something that enhances your life — not something that takes away from it. And that's why it's key to put yourself first and make sure that your own needs are being met.
#3 Do Have Realistic Expectations
Reality can be disappointing when you set your expectations too high. It's important to maintain an objective and realistic view about dating after 50.
What exactly does that mean? Basically, welcome the highs and lows.
There's an adjustment period to every new relationship, and of course, life constantly ebbs and flows.
Dating as an older adult can be a lot of fun, but it's not always easy. Don't expect every date to be perfect — and accept that some will be good and some will be bad. 
Just go in with an open mind and be prepared for some ups and downs.
#4 Do Embrace Your Age
We all know that age is just a number, but when it comes to dating, sometimes it can feel like your age is a big deal. It's easy to get caught up in the numbers game and start worrying about how old you are — or how old your date is.
One of the biggest mistakes people make when dating in their later years is trying to act like they're young. In fact, 20% of people lie about their age on online dating sites. 
Instead, embrace your age and all that comes with it. By doing this, you'll be able to find someone who loves you for who you are – no games necessary.
Plus, when you play the comparison game, it can be detrimental to your self-esteem and well-being and even steal your joy. 
Whether it's comparing yourself to who you used to be or comparing your potential partner to someone else, it's not helpful because it puts your focus elsewhere instead of your authentic self in the present.
No matter what your age is, it's important to feel confident and happy in your own skin.
#5 Do Be Honest
When it comes to dating, honesty is always the best policy. 
Studies show that people tend to fall for those similar to themselves. So don't try to pretend you're someone you're not or misrepresent yourself. The people you date will eventually find out anyway, and it's better to establish trust from the beginning. 
In the end, it's not about winning a popularity contest or forcing yourself to be with someone to avoid fears of being alone. It's about finding someone with compatible interests and values. 
And that's why being honest and transparent – with both yourself and your companion – are the fundamental dating rules to meeting a partner over 50.
#6 Do Try Online Dating
The dating game has evolved, and online dating is now one of the most popular ways to meet people. And 33% of people over 50 have used a dating app, so if you've been tiptoeing around online dating sites, now's a great time to step in and try it out.
You may think it gets harder to meet new people and expand your social circle as you age. 
But these days, the opportunity to reach out and connect with other like-minded people is more convenient when you consider online platforms and sites. 
Online dating sites are a great way to meet new people and potentially find someone special. Just make sure you follow our tips for creating an amazing online profile.
You can chat with potential dates before meeting up in person, so you know if they're worth your time. And finally, online dating is a great way to find love on your own terms. You can be selective about who you date, and take your time getting to know someone.
The Dont's of Dating Over 50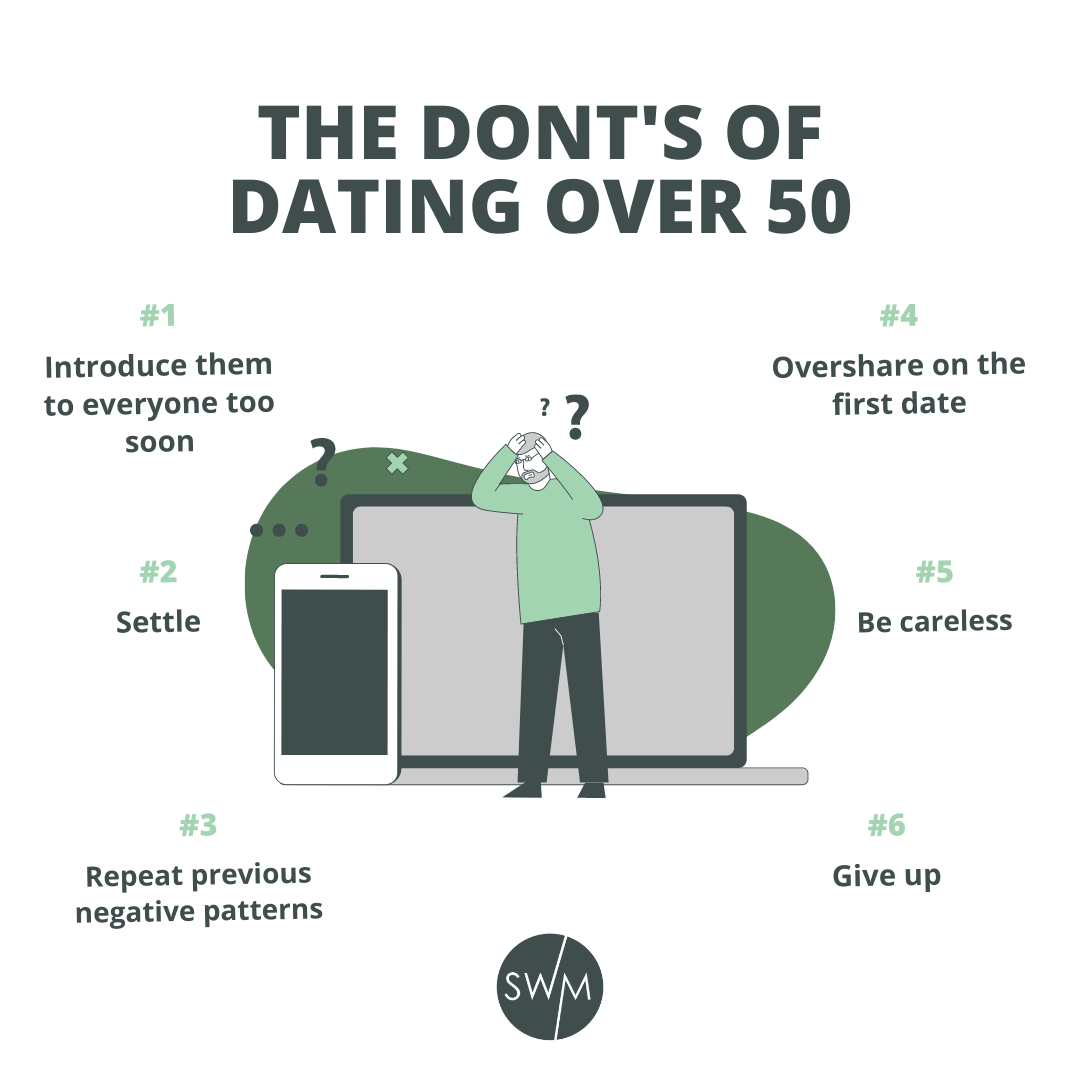 #1 Don't Introduce Them to Everyone Too Soon
On one hand, you may be anxious to introduce your new partner to your loved ones. But on the other hand, you may want to take things slow and let the relationship develop a little more before making an introduction. 
As a general rule of thumb, wait until you and your partner are on the same page about your relationship.
Don't put too much pressure on yourself or your relationship — take things at a pace that feels right to you, where you're growing an authentic bond, and let the introductions evolve naturally. There's no need to rush into anything.
#2 Don't Settle
If you prioritize simply being in a relationship over the quality of the relationship, you'll likely be dissatisfied. 
According to a series of studies on settling in relationships, if you're driven by the fear of being alone, you're more likely to settle and be unhappy. Even more so than if you were single.
You're free to date who you want, when you want, and how you want. So don't settle for just any relationship — make sure it's the right one for you.
#3 Don't Repeat Previous Negative Patterns
We all have patterns we repeat in our lives, whether it's how we handle money or the way we act in relationships. 
People tend to repeat patterns that are familiar, those that are learned in childhood, and those which they never healed from. 
We suggest that you take some time for reflection to identify any negative patterns (and we all have them). 
Whether it's through therapy, counseling, life coaching, journaling, or self-healing, this important journey of self-growth and self-awareness is worth your time and effort. 
Baby boomers and the silent generation are the ones that have invested the least in their mental health, so it's even more important to do this important work and end your negative patterns. No matter your age, you can heal and create healthier relationship patterns.
#4 Don't Overshare on the First Date
We've all been there. You're on a first date, and you can't help but blab about your ex, your kids, your job, and your life story. Why would you want to scare away someone who could be potentially a good fit? 
Keep things light. If the conversation naturally flows, you'll know that there's an authentic connection instead of a need to fill the silence.
Save the oversharing for when you're already good friends. Your date will appreciate it.
#5 Don't Be Careless
We believe this might be one of the most important dating rules when you're over 50 — safety first.
Here are a few tips to help keep you safe:
Meet in public places first — date in a well-lit, crowded area where there are plenty of people around

Tell friends or family about your plans — let someone know where you're going and who you're meeting

Do a little stalking — search for your potential date on Google and social media to verify their identity

Stay sober — alcohol can impair your judgment, so take it easy if you decide to partake 
Whether you're just starting to date again or you've been at it for a while, it's important to take precautions to protect yourself from potential scams or dangerous situations. Start with our article that goes over the 7 red flags of online dating you should look out for.
#6 Don't Give Up
Finally, don't give up on dating. Or on love. 
Many people ask themselves why even bother dating after 50. But research on dating relationships in older adulthood showed that those who date are in better health and report more social connectedness.
When you really think about it, isn't keeping yourself open to new possibilities one of the best things you can do in life? And is it really worth giving up on love altogether?
We've seen people find new love at every age, and it definitely happens for people well into their 60s, 70s, and 80s. 
Do Connect Authentically & Don't Forget to Have Fun
These dating rules for over 50 are a great place to start, but don't be afraid to experiment. Be yourself and let your personality shine. 
In and outside the dating world, when you connect with yourself first, you connect with others at a deeper, more rich level.
Our last rule is to have fun — remember, it's all about enjoying the journey.
---
For more dating advice, check out our comprehensive Guide to Dating After 50.