We all know that the internet has changed the dating landscape dramatically. 
And for the better in many ways. It's now easier than ever to find someone who shares your interests and values and to connect with them in a meaningful way through dating sites.
But it's also important to be aware of the potential risks associated with online dating and to watch out for red flags that may indicate someone is not who they say they are. Recent research shows that romance scams are the riskiest for older adults.
So whether it's their profile picture, the things they say in their profile, or how they behave when you chat with them, there are certain signs that you should look out for.
Before you start swiping left or right and give online dating a try, here are some tips to help you stay safe and avoid getting scammed.
4 Online Dating Profile Red Flags
Have you ever been contacted by someone on a dating site who seemed too good to be true? Maybe they were unusually attractive or too interested in you right away. 
Chances are, that person was probably fake. 
In today's world, it's easy for people to create fake online profiles, and often they do it with the intention of scamming others. Here are four signs of a fake online dating profile to look out for: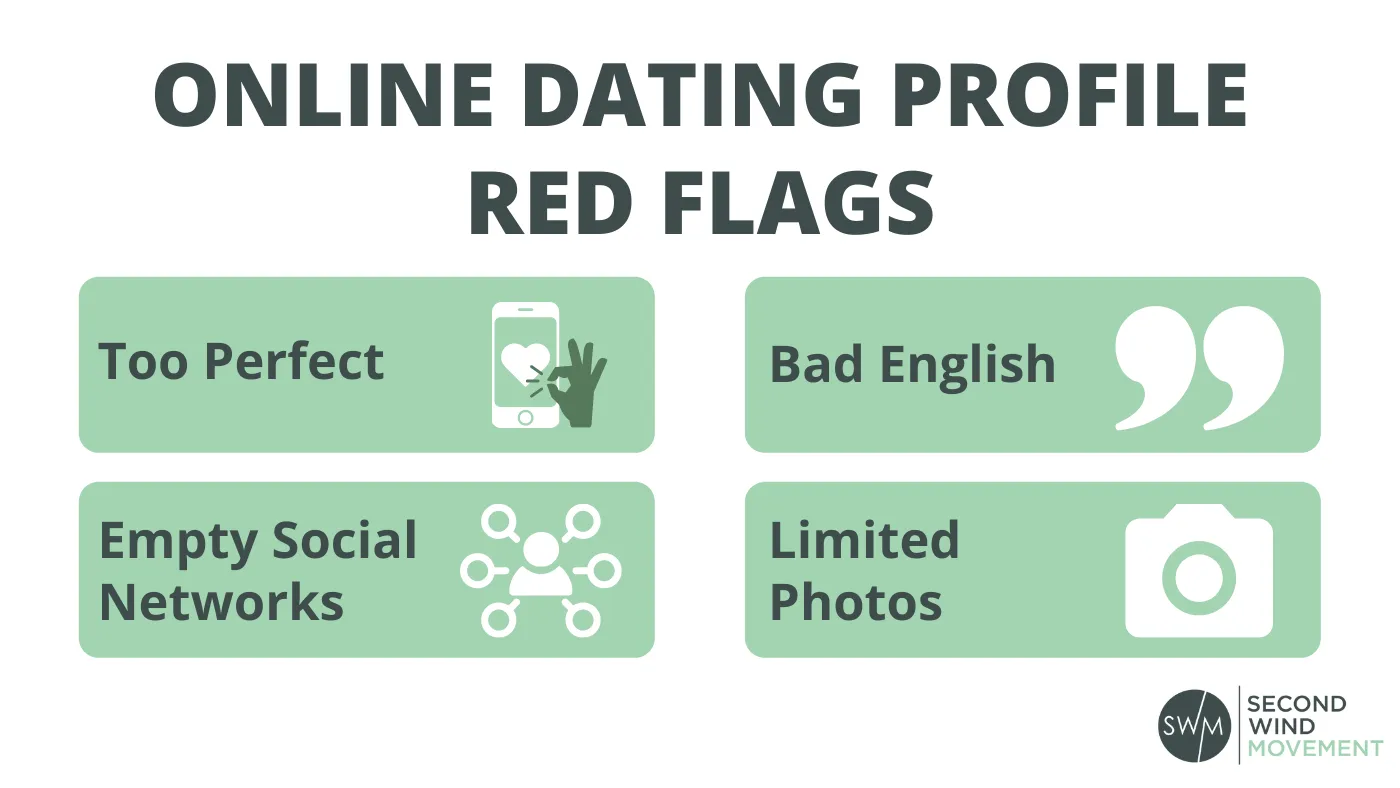 #1 Too Good to Be True
If you see a profile that is picture (too) perfect and too good to be true, it's likely because it isn't real.
They might have a ridiculously perfect life, great job, and amazing photos – which is likely not reality. 
So before you get too invested in chatting with them, take a closer look and see if everything seems on the up-and-up (because they might have read our article on how to create an amazing online dating profile).
You can download their photo and do a reverse image search to reduce your chances of being catfished. Here's how to search with the image on Google.
In sum: if something seems too good to be true, it probably is.
#2 Spelling & Grammar Mistakes
Most people know that you shouldn't believe everything you read online, especially when it comes to dating. One of the telltale signs of a fake online dating profile is poor spelling and grammar.
Are they a sign that the person is lazy, uneducated, or simply doesn't care? Or could it be that they're actually a fake profile created by someone looking to scam people?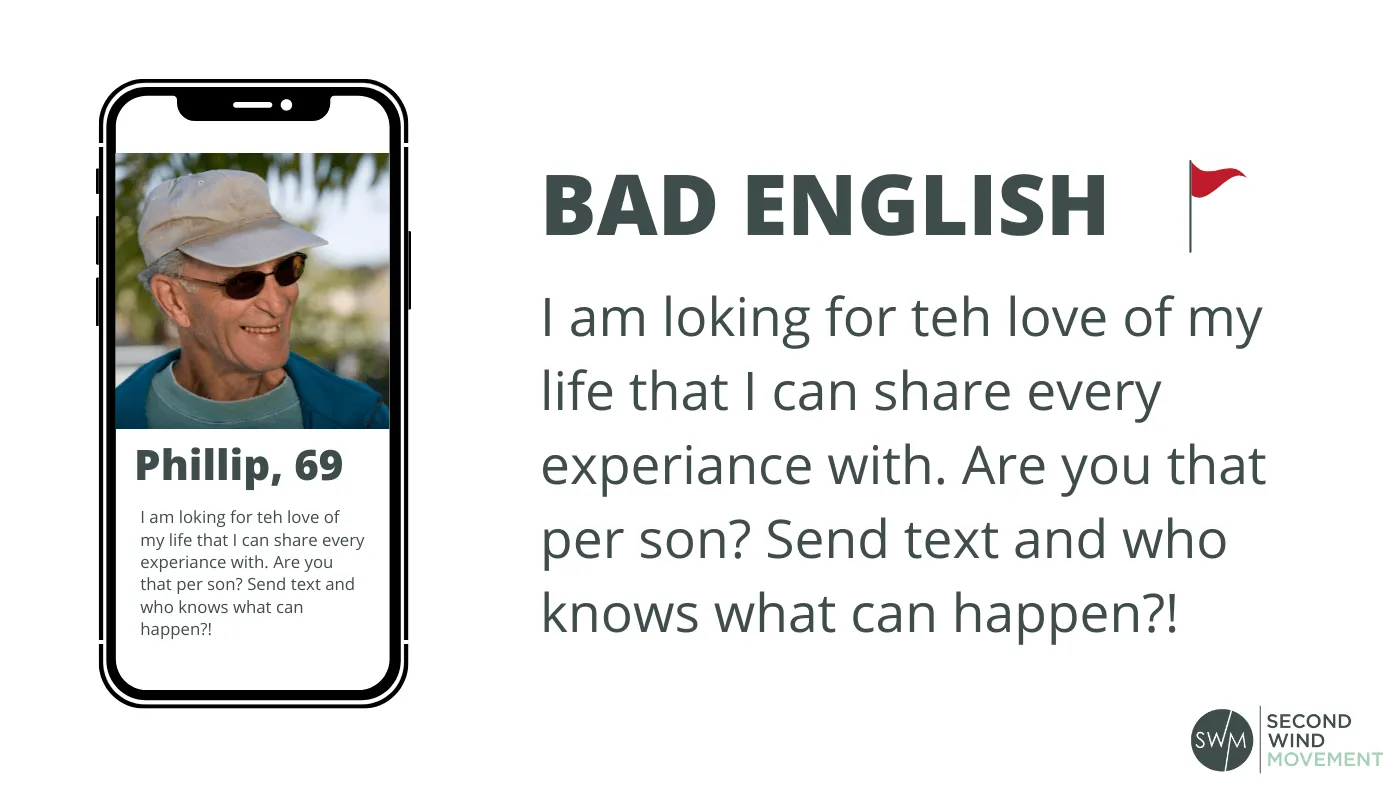 We all make mistakes, but bad English could be a sign of a fake online dating profile trying to scam you. Either way, research shows that language mistakes are unattractive in online dating profiles, so it's best to simply steer clear if something seems off.
Wouldn't you proofread your bio and try to put your best foot forward when looking for a match? We'd only expect the same effort from your potential companion.
#3 Empty Social Networks
Another online dating profile red flag is that the person has suspiciously empty social media accounts.
Either they don't link to them, or they're very limited. But do keep in mind that some people just don't like using social media. In fact, less than half of older adults do. 
However, if it seems like their profile is shady overall, it's best to move on. Trust your gut and intuition here – it knows when something is fishy.  
#4 Limited Photos
Have you ever come across an online dating profile with very few photos? It might make you wonder why this person is reluctant to share pictures of themselves.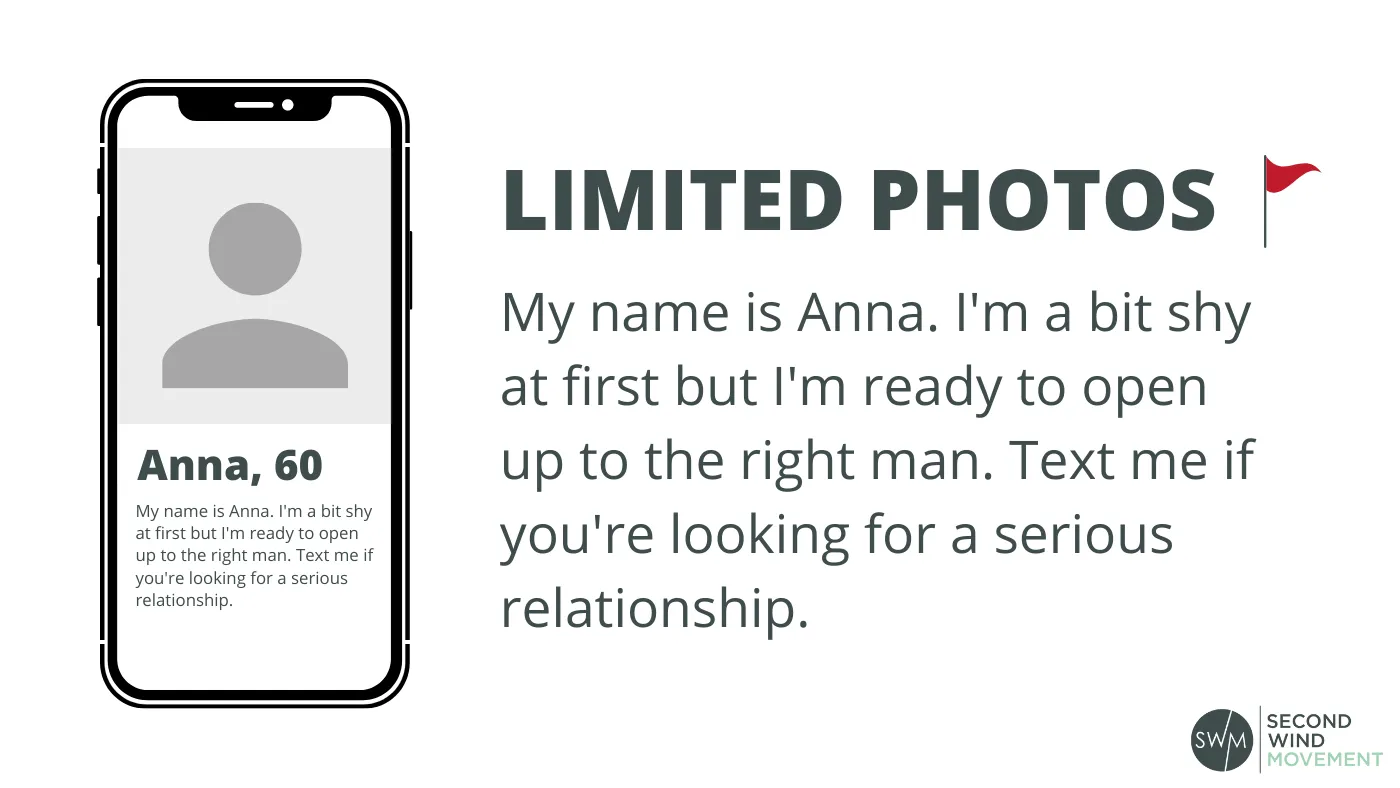 There's a good chance that the person is using a fake profile. People who create fake profiles typically don't have any photos of themselves because they want to stay anonymous. 
If you're talking to someone online and they won't send you any photos, it's probably best to move on. You don't want to get involved with someone who is hiding something. 
To be extra safe, you can run their details on a public records search tool (like this one). Which will help you to see whether the information they shared about themselves is really true or not. 
3 Online Dating Texting Red Flags
Dating after divorce or a big break is hard enough without worrying about scams, but unfortunately, they're out there. Here are some red flags to watch out for when you're texting with someone you met online. 
#1 Asking for Money
The internet is a breeding ground for scammers. And they're looking to take your money. 
While this one might be obvious, it's not to everyone. Older adults lost $139 million in 2020 to romance scams, so don't be one of them and simply do not give anyone your bank account information. Ever. 
There's likely a sob story to support their request. Whether it's a family or medical emergency or travel expenses to visit you, we want to remind you not to fall for it.
Alternatively, they could ask to wire you money. Which is a way to rope you into a scheme of money laundering. 
The bottom line is don't send or receive money from strangers, no matter what they tell you. 
#2 Love on First Sight (or Text)
Scammers will do everything they can to win you over right away. They have to act fast before you catch on.
That's why most start off by gaining trust very quickly. They'll start professing their love for you very early in the relationship, and before you know it, they've convinced you to send them money. As lovely as you are, when someone seems too eager early on, it's a big red flag.
The most important thing is that you continue chatting over the dating site until you're certain that your love interest is a real, genuine person. Then start chatting on the phone and get to know the person without rushing into anything. 
While putting on the brakes is sometimes difficult, as you want so badly to find your right match, try to take it slow and steady.
#3 Refusing to Reveal Their Identity
This red flag is a bit opposite of the last one. So you've been talking to this person online for a while, and things are going well. You're starting to think about meeting up, but they insist on keeping the conversation online. 
To keep questions of their identity at bay, they may even promise to visit. But then they continuously make up excuses why they can't make it and keep breaking their promises.
You sense their strong resistance and that something is off. That something "off" is not you. 
If someone you're talking to online won't commit to meeting up, it's best to move on.
Online Dating Safety Tips
Now that we've gone over the red flags of online dating, here are some tips to protect yourself:
Only share personal information with people you trust (which takes time to build)

Meet in public places for the first few dates 

Tell a friend where you're going and who you're meeting

Don't send or accept money or gifts

Don't send compromising pictures
Read our article to discover more dating rules that will keep you safe, comfortable, and happy.
Stay Safe
Although online dating can be a great way to meet new people, it's essential to stay safe while you do so. The internet is a vast and powerful resource, and it can also be an easy place for scammers to find victims. 
These red flags and scams of online dating may seem like the exception rather than the rule, but they do exist. So stay vigilant and keep an eye out for red flags and scams.
Most importantly, always trust your gut feeling if something seems off. With these safety tips in mind, you're sure to have a fun and rewarding online dating experience, so don't let any red flag scare you from meeting the right companion.
Here's to finding your right match while staying safe.
---
For more dating advice, check out our comprehensive Guide to Dating After 50.