According to recent studies, more and more people over 50 are single and dating. 
And that's great news — dating can be a lot of fun, and it can help you feel young and alive. 
But it can also be a little scary, especially if you're new to the (digital) dating scene. In fact, only 25% of people claim it's easy and people claim the dating scene has changed dramatically in the last 10 years.
We're here to equip you with the best advice in our Guide for Dating After 50 — for a more confident, self-aware, and happier you.
Our Advice for Dating After 50
Dating in your 50s and beyond is different from dating in your 20s and 30s. You're older, wiser, and know more about what you want out of life — and out of a relationship. 
So how do you date in your 50s, 60s, and beyond, and make the most of it? 
We've covered (nearly) everything you need to know about the modern dating world in five articles.
Chapter #1: Best Dating Sites for Older Adults
📕 Read about the 4 best dating sites for seniors (and learn which ones to avoid).
If you're on the market for some fun and romance in your golden years, you're not alone. There are tons of dating sites out there. But which one is right for older adults. And more importantly, which one is right for you? 
Check out our list of the four best dating sites for seniors, find out which one is perfect for you, and which ones you should avoid entirely.
Chapter #2: The Dating Do's and Don'ts
📕 Read about the essential dating rules for over 50.
Dating as an older adult can come with its own set of challenges. You may feel like you don't know how to go about it anymore, or that everyone your age is already paired off. 
Whether you're just entering the dating world or even if you've been at it for a while, it's important to know what to do – and what not to do. So if you'd like to get back into the dating scene, check out our 12 do's and don'ts of dating after 50 and let us help guide your way.
Chapter #3: How to Write a Dating Profile as a Senior Single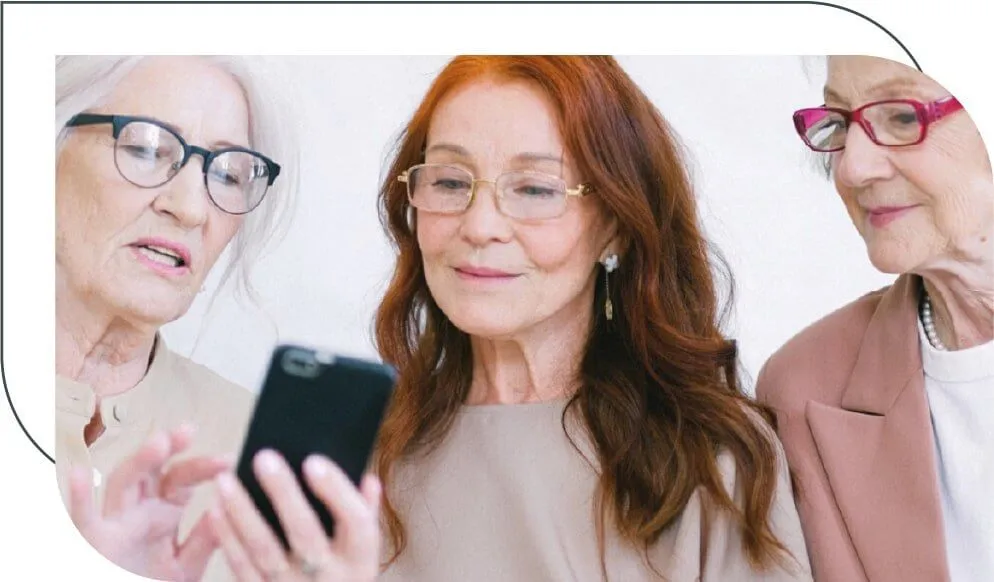 📕 Read how to write an amazing online dating profile as a senior single.
If you've decided to give online dating a chance, you're probably wondering how to create a profile that will attract the right match. 
What should you say? How can you make yourself sound interesting? And most importantly, how do you stand out from all the other singles online to attract the right match? 
This post will help you tackle all of those questions and more, so you can create a dating profile that captures your unique personality and helps you find love and companionship online.
Chapter #4: The Red Flags in Online Dating 
📕 Read about the 8 red flags you need to look out for in online dating.
Dating is tricky at any age, and it can be even more complicated when you're older and trying to navigate the digital world. You don't want to waste your time with someone who's not worth it, or worse, someone who is going to take advantage of you.
Stay vigilant when using online dating websites, and be on the lookout for any signs that someone might be trying to scam you. If something feels off, trust your gut and walk away.
Chapter #5: 5 Tips for Dating After Divorce
📕 Read about the five tips for dating after a divorce. 
Are you someone who's a bit nervous about dating after divorce? It can feel like you're starting all over again, and like you don't know where to begin. Especially if you met and started dating your spouse in the pre-online dating app era.
It's important to remember that you're not alone – many people date after divorce. And there's no reason why you can't have a successful relationship. In fact, remarriage is on the rise for older adults. 
So just follow our five tips, so you can feel confident and conquer the dating world as an older adult. You deserve companionship that's right for you.
Getting Back Out There
We all have our own unique journey, and we encourage you to embrace this new chapter and all of the possibilities that come with it. 
Simply put: get back out there. Don't sit around waiting for the phone to ring or for someone to knock on your door. 
Put yourself in social situations where singles are likely to gather. Join a hiking club, sign up for a painting class, or take ballroom dancing lessons. The more activities and hobbies you participate in that align with your natural passions and who you are at the core, the more likely you are to meet someone special. 
You may find love again, and you may make some great friends. What's key here is to connect more deeply with your authentic self, so that you can connect with the right people and have fun and grow as a person.
We hope that this guide has given you the boost of confidence you need to get back out there into the dating scene as your best self.
Here's to finding a companion that brings out the best in you… 💕