Do you remember the first word your child ever spoke? 
Perhaps it was a simple 'mama' or 'dada', and it filled your heart with indescribable joy. 
From that moment, you intuitively knew that communication would be a crucial part of your journey together. 
But as your kids grow up and become adults, this communication evolves and changes – drastically.
Suddenly, you're no longer talking about school projects or weekend plans, but about careers, relationships, and tough life choices. 
Navigating conversations with your adult children can be both challenging (sometimes disrespectful) and rewarding. 
To help you avoid the pangs of (too-common) adult child estrangement, we bring you four tips for communicating effectively with your grown-up kids to help you nurture your relationship.
But first, some clarity on normal dynamics between a parent and adult child.
What's a Normal Parent-Adult Child Relationship?
Normal parent-adult child relationship varies widely, as every family has its unique dynamics. 
While it's essentially one that evolves over time with the changing needs and priorities of both parties, there are some common characteristics that healthy and functional relationships between parents and their adult children share. 
Check it out:
Mutual respect

— remember when you first stepped into adulthood? Your decisions, your rules. It's their turn now, so champion their independence just like you did yours. Ideally, both parties of course respect each other's autonomy, decisions, and personal lives. 

Open communication

— talking about everything (within reason) from the latest Netflix series to deeper life issues. This open exchange not only strengthens the bond but also fosters mutual trust and understanding.

Supportive

— just as you cheered them on during their first step, bike ride, or graduation day, continue being their pillar of support. This opens up for continued reciprocity, where they're there for you, too, offering a helping hand when needed.

Understanding boundaries

— they've established their own world, much like you did in your youth. Respect this space and view it as a bridge to mutual understanding rather than a wall of separation. Boundaries are

very

beneficial for you, too.

Regular contact

— a simple call, message, or visit on a regular basis can make a world of difference. Keep the lines of communication open and nourish the bond you share.

Mutual love & affection

— disagreements and differences are part of any relationship. But there's an underlying bond of unconditional love and affection in a healthy parent-adult child relationship. Big caveat: healthy self-love first increases your capacity.

Forgiveness & understanding

— we're all human and mistakes are inevitable. The key is to learn from these experiences, offer forgiveness, and use these moments as stepping stones towards authentic growth.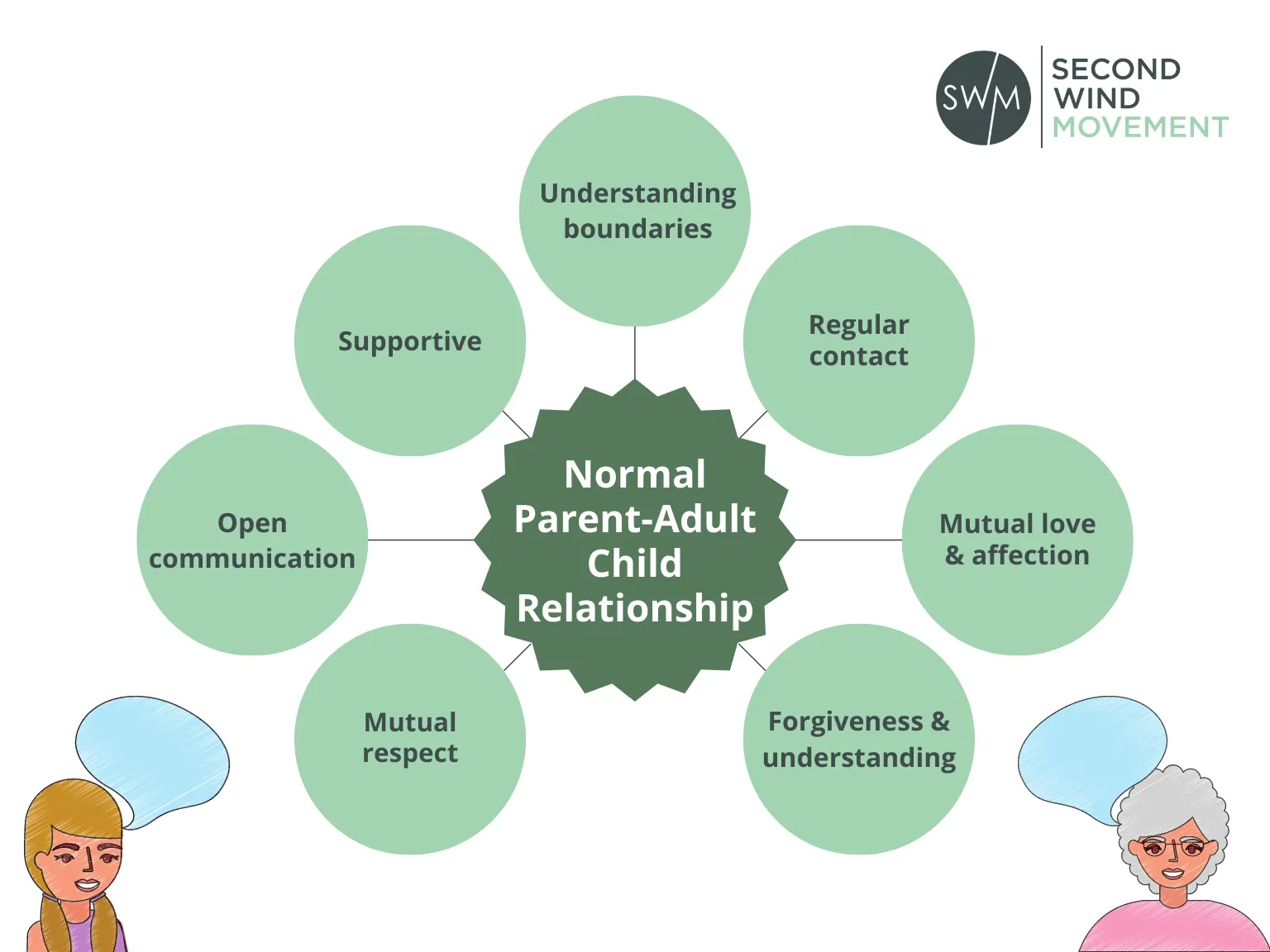 There's no perfect parent-adult child relationship, every family has its ups and downs. What's important is to go with the ebbs and flows while maintaining a foundation of respect, love, and open communication. 
Without further ado, here are four best tips for communicating with your adult children that may carry you through thick and thin…
4 Powerful Ways: How to Talk to Adult Children 
#1 Respect Their Independence
While you'll always be their parent who wants to protect and guide your children, you also need to respect their independence as they grow older.
It can be tough to loosen the reins and allow them to make decisions on their own, but it's vital for their individuality, growth, and development. 
In fact, recent studies have shown that young adults whose parents were both supportive of their independence and responsive to their needs had more positive outcomes, including better academic engagement and lower levels of depression. 
So, while it's okay to offer advice or support when needed, learning to let go of your grown child and allowing them to take control of their lives will ultimately lead to a more positive relationship with your adult children.
#2 Actively Listen
It's easy to think you know best. After all, you've got decades of life experience over your adult children.
But when it comes to communicating with your adult children, the key to success isn't always in dominating the conversation with solutions. Sometimes, it's about taking a step back and simply listening. 
Which, sadly, as a whole, it's not our greatest asset. According to a Pyschology Today article, research reveals that 96% of people think they're good listeners, yet people only retain about half of what others say.
But when you actively listen to what your adult child has to say, you're not only building a stronger relationship with them, but you're also hearing their unique needs. Overall, it's a more effective way to support both their issue at hand and their mental health. 
Plus, researchers have found that having someone to confide in when times get tough is crucial for cognitive health. 
So, next time your child wants to share a story or vent about work, try to resist the urge to chime in and fix it. Instead, give them your undivided attention and see how much it pays off in the long run. 
A little active listening can go a long way towards creating a more meaningful and fulfilling relationship with your adult children.
#3 Avoid Unsolicited Advice
In the same vein, sometimes it's about biting your tongue. You've got wisdom, loads of it. But remember when you were younger, and advice felt like a lecture? 
And apparently, that sentiment doesn't go away. Studies show that unsolicited advice is "still irritating after all these years" and one of the biggest sources of tension in parent- adult child relationships. 
So, how do you avoid this? Aside from active listening, you can start asking questions instead:
"What do you think?"

"How do you feel?"

"How do you plan to handle this?" 

And then, maybe, "Is there anything I can do to help?"
By taking this approach, you flip the script and make your child feel empowered and valued. It shows that you trust their judgment and opens up a dialogue where they feel safely seen. 
Because in truth, it's not about having all the answers. It's about inspiring them to find their own.
#4 Be Their Safe Space
Regardless of their age, you want to be there for your kids through thick and thin — and sometimes, that means being a safe haven amidst all of life's challenges. 
You know that your adult child may be struggling with things that you may not fully understand, but offering empathy and love rather than judgement and criticism (or solutions) can go a long way. 
A parenting study found that parents tend to offer different forms of support, including financial assistance, help with tasks, advice, emotional support, and social activities, every couple of weeks.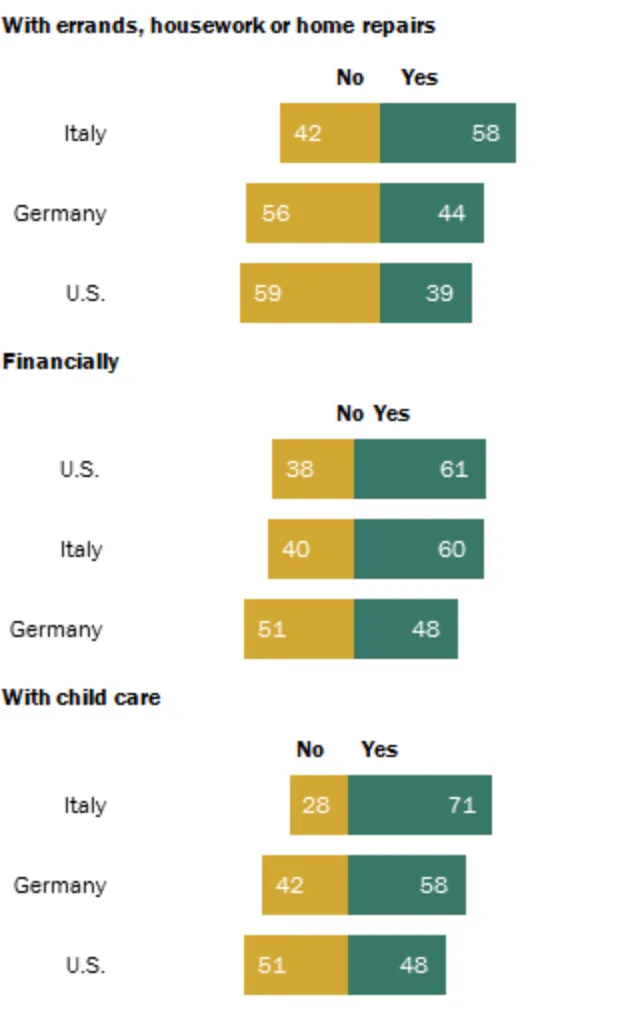 But it's essential to find a balance between providing support and enabling their bad behaviors. You, of course, want to help them navigate life's obstacles while also helping them become independent adults.
And that kind of "mixed support" can be the lighthouse that guides them back to a safe place where they feel heard and understood.
Nurture Healthy Communication
Success in communicating with adult children hinges on respecting personal boundaries and understanding how to provide support in their adulthood. 
Here's a recap of our tips for communicating with your adult children:
Respect their Independence

— u

nderstand and appreciate your adult children's autonomy and individuality

Actively listen

— sh

ow genuine interest in what they say and validate their experiences

Avoid unsolicited advice

— e

ncourage open discussions rather than merely providing a solution

Be their safe space

— offer a non-judgmental environment where they feel free to share their genuine thoughts and feelings
And despite any challenges that may arise, the enduring love and connection between you and your child remains constantly growing with nurtured communication.
May you seize the day and make a conscious effort to connect with your grown children or simply let them know they're in your thoughts. Your relationships will undoubtedly benefit from it.