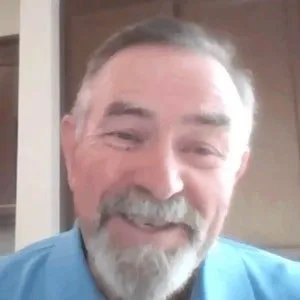 Steve Gardner, 70
Oakdale, CA
This is too good – and inspiring – not to share. 
Let me tell you a quick story about Steve. 
He's a wonderful family man, with a blessed robust life, who just needed some clarity and next steps, as he dove deeper into his so-called "retired life." 
So, last year, he tiptoed his way into Rewire My Retirement. 
I say "tiptoe" because, like most people, they're not sure about joining at first.
After digging into the course material, he immediately felt a profound "when the student is ready, the teacher shows up" energy. 
He started practicing mindfulness in a way that he never had before.
He found a deep sense of peace and clarity that helped him take consistent action.
The right kind of action.
The kind that leads you to fulfilling and meaningful accomplishments. 
Needless to say, he's a dream student who hit the ground running and, has since, experienced so much success. 
Yes, it's true – being a hard worker who takes a leap of faith has a lot to do with someone's success. 
But, another huge factor that I keep hearing about is… TIMING.
Talk about timing for Steve.
Not that he (or anyone) can predict when hardship arrives, but it's a very good thing Steve took that leap of faith and joined the program when he did.
He learned some key tools that were instrumental in helping him through some pretty rough times right after enrolling.
Rough times, like:
Falling badly (twice!) on rock slope while hiking on a camping trip with his two grandsons
Getting very ill afterwards, to the point of being bedridden for months
Welcoming his teenage granddaughter into his home as a temporary shelter from traumatic familial issues
Contracting COVID-19(!) and being (extra) bedridden for a solid week    
Fast forward to today. 
He's stronger than ever. 
Truly.
Steve is hiking nearby foothills like a maniac (as in, 10,000 steps a week) and leading daily walks with neighbors…
…and he successfully climbed Mt. Lassen again for his 70th birthday! 🎉 
WOW.
It is truly inspiring when someone like Steve applies the tools from Rewire My Retirement – through so much thick and thin – that they literally become unstoppable. 
Steve has a rock-solid resilience and equanimity for everything physically and emotionally rigorous.   
If you're on the fence about Rewire My Retirement, you're not alone. 
If fact, I'd say most of the people who enroll in the program are skeptical at first…
(And I don't blame them – there's an overload of terrible empty marketing promises out there that we've all been exposed to.)
There is something about taking a leap of faith at the right time. 
If you're ready to conquer your biggest dreams and goals, I'm here for you. 
Book a Free Breakthrough Session call with one of our team members to see if you're a good fit for Rewire My Retirement. 
You've got nothing to lose, and everything wonderful to gain.