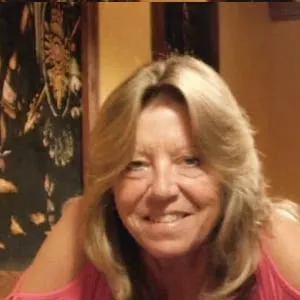 Mary Zimmerman, 67
Highland, MI
"I learned a lot about myself through Cyn's program and have been able to accomplish things I would never had tried before."
It was such a pleasure working with Cyn. I was looking to make some changes in my life and Cyn came along at the right time with the right tools I needed. I learned a lot about myself through her course and have been able to accomplish things I would never had tried before.
Her one-on-one coaching sessions were most helpful to me. She was always there to remind me of the progress I made, even if it was baby steps.
I now have the clarity I was lacking before on how to move forward as the best possible me that I can be.
Mary just turned 63 last year – she sadly became widowed 4 years ago now, and was having a hard time settling into her new identity as the new "single Mary."
When I met her she was struggling to rebuild a whole new social life…
When her husband was alive she was always the kind of shy one who relied on her husband to be the "life of the party" guy, so naturally all of her friends were their friends as a couple and all of their life activities were shared, of course.
By implementing the four steps in adopting a growth mindset, which are:
Step #1: Seek challenges
Step #2: Focus on process
Step #3: Accept feedback
Step #4: Practice Mindfulness
Mary was able to put it into practice and successful adopt a growth mindset using the right tools. She has come such a long way in a such a short period:
She overcame her shyness and now feels more comfortable meeting new people and talking to strangers basically
She moved to a new neighborhood for a fresh start near the beach – which is an environment that she's always loved
She kayaks regularly when the Michigan weather permits
She joined a travel club
She attends Zumba classes every week
She takes walks every day around her new neighborhood
She goes on camping excursions
She watches concerts in the park
She enjoys a part-time job
This is a major 180-difference for Mary in just a few short month. Her location move was the biggest event that took the longest amount of time.
I'm grateful for being able to share Mary's story with you because it's so important to understand that implementing the right tools is so key to transforming your so called "retirement life" – working or not.
Mary is now all set up for settling into an active, social, engaged retirement life for when she's ready to stop working… and she's just getting started with this new chapter as the "new Mary."
If you want to take advantage of your important golden years and create meaningful experiences and memories that you can take with you forever, then schedule a free Breakthrough Session with Cyn now.