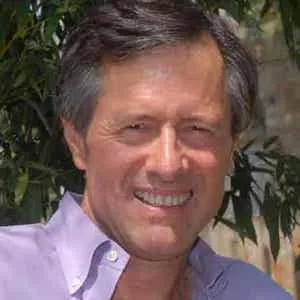 Chris Palmer, 71
Bethesda, MD
"Cyn is a gifted coach and an expert on everything to do with aging and retirement."
A few months ago, I retired at age 71 after a busy and rewarding career as a filmmaker, professor, and author. I was casting about, feeling uncertain, and realizing that I was in unfamiliar terrain.
Being retired was a new and unnerving experience. I wanted to fill my life with interesting and meaningful activities and projects that I would enjoy, but was struggling with the best way to do that.
By luck I came across Cyn Meyer's program on how to age and retire successfully and decided to sign up. I'm very glad I did. Cyn is a gifted coach and an expert on everything to do with aging and retirement. I love her emphasis on growth, giving back, health, community, achieving goals, micro-steps, and living an engaged, active lifestyle.
I highly recommend her program to any seniors who are interested in making sure their final decades are the best years of their lives, brimming with fun, engagement, love, companionship, caring, creativity, good health, and giving.
In late September, I met Chris, who had just retired at age 71 from a very successful career as a filmmaker, professor and author. His life up until retirement was so rewarding, meaningful, busy and full of life.
However, like most people he was trained to only financially prepare for retirement and not so much the lifestyle end of it.
As soon as he crossed that finish line, he felt lost and uncertain, and realized that he was in completely unfamiliar territory. Being retired was an entirely new and unnerving experience for him.
He knew he wanted to fill his life with interesting and meaningful activities and projects that he would enjoy (and had a ton of ideas and great intentions), but he was struggling to find the best way to actually make it a reality.
He was unclear on what exactly to do next and didn't know where to put his focus.
Then he joined Rewire My Retirement and not only found clarity, but also a step-by-step system that guided him entirely through a specific process for living an engaged, active, healthy lifestyle.
And he can now use this exact system for the rest of his life, beyond the scope of the course.
Chris' so-called retirement life is so robust, rewarding and impressive. It's a misnomer to call this period of his life his "retirement."
A very brief highlight of his latest accomplishments and immediate plans:
Leave a legacy and write six books on topics that he's passionate about
Prioritize his relationship with his wife, and enjoy joint activities like dancing, tennis, traveling, etc.
Nurture his role as father and grandfather to his three daughters and grandchildren
Exercise vigorously for an hour each day
Give back to the community by continuing to provide education, workshops, speaking gigs, etc.
Serve on local boards for causes that he believes in
Take piano lessons and teach his grandchildren how to play
Volunteer at local hospice locations
The list goes on and he now has an abundance of growth experiences to carry out in a very reliable way… he can count on living out his ideal retirement lifestyle in the long-term.
I'm so excited to share this story with you, because it's a story that is absolutely possible and relevant to your unique situation.
With the right tools and system in place, you can create your ideal active, healthy, and engaged lifestyle without having to worry about where to start or disrupting your current life.
If you're ready to create a successful retirement lifestyle for yourself, and really make your final decades the best they can be, take the next step and schedule a free Breakthrough Session with Cyn now.