Did you know that nearly 60% of older adults report sitting for more than 4 hours each day?
And guess what? About 65% of us admit to spending over 3 hours daily in front of a screen, and over half enjoy more than 2 hours of television.
But hey, who's counting?
Instead of seeing this as a problem, let's view it as an opportunity.
An opportunity to transform these sitting hours into something more beneficial, more rewarding. 
Today, we share ways to turn some of that couch time into exercise time with chair exercises.
Whether you're a beginner at exercise, recovering from an injury, or just looking for low-impact ways to keep healthy, chair exercises provide an easy way to stay active and look after your body from the comfort of your own home. 
Let's explore their benefits and dive into the 11 best chair exercises for seniors you can do straight from your favorite armchair.
Benefits of Chair Exercises for Seniors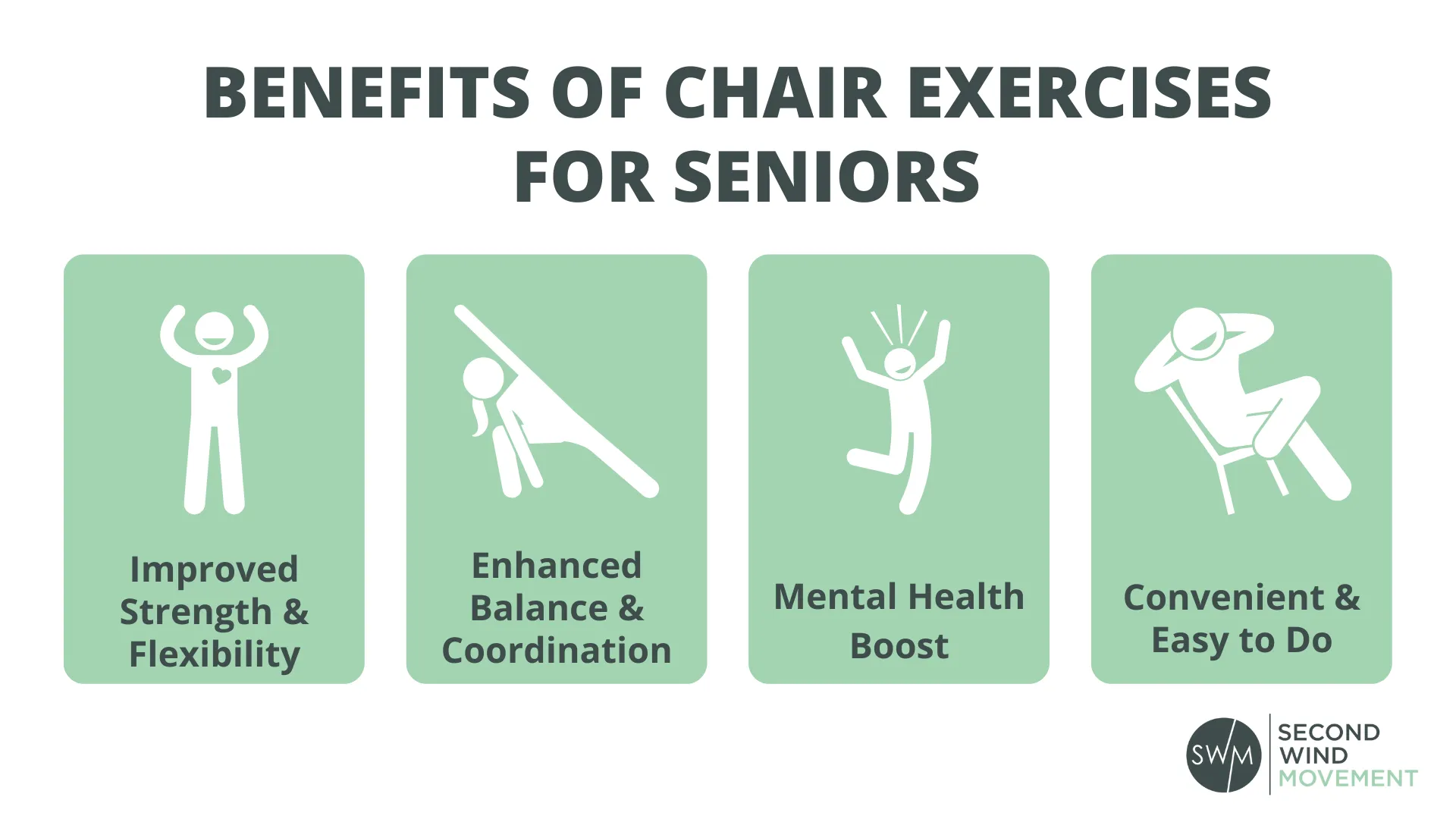 #1 Improved Strength & Flexibility
Chair exercises are a golden ticket to improved physical health for seniors. 
These simple but effective workouts can enhance flexibility, making it easier to engage in day-to-day activities, from tying your shoelaces to reaching for that top-shelf book. 
And they also build strength, empowering you to maintain your speed and independence and carry out tasks with ease. In fact, a study has found that older adults can start building strength by doing chair exercises in as little as two weeks.
#2 Enhanced Balance & Coordination
When you think about getting fit and improving your balance and coordination, you likely picture yourself working up a sweat in a gym or hitting the park for a run. 
But, according to a recent study, chair exercises have been proven to be just as effective as traditional workouts when it comes to boosting balance and coordination. 
With chair exercises, you can work towards better balance and a reduced risk of falls without even having to leave your living room.
#3 Mental Health Boost
The benefits of chair exercises for seniors go beyond just physical. 
Recent studies have shown that chair exercises can not only improve physical health, but also contribute to greater life satisfaction, happiness, and reduced anxiety in older adults. 
One 14-week exercise program had participants feeling more uplifted and fulfilled. Which proves that chair exercises aren't just about working up a sweat — it's also about boosting your mental health and overall well-being.
#4 Convenient & Easy to Do
For many people, exercise can seem like a daunting task. Whether it's because of physical limitations or simply a lack of motivation, there can be many barriers to getting regular physical activity. 
But chair exercises are accessible to people of all levels and abilities. With just a simple chair, you can get a full-body workout that can help improve your strength, flexibility, and overall health. 
So don't let common barriers like time, money, or access to gym equipment hold you back from getting active — chair exercises from the comfort of your own home are an easy and convenient way to incorporate physical activity into your daily routine.
11 Best Chair Exercises for Seniors
#1 Clenched Fists & Wrist Circles


If you're looking for a way to improve flexibility and strength in your hands and wrists, consider trying clenched fists and wrist circles. 
To start, clench your fists tightly for about 10 seconds before releasing and spreading out your fingers. Then, extend your arms straight in front of you, make fists again, and rotate your wrists in one direction for 30 seconds. 
Once you've completed that, switch to the other direction for another 30 seconds. You'll want to repeat this cycle 3-5 times for the best results. 
#2 Ankle ABCs

The ankle is a crucial joint in our body, aiding in our mobility and stability. However, sometimes it can be overlooked in our exercise routine. That's where the Ankle ABCs come in. This simple exercise can not only improve ankle mobility but also coordination. 
Sitting down, lift one foot off the ground and use your ankle flexion and extension to "write" each letter of the alphabet in the air. Repeat the exercise with the other foot, completing the alphabet once with each foot. 
#3 Seated Marches

If you're looking for a simple exercise that can make a big difference in your balance and stability seated marches might be just what you need. They can help you strengthen your leg muscles and core without putting too much strain on your joints. 
To do them, just sit upright on a chair with your feet on the floor, lift one knee at a time as if you were marching. Aim for one to two minutes for the best results.
Before you know it, you'll be marching your way to better balance.
#4 Sit-and-Stands

If you're looking to build up some leg strength and improve your balance, the sit-and-stand exercise might be exactly what you need. Not only does it target your legs, but it can also help increase your independence by making it easier to get up from chairs on your own. 
To perform this exercise, simply stand up from your chair without using your hands, and then slowly sit back down again. Repeat this movement for 10-15 reps, and you're bound to feel stronger and more balanced in no time. 
Plus, it doubles down as one of the 5 key fitness tests for older adults, so you can track your progress.
#5 Heel Slides
Heel slides mainly focus on your hips and knees, stretching and improving the range of motion in those areas. 
To do this exercise, start by sitting down and slowly slide your heel forward on the floor until your leg is fully extended. Hold that position for a few seconds, then slide your heel back to the starting position. Repeat this movement ten times per leg to really feel the benefits of this stretch. 
It's a simple exercise that can make a big difference in your overall mobility, so give it a try and see for yourself.
#6 Chair Squats

While they may be a bit harder than the other exercises, that extra challenge can really pay off in the long run. By performing the chair squats exercise, you can improve your balance and mobility, making everyday movements easier and reducing your risk of falls and injuries. 
To try it for yourself, simply stand in front of a chair with your feet hip-width apart and lower your body towards the seat — but don't sit down! Hold for a beat, then return to a standing position.
Repeat this motion 10-15 times for a truly effective workout.
#7 Seated Leg Extensions

Seated leg extensions may seem like a small and simple exercise, but it packs a punch in the thigh muscle department. 
Sitting down, extend one leg out straight and hold it there for a quick moment before lowering it back down. It's really that easy, and yet it works wonders for strengthening your thighs. 
This exercise may be done 10 times per leg, making it a quick and efficient way to work on your leg muscles. With a little bit of consistency and effort, you'll feel stronger and more stable on your legs.
#8 Seated Calf Raises

Seated calf raises can do wonders for strengthening your calves and improving your walking and balance. 
By sitting on the edge of a chair and lifting your heels off the ground, you're able to target the muscles in your calves in a controlled manner. And with just 20 repetitions of this exercise, you can increase your strength, stability, and overall fitness. 
And since it's so discreet, you can squeeze in a couple of calf raises pretty much anywhere.
#9 Tummy Twists
Have you ever heard of tummy twists? No, it's not a new dance trend. It's actually a fantastic exercise that can tone your oblique muscles and improve your overall core stability and posture. 
To do a tummy twist, simply sit in a chair and grab an object, like a ball or a small weight if you want to up the challenge. Then, twist your torso to one side, hold for a second or two, and then twist to the other side. Repeat 10 to 15 times.
Easy, right?
#10 Draw a Sword

Have you ever seen a sword-wielding hero on the big screen and thought, "I wish I could do that?" Well, now you can at least pretend to with this exercise. 
Drawing a sword might not be as practical as it once was, but it's still a great way to improve your upper body flexibility and coordination. 
Just pretend that you're drawing a sword from a sheath at your side and extend your arm out diagonally while rotating your torso slightly. With 10 to 12 repetitions per side, you'll be a true chair warrior in no time.
#11 Butterfly Heel Raises

If you're looking for a challenging exercise that targets your inner thighs and improves your ankle mobility, then butterfly heel raises might just be what you need. 
This exercise involves sitting down with the soles of your feet together and allowing your knees to drop to the sides. From there, you'll want to raise your heels off the floor as high as you can, and then slowly lower them. 
It may seem simple, but give it a try and you'll see that it's a lot harder than it looks. Aim for 15-20 repetitions and see how it works for you.
Stay Seated, Stay Fit
Remember, it's important to start slow and gradually increase the intensity and duration of your exercises. Always listen to your body and take breaks when you need them.
With regular practice, these chair exercises can help improve your strength, flexibility, balance, and mental health. But best of all, they're really easy to incorporate into your daily routine.
Whether it's doing 15 minutes while watching your favorite show or even sneaking in a few movements while scrolling through social media, every bit counts.


To recap the 11 chair exercises for seniors:
#1 Clenched fists & wrists circles

— clench your fists and make gentle circles for a rejuvenating exercise
#2 Ankle ABCs

—

move your ankles to the letters of the alphabet and enjoy the benefits
#3 Seated marches

— lift those knees like you're marching and feel the energy flow
#4 Sit-and-stands

— rise up and sit down to build resilience in your legs
#5 Heel slides

— slide into fitness with heel slides.
#6 Chair squats

— chair squats are perfect for enhancing leg strength 
#7 Seated leg extensions

— extend your legs out and feel the stretch
#8 Seated calf raises

— raise your calves while seated to work on your balance
#9 Tummy twists

— engaging your core has never been this simple and easy
#10 Draw a sword

— extend your arm as if you're drawing a sword and feel your arm muscles flexing
#11 Butterfly heel raises

— try lifting your heels for a gentle exercise with significant benefits
And remember, consistency is key. It's not about how much you do in one day, but rather what you can maintain long-term.
Each (micro)step forward, no matter how small, is a victory towards a healthier and more active lifestyle.
P.S. While we're on the topic of chair exercises, check out these seated yoga positions for a good stretch.