Are you looking to stay connected with your loved ones, get some work done on the computer, or just browse the web? 
You might think laptops are reserved only for younger generations who are always on the go. 
Think again — recent research shows that over 90% of adults over 50 own a computer or laptop.
They can definitely make your life easier. But with dozens of models and brands available in the market today, choosing the right one can be overwhelming, especially if you're not obsessed with being tech-savvy. 
That's why we've put together this comprehensive guide that will show you exactly what features to look out for when picking out a laptop tailored specifically for your needs as an older adult. 
From ease of use to budget considerations, read on to discover how to shop for the perfect laptop model for you. Plus, get inspired with our list of best laptops for seniors.
Best Basic Laptops for Seniors
Are you tired of struggling with complex laptops that have too many confusing features? If so, a basic laptop may be just what you need. 
These laptops are designed to offer all the essential features and functionalities you need for everyday tasks without overwhelming you with complicated interfaces or fancy specs. 
For older adults who want a reliable, easy-to-use device that can help them stay connected with loved ones, browse the web, and enjoy online entertainment, a basic laptop is a perfect fit. 
In this section, we'll be highlighting the 3 best basic laptops for seniors. So if you're in the market for a simple, user-friendly laptop, consider these laptop models: 
#1 HP Stream 14
For older adults looking for a laptop that ticks all the boxes and won't break the bank, the HP Stream 14 is a solid choice. 
It's lightweight design means you can easily carry it around, while the straightforward Windows 10 operating system makes it easy to use even if you're not super tech-savvy. 
The laptop comes with 8GB of RAM and 64GB of storage, which is more than enough for basic tasks like browsing the web, checking email, and typing up documents. 
The HD display ensures that everything on the screen is crisp and clear, and the full-sized keyboard and touchpad make it easy to navigate. 
Price: $299.99. The affordable price point makes this a great choice for anyone on a budget. 
Just keep in mind that it may not be suitable for heavy multitasking due to its limited storage capacity. Nevertheless, the HP Stream 14 is perfect for older adults who want an easy-to-use, portable laptop that isn't too expensive.
#2 Lenovo 3i Chromebook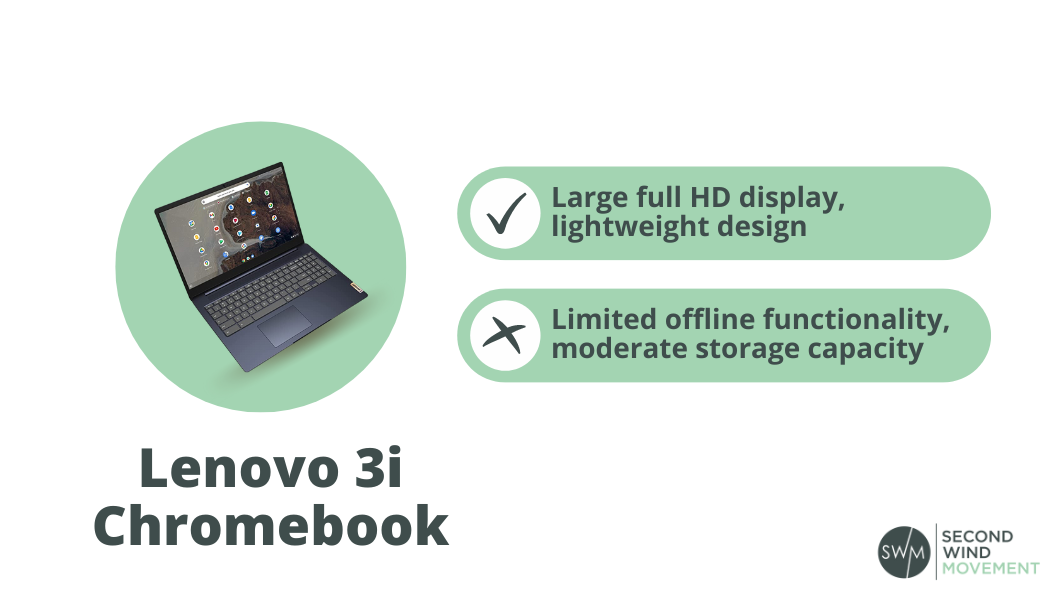 With Lenovo 3i Chromebook's 15.6-inch Full HD display and user-friendly Chrome OS, this laptop is the perfect option for seniors who prioritize crisp visuals and ease of use. 
Plus, with 8GB of memory and a lightweight design, it's great for multitasking and on-the-go use. 
It might not have as much offline functionality as some other laptops, and its storage capacity is moderate, but the 2023 Everyday Notebook is s a budget-friendly option. 
Price: $299.99. For those looking for a budget-friendly reliable and large laptop, the Lenovo 3i Chromebook is a great option.
#3 Apple MacBook Air
Apple's MacBook Air is an excellent option for seniors who prefer macOS over Windows or Chrome OS.
With a user-friendly macOS and a crisp Retina display, this lightweight laptop is easy to navigate and provides clear visuals, making it perfect for seniors who may face vision challenges. 
Whether you're browsing the internet, writing emails, or streaming your favorite shows, the MacBook Air's impressive performance ensures that these tasks run smoothly. 
Plus, with a battery life of up to 18 hours, you don't have to worry about it dying in the middle of the day. 
Price: generally $1000 and above. While it may be more expensive than other basic laptops, the build quality and reliability of Apple products make it a worthwhile investment.
Best Laptops for Seniors with Advanced Computing Needs
Do you have a passion for photo or video editing, gaming, or coding? If so, you may need a laptop that's up to the task. Basic just won't cut it — you need a more powerful machine.
Luckily, there are several excellent options on the market today. In this section, we'll take a closer look at the top 3 laptops for seniors with advanced needs, including all the key features, pros, and cons to help you make the right choice. 
Whether you're a tech-savvy senior or just looking to upgrade your computing experience, these laptops will help take your digital life to the next level.
#4 Lenovo IdeaPad 3
If you're in the market for a laptop for older adults that's budget-friendly but still delivers decent performance, the Lenovo IdeaPad 3 might just be the perfect fit for you. 
With its 15.6-inch Full HD display, AMD Ryzen 5 processor, and 8GB RAM, this laptop can handle everyday tasks and even some light advanced work. Its lightweight design makes it easy to carry around, and the comfortable keyboard makes typing a breeze. 
Additionally, the user-friendly Windows 10 operating system is sure to make navigating your computer a seamless experience. However, keep in mind that the battery life is average, and the storage capacity is limited. 
Price: around $460. Nevertheless, if you're looking for a laptop that won't break the bank, the Lenovo IdeaPad 3 is definitely worth considering.
#5 Acer Nitro 5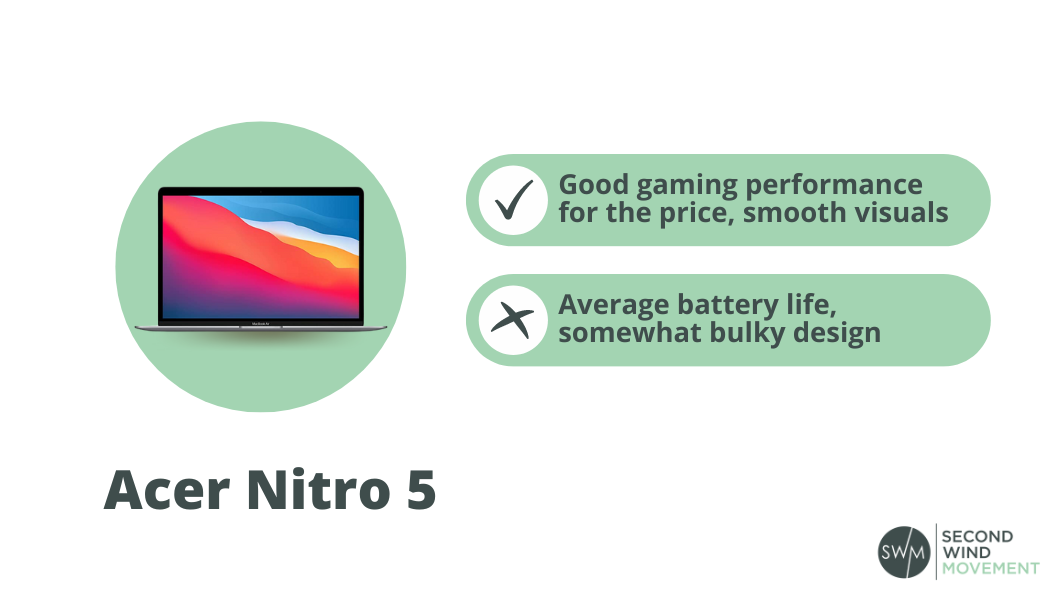 When it comes to finding a reliable laptop for older adults who are gaming enthusiasts, the Acer Nitro 5 is a top contender. 
Featuring a 15.6-inch Full HD display, this laptop provides smooth and clear visuals during gaming sessions. It also comes equipped with an Intel Core i5 processor, 8GB RAM, a 256GB SSD, and an NVIDIA GeForce GTX 1650 graphics card, which ensures reliable performance for most modern games at medium settings. 
The keyboard is comfortable for extended use, and the laptop has upgradeable storage and RAM to accommodate future needs. While the battery life may be average, the high refresh rate display makes up for it, providing sharp-quality visuals during gameplay. 
Although the somewhat bulky design may be less convenient for portability, the Acer Nitro 5 strikes a reasonable balance between performance and affordability. 
Price: generally $900. If you want to strike a nice balance between budget and performance, the Acer Nitro 5 is a great laptop for older adults who enjoy gaming.
#6 Apple MacBook Pro
Designed specifically for users who prefer macOS, Apple MacBook Pro boasts impressive performance with its M2 chip, as well as a 13.3-inch Retina display and 8GB RAM. The large Force Touch trackpad also offers enhanced navigation for ease of use. 
Plus, with advanced features such as the Touch Bar for quick access to frequently used functions, this laptop caters to your unique needs. It's one of the best laptops out there — and not just for seniors.
Price: $1300 and over. While it may be on the pricier side, the high-quality display and user-friendly macOS make it worth the investment. And with long battery life, you can stay connected without worry. It's ideal for you if you want the best of the best.
Extra Features to Consider
When you're choosing a laptop for seniors, it's essential to think about those extra features that can make all the difference in creating a delightful and user-friendly experience. 
Here are five key factors you should keep in mind:
Screen Size & Resolution: Bigger or Smaller?
When it comes to choosing a laptop for older adults, size matters. 
While larger screens between 15-17 inches are great for visibility and readability, they do come with a downside: weight. It's important to keep this in mind, especially if portability is a concern. 
Alternatively, smaller screens between 11-14 inches are more lightweight and portable, but may cause difficulties in reading for those of us with vision problems. 
Be sure to aim for a high-resolution display, such as Full HD or higher, to ensure crystal-clear visuals and easy reading. In the end, it's all about finding the right balance between screen size and weight for your perfect laptop.
Keyboard Design & Ergonomics: Comfort is Key
While style and performance may be important, comfort is vital for longer sessions on the computer. The full-sized keyboard can make all the difference, especially when it has large, well-spaced keys that are easy to type on. 
And if you're worried about typing in dimly lit environments, a backlit keyboard can be a lifesaver. It's also important to check for adjustable angle settings or wrist support to minimize strain and ensure the most comfortable fit possible. 
Investing in a laptop with these features can make a big difference in your overall experience and make daily computer use a breeze.
Touchscreen Capabilities: Get in Touch
While touchscreen laptops offer a convenient, intuitive way to interact with the device, it's important to note that some older adults may struggle with the touchscreen technology. 
In fact, recent research has found that older adults tend to have poorer touchscreen skills compared to middle-aged adults. 
That's where convertible laptops with 360-degree hinges or detachable screens come in handy. These devices provide the best of both worlds, functioning as a laptop and a tablet, allowing for a range of input options that can suit different preferences and skill levels. 
Just be aware that touchscreen laptops may consume more battery life and be pricier than non-touchscreen models, so weigh the pros and cons carefully and consider your prioritized needs before making a decision.
Battery Life: Keep It Going
Battery life is also an essential consideration. After all, you don't want to run out of juice in the middle of an important Zoom call or creative writing session. 
A long-lasting battery is particularly crucial if you don't always have access to a power outlet or like using their laptops on the go. To ensure that you can work or play all day without needing to recharge frequently, aim for laptops with at least 8 hours of battery life. 
But do keep in mind that gaming laptops and those with high-resolution displays may have a shorter battery life due to increased power consumption. It's all about choosing a laptop that balances performance and battery life to meet your needs.
Portability & Weight: Lighten the Load
If you're always on the go, you need a laptop that won't weigh you down. Literally.
A lightweight laptop is the perfect solution for those who travel frequently or move between rooms (or head outdoors) often. Not only are they easy to carry around, but slim profile laptops with smaller screen sizes often weigh less, too, making them even more portable. 
It's worth mentioning, though, that portability sometimes means sacrificing certain features, such as larger displays, more ports, or advanced cooling systems. So if you're looking for a laptop that can keep up with your busy lifestyle, a lightweight option may be the way to go.
Enhance Your Digital Experience
Whether you're looking for a basic laptop to keep up with the grandkids or require more powerful capabilities, we've listed a couple of the best laptops for seniors that can meet your needs and budget. 
To recap, for basic laptops for seniors, choose:
#1 HP Stream 14

– for an affordable user-friendly basic model

#2 Lenovo 3i Chromebook

– for a budget-friendly large lightweight design

#3 Apple MacBook Air

– for a quality display and performance Apple product
For the best senior laptops with advanced computer needs, choose:
#4 Lenovo IdeaPad 3

– for affordable performance with limited storage

#5 Acer Nitro 5

– for a bigger model that balances budget and performance

#6 Apple MacBook Pro

– for high-quality display, top performance, and long battery life
With the right match to your computer needs and budget, you can be sure to make the perfect choice for your computing and retirement lifestyle needs.
Armed with the right device, not only will you be able to continue doing the things you love — maybe even learn new ones as well. Best of luck in choosing the perfect laptop for seniors.