Retirement is a major milestone for anyone, and it's important to plan ahead for the transition.
And contrary to what society thinks, we're not just talking financial planning (there's more to life than money, right?). 
To make the most of your post-working years, it pays to plan ahead in both financial and non-financial ways.
Whether you're still working, just starting the retirement process, or already retired — there are a few key steps you can take to ensure your transition goes as smoothly as possible.
With almost a quarter of Americans not having a retirement strategy in place, we're here to help you create a meaningful journey full of purpose and new retirement passions. 
Here are 21 key pieces of advice on what to do before, during, and after your retirement date.
Before Retirement
5 years or 25 years before retirement — it's never too early to start planning. Here are seven key factors to consider:
#1 Determine What Retirement Means to You
Retirement is that magical time when you ride off into the sunset and spend your days lounging on the porch, sipping coffee, and reading the latest bestseller. Or is it?
Particularly if you're a high achiever, going from 60 to 0 is not gonna cut it. 
Retirement means different things to different people — and sipping margaritas on a sandy beach or dominating the shuffleboard court at the local community center are not for everyone.
Whatever retirement means to you, it's essential to get away from stereotypes and go inward for the answers — once you have a clear understanding of your "why" and deeper desires in life, then map out a plan to get there. 
Because let's face it, if you don't have a plan, you may end up spending your golden years binging TV shows or scrolling your phone, while your deepest dreams, desires, and wishes stay stuck inside your head.
If a sedentary lifestyle is truly what you want, we're not judging — the main takeaway here is to dig deep and try to visualize what your ideal retirement looks like and then have a structure in place to make it a reality.
#2 Consider Your Living Situation
For some who aren't yet in their forever home, retirement isn't just about figuring out how to spend your days, it's also about where you'll live.
Do you want to relocate to a sunny state? Downsize to a cozy little cottage? Or stay put and make some adjustments? Whatever you decide, we recommend decluttering.
It's highly probable that your home is cluttered with unused excess items. Believe it or not, a whopping 80% of the things that people hold on to are never actually used.
What's more, when you declutter your physical environment, massive mental decluttering happens, too. Which means you create the space needed for clarity (and often, new creativity) to come in. 
Plus, if you're moving, you may not want to lug around 15 boxes of old magazines that you won't touch. So take some time to go through your stuff and discard anything you don't need.
Not only will packing will be much easier (and cheaper), but it's also a golden opportunity to redefine your identity in retirement. 
In other words, purge who you want to leave in the past and be intentional about who you want to embody moving forward (hint: the more authentic and aligned with your core self and values, the better).
And if you decide to stay put, this is a perfect time to give your home a new look that also feels more aligned with your authenticity — maybe some fresh paint or new decor.
#3 Focus on Building Healthy Habits
Building healthy habits should be a priority before retirement. You're likely thinking, "I don't have the time now. And when I retire, I'll have all the time in the world."
But let's face it. Everyone is always making statements, "When this.. then that..". And if you don't build healthy habits now, they may be hard to stick with when you retire.
While most pre-retirees claim they'll eat healthier and exercise more once they reach retirement, most retirees report the opposite. It's easy to fall into a habit of leisurely lounging and snacking on unhealthy junk food — so start forming healthy habits today.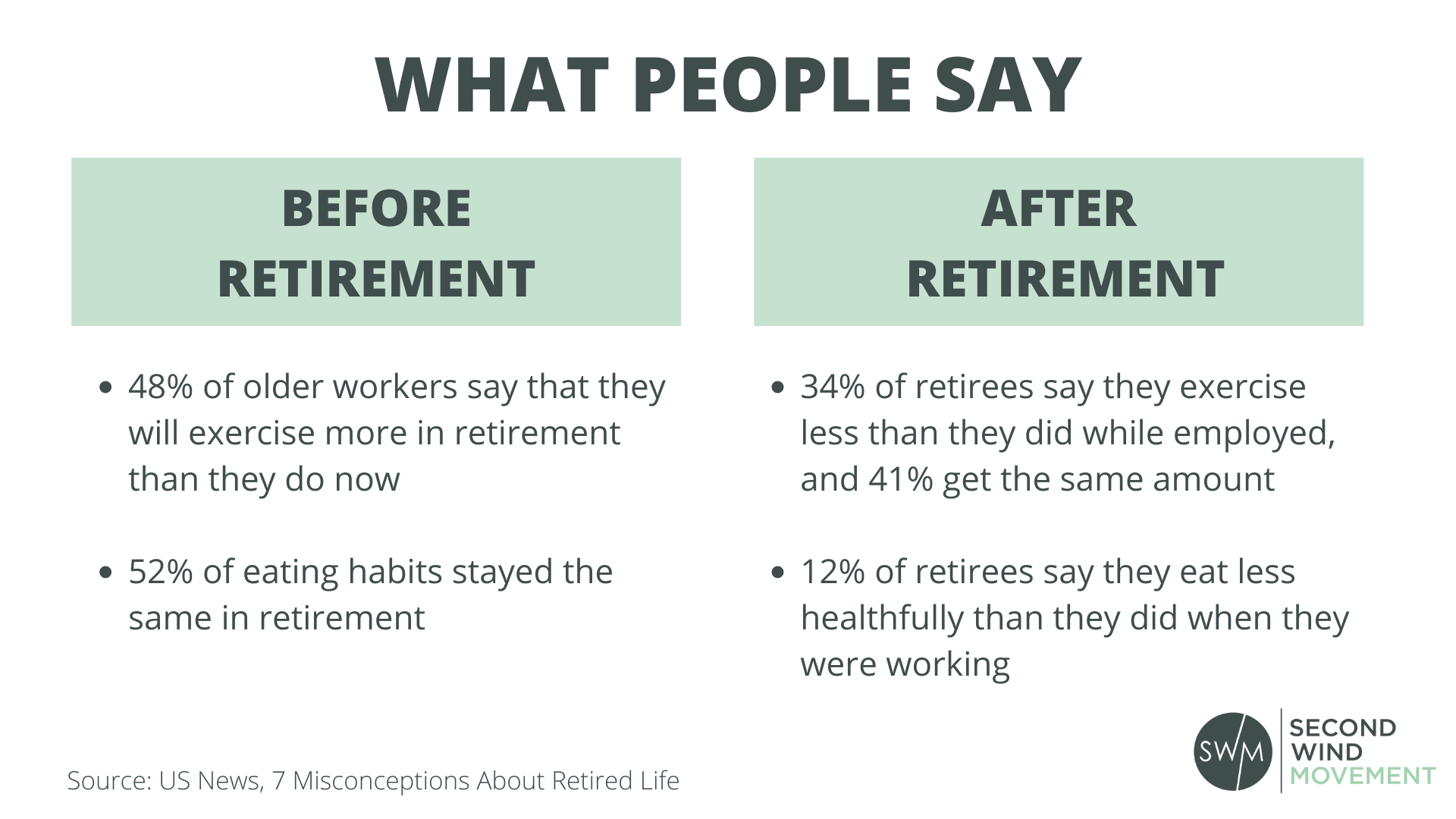 Our secret weapon — small daily micro-steps can make a big difference over time. The key is consistency. Just start small — take a walk after dinner, or replace your sugary morning treat with an apple — and work your way up incrementally.  
#4 Establish a Support Network
Retirement can be an isolating and lonely time if you don't have a strong support network in place. So start building it now — both online and offline.
Reach out to friends, family, or former colleagues who live nearby and plan regular hangouts with them. Or join some Meetup events, reconnect with old friends, or check out friendship sites online.
Like everything we suggest, go inward first to identify the people who energize you — it's about starting your retirement journey with the most authentic version of yourself, and your personal connections need to support and match that identity.
Of course, it's a common pain point to miss interacting with your coworkers and colleagues after retiring, as it's less convenient to see them as often. In fact, in 2023, 33% of older adults reported infrequent contact (once a week or less) with people from outside their homes.
But that's not to say you have to fall victim to isolation, nor the dangerous narrative that "retirement is lonely" — if you put some intention, thought, and energy into reaching out to the right type of people (who support your growth journey), it's totally worth the effort.
There are so many ways you can expand your social circle, so start building relationships today before retiring.
#5 Create a Plan for Your Healthcare Needs
Most people underestimate the cost of healthcare in retirement. Even if you're perfectly healthy right now, medical costs can still add up.
According to HealthView's report, retiring couples may face health costs ranging from $156,208 to $1,022,997 throughout their retirement. Or about $300,000 on average — yikes.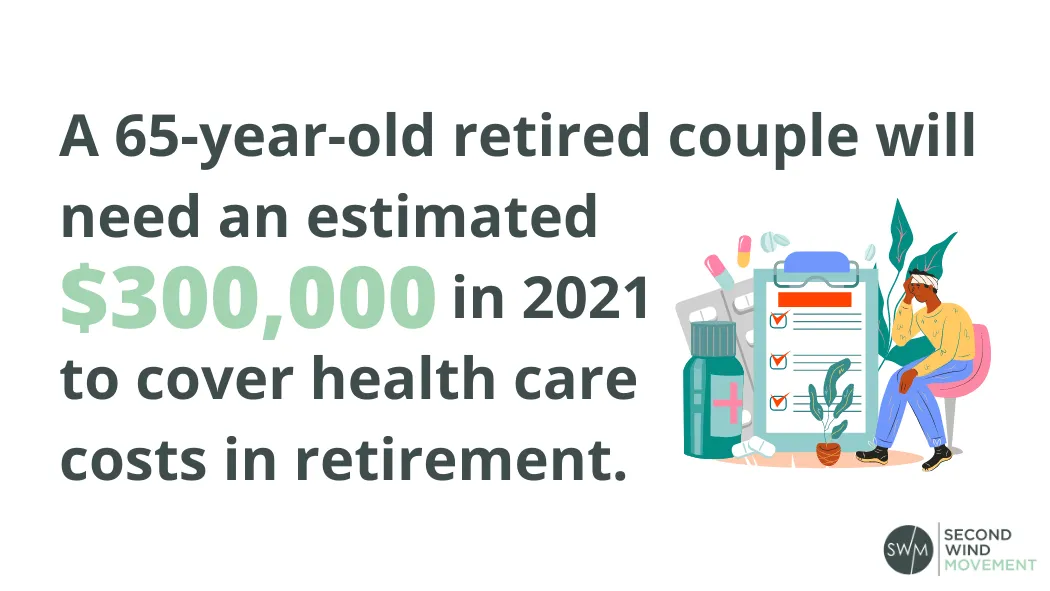 So it's essential to start planning for your healthcare needs now — whether that means contributing to a health savings account or finding an affordable insurance plan.
Better yet, be proactive about taking care of yourself — mentally, emotionally, and physically — so you can be as independent as possible for as long as possible, on top of saving on potential medical and healthcare bills.
#6 "Practice" Retirement
You don't have to wait until retirement to start living the retired life. We recommend taking regular mini-retirements or "practice" retirements throughout the years leading up to retirement.
Take some time off and try to see what your retirement routine would look like. The goal is to get a better sense of what your retired life could look like and feel like, and whether it's something you'd enjoy doing full-time.
Also, try to spend as you would in retirement — that way, you can get a better idea of how much money you'll need and if your spending is realistic. Most experts agree that you'd need to replace at least 80% of your pre-retirement income. 
Plus, after being conditioned to only save for decades, spending down your retirement accounts is going to feel like a big adjustment. Practice runs can help curb some of that anxiety and worry.
In sum, these short breaks can help you test out different potential routines and give you an idea of how life in retirement can look and feel.
#7 Assess Your Investment & Savings Strategy
Money isn't everything, but it's still necessary to get your finances in order before retirement.
And even though most all "retirement advice" is "financial advice", with 55% of Americans being behind on their retirement savings, we're compelled to offer a friendly nudge to get your finances in order — to support all the other more meaningful areas in your retirement life, of course.
(By the way, if you're unfamiliar with our 5 Rings of Retirement framework, check out the core categories beyond Finance to create a truly holistic retirement plan.)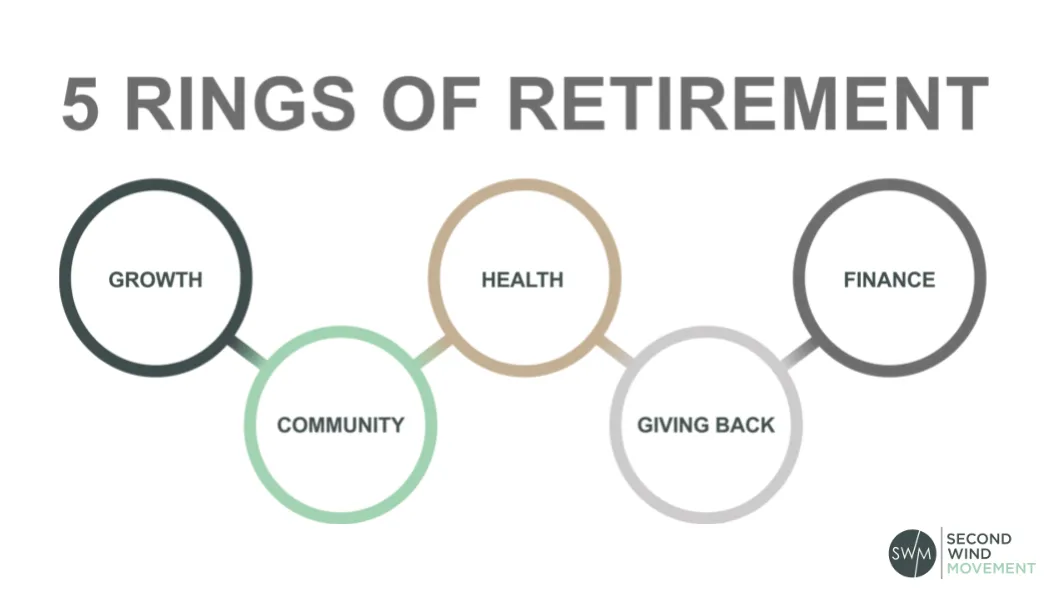 As you approach retirement age, review and (if necessary) update your will and estate plan as well as any other legal documents. Speak to a fiduciary financial advisor about your retirement savings and investments, and ensure that you have enough money saved up for the future.
If you're behind on saving, now is the time to start catching up. Automate your investments and create an emergency fund so you can enjoy your retirement without worrying about the financial aspect of it.
Now for the big phase of actually transitioning into retirement.
During Retirement Transition
When retirement comes around after all that careful planning, you may still feel a bit uncertain.
Here are seven steps you can take during your retirement transition:
#1 Gauge Your Retirement Readiness
Start by determining whether you're ready to retire.
There are many questions you need to ask before retiring, like:
Do I have enough money saved up?

Are my health needs covered?

How are my relationships with family and friends?

Am I feeling excited about the future?

How will I spend my time and energy?

Am I emotionally ready to say goodbye to my working life and embrace a new lifestyle?
In general, look out for these four signs you need to retire:
Emotional burnout

Declining health

Financially prepared

Not identifying with your job anymore 
If these signs are present, then you can feel more confident in taking the leap.
#2 Set (Meaningful) Retirement Goals
Now that you know you're ready to retire, it's time to set some retirement goals. Of course, we're not just talking about financial goals — the non-financial meaningful goals that give you a sense of purpose and passion count, too. 
With nearly a third of US retirees developing symptoms of depression after retiring, it's arguably more important to set meaningful non-financial goals.
But to set these goals, you need clarity — which is so key when it comes to retirement planning. It helps you stay organized, motivated, and focused, and, most importantly, it helps you (continue to) strive to be your best true self. 
Part of our mission is to flip unhealthy stereotypes on their head — we say retirement is the beginning of a new growth journey.  
Our workbook "Finding Clarity in Retirement" will help you uncover your true passions and figure out what your new retirement identity and purpose look and feel like to you.
Once you have clarity, setting goals that are both short-term and long-term becomes much easier. Short-term goals should be specific, measurable, achievable, realistic, and time-bound (SMART). Long-term goals should also relate to your lifestyle or overall purpose.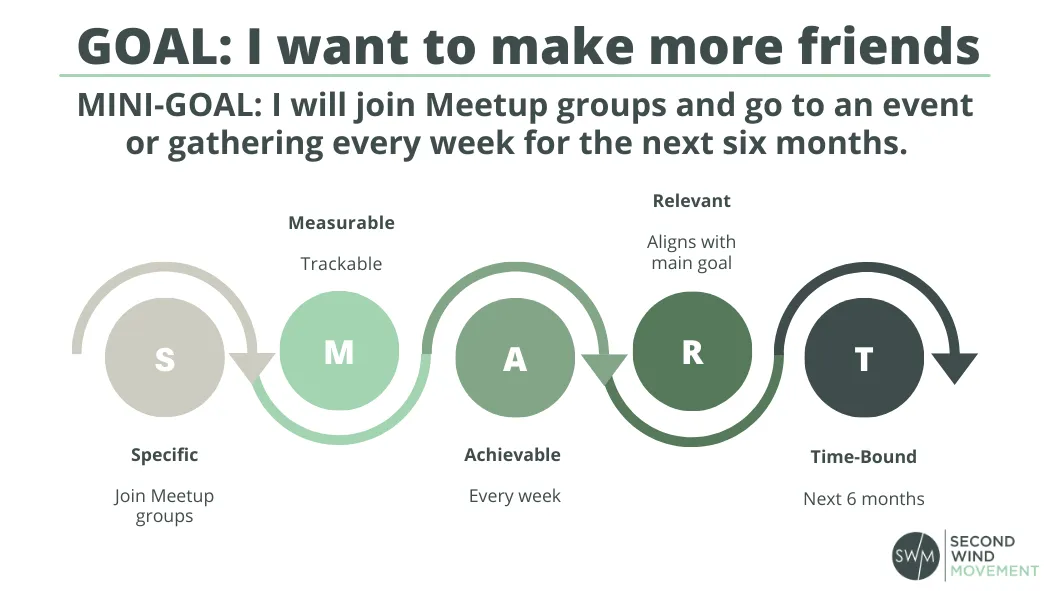 Remember: to make the most of this new stage in life, your retirement goals should not be purely financial. Think about the experiences you want to have and the relationships you want to cultivate in your retirement years. 
#3 Develop a Retirement Budget
By creating a budget that fits your ideal retirement lifestyle, you can plan for ways to have enough money to enjoy your retirement years.
And we've also created a retirement budget framework that'll help you stay on track — no matter your income level.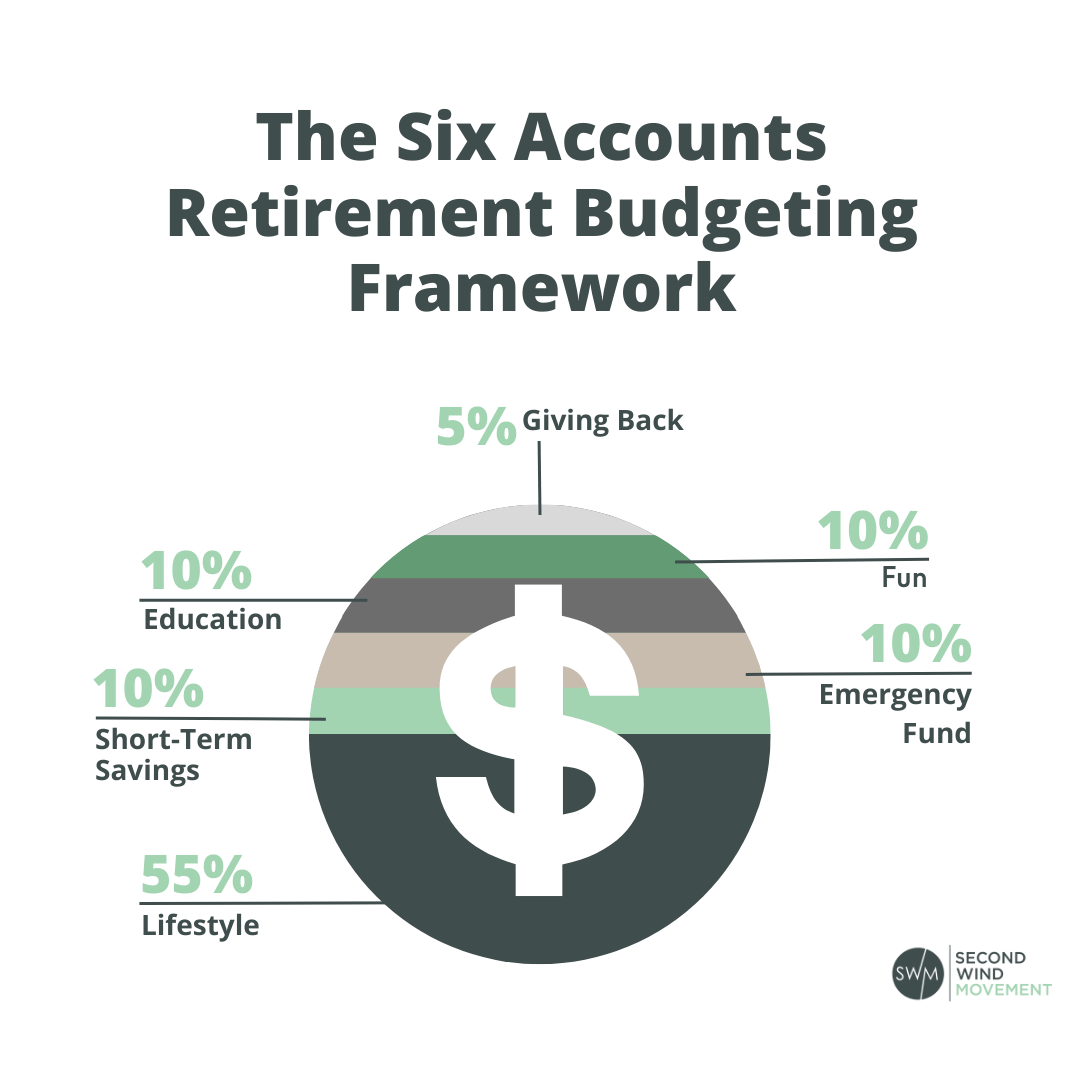 By keeping a close eye on your inflows and outflows, you can identify areas where you may be overspending and make adjustments to stay on track. According to a recent survey, retirees who plan financially are 54% more likely to feel confident about their financial goals.
And budgeting and tracking are ongoing processes. As your retirement goals and needs change, so will your budget. 
#4 Focus on Emotional Well-Being
Transitioning into retirement is emotionally taxing. You may feel lost, confused, and uncertain about your future. That's why it's important to prioritize your emotional well-being during this time.
Especially, during stage 3, which is disenchantment in the 5 emotional stages of retirement.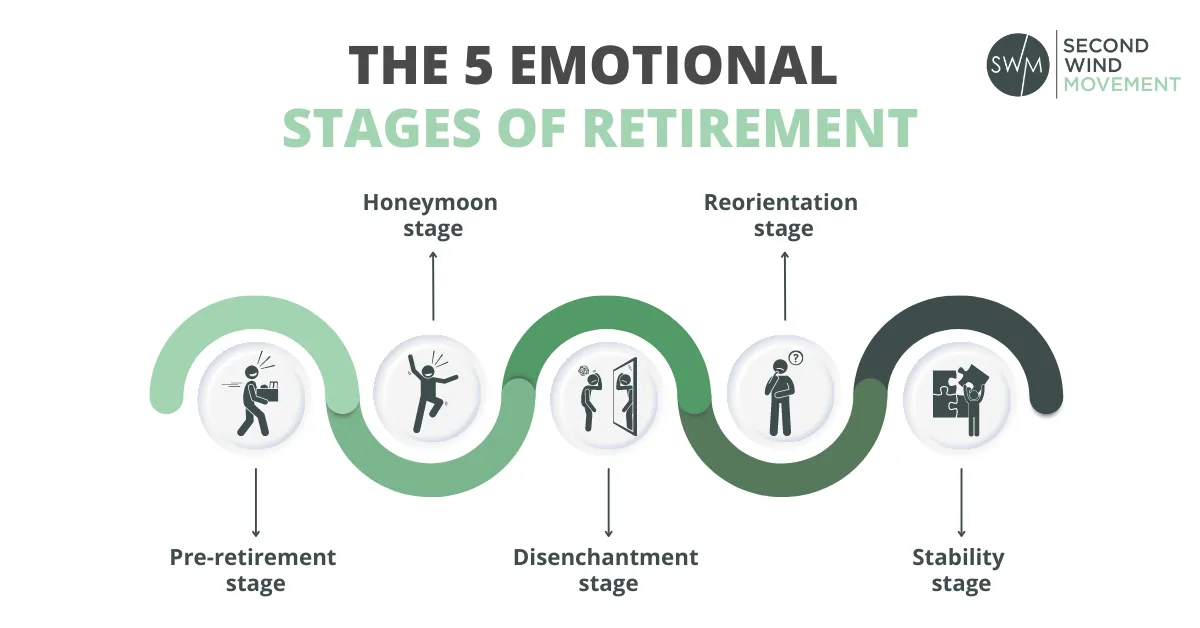 Set aside some time for yourself each day — whether that's taking up a new hobby or going for walks in nature. Spend time with people who make you feel good and find ways to stay socially connected. And don't forget to take care of your physical health, too.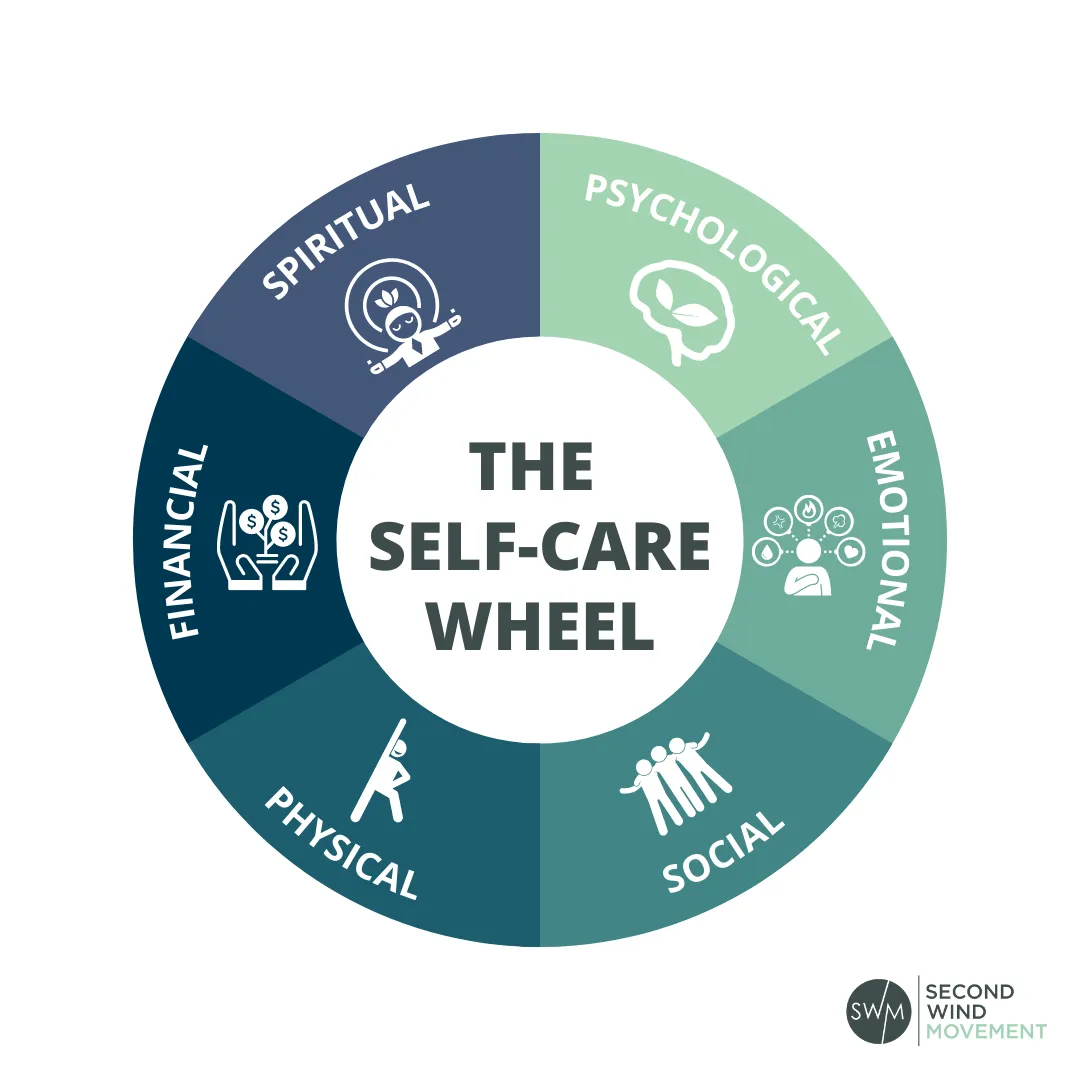 By prioritizing self-care, you can reduce the stress of transitioning into retirement and make sure that you're emotionally ready to embrace this new stage in life.
#5 Retire Gracefully
Now it's time to actually retire and inform your boss about it. This is a significant step, so it's important to approach it with a clear mind and a well-prepared plan.
This step deserves a whole article, so we won't cover it in detail here (but you can find out more about how to retire gracefully here).
The key takeaway: make sure you thank your employer for the opportunity, find closure, say goodbye to all of your colleagues, and look ahead to the new adventure you're about to embark on.
#6 Anticipate Challenges
No matter how well you've planned, there will be challenges. Be aware of them and come up with solutions to face them head-on.
Retirement planning isn't an exact science — it's more of a process that requires regular adjustments. Be prepared for the unexpected and create a plan of action if something doesn't go as planned.
It's easy to say, "just do it", but the reality is that motivation and the inability to envision the next 30 years are hard. In fact, motivation to even start with retirement planning is the biggest challenge (pre)retirees face.
But remember that retirement isn't a one-size-fits-all situation — it's different for everyone. You may find unexpected joys and challenges in the process, but no matter what: it's about embracing growth. 
You got this.
#7 Seek Professional Advice
On the topic of challenges, it's important to know when to seek out professional advice. Retirement planning is complex and involves a lot of decisions — so having someone experienced as a mentor on your team is invaluable.
A financial planner and/or a retirement coach can help you assess any potential pitfalls and ensure that your retirement plan is on track on all fronts — emotionally, financially, mentally, physically, etc.
According to a comprehensive ICF global study, life coaching improves your self-esteem, relationships, communication skills, and overall well-being, to name a few benefits.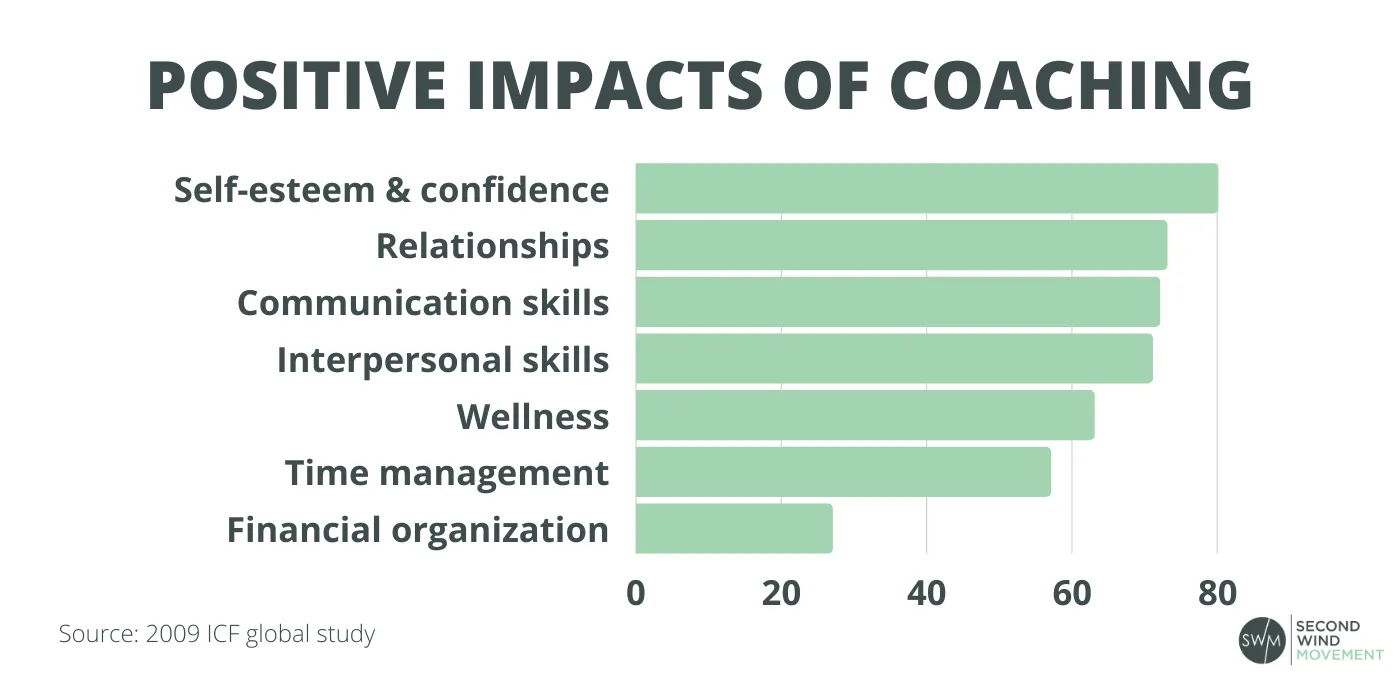 And this is where we'll toot our own horn a bit. Our signature program, Rewire My Retirement, is designed to help you navigate the complex world of retirement in one of the most comprehensive ways. 
We specialize in helping retirees (and those soon-to-be retirees) make the most out of their retirement years — as in, fill this life phase with passion, purpose, and meaning.
So whatever stage you're at, don't hesitate to seek help if you need it! That's how you'll feel secure and confident about your retirement plan.
After Retirement
Now that you're officially retired, you'll need to take steps to stay on track with your retirement goals and continue to enjoy life after. 
Remember, retirement is a big step, and it's not the beginning (not the end) of your growth journey.
#1 Embrace the Opportunity for Self-Discovery
While retirement marks the end of your career, it's the start of a big personal growth opportunity.
In fact, according to a study on retirement identity, it's the perfect chance to explore yourself and discover your interests, passions, and goals. Take this chance to explore new hobbies, learn something new, or even start a business.
It's also worth noting that the more open-minded you are, the better. By assuming that your passions and interests in the past will remain the same moving forward, you cut yourself off from a lot of potential possibilities. 
Give yourself permission to roam totally uncovered territory and get out of your comfort zone for new growth experiences. No matter what you do, don't forget to observe yourself along the way — make note of what energizes you vs. what depletes you. Treat it like an experiment.
#2 Cultivate a Sense Purpose
Sometimes retirement can feel scary — like stepping off a cliff into the great unknown. Suddenly, the structure and the purpose that your job provided dissolved.
The question that likely lurks in your mind is – what next? What's my retirement purpose? Sure, you could spend your time lounging on the couch and binging on Netflix all day, every day.
But you'll likely be far happier if you put the effort (and often hard work) into discovering what sparks joy in your life. 
And while these passions can fuel your purpose, the biggest difference between them and your purpose is that you can use your purpose to help others and create a positive impact in the world.
Most retirees struggle with finding their passions, let alone their purpose. Which is why we've created the Post-Career Purpose Finder, a simple video series with a workbook that helps you get started in finding your purpose after retirement.
The advice and tools we provide can help you discover your purpose, set goals to achieve it, and make a change in the world. 
No matter what you choose to do, having a strong purpose will help convert all the energy you put toward your career and/or family life into a fulfilling retirement life. The energy doesn't just disappear — it needs to be channeled in the right, clear way, which we believe is your purpose.
#3 Keep Your Mind & Body Active
Remember those healthy habits you started setting before retirement? Well, now it's time to put them to good use.
Don't worry, this doesn't mean hitting the gym every day or diving into complex crossword puzzles (unless that's your thing, of course).
Simple activities like doing a bit of cardio, practicing mindfulness, or meeting up with friends for lunch can keep your mind and body active while also helping you stay connected with the people in your life.
Plus, you might just discover a new passion that brings even more joy to your retirement years. 
With insufficient physical activity as the fourth leading risk factor for mortality, it's worth filling your time with activities that excite you — your mind and body will thank you for it.
The gist of it is to first find clarity, then be intentional about keeping up a retirement structure that supports all of it — from relaxing and socializing to passion projects and creations to chores and responsibilities. A strong intentionality behind this new life phase is critical. 
#4 Spend Time with Loved Ones
Retirement is a great time to reconnect with family and friends — especially when you consider the fact that over 35% of older adults are lonely, according to AARP's Loneliness Study.
Whether it's regular catch-ups over coffee, an annual holiday getaway, or even just the occasional call, putting effort into maintaining relationships can bring you a lot of joy.
And if you're in need of some company, don't forget about furry friends (like these 12 ideal dog breeds for seniors). Caring for a pet can help you stay active, plus they make great companions.
What's most important here is to reach out and invest in the relationships that matter most to you. There's one thing to keep in mind: the people you surround yourself with. It's all about spending more time with people in your Circle of Influence vs. your Circle of Concern.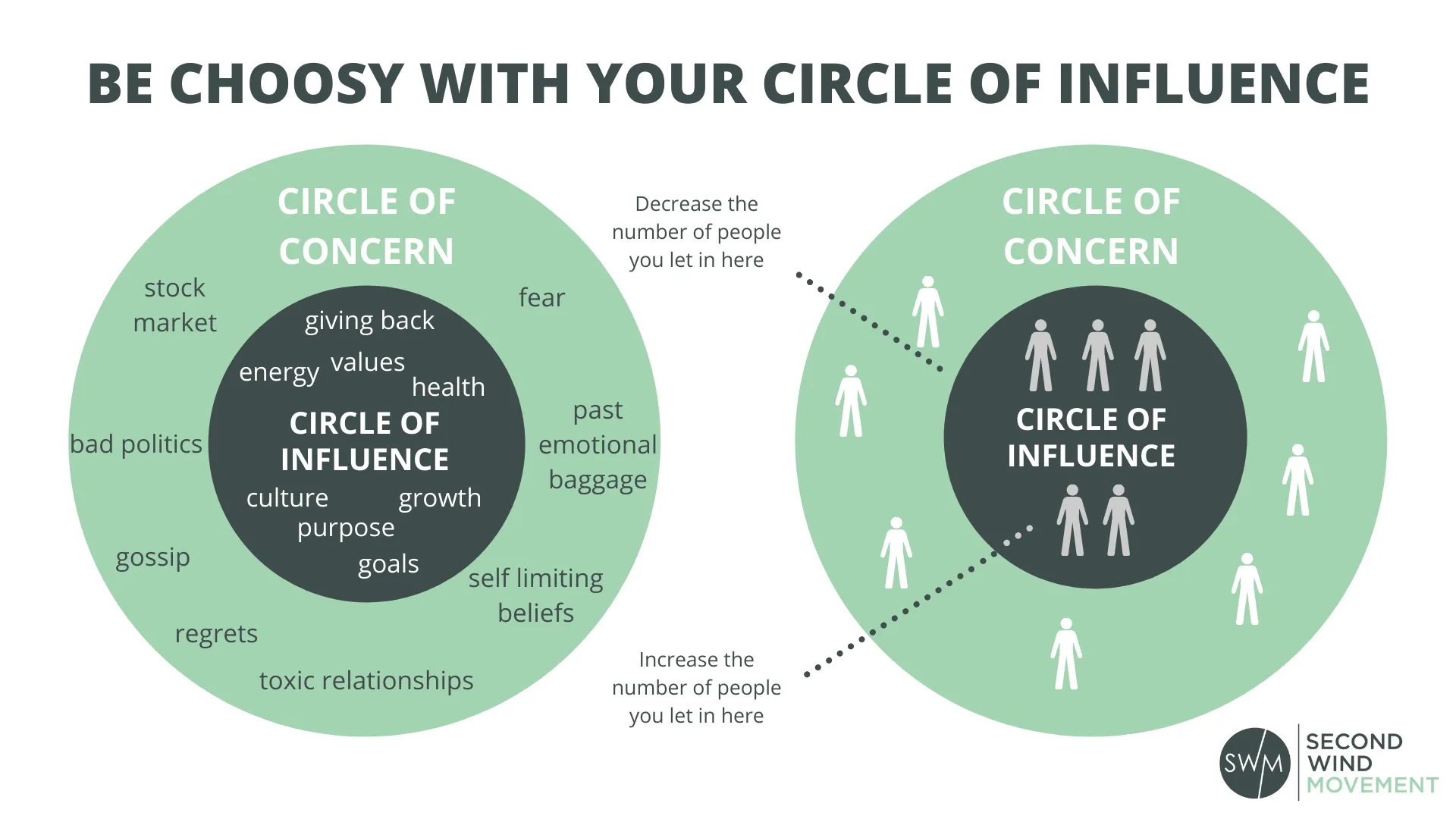 Your Circle of Influence includes the people who lift you up, support your growth, and inspire you to become your best self. They encourage you to try new things and step out of your comfort zone. On the other hand, your Circle of Concern includes the people who drain your energy and hold you back from reaching your full potential. 
We all have people in both groups, so just be mindful of who you surround yourself with.
#5 Focus on Personal Growth
If you really want to make the most of your golden years, you've gotta have a laser focus on personal growth. That means never stopping your pursuit of knowledge and self-improvement.
And to do that, you need a growth mindset, which is the belief that you can improve your skills and abilities regardless of your age or experience. 
To adopt a growth mindset, four steps are crucial:
Proactively embrace challenges, 

Enjoy the learning process (vs. the outcome) 

Welcome feedback 

Practice self-awareness (consistently)
This means reading books, attending seminars, taking classes, practicing new ways of doing and being, or even just having conversations with people who can help challenge and expand upon your existing skill set.
And if you have a bit to spare, why not use it to invest in yourself? That could mean signing up for a yoga retreat in Peru, taking cooking classes in Italy, or going on an adventure to learn something new.
Retirement is the perfect time to focus on your personal growth and well-being — so get out there and make the most of it.
#6 Plan for Longevity
You want to plan for longevity in every way possible. Even though the most recent two years have shown a decline in the average US life expectancy, on a global level, life expectancy has increased by more than 6 years between 2000 and 2019. 
So either way, it's worth planning for a long life. That means not only having a solid financial plan in place but also taking into account the non-financial factors that can make all the difference in your golden years.
We've already covered most of these in the first couple of points.
But there are also a few other ways to plan for longevity. For one, you might need to make some home modifications as you age — whether it's adding handrails in the bathroom or widening doorways for a wheelchair.
You might also consider taking out long-term care insurance or life insurance, which can provide financial support in the event of serious illness or injury. And don't forget to research any government programs that could help you cover medical costs and other living expenses.
By planning for the long haul, you can ensure that your retirement years are comfortable, secure, and enjoyable for years to come.
#7 Be in the Present Moment
Finally, even though it's important to think about the future, and all too common to fear letting go of your past identity, don't forget to enjoy yourself now, even if it's just taking a few moments to appreciate the simple pleasures in life.
Focusing on the present moment provides important grounding — be it meditating, watching a sunset, or just sitting in silence. This can help reduce stress and give you the clarity to make informed decisions about your health, finances, and lifestyle.
Sidenote: meditation is becoming a widely used self-soothing tool, with 200-500 million people who meditate globally. And it's no wonder the trend continues upward when you consider the fact that meditation improves energy by 60% and overall wellness by 76.2%.
No matter which mindfulness practice resonates the most, don't forget to slow down and enjoy yourself — that's one of the greatest benefits of retirement. 
And we, of course, don't just mean in the stereotypical sense of just being leisurely. May you savor your growth journey every step of the way.
Retirement Done Right
Retirement can be an incredibly rewarding and fulfilling time in life — so long as you're aligned with your authentic self. With a bit of inward self-exploration to find clarity and some structured planning, you'll have the opportunity to turn your retirement years into your best years.
Start by preparing before retirement:
#1 Determine what retirement means to you

#2 Consider your living situation

#3 Focus on building healthy habits

#4 Establish a support network

#5 Create a plan for your healthcare needs

#6 "Practice" retirement

#7 Assess your investments and savings strategy
Then during the retirement transition:
#1 Gauge your retirement readiness

#2 Set meaningful retirement goals

#3 Develop a budget

#4 Focus on your emotional well-being

#5 Retire gracefully

#6 Anticipate challenges

#7 Seek professional advice
And finally, after retirement:
#1 Embrace the opportunity for self-discovery

#2 Cultivate a sense of purpose

#3 Keep your mind and body active

#4 Spend time with loved ones

#5 Focus on personal growth

#6 Plan for longevity

#7 Be in the present moment 
By following the tips and strategies outlined in this article, you will be well on your way to a happy and secure retirement. Remember, it's never too early (or too late) to start planning for your best future as your best self.