Prefer to watch helpful content? Watch the video here:
It's pretty obvious that most people want to age in the comfort of their own home and avoid having to eventually move to a nursing home.
But look at how our aging population is expected to grow:
And the way that our society and the media doesn't cultivate or promote active, healthy, engaged lifestyles among seniors, it's inevitable that nursing home occupancy will continue to increase at king-sized rates.
To help you better understand the importance of being proactive now in building a retirement lifestyle that you love, here are three more reasons to avoid the nursing home and to do everything you can to live a more purposeful active retirement lifestyle.
Reason #1: We're facing a senior housing crisis
Our population will be so top-heavy with seniors and baby boomers who are currently aged 65+, at an unprecedented level, we're likely to face a housing crisis, come time when this group hits their mid-80s.
I just shared with you the 65+ population growth. Here's a snapshot of the future 85+ population growth.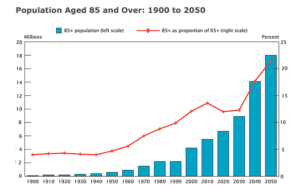 These projections report that by 2050, the 65+ population will be 83.7 million people large, which is nearly double what it was in 2012.
And that means… if this group continues to fall victim to the typical sedentary retirement lifestyle that the previous generation did, we'll likely run out of facilities for the elderly who really need it.
And the demand for affordable and accessible housing with all the right amenities and supportive services will be so high that prices will be further skyrocket.
According to Genworth's annual evaluation of the cost of care, here's a glimpse of the 2021 monthly numbers:
And because of the overwhelming growth rate in the aging population coupled with our culture's "become less active as you age" tendencies, there's likely going to be more demand than the supply of senior housing,
What does that mean for seniors who end up in nursing homes?
There's likely going to be a disconnect between housing programs and the healthcare system which may put many seniors at risk for not getting the proper care that they need, which brings us to reason #2…
Reason #2 is: Poor living conditions
If you look at the history of the nursing home in the US, it's a super sad story.
In 1935 when the government stepped in to get rid of the almshouses that everyone hated, the federal law stopped almshouse residents from receiving financial support.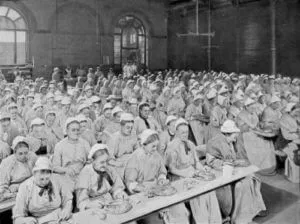 And by the 1950s the almshouses were basically gone, so government intervention worked for that purpose… but there were still so many seniors who were ill and sick, and needed help. So that meant the government had to step in again, and both public and private nursing home residents were granted federal support.
So culturally we've basically commoditized the idea of both housing and caring for the elderly, to the point where nursing homes became a cheap barely-nicer-than-a-hospital place where we basically stuffed our aging seniors to spend their last days…
… which is why you'll see reports that show almost 40% of nursing homes with a 1- or 2-star rating in the US.
That's not to say all nursing home facilities are terrible – just sharing a bit of historical background to explain the rooted tendencies of the industry.  And understand that, if it comes to that, choosing the right facility is so crucial.
Reason #3: It can further plummet your health
Naturally, it can be depressing to have to move to a nursing home. For a lot of people, moving to a nursing home can be symbolic and mean losing your independence. And at the risk of sounding morbid, for some it can mean moving to a place where you basically go to die.
According to the American Geriatrics Society 40% of nursing home residents are affected by depression.
That's a big chunk of nursing home residents who are suffering from depression…
There was a study conducted in Canada that showed people who aged in place with in-home care had a 12% reduced risk of mortality and hospitalization. They also had less difficulty with their activities of daily living (ADLs), like dressing and grooming.
So not only is it expensive with mostly non-ideal living conditions living in a nursing home, but it can also be a mentally draining place that can contribute even more to the decline of your health.
And to make matters worse, there's a tragic number of lonely seniors touched by Alzheimer's and dementia just waiting out their final days in nursing homes. Around 1.7 million people in the US live in nursing homes and this number is of course expected to rise as more and more boomers are aging.
Check out how we anticipate Alzheimer's to impact our healthcare costs in the US alone, according to a recent Alzheimer's Association report: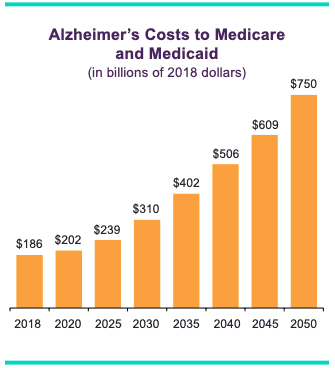 Be Proactive
So those are just three more reasons to avoid the nursing home. I'm pointing out all these frightening trends, not to scare you, but to put you in the mindset of being proactive – and to take preventative measures – in taking care of your health and lifestyle today.
There are daily habits that you can take on, little micro-steps that you can act on every day, to improve your health, your interaction with others, your personal growth, and your overall sense of purpose in life after retirement…
And it's never too early (or too late) to plan and take action on building a retirement lifestyle that you love and avoid the nursing home altogether.
Where to go from here?
If you haven't already, and you want to learn how to build a retirement lifestyle that you love, with more purpose and great experiences – watch this free workshop here.
I'll be teaching you:
Secret #1

is how to find out exactly how to start making progress toward a more exciting retirement life without being overwhelmed by your options

Secret #2

is how to overcome procrastination with a simple 7-minute exercise

Secret #3

is how to avoid settling for a typical stagnant unhealthy lifestyle without having to make any drastic changes to your current life

Thank you for being proactive in caring about your future self. By setting high standards for yourself, you're setting an example for other people and you're helping to shift our culture to uproot ageism, so awesome job.